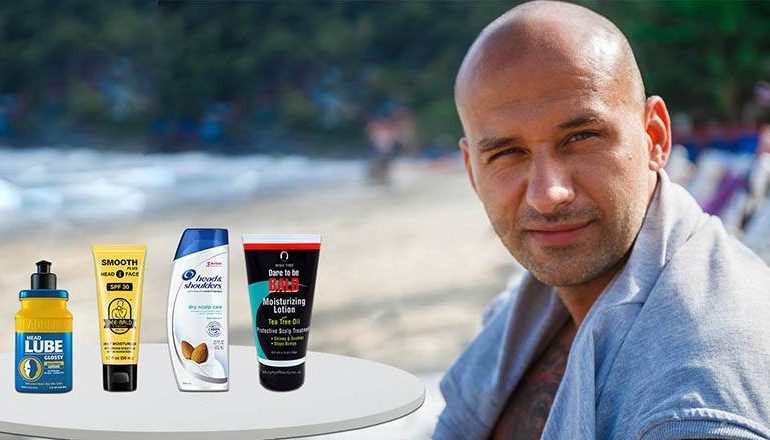 It's time to embrace your baldness. And the best way to do so is to care for your dry scalp. It only makes sense because your scalp is going to be on display now.
So it's better and healthier to keep culprits like dry skin, dandruff, etc. away. Even sunburn is a possibility now that your hair isn't going to protect your scalp from exposure to the harmful UV rays of the sun.
The first and the most effective step to take is to prevent dryness. And to do that you can trust the best moisturizers for bald head. It keeps the head clean, moisturized, healthy, and protected from the sun.
And the most exciting news is that I have reviewed as many as 7 different choices for you.
Our Reviews For The Best Moisturizers for Bald Head
Bee Bald Smooth Plus Daily Moisturizer with SPF
The Bee Bald Moisturizer, no doubt, is a very popular choice for many, many reasons. First off, it's packed with broad-spectrum SPF 30. Broad-spectrum means you get protection against both the UVB and UVA rays of the sun. That explains why this is the best bald head lotion with SPF.
The moisturizer hydrates your scalp and prevents shine and oil from taking control. Dry patches, wrinkles, and fine lines receive all the healthy moisture they demand to make your skin look well-hydrated and smooth. So your scalp is bound to feel comfortable, fresh, and cool all day long.
The formula has a very light scent. And the best part is that it works as an excellent sunblock lotion for the scalp and a very soothing post-shave moisturizer. Even though it leaves your scalp feeling moisturized, there's no amount of oiliness to deal with afterward. On the contrary, this best moisturizer with SPF for bald head helps in controlling oily secretions and reducing shine.
High Time Moisturizer Dare To Be Bald Scalp Treatment
Here's presenting the best moisturizer for bald head with tea tree oil. What this very powerful yet soothing ingredient does is provide antiseptic and antimicrobial properties. Tea tree oil eliminates dead skin cells, which means bye-bye scalp dryness. It even removes oil while increasing the supply of nutrients and oxygen to your head. And protecting it from infections.
The healing and soothing properties of this moisturizer are very commendable. It offers lasting protection and moisturizing shine. In comparison to others, High Time gets absorbed into your scalp quicker. Thanks to the thinner consistency of the moisturizer.
The faint and pleasant minty scent adds to the soothing effect. The latter lasts throughout the day, no doubt. So your shaved head looks hydrated, bump-free, and silky smooth quite effortlessly. You're getting a better product here, and that too without spending too much money.
HeadBlade HeadLube Glossy Aftershave Moisturizer
For bald head maintenance, what works best is a moisturizing lotion that doesn't clog your pores. This formula should not contain any dyes and perfumes either. And that's exactly what HeadLube has to offer, that and tea tree oil and shea butter.
As you already know, tea tree oil protects your scalp from dryness and infections. It even removes oil and dead skin cells. As for shea butter, it relieves the most common scalp issues like dandruff. The ingredient is a suitable choice for both a dry and oily scalp. When oily, shea butter reduces excess oil production. And when dry, it moisturizes thoroughly.
And you can apply HeadLube on your face and body as well. Think of it as the most versatile after-shave lotion. It leaves a shiny finish without the greasy feeling. Even if you shave your head 3-4 times a week, you can rely on this particular shea butter and tea tree oil formulated moisturizer to prevent dryness.
Ancient Greek Remedy Organic Blend Natural Body Oil
For dry flaky skin on bald head, nothing works better than this organic formulation by Ancient Greek Remedy. The body oil is infused with raw, natural ingredients like lavender essential oil, extra virgin olive oil, sweet almond oil, grapeseed oil, and Vitamin E oil.
Needless to say, it's the best moisturizer for your scalp, face, and body. Only cold-pressed, unrefined, and organic oils are involved. On top of that, the product is paraben-free, gluten-free, non-GMO, and vegan. In short, it's a risk-free remedy.
Some of the most useful benefits include hydrating the skin, correcting an uneven skin complexion, calming skin irritation, restoring moisture to treat sunburns, smoothing wrinkles and fine lines, and getting rid of age spots. That's a long and impressive list, don't you think?
The natural, organic oil offers long-lasting and immediate relief in the case of an itchy scalp. On top of that, it works as the best natural treatment for dandruff too. In my opinion, trusting Ancient Greek Remedy is not going to cost you in terms of both price and value. It's the ultimate natural skin and hair care solution for both men and women.
Head & Shoulders Dry Scalp Care Shampoo
For treating the condition of dandruff on your bald head, allow Head & Shoulders to come to your rescue. Without the shadow of a doubt, this shampoo does an excellent job of preventing the recurrence of itching and flaking symptoms often associated with common dandruff.
The shampoo formulation has almond oil for moisturizing your dry scalp. Almond oil is a part of many hair care products because of its high magnesium level that prevents hair loss. But the most important part is that Head & Shoulders eliminates dandruff completely. Along with calming all the irritation associated with the problem.
In comparison to regular shampoos, this one works way, way better for a bald head. Your scalp feels clean and fresh. And no complaints regarding the almond oil content making your skin feel and look greasy either. Even if your skin type is oily!
Shea Moisture Three Butters Utility Scalp Conditioner
The best moisturizer for bald head can come in the form of a good scalp conditioner as well. Such as this Three Butters formulation by Shea Moisture. The three butters included are shea butter, mango butter, and avocado butter.
What shea butter does is eliminate dandruff. It works on an oily and dry scalp. In the case of the former, shea butter minimizes the excess production of oil. And for dry scalp, it does the job of moisturizing your dry skin from within.
What about mango butter? It contributes greatly to the regeneration of the skin. And offers healing properties, which are useful for treating scalp issues like dandruff, psoriasis, and eczema. As for avocado butter, this particular ingredient nourishes your scalp with minerals and vitamins. It is often a part of hot oil massages for scalp treatments.
But those with dry scalp might benefit the most here as the conditioner moisturizes like no other. Particularly men who shave their heads more frequently.
Proactiv Green Tea Moisturizer
Alleviating dryness is one of the most important things with a bald head. But what also matters is that the product you use for eliminating this dryness doesn't clog pores. And it doesn't feel greasy either. In that case, allow me to review the best non-greasy, non-comedogenic formula for your shaved head.
This green tea infused moisturizer is loaded with hydrating ingredients, emollients, and minerals. These soothe and nourish your skin in the most gentle and effective manner. Botanical extracts like green tea have the power to reduce dryness without blocking your pores and causing breakouts and skin irritation.
I would go as far as to state that this is a very suitable moisturizer for blemish-prone skin as well. Green tea in here calms and soothes while also fighting free radicals.
Then there's hyaluronic acid too. This is responsible for nothing but skin hydration. And there's no denying that your scalp deserves this kind of special treatment now that you have no hair to protect it.
Factors to Take into Account When Buying a Moisturizer for Bald Head
The benefits of using a good moisturizer for a bald head are plenty. But what happens is men and women who shave their heads realize this a bit too late. Not many people give importance to caring for a bald head. And that's how your scalp gets infested with dandruff or ends up looking dry.
However, the good news here is that there are moisturizers specifically formulated for a shaved head. But not all of them are well-equipped to treat and prevent the most common bald head concerns. So the ones that actually meet the following criteria.
Moisturizer with SPF
Protecting your skin, even on the scalp, from the harsh and harmful UV rays of the sun is a must. Irrespective of whether you're living in a tropical country or not. UV rays tend to cause sunburns and flaking. And you don't want your scalp to go through either.
Therefore, it's best to buy a moisturizer equipped with SPF. Just make sure the SPF rating is 30 or higher.
Moisturizer That Offers Hydration
Let me share a piece of general knowledge here. Hair follicles contain a substance that produces natural oils. These oils perform the much-needed task of keeping your scalp hydrated and well moisturized. Meaning when there's no hair, there are no hair follicles. And with no hair follicles, there aren't any natural oils too.
Without hair, the scalp is highly likely to lose moisture and welcome dryness and other common scalp issues. This means your moisturizer should be able to provide all the hydration your scalp demands to make up for the absence of hair follicles.
The most common moisturizing ingredients in formulas for bald head include aloe vera, shea butter, almond oil, tea tree oil, and botanicals like green tea.
Most Useful Tips for Maintaining A Freshly Shaved Bald Head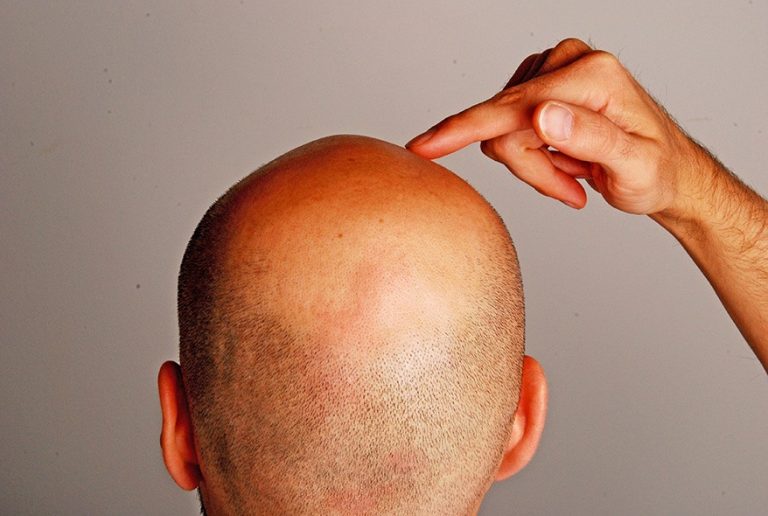 Update Your Shaving Kit
Your shaving arsenal, more often than not, includes razor blades and shaving cream. So you have to make sure the razor blades are fresh and not worn out. As for the shaving cream, pick one according to your skin type. If you have a dry scalp, then go for glycerin-based shaving cream.
The good and bad news about hair is that it always grows back. Even those that have thinning hair are likely to develop a stubble-like growth on the scalp eventually. This implies consistent maintenance, right? So if you use the right shaving cream and blades, then your delicate skin on the scalp is less likely to get irritated.
Apply a Moisturizer
Loading up on a good moisturizer for your bald head is the most important part. Moisturizing your freshly shaved head keeps it looking and feeling hydrated. In fact, if the lotion is equipped with enough moisturizing ingredients, then your bald head looks even fresher and for longer.
I have reviewed some of the best ones in this article. They are infused with SPF, anti-aging benefits, oil and shine reducing ingredients, and lots more.
Keep the Bald Slate Clean
A head full of hair doesn't have to worry about sweat. Meaning your hair absorbs most of it and doesn't let the sweat drip down your face. At least not when you're simply going about your day. But with all that hair gone, this possibility becomes more likely.
Excessive scalp sweat is a factor you should take into consideration even more if you live in a tropical region or during the hotter months of the year. But there is an effective solution to this particular problem. Just apply some antiperspirant across the scalp. One or two swipes of that do the trick.
You can apply the antiperspirant at night to allow its active ingredients to work their magic before you begin your busy day. Likewise, wipes are also a great option. Keep them at your disposal during the day. They help in getting rid of oil and grease.
Protect Your Scalp From the Sun
Beware the natural elements when your scalp is fully exposed. This brings into the picture sunscreen with a higher SPF rating. Preferably SPF 30 or above. Apply sunscreen once in the morning and then keep re-applying it every 2 hours if you're in the sun.
Or you can simply choose a moisturizer equipped with SPF, like the one I've reviewed in this post above. Or you could just wear a hat. But why cover up the bald when you're doing so much to care for it?
Don't Skip Shampoo and Conditioner
You may not be able to spot the tiny hair growth on your scalp, but that doesn't mean it does not exist. And hair, no matter how long or short, requires care and attention.
On top of that, dirt and oil tend to build up. At such times, it's necessary to use shampoo and conditioner for keeping your bald head free of flakes.
Now you might think why can't I use normal body wash or soap on my scalp, right? Well, you can if you're okay with inviting excess dryness. On the other hand, products made for the hair don't have that drying effect.
Get Regular Scalp Massages
Ever heard of the phrase rubbing a bald head will bring good luck? Now I don't know to what extent that is true. But in the case of this good luck being a healthy, clean, fresh-looking scalp, then you ought to rub that bald head.
A head massage stimulates blood circulation. And the best part is that you can do it yourself. Apply mild pressure using your 10 fingertips. Move the fingers around the scalp, starting from the forehead, then advancing to the crown, and then down to the neck. And if you can't do it on your own, then what are loved ones for!
How to Take Care of Shaved Head Woman and Man
Now here's how you should go about moisturizing your bald head.
Start by making your head wet using warm water. Then apply some shampoo, massage it into your scalp with your fingertips. Include the front, back, top, and sides of the head. Then rinse it off.

Now it's time to exfoliate your skin using a mild exfoliating scrub, just like you used the shampoo. Then rinse this off too.

Dry your head with a fresh, clean towel before applying the moisturizer. Spread the hydrating formula all over the scalp. Let it dry for around 10 minutes.

If the moisturizer doesn't have SPF, then apply your own sunscreen to prevent flaking and sunburn. Just keep in mind that neglecting this step might just give rise to excessive dryness and peeling. Unprotected sun exposure is never a good idea.
Conclusion
A bald head doesn't require too much care and maintenance. Whoever told you this is either not bald or is bald and has to deal with constant scalp dryness, dandruff, and flaking. Even without hair, your head demands special attention. Even more so since your scalp is now completely exposed. This means you have to protect and moisturize it.
The protection comes from SPF and moisture comes from hydrating ingredients like shea butter, aloe vera, almond oil, etc.
Related articles: