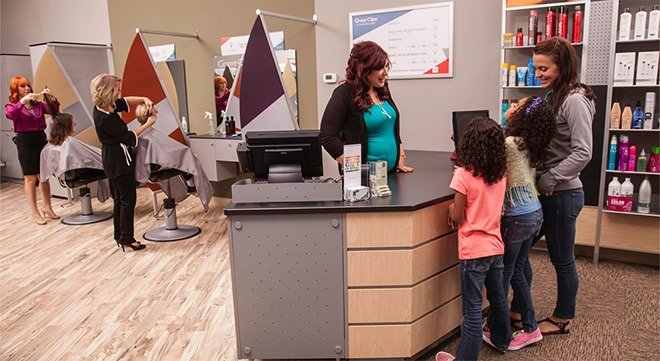 Did you know that, based on estimates provided by industry insiders, U.S. citizens alone get roughly 1.5 billion haircuts each year?
What a jaw-dropping number, huh?
And if you think about it for a second, that's a lot of money – and time – invested in keeping your hair styled, and your overall look well-groomed.
There's a more efficient, pocket-friendly way to go about this whole hair care thing, though. And yes, I'm talking about Great Clips – a fully franchised business that caters to the needs of busy individuals looking to get essential haircare services on a budget.
Seriously, if you prefer getting a no-frills haircut in a friendly, low-key environment, you're going to love Great Clips.
So, keep on reading and learn all about Great Clips prices, the services they offer, salon hours – and more!
Why Choose Great Clips?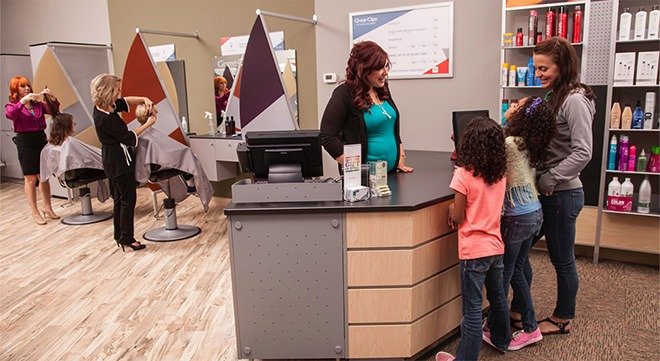 Image by: Greatclips.com
No matter how often you cut it or how you style it, one thing stays the same – your hair keeps on growing. And that, my friend, means that you'll spend quite some time searching for the right hairstylist – one that gets your needs and wants and is skilled enough to make them come true.
But why choose Great Clips, when there are so many other hair salons in your area?
Great Clips was established back in 1982 in Minneapolis, Minnesota. It was a time when haircuts were either done in full-service salons, family-owned barbershops, or the old-fashioned way – at home.
To say that they revolutionized the way haircare can be provided would be an understatement.
From cloud-based Clip Notes database that keeps track of customer's hairstyle preferences to cutting-edge, real-time check-ins, they've made small, yet transformational changes.
And over the past few decades, Great Clips has become one of the most popular hair salon franchises to date. Today, they have well over 4,000 locations spread across the United States and Canada.
The superior brand presence isn't the only reason why you should give them a try, though. I have a few more listed below:
No Appointments – Great Clips is a walk-in salon, and that means that you don't even have to bother with making appointments days, or even weeks, in advance. You can get your hair cut whenever you feel like it – or have the time – without worrying about planning or fitting it in your busy schedule.

Great Clips Is Family-Friendly – Parents, rejoice! Great Clips is a family-friendly brand and serves adults and seniors, as well as children. It's the perfect spot for the entire family to get regular haircuts, maintenance trims, and even styling for special occasions.

Quick, But Personalized Service – Great Clips stylists are known for their quick, but personalized, high-quality service, and willingness to follow your wishes and requests regarding haircuts and styling.
If you're a returning customer, the chances are that they already know what you want. All Great Clips salons have access to the franchise's shared Clip Notes database.
There, the stylists can store valuable info about your preferred haircut style, length, and the like.
What Services Does Great Clips Offer?
The most significant advantage they have over the competing hair salons in your area is that they operate on a walk-in basis:
You can walk into the salon, request any given service without having an appointment, and one of the Great Clips' talented employees will be with you shortly.
That makes it super convenient to get a haircut on the go while you're out and about running errands. Plus, Great Clips can help you in those last-minute, forgot-about-an-upcoming-event scenarios, where most other hair salons wouldn't.
But what services does Great Clips offer precisely?
Well, salon services offered at Great Clips include a wide variety of haircuts and styling services for both men and women.
These include haircuts, low-cost trims for your bangs, neck, or beard, as well as styling for regular, long, or formal hairstyles. Shampooing is a part of their offer, too, either as a stand-alone service or included in your haircut.
A lot of Great Clips salons offer perms and wave treatments, as well as hair conditioning treatments for customers with frizzy or extremely dry or damaged hair.
Unfortunately, Great Clips doesn't offer any hair color services, including highlights, root touch-ups, balayage, or single-process color.
Considering that we're talking about walk-in salons, the fact that they focus on quick, high-quality haircuts shouldn't come as a surprise, though.
Speaking of quick, did you know that, on average, getting a haircut at Great Clips takes about 15 minutes? Of course, it all depends on the current length of your hair and your specific requests, but it's still pretty impressive!
Here's a quick overview of services offered at Great Clips salons:
Haircuts for men and women

Haircuts for children

Haircuts for seniors

Hairstyling

Perms

Neck, beard, and bang trims

Hair conditioning treatment

Hair shampoo
Oh, and one more thing:
Great Clips also has three lines of exclusive, professional-quality hair care products available for purchase in each of their salons. These include Solutions by Great Clips, Tea Tree Solutions by Great Clips, as well as GRIT @ Great Clips, made specifically for men.
Great Clips Prices: How Much Does A Haircut At Great Clips Cost?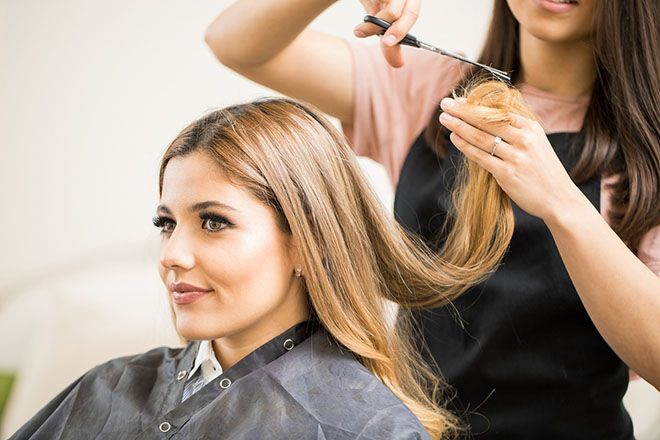 While we're on the subject of pricing, some of you are probably wondering:
Does Great Clips offer senior discounts?
And the answer is yes, they do. All customers who are 65 years old – and over – can get a discounted haircut price. Moreover, senior citizens aren't the only ones who could benefit from Great Clips discounted prices – children can enjoy these discounts, too.
Great Clips prices start at around $15 for standard adult haircuts, but here's the thing:
All Great Clips salons operate individually, which means that prices and discounts can vary slightly depending on where the salon in question is located.
That said, check the info below for more detailed cost estimates!
Regular Haircut Great Clips Prices

Haircut

$17.99 and up

Haircut (Children)

$15.99

Haircut (Senior)

$15.99

Style

Regular

$34.99 and up

Long

$54.99 and up

Formal

$74.99 and up

Perm Great Clips Prices

Partial

$34.99 and up

Regular

$54.99 and up

Long

$74.99 and up

Great Clips Prices for Other Services

Shampooing

$9.99 and up

Bang, Neck, or Beard Trim

$9.99 and up

Conditioning Treatment

$34.99 and up
Note: The Great Clips prices listed above are for estimate only, and can vary from one salon to the other. Please contact your local salon to get the exact pricing information.
Great Clips Hours: When Is Great Clips Open For Business?
For details about Great Clips holiday hours, I strongly suggest that you call your local salon and ask for specifics. Some salons will adjust their business hours during the holidays, such as New Year's Eve, Christmas, and Thanksgiving, but others might be closed for the day.
So, be sure to check!
Other than that, Great Clips' business hours are super convenient. The majority of salons are open from 9 AM to 9 PM, Monday through Friday. And yes, they're open during the weekend, too – although with slightly different salon hours.
There's no way that you won't find time for a quick haircut at Great Clips!
| Day | Business Hours |
| --- | --- |
| Monday | 9:00 AM – 9:00 PM |
| Tuesday | 9:00 AM – 9:00 PM |
| Wednesday | 9:00 AM – 9:00 PM |
| Thursday | 9:00 AM – 9:00 PM |
| Friday | 9:00 AM – 9:00 PM |
| Saturday | 9:00 AM – 7:00 PM |
| Sunday | 10:00 AM – 6:00 PM |
Note: Great Clips regular business hours can vary from one location to the next. Please contact your local Great Clips salon to confirm the current working hours, especially around the holidays.
Walk-In Or Online Check-In?
As pointed out previously, Great Clips is a walk-in haircare salon. There's no real need for you to call and make an appointment for a haircut in advance. If you're lucky, you could be in and out of the salon in less than half an hour.
But here's where it gets even better:
As of 2011, Great Clips launched the Online Check-In option – the haircare industry's first real-time check-in app. You can use this feature to find a salon in your area, add your name to the waiting list, and check average wait times before heading to the salon, too.
How cool – and not to mention convenient – is that?
Wrapping Things Up
Here's where my detailed guide on Great Clips prices, services, and salon hours comes to an end. But before you go, I'd like to take a moment to remind you why one of Great Clips salons in your area is the perfect place to get your next haircut:
Our society will forever have a soft spot for the main-street barbershop or the small, corner beauty salon. But the reality is that, in this day and age, most of us are time-pressed. As a result, we value efficiency above all else.
And that's where Great Clips blows its competitors out of the water.
They will give you precisely what you came in for – a quality haircut at a pocket-friendly price – and get you out the salon and on your way in no time.
Your hair will keep growing, and you'll keep cutting it – so, why not do it in one of Great Clips salons?
Related Articles: