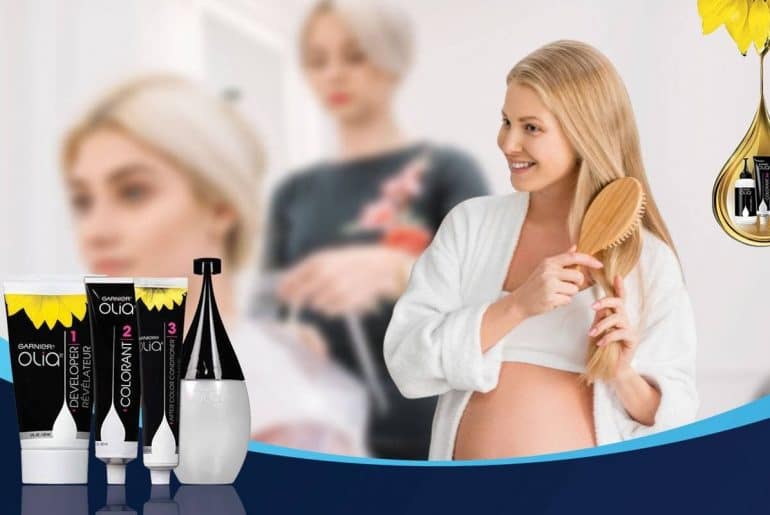 If you think there are scientific or medical studies proving that hair dyes cause miscarriages or birth defects, you're wrong. But neither is their reliable data to indicate that using hair dyes during pregnancy is safe. In that case, it's better to be safe than sorry, right? With that in place, you should know what is the best safe hair dye for pregnancy.
Hair dyes, more often than not, are packed with a lot of chemicals. And some of these chemicals have carcinogenic properties. So, as a responsible parent-to-be, you should keep away from such dyes at the time of pregnancy.
Just the possibility of something being dangerous for your fetus is reason enough to avoid it completely. If you agree with me, then you might want to have a look at the top 9 pregnancy safe hair dye brands I've shortlisted below.
The 9 Best Safe Hair Dye for Pregnancy
Pregnancy and Hair Dye
What you use on your body and hair matters as much as what you eat during pregnancy. Because everything that affects you, your skin, and your body affects your growing fetus.
Just like excessive lead exposure at the time of pregnancy gives rise to conditions such as miscarriage, reduced birth weight, and preterm delivery, exposure to high levels of chemicals found in hair dyes is also not safe. This is the same as eating a lot of high-mercury fish, which can cause nervous system problems in your baby.
Now let me tell you the truth about hair dyes, toxins, and pregnancy. To be honest, hair colors, permanent or semi-permanent, are not necessarily dangerously toxic during pregnancy. There's no scientific or medical proof of that.
Nevertheless, it's not a 100% safe hair product to use at the time of pregnancy either. A small amount of it might touch your skin on the scalp or forehead. This means the chances of the chemicals entering your bloodstream are likely. Even though a small amount, don't think that it won't have a negative impact on your developing baby.
How to Color Hair Safely
Let's say you decide to dye your hair to get rid of your gray areas during the 9 months of pregnancy. Or just to give your hair a transformation!
Whatever the case, here are a few precautions you might want to keep in mind along the way.
Wait till the Second Trimester
Most pregnant women know that hair grows faster during pregnancy. This explains the desire to head to the salon for more frequent root touch-ups. So if you want to minimize the chances of causing harm to the growing human inside you, go for these touch-ups or do them at home on your own only after 3 months of your pregnancy.
This is when you enter your second trimester. Rapid development and growth take place at the time of the first trimester. And it's best that you avoid doing anything that might jeopardize the protective environment your baby is growing in during that phase.
Instead of Dyeing All Hair, Do Parts of Hair
Think of this as an alternative hair treatment. It includes streaking, frosting, and highlights. You can choose any one instead of going all-out and coloring everything. It's better to be cautious now, isn't it?
Highlights, streaking, and frosting are gentler, safer hair treatment methods. So you're minimizing the exposure to harsh chemicals by keeping the hair dye formula away from your scalp and skin.
Go for a Safer Hair Color
Yes, I understand that permanent hair dyes produce the best, most gorgeous-looking, and longer-lasting results. However, they're not your only option. During pregnancy, you can go for safer hair treatments by selecting ammonia-free, bleach-free, and semi-permanent formulas.
The thing about semi-permanent hair colors is that they minimize your exposure to harmful toxins and chemicals. Although they don't last very long! But at least you can breathe a sigh of relief in knowing that your unborn child is well protected.
Then there are other safer alternatives like henna and natural vegetable hair dyes.
Hair Dye Ingredients to Avoid During Pregnancy
Certain ingredients in hair coloring products are just not pregnancy-safe. So at the time of choosing the best safe hair dye for pregnancy, make sure the following ingredients are not a part of the formulation.
Ammonia
It's the first unsafe ingredient that comes to mind when talking about hair dyes. Lucky for you, many brands now offer ammonia-free formulas that you can safely use during pregnancy.
Although scientists are yet to conclude if ammonia gets absorbed into the bloodstream, crosses the placenta, and then enters the tiny little body of your developing baby. Even so, it's better to be safe than sorry.
Parabens
Be it in hair dyes, body washes, or other skin and beauty care products, parabens are not safe during pregnancy. What the preservative does is halt the growth of bacteria and fungus. That may be a good part. But, unfortunately, the bad part is that it has the ability to penetrate your skin and disrupt the workings of your endocrine system.
Peroxide
This is another harmful ingredient commonly found in hair dyes. It can damage your hair's natural structure by making it brittle and more susceptible to external battering. So your hair is more likely to lose all the natural appeal.
PPD
The full form of PPD is para-phenylenediamine. Hair colors in dark shades are often equipped with this particular ingredient. What it is is a commonly used wood preservative. And studies linking PPD to cancer are not so hard to find.
Resorcinol
If there's any chemical in hair dyes repeatedly associated with health problems, it's resorcinol. One of the many health conditions here includes cancer. Resorcinol is added to permanent hair dye formulations for longer-lasting results.
The Safest Way to Use Hair Dyes During Pregnancy
Just follow the instructions below and you'll be taking all the necessary steps to keep side effects at bay.
1. Test the Hair Dye First
I'm sure you know all about patch testing. When you do a patch test, you're checking to see if the hair dye causes any adverse effects. So here's how to do that…
Dab a tiny amount of hair dye on a cotton swab.

Then rub this on the inner part of your elbow. Let it dry for a few minutes.

Does your skin feel irritated or show any signs of negative effects like swelling or redness? If yes, you know you shouldn't be using it.
2. Go Through the Label and Instructions Thoroughly
There's no sense in ignoring the instructions provided by the brand. If you wish to prevent any sort of complications, then read the label as well as the application instructions.
3. Leave the Dye on for the Specified Amount of Time
This means there's no need for you to unnecessarily extend the stay of your hair dye. More often than not, the manufacturer mentions how many minutes or hours to leave the hair color on for. So follow those instructions and then rinse your hair accordingly.
4. Color Your Hair in a Well-Ventilated Room
Make sure there's enough ventilation in the room. But why is that? It's because dyes have dangerous chemicals you shouldn't be breathing into your system. Whether or not you're pregnant! So air circulation, at such times, is a must.
5. Wear Gloves for Application
Obviously, put on gloves. Along the same lines, keep the formulation from coming in contact with your eyes and skin as much as possible.
6. Don't Choose Single-Process Hair Dyes
By single-process, I mean complete color changes and even root touch-ups. If there is a safe alternative where the dye doesn't have to touch your scalp, like in the case of highlights or streaks, then you should opt for that.
7. You can use Natural Hair Colors too
There are coffee and tea for example. These natural hair colors give you the perfect dark shade. Even beet juice, as a matter of fact, is useful when it comes to creating a reddish hue.
Natural Ways to Dye Hair Safely During Pregnancy
For a Dark Shade
First and foremost, there's henna. The colors henna produces are the different shades between brown and red. So if you want a black or very dark hair color, then you can use indigo after henna. Indigo comes from the Indigo plant, which is a darker shade of blue dye commonly used for textiles and hair colors.
Another very effective natural hair color is black walnut hull powder. This you can steep in hot water for producing the same effects as a dark-colored hair dye. Naturally, more powder implies a darker hue.
Then there's coffee and tea. You can rinse your hair using strong black coffee or tea for darkening your medium-colored hair.
For a Light Shade
To give your beautiful hair a lighter-colored transformation, lemon juice works the best. You can either pour lemon juice over your hair or spray it.
The second-best option is a combination of rhubarb root, calendula, and chamomile tea rinse. This gives you honey tones with darker blonde hair color.
For a Reddish Hue
Once again, henna works flawlessly when it comes to producing a rich, deep auburn shade on a darker palette of hair. This means if you're blonde, then the color might be too red.
Tomato juice is also a very effective hair dye. Leave it on for around half an hour for favorable results. Then there are calendula and hibiscus flowers mixed in tea. These also do a swell of a job in adding red tones. And lastly, beetroot powder or beets create a more reddish-purple color.
For Grays and Roots
What is the natural way to get rid of grays or do root touch-ups? You can buy natural hair dyes for covering the gray areas since they don't cause any hair damage. Plus, these hair color formulas are pregnancy-friendly too.
But if you don't want to use any sort of hair dyes, then how about incorporating a dry shampoo specifically created for dark hair? This kind of shampoo camouflages light roots. You can even do a calendula or chamomile rinse daily for lightening your dark roots.
Final Words
Pregnancy feels like an experience that simply doesn't belong to your body. It seems very strange to have to go through so many changes while your baby is developing. Weight gain, increase or decrease in appetite, swollen ankles, exhaustion, etc. The list goes on and on, right?
You obviously don't have much control over the physical aspects of these inevitable changes. However, you can control your hair color. A change in the way your hair looks is like pampering yourself during those 9 harrowing months of pregnancy.
But then the big question is, what is the safest hair dye to use during pregnancy? Since the popular mainstream ones are packed with chemicals you don't want to expose your unborn child to. In that case, leave all such worries behind when using any one out of the 10 natural hair dyes I've reviewed in this post. Each one of them is safe to use at the time of pregnancy.
Just make sure that the hair coloring formula you pick is free of ammonia, parabens, peroxide, PPD, and resorcinol. Because the goal is to prevent the onset of any adverse or negative effects both on you and your baby.
More Pregnancy Product Reviews: