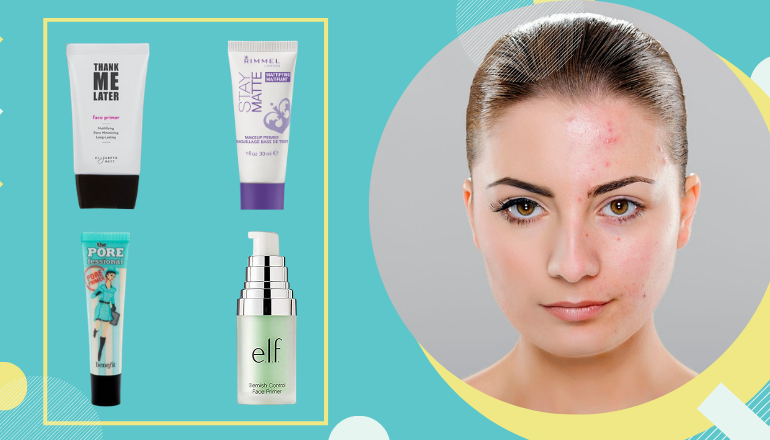 Upon having reluctantly blemish, acne-prone skin, selecting a makeup product is extremely important to make sure the acne doesn't get worse as well as provide perfect coverage.
In fact, it is widespread to use makeup to cover up blemished skin. However, unsuitable products are also the reason why acne becomes more serious, making the treatment phase longer and longer. In some severe cases, your skin may be even impossible to recover sufficiently. Therefore, for acne-prone skin, you should pay attention to ingredients in cosmetics and check whether they can clog pores, cause irritation or leave sebum on the visible face surface or not.
For a long time, I'd suffered bitterly a rough time dealing with blemishes and couldn't go out without putting on makeup. At that anxious period, I desperately ran into a loop: makeup to cover up acne - breakouts - required makeup - and skin condition couldn't be helped. It took me nearly a miserable year to, fortunately, find out makeup products suitable for my extremely sensitive pizza-face during the acne treatment phase. For those who were in the same shoes, you'll totally understand my horrific circumstance back then.
Alright, I will spend another article rambling about my acne treatment later. Here and now, in this post, I will mainly introduce the first necessary step in makeup routine: using primer. It is undoubtedly a secret weapon that many of you usually underestimate. Without more ado, please take a look at my credible explanation of the use of it and check out the selected list of the best primers for acne - prone skin that I have spent a lot of time to experience.
Let's get started, shall we?
Using Primer for Acne-prone Skin, Why Not?
Primers regularly appear in a type of creams or lotions. They are utilized to instantly improve coverage and keep the visible persistence of makeup on the face for all day long. Put differently, a primer is typically like a sheer mask that prevents the direct effects of the environment as well as the foundation/ powder from detrimentally harming the skin.
There are many contrary opinions that it is unnecessary to use a makeup primer. However, hear me out: it is entirely incorrect and in contrast, likely to severely deteriorate your face. As far as I know, the primer performs adequately two essential functions:
It lends a hand to prevent the skin from absorbing foundation and powder, so your skin remains protected during your makeup; and

Helps to "lock-in" the skincare layer, which does not allow it to evaporate, ensures the nutrient absorption into the skin.
Thus, my advice to you guys is putting primer into your standard routine as soon as possible.
Another function that I enjoy the most about primers is the color correction effect. Such function helps reduce redness of acne and comfortably furnish the skin base an even tone. Is it attractive enough to you?
Hence, do not hesitate about primers being unpleasant for acne anymore. Choosing the best primer for your acne-prone skin will undoubtedly be a "potential saviour" to help you get rid of shiny skin, gently cover up blemishes caused by acne, and minimize large visible pores. I'm assuring you, upon recognizing this, you are going to regret not using a primer earlier.
How to pick the right primer for your own self is a trigger question. For those who have acne-prone and sensitive skin, the suitable primer is to nail these features:
Oil control
Hypoallergenic
Does not lead to acne worse
Form the next layers more excellent.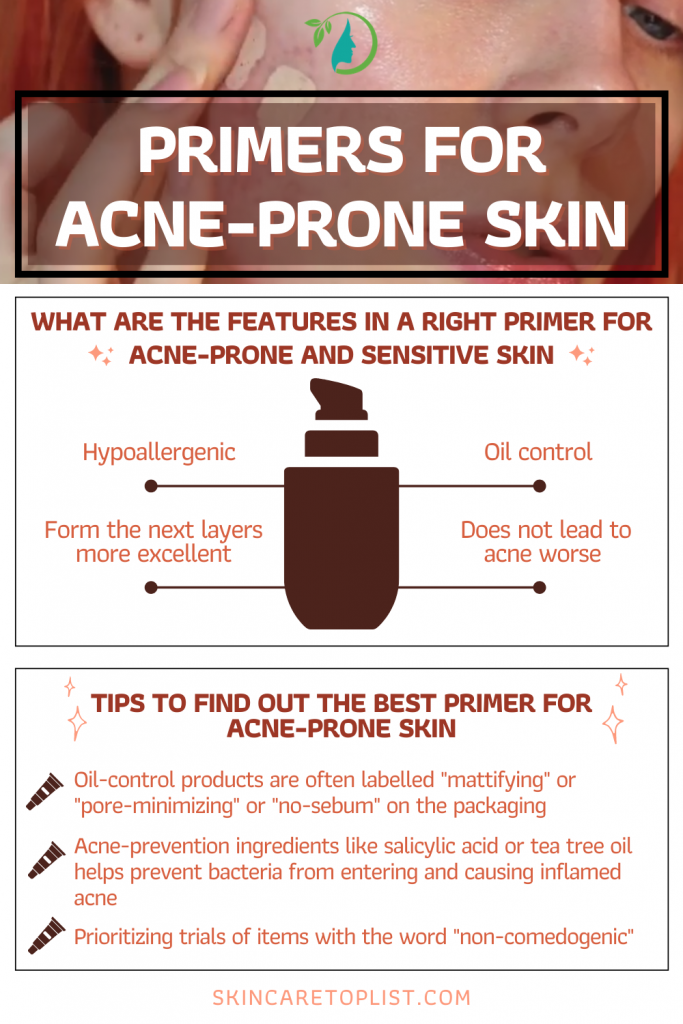 Which Primer Is The Best For Acne-prone Skin?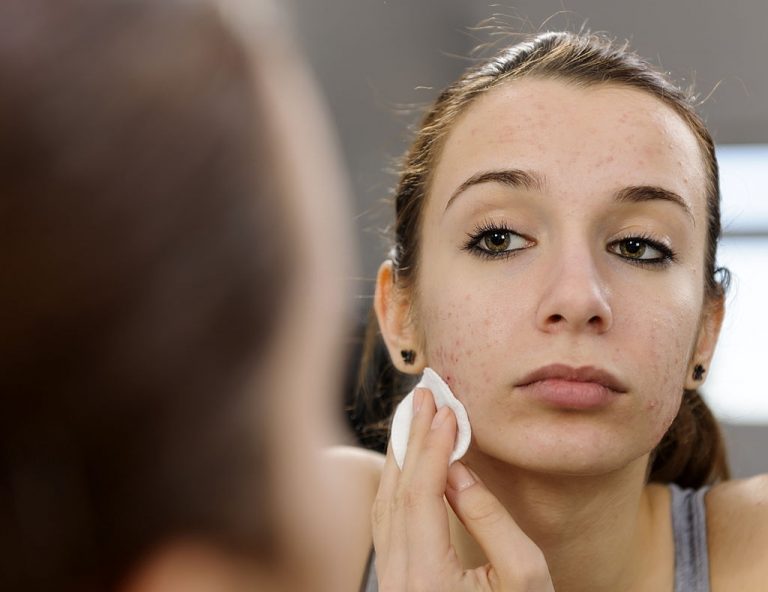 Acne skin always needs light-texture, oil-free products to keep the pores breathable. The skin which overproduces oil indeed causes clogged pores allegedly resulting in acne.
Therefore, the first criterion for a primer that I always aim for is to efficiently control oils. The extra tips for you guys: find a gel-based, water-based moisturizer and use it before the primer layer. Oily skin must be hydrated or moisturized enough; otherwise, too much sebum occurs. To choose oil-control products, I notice on the packaging that it is often labelled "mattifying" or "pore-minimizing" or "no-sebum". These labels prove that products will help to remove greasy shine and absorb excess oil on the skin.
The second criterion is that primer may contain acne-prevention ingredients like salicylic acid or tea tree oil, which helps prevent bacteria from entering and causing inflamed acne, unclog the clogged pores and reduce redness. Additionally, to soothe red and inflamed blemishes, you can look for products that consist of vitamins and natural extracts from willow bark, licorice root, chamomile, etc.
You can also refer to items labelled "non-comedogenic". As defined by the US Food and Drug Administration (FDA), "non-comedogenic" cosmetics mean no ingredients that have been proven to clog pores are included (reference link). However, this controversial definition is a rather vague concept, not absolutely guaranteed because the FDA does not publish a list of qualified ingredients for use in "non-comedogenic" cosmetics.
For all that, this term can be considered as reference information, i.e. such a label can be equivalent to the meaning "for oily acne-prone skin". Prioritizing trials of items with the word "non-comedogenic", although it does not guarantee an exact choice, it supports you narrow the search down.
So my technique is if the product is not labelled "non-comedogenic" or "mattifying" or "for blemish skin", etc. I frequently read through the ingredients sheet carefully and avoid the oil-based, paraben-free primers (perfume-free is optional). Since the oil is familiarly known to cause more clog pores; paraben and artificial fragrance may cause irritation and difficulty to improve the acne condition
I have referred to countless reviews and tested by myself numerous primers, and finally I come with a selected list of the most effective ones with truly reasonable prices below. You guys, please keep in mind this notice: be patient and always listen to your skin's responses to anything you apply on your face so that you can precisely pick the most suitable products for yourselves.
Well, without any further delay, let's take a look at my top picks hereunder.

Read More, Learn More:
Unveil 6 Best Primers For Acne-prone Skin ever
1/ Best Drugstore Primer For Blemish Skin - Maybelline New York Face Studio Master Prime Primer, Blur + Redness Control
Maybelline's New York Face Studio Prime ® Primer series launched in 2015 and has been very favourably received by consumers for its high performance compared to its so affordable price tag. This successful product line is classified into five colors suitable for various skin types. After learning about the practical use of each color, I decided to choose Maybelline New York Face Studio Master Prime Primer, Blur + Redness Control because of its function.
It appears in the green cream, which can not only cover pores but also neutralize the redness into normal skin tone. Therefore, it sufficiently covers the redness at the sensitive areas such as the corners of the nose, the corners of the eyes and the parts contain red, swollen pimples, irritation. For me, this specific item performs 2 excellent jobs: the oil-control is actually good, it instantly blurs my visible pores and makes my face feel smooth.
However, the minor disadvantages which I am unsatisfied with are: the fragrant smell of this product is quite strong and the ability to maintain makeup during a day is just on an average level. That's why I often use the water-gel moisturizer beneath and coat above the primer layer with a no-sebum foundation and powder if I want my makeup to last all day.
For those who merely have small red blemishes or acne is not so severe, this primer is the best drugstore primer, ideally suitable for daily routine with comparable quality at its comfortable price.
Pros
The price is utterly reasonable, any girl can afford
Cover pores well and provide a smooth surface
Oil-control is fine
The oil-free and gentle formula, non-irritating to the skin
Generate a light-shiny effect
Cons
Fix the makeup on medium level
Good for:
I recommend people who own not so severe oily acne-prone skin to use. The product contains fragrance, so I do not recommend it to anyone with sensitive skin.
2/ Best Budget Drugstore Primer For Dry Acne-prone Skin - Maybelline Baby Skin Instant Pore Eraser Primer
Here is another product from the Maybelline. The company claims that Baby Skin Instant Pore Eraser Primer is non-comedogenic and fragrance-free, so it's good for sensitive skin too. Furthermore, it obtains an impressive score of 4.5 out of 5 on Amazon with nearly 17,000 ratings. Do not hesitate anymore to buy!
I regularly don't apply it all over my face, but rather just partially spread a thin layer to the oily T-zone, to the parts having the most visible pores and the acne-prone area. Then I wait about 3-4 minutes for the skin to fully absorb and gently put on the foundation. OMG, I was absolutely surprised that the pores were almost completely covered and my skin looked incredibly smooth. Really crazy, right? I love it right away!
One minus point is that oil-control is not significantly useful. If your prone skin is much oily, by midday, you usually have to gently remove makeup and reapply it. But honestly, at such a price, this item completely satisfies me.
Pros
Minimizing the pores well
Lightly moisturizing so you may not need to use the moisturizer below. (It is surely a huge support for the best makeup for dry acne-prone skin!)
The formula is oil-free, fragrance-free, and non-irritating
Cons
Oil-control is not so excellent
Good for:
Recommend for drying, combination skin and normal skin. This product contains moisturizers, so the oily-skin people should carefully consider it a bit. (My personal rating is 4/5 since it's inconvenient for me to remove makeup by mid-day.)
3/ Best Budget Primer For Oily Acne-prone Skin - Rimmel Stay Matte Primer
What I relish about Rimmel London is that their products are cruelty-free, not animal tested. With the motto "Live the London look", Rimmel London is just a brand I cannot ignore when searching for cosmetics. And you know what? I have not made any mistakes at all.
If Baby Skin is an appropriate selection for dry acne-prone skin at an attractive price, Rimmel Stay Matte Primer is considered as one of the best primers for acne-prone and oily skin with care to the budget. It is labelled "mattifying" and executes a marvellous job at effectively reducing the oily shine on my face. This excellent primer completely surprised me by its oil-control effect for over 7 hours.
I have been continuously using three tubes of this primer for 2 months. If not because of the urge to discover other products, then I wouldn't change to another one. I currently still have one tube on the dressing table so that when there is any item that I'm not much into, I can use it instead right away. It deserves to be one of the best drugstore primers for oily acne-prone skin!
Tips: Though it may seem strange, you can also apply this primer only, without makeup, on areas with large pores or on areas that need oil-control to intentionally produce a matte, smooth, non-greasy surface.
Pros
Extremely oil-control, delivering you a matte, smooth base
Blurring pores almost entirely
Create a silky-smooth canvas for makeup
Cons
The texture is a bit thick and difficult to spread, but after drying, you don't feel it at all
Making the skin a bit dry (However, for the oily skin type, I don't see this is a disadvantage.)
The choices are limited since there is only one shade
Good for:
Highly recommended for you guys with oily skin, large pores. Believe me, it's worth every penny. Once you buy it, you will get no regrets! If you have sensitive, oily skin, you can also consider it because this product doesn't cause irritation. For people in the dry-skin group, you should moisturize your skin well before applying this item.
4/ Best Primer For Acne-prone Skin - Elf Blemish Control Face Primer, Matte Finish
The holy grail primer supports acne treatment for you here. Active ingredients contain up to 2% Salicylic Acid - a golden dermatologist-approved ingredient which helps clear and minimizes enlarged pores. Besides, there are green tea and rosemary extracts that help soothe the skin and anti-inflammation, so it's suitable for sensitive skin as well.
I must say that I really love this primer because I can feel it is "saving" my acne-prone skin. The texture is remarkably silky-smooth and much easy to apply. Also, upon spreading it on the skin, I feel refreshed. The huge plus is that it doesn't cause me to break out, despite being very acne-prone and does not cause my skin to produce sebum too much.
One more thing caught my attention was that the company announced it's "vegan, cruelty-free and 100% free from phthalates, parabens, nonylphenols, ethoxylates, triclosan, triclocarban and hydroquinone". Hence, I'm really confident that quality is assured.
In fact, after 3 months, along with a good cleansing ritual, my skin has been a lot less acne. The inflammatory spots are significantly reduced, the blind pimples under the skin are also drawn up and can be gently removed during the cleansing process.
This primer does a great job of proactively protecting the skin from other makeup and unclogging pores. I bought it again and again, and it is indispensable in my current morning routine.
Pros
The active ingredient 2% Salicylic Acid helps progressively reduce acne
Natural extracts such as green tea and rosemary supportively reduce inflammation and soothe the skin
Keep makeup durable all day long and make skin look smooth, free from oily shine
Cons
I quite consider the price a bit expensive, but so worthy
Do not use it alone without foundation because the coverage is not very good
Good for:
Highly recommended for normal or oily acne-prone skin. However, because of 2% Salicylic Acid, you should test on a small spot first to see if it is irritated or allergic. This ingredient may cause the skin to become dry, so I do not endorse the dry skin to use.
5/ A Beast To Large Pores - Benefit Cosmetics Porefessional Pro Balm Face Primer Pore Minimizer
This list cannot be complete without the well-known primer Benefit Cosmetics POREfessional Pro Balm Face Primer Pore Minimizer - the primer gains approximate 7,500 reviews and scores 4.1 out of 5 on the official Sephora site. Is there enough for you to understand how good it really is?
This primer absolutely deserves such an excellent rating. It works brilliantly to create a matte finish, veil the appearance of my enlarged pores as well as deep acne scar, and prepare a silky finish for a foundation. Despite its quite thick texture, it is very blend-able, and the oil-free formula comfortably furnishes a lightweight-feeling outcome once it has been applied.
If you ask which is the best primer for large pores, I can say without hesitation: "POREfessional Pro Balm!!!". In my opinion, it is also the best primer for deep acne scars so far. However, my face does start getting shiny again and needs powder by mid-day, especially in the summer.
Since the texture is quite thick, I only need to use a small amount to cover the whole face, it is quite economical. A tip for using this primer is that applying it by hand is better than using a brush. When I use the brush, it feels pretty patchy.
Pros
Good coverage, beautiful finish
Ingredients do not contain oil and do not cause acne
Paraben-free and cruelty-free (I'm really crazy about brands that don't execute tests on animals!)
Cons
Perfume can cause irritation if your skin is too sensitive
It may not be for those who don't like fragrance. However, the scent is quite pleasant, not as strong as Maybelline New York Face Studio Master Prime Primer, Blur + Redness Control
Using your hands is a bit unhygienic, but it makes the foundation better than using a brush
Despite the relatively high price, it is economical (you only use a small amount of cream each time.)
Oil-control doesn't meet expectations
Good for:
I recommend those who have normal skin or oily skin to use this one. In the hot season, oily skin may need to re-coat powder by mid-day; otherwise, your face will look patchy and cakey.
6/ The Best Mattifying Primer - Elizabeth Mott Thank Me Later Face Primer For Oily Skin
Yes, you'll thank me later after knowing this baby. Paraben-free, cruelty-free, also mattifying effect? What else hangs you back?
Initially, I was quite hesitant to try because I had never heard of this brand before. However, after doing some research, reading through tons of reviews about this primer, I finally decided to give it a try. And you know what? I am not disappointed with this decision at all.
I'm not exaggerating when saying that I can compare this chick with the popular Pore & Shine Control Primer of NARS. No doubt that this is the best mattifying primer as far as I know! The flawless finish ideally makes the skin look naturally shiny and healthy, without the oil greasy. Coverage is excellent, pores and acne scars almost disappear and the oil-control effect comes instantly.
Moreover, Octyl Salicylate in ingredients is slightly UVB resistant referring towikipedia.org(however, you also need to use additional sunscreen to protect your skin entirely from UV rays, UVA is also very dangerous for the skin). The texture is undeniably silky and provides the skin with an absolutely natural glow. Oil-free so you don't have to worry about it clogs your pores. The price is also quite pleasant compared to the NARS.
Pros
The visible result can be compared to the high-end primers, but the price is much more reasonable
Oil-control for 8 hours
Cruelty-free, paraben-free, waterproof and sweatproof
The texture does not cause a heavyweight feeling
Cons
Pink beige color does not cover red spots or dark skin tones well
Compared to Maybelline or Elf, the price is comparatively high
Good for:
Suitable for oily blemish skin, sensitive skin. If your skin has severe red spots from acne, you should combine it with concealer for perfect coverage.
Well, it's the end of the list. If you are still concerned about adding a primer to your daily makeup, please see my answer to some questions that you frequently encounter at a glance below.
---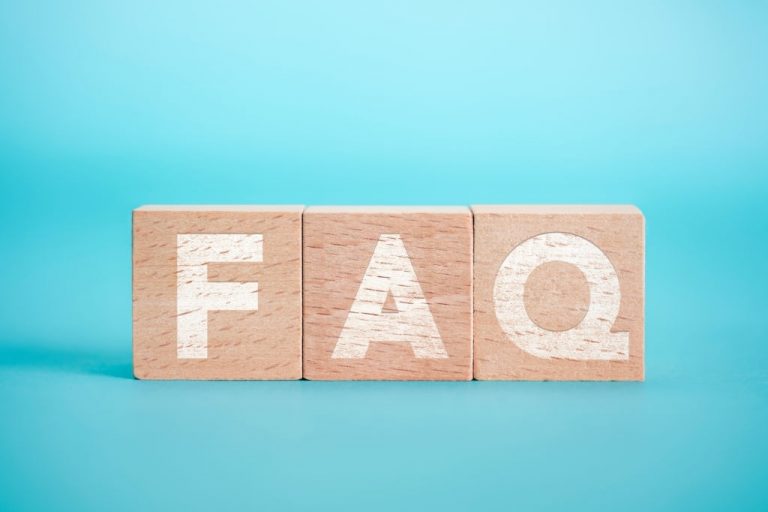 FAQ - You have questions, Skincare Top List have answers
1 / Silicone in primers does cause acne?
Silicones molecular structure is massive. Therefore, they cannot penetrate the epidermis layer but stay on the skin surface and do not clog pores leading to acne.
2 / Does primer visibly cover pores?
The answer is yes, absolutely yes. The silicone in the primer has a colossal molecular structure that can fill the fine line and wrinkles without absorbing into the skin, making the surface of the skin even, creating flawless skin.
3 / How to use makeup remover when using a primer?
With my experience, I habitually use the triple-cleanser method: Cleansing oil - micellar water makeup remover - cleanser. Since primers tend to stick to your skin, make sure you remove your makeup thoroughly. Firstly, massage your dry face with a cleansing oil for 30 seconds, rinse thoroughly with warm water for 1 minute. Next, wet a cotton pad with micellar water and wipe your face. Finally, use a cleanser for 2 minutes. In this manner, the skin is refreshed and ready for you to continue the next skincare steps.
4 / Using a primer with SPF then need to use sunscreen or not?
My answer is yes. Because even though the primer has SPF, it is not enough to protect the skin against harmful rays throughout the day. Sunscreen is well-known as a protection shield preventing your skin from aging and hyperpigmentation.
5 / If the primer already contains moisturizers, do I need to use more moisturizer?
My recommendations are "needed". However, it is advisable to use a gel-based/water-based hydrating cream to avoid heavyweight -feeling due to too many layers. For dry skin, the moisturizer in primers won't be enough to hydrate your skin, and the makeup may become cakey. For oily skin, the moisturizing ingredient will make the glow liner but reduce the oil-control, so a hydrator will make the skin less oily, non-greasy all day.
6 / How to use a primer?
You use the primer right after the sunscreen, placing a thin layer by hand or by brush. After that, use foundation, concealer, powder, etc. as usual.
Final Words
In short, using a primer will make your skin look much brighter and more vibrant. With the ability to fill wrinkles and smile lines, you'll look much younger by using primers.
My "Toplist" favorite item is Thank Me Later Face Primer For Oily Skin. If you want to choose a primer that supports treating acne, Elf Blemish Control Face Primer is an ideal product.
If you don't want to break the bank, but still want "Live in the London look", Rimmel Stay Matte Primer is also a right choice.
Hope you find this article useful. So, what do you like? If you have any concerns, feel free to leave a comment below. I'd love to hear your other thoughts and together we can choose the perfect products.
Did you like this post about the best primers for acne skin? Why not pin it!