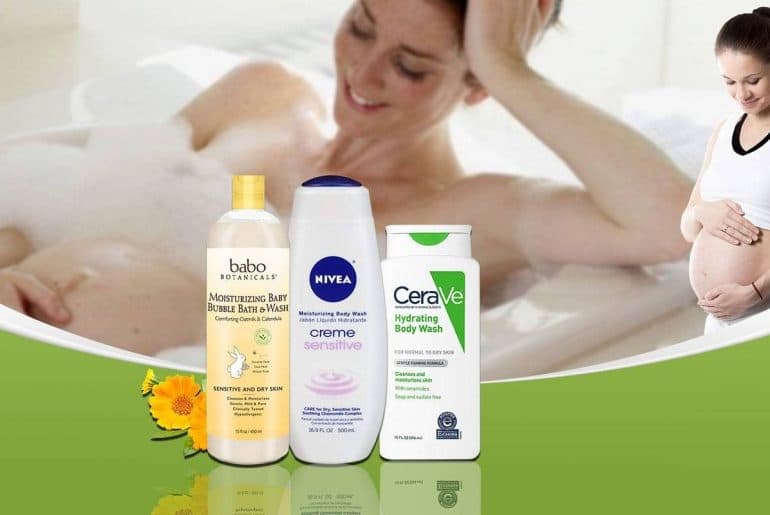 Your mood and body are not the only things that change during pregnancy. Skin changes during those 8-9 months are also quite common. As you progress into your pregnancy stages, the skin begins to demand more and more attention. So let's start by using the best body washes & soaps for pregnancy.
You might think you can choose just about any gentle body wash or soap. However, it's not as simple as that. Commercial body washes and soaps contain all kinds of ingredients. More often than not, these are a combination of beneficial and not so beneficial.
When you're not pregnant, it's alright to take the risk of exposing your skin to such harmful chemicals. But you simply cannot neglect to go for only safe ingredients. And that's because your baby receives what you receive. So it's best to change your routines if you know they're not safe for your unborn child.
How about starting by using natural, gentle, chemical-free body washes and soaps? Not all of them reviewed below are specifically designed for pregnant women. But each of them offers a list of ingredients that is nothing but safe for your baby and beneficial for your skin.
Top Body Washes & Soaps for Pregnancy
What Skin Changes Should Be Expected During Pregnancy?
Expecting that perfect pregnancy glow is quite common. But not all women are lucky to be able to enjoy that during the exhilarating months of pregnancy. So if you're one of the many unlucky ones, much like me, then skin changes during pregnancy can be stressful and annoying. And only hormones are to be held accountable for that.
So here are some of the most common skin problems your hormones are likely to give rise to:
Breakouts.

Stretch marks.

Varicose/spider veins.

Melasma (skin darkening).

Dark spots, mainly on the thighs or breasts.

Itchy, dry skin on the belly as it gets bigger.

Skin tags.

Linea nigra (brown line of pregnancy on the abdomen).

Pregnancy glow, if you're lucky enough. (But this one's always welcome!)
Now you don't have to worry about these skin concerns because they're typically only pregnancy-related. Once your baby leaves your womb and the nursing stage is over, the conditions, more often than not, subside. In the meantime, you can continue using the best body washes & soaps for pregnancy as they help in dealing with dark spots, dry skin, etc.
Why Choose the Best Body Washes & Soaps for Pregnancy?
The body goes through several changes at the time of child-bearing. But you already know that, correct? Instead what you're probably not aware of is that your baby inside the womb is using up all the fluids present in your body. This means your skin is less likely to receive optimal hydration. As a result of which dry skin takes over.
If you're drinking tons of water during pregnancy, then that's great. Even so, drinking enough water to keep your skin hydrated doesn't always make a huge difference.
At such times, using the best natural body wash or soap for rehydration contributes to a large extent. The safe, gentle, baby-friendly formula provides your skin with all the nourishment and hydration it's not receiving because your little one is hogging all it.
Important Warning: Not All Skincare Products are Safe to Use During Pregnancy
It's not uncommon to believe that body washes and soaps wash away with water during your shower. This is why not many pregnant women think twice before buying just about any soap or body wash.
We, as lazy consumers, simply opt for the most popular brand. But you should know that not all well-known skincare brands manufacture products beneficial for your skin. Particularly when you have a child growing inside you!
During pregnancy, it's more important than ever to properly inspect the list of ingredients on the packaging of the product. Taking extra precautions should come to you naturally at this point.
In that case, here are the top 5 ingredients every pregnant woman should stay away from. Even every list of safe face washes during pregnancy doesn't contain the following ingredients.
Retinoids
The derivative of Vitamin A is called isotretinoin. And it's available in the form of topical and oral medication. The latter is mainly prescribed for treating severe acne. But here's the ugly part. Oral retinoids give rise to birth defects in the heart and brain along with bone abnormalities.
The oral form is prevalent in drugs such as Sotret, Amnesteen, and Claravis. Doctors highly recommend stopping the drug prior to at least a month of conceiving. And, obviously, it should be avoided during breastfeeding too.
Along the same lines, keep from consuming too much Vitamin A as well. Around 25,000 international units of Vitamin A per week are safe, nothing more than that.
Moving on to topical retinoids, you need to steer clear from them completely. These come in the form of Avage, Retin-A, Tazorac, Differin, etc. Even though a tiny amount gets absorbed into your skin, it's linked to causing birth defects in babies.
Tetracycline
It's an antibiotic used for the treatment of acne. And it has the ability to go through the placenta and impair the skeletal growth of the baby. Along with staining teeth!
So it would be a logical and responsible decision on your part to not use any skincare or beauty product that contains this particular ingredient. And not just at the time of pregnancy but also during nursing because tetracycline invades breast milk as well.
Salicylic Acid
Now, this is a very popular and effective beta hydroxy acid added to skincare products suitable for acne-prone skin. The oral version of this has been linked to causing birth defects as well as bleeding. But that's just the oral version.
Salicylic acid included in topical OTC skincare products that you apply is less harmful. And that's because only 2-percent of it is present in there.
The FDA allows brands to add not more than 2-percent salicylic acid in their creams and gels. And this 2-percent poses a very low risk when used for a short span. Even so, salicylic acid in all forms has been flagged down by many dermatologists.
Benzoyl Peroxide
Even benzoyl peroxide, when used topically and in small quantities, is safe during pregnancy. But the fact remains unchanged that it gets absorbed into the skin and is likely to shift blood circulation away from the baby. A higher concentration, more than 2.5-5 percent, of benzoyl peroxide also tends to cause skin inflammation.
So if you're dealing with acne and want to use benzoyl peroxide for fighting your breakouts, speak to your dermatologist for a safer alternative.
Hydroquinone
Around 34% to 45% of topical hydroquinone gets absorbed into the skin. This ingredient acts as a skin whitening agent. So it's only common sense to assume that hydroquinone is a part of many face washes, body washes, and face creams.
The negative impact hydroquinone has on the body and baby may not be as adverse as the other 4 ingredients discussed above. Nevertheless, it's highly recommended to avoid it during pregnancy.
Tips for Dealing with Common Skin Concerns during Pregnancy
Along with using body washes and soaps safe for pregnant women, you can deal with your skin conditions simply by walking the extra mile.
Stretch Marks
Does your mom have stretch marks? If yes, then genetics win. And you can't do anything about that. But during pregnancy, you can make use of shea butter for keeping your belly skin supple and itch-free.
And you know what; stretch marks are not all that bad. Over the years, beauty and skincare brands have made them so in order to bank on your insecurities. So you end up buying their myriad products to get rid of such "imperfections." Just keep in mind that stretch marks are as much a part of your skin as the skin itself.
Melasma
Stretch marks you might not be able to eliminate from the picture, but melasma you definitely can. Melasma takes the form of hyperpigmentation in light-skinned women. It happens during pregnancy and even after it. But the condition gets heightened due to sun exposure.
Dark patches on the forehead, cheeks, and upper line indicate the formation of melasma. And the only effective way to treat and prevent these dark spots is to use sunscreen. To be more specific, an unscented, mineral-based sunscreen with zero parabens for pregnant women. Apply it daily, whether you're going out in the sun or staying indoors.
Acne
For fighting breakouts, big guns such as salicylic acid, benzoyl peroxide, retinoids, and antibiotics are not suitable during pregnancy. So what do you do for your acne treatment then? You make sure you consume a healthy, anti-acne diet, manage stress, and not touch your face.
Itchy, Dry Skin
Dealing with dry and itchy skin during child-bearing is a very common skin concern. And it can be easily remedied simply by skipping non-healthy fats, consuming lots of water, and using gentle, natural skincare products.
Severe itching, itchy bumps, or hives point in the direction of Pruritic Urticarial Papules and Plaques of Pregnancy (PUPPP). It's not something to worry about but the condition is super-annoying.
To deal with any sort of itchy skin issue, what works best is using lukewarm water for baths and showers. Avoid hot water completely as it aggravates the itchiness and dryness.
In The End, What Matters Is You and Your Precious Baby
No doubt your pregnancy is a very important part of your life. So wouldn't it be better if you can just enjoy that phase and not struggle with it? And a goal like this is easily achievable if you're well-prepared to tackle all sorts of common issues. For the skin, it's using a pregnancy-friendly body wash or soap.
It's necessary to keep your skin nourished, clean, and hydrated. At the same time, it's crucial to do so by using only safe, gentle ingredients. Much like the 20 body wash and soap formulas I have reviewed in my post.