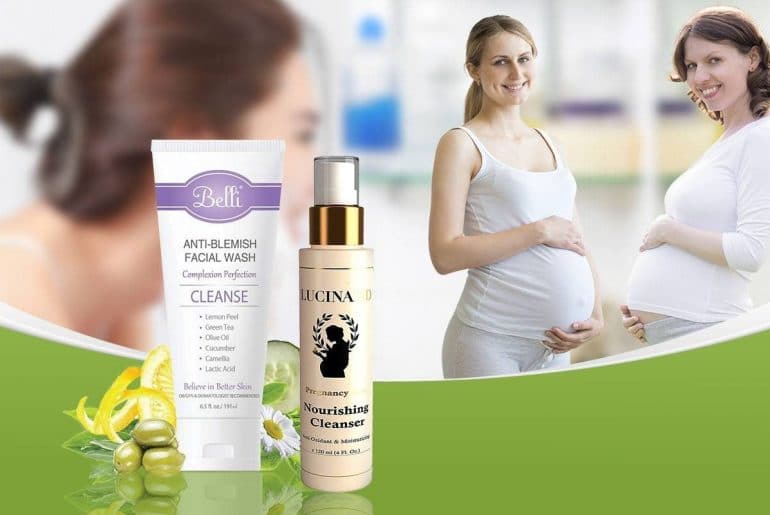 You're reading this article, so the chances are you're pregnant. And if you're pregnant, then you might have noticed a few skin changes. First of all, if your skin is already prone to breakouts, then it becomes even more susceptible. And secondly, skin sensitivity levels get heightened.
At the same time, the 8-9 months of pregnancy require you to use safe products to protect the health of your unborn baby. So it's time to stop neglecting the part where you go through the list of ingredients and raise questions about them.
Let's start with the best face washes & cleansers for pregnancy. It's the first step you take toward acne-free skin during your child-bearing months. And even after childbirth!
The 15 Best Face Washes & Cleansers For Pregnancy
Causes of Acne Flare-Ups During Pregnancy
Hormonal fluctuations are the most common cause of breakouts at the time of pregnancy. Now this can be due to going off your birth control pills.
The thing about birth control medication is that it helps in stabilizing acne. It reduces the effect testosterone has on your skin. And that, in turn, contributes to reducing acne. So when you stop taking birth control pills, the level of testosterone increases. And so do sebum production, pore-clogging, and finally the number of breakouts.
But here's the good news. Just 3 cycles without the pill are enough to allow your skin to stabilize. However, not all women dealing with acne during pregnancy are off birth control. Hormonal changes are part and parcel of pregnancy. So the very process of being pregnant gives rise to acne and drastic skin and hair changes.
Some of the most common skin concerns fluctuating hormones cause during pregnancy are as follows:
Brown patches or dark spots on the face. Dark spots appear on the inner thighs and breasts as well.

Spider veins.

Varicose veins.

Dark line starting from the navel all the way down to your pubic region.
Ingredients in Face Washes Safe to Use During Pregnancy
The ingredients I've mentioned in the reviews section are glycolic acid, lactic acid, and citric acid. But there are others too that rank as safe during pregnancy. These include the following.
Azelaic acid

Beta hydroxybutyric acid

Hydroxyacetic acid

Hydroacetic acid

Betaine salicylate

Dicarbonic acid

Tropic acid

Hydroxycaproic acid

Trethocanic acid

2-hydroxyethanoic acid.
You should also know that soy-based formulas are safe for pregnant women. But if you're dealing with dark skin patches or melasma, it's best to stay away from soy as it tends to further darken the skin. The safe alternative, in this case, is active soy. Or choose skincare products that don't contain textured vegetable protein, lecithin, and phosphatidylcholine.
Many dermatologists also recommend the use of OTC acne-fighting hydrocortisone creams. These have received the "green signal" for pregnancy. As for safe ingredients present in such steroid creams, they include triamcinolone, hydrocortisone, fluocinolone, desonide, and alclometasone.
Ingredients in Face Washes NOT Safe to Use During Pregnancy
If you've gone through the reviews of the best face wash for pregnancy discussed above, then you already know two common ingredients you should stay away from. The first is salicylic acid. And the second one is benzoyl peroxide. Along with these, even hydroquinone is not safe during pregnancy.
Apart from such ingredients found in brightening creams and acne-fighting cleansers, medical professionals also advise against the use of oral prescriptions for acne. They contain a lot of Vitamin A, which has a negative impact on your developing unborn baby.
Along the same lines, antibiotics like tetracycline should also be discontinued. They have the ability to get through your placenta and disrupt the healthy formation of your embryo's bones and teeth.
By the way, even topical retinoids are packed with derivatives of Vitamin A. So steer clear of them till your precious muffin is out of your womb.
Safe Acne Treatment During Pregnancy – Useful Tips to Keep Acne Away
Are there natural ways of treating and preventing breakouts during the 9 months of pregnancy? Yes, of course there are. And you can speed up the effectiveness of these natural remedies by including one of the 15 baby-friendly face washes I've reviewed into your daily skincare routine.
For Acne
To Treat:
Soak a clean cotton ball in regular apple cider vinegar. Gently rub this soaked cotton ball on all your acne-prone areas of the face.
Another effective natural remedy involves the use of lemons and limes. Both are packed with alpha hydroxy acid, which is considered to be the best acne-fighting ingredient.
Even honey works as a matter of fact. Honey, after all, has antibacterial properties. Think of it as your very own homemade natural facial cleanser.
To Prevent:
Firstly, wash your face twice a day using lukewarm water and a gentle cleanser.
Secondly, if you have oily hair, then shampoo it daily. And make sure your hair doesn't come in contact with your face.
Thirdly, no matter how bad the craving, don't squeeze or fidget with your pimples. They leave scars that are difficult to get rid of.
And lastly, face wash or face cream, always buy oil-free and non-comedogenic formulas.
For Melasma
To treat melasma the natural way, the best ingredient is castor oil. You can combine it with lemon and honey for boosting effectiveness.
Even aloe vera gel works. This explains why there are so many facial cleansers and moisturizing lotions for hyperpigmentation equipped with aloe vera.
For Dryness
Dry skin during pregnancy is a very common concern. So consider using olive oil instead of your regular moisturizer.
Lactic acid-infused milk creams are also excellent exfoliators.
As for boosting skin hydration, nothing works better than yogurt.
The End
Hormonal changes due to an increase in androgen production compel your sebaceous glands to work in overdrive mode. And this gives rise to acne during pregnancy. With that, dullness and dryness also take form.
So if you wish to counterbalance these effects, you have to use a special formulation in the form of a facial cleanser. At the same time, this special formulation should also be baby-friendly in case its ingredients get absorbed into your skin to reach your placenta.
Keeping all this in mind, feel free to choose any one of the 15 face washes I've shortlisted. Your skin and your baby will be in good, safe hands.