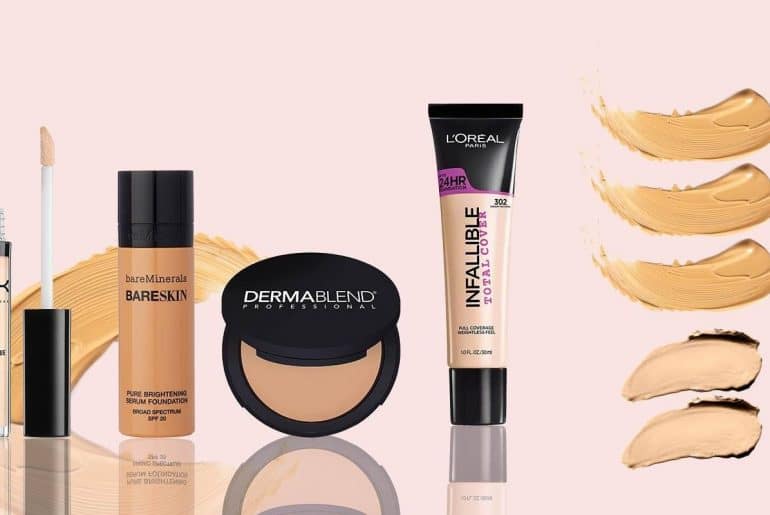 When you don't want your skin tone to darken, you put on sunscreen, right?
When you want to reduce skin discoloration caused by conditions like hyperpigmentation and melasma, you incorporate exfoliators such as salicylic acid, glycolic acid, and retinol into your daily skincare routine. Even Vitamin C, hydroquinone, kojic acid, azelaic acid, and niacinamide are very effective ingredients for fading dark spots, age spots, and even sun damage.
So what do you do if you wish to camouflage these marks, scars, blemishes, and an uneven skin tone? You choose the best foundations & concealers for hyperpigmentation. Makeup that falls in this particular category diminishes dark spots and balances out your skin tone. In fact, some of them even contain discoloration-reducing ingredients.
So here are foundations and concealers for building coverage and enjoying other skin benefits too.
Best Foundations & Concealers for Hyperpigmentation: Top 20 Recommendations
Different Types of Foundations for Hyperpigmentation and Dark Spots
It's only logical to assume that every foundation is different. Some of them cover dark spots better than the others. In that case, it can get very confusing trying to pick a foundation that offers complete coverage from the ones that don't do much.
In light of the matter, just keep in mind that more frequent, darker spots demand heavier coverage. So here are the different kinds of foundations to conceal hyperpigmentation and dark spots the most effectively and naturally.
Sheer Powder Foundation
This is a compact equipped with flat powder. Sheer powder foundation is an ideal choice for those who don't require too much coverage. Since the level of coverage sheer powder delivers is light, the foundation is good for concealing just a few spots and scars.
Mineral Powder Foundation
Mineral-based powder foundation does seem like a healthy option. But the foundation doesn't cover stubborn dark spots. The powder is finely milled and packed with ground minerals considered to be great for the skin.
This type of foundation offers medium to complete coverage. When hyperpigmentation is a bit severe, you can apply a powder foundation and then layer it with a liquid foundation. When applied properly, this can make your skin look naturally clear. Otherwise, it ends up looking cakey.
Liquid Foundation
This comes in a bottle or tube. It's the classic type of foundation for decent coverage.
The thing about liquid foundations is that they're available in a broad variety of finishes. These include full coverage, light coverage, and everything in between. Speaking of which, medium coverage has a water-based formula while complete coverage is mostly oil-based.
Crème to Powder Foundation
You can apply this particular foundation using a damp or dry sponge. The texture is thick and creamy, so it blends into your skin very smoothly with a sponge. And once that happens, expect the makeup to dry to powder and give you complete coverage.
Mousse Foundation
Now here's a more recent yet very effective type of foundation. Mousse foundation feels very light on the skin. And it even moisturizes your skin.
As for coverage, mousse makeup provides medium to light coverage.
Choosing the Best Foundation Depending On Your Skin Type
Whenever it comes to picking the best foundation, the first thing that comes to mind is your particular skin type. Now you should know that tinted moisturizers don't offer generous coverage like foundations. However, you ought to pick a heavy foundation only if your skin benefits from it.
Oily or acne-prone skin type does well with oil-free foundations. These also seem like the perfect choice when the weather conditions are humid and hot.
Here's what you might want to take into account when choosing a foundation:
Matching the Shade to your Complexion
One of the most effective tricks for selecting the right foundation is matching it to the skin on your chest. This is even more useful if you already protect your neck and face with sunscreen.
You can even test the color on your hands. Leave the foundation for a few seconds to notice how it gets absorbed and blends into your skin.
And feel free to combine different colors. The chances are you might require a different foundation for winter and another one for the summer season. And in between the two seasons, how about mixing them?
How to Apply Foundation/Concealer to Hide Hyperpigmentation
Once the right foundation has been chosen, it's time to cover up all those dark spots and melasma. And here's how to do that like a pro:
Before applying anything on your face, make sure to wash it. Start with a fresh, clean, and dry face. This keeps the makeup on for a longer time.

After cleansing your face, moisturize the skin. This is even more important if your skin type is dry. Otherwise, your skin ends up looking unnatural or cakey. Let the moisturizer absorb into your skin for a few minutes.

Don't skip sunscreen either. If the foundation you've picked doesn't contain SPF, then apply your personal daily sunscreen. And even if it does, applying some more doesn't cause any harm.


Now it's time to spot the areas where maximum coverage is required. Once you do that, dab the concealer over those spots. Make sure to use the makeup sparingly but also ensure to cover all of the brown spots completely.


Then apply foundation using a sponge, brush, or your fingers.


Blend the concealer and foundation into the skin. And do this in natural sunlight as it's the most foolproof way of covering all visible lines. Then let the makeup rest for a few minutes before you examine your spots once again.


Are your dark spots, discoloration, redness, or blemishes still visible? If yes, feel free to apply some more concealer for additional coverage.


And in the end, blend out all edges carefully once more.
Frequently Asked Questions
Does Color Correction in the Form of Foundation and Concealer Work?
The most recent natural beauty solution for dealing with all kinds of skin conditions presents itself in the form of color correction. To put it simply, what color correction does is use primary-shaded makeup for concealing and neutralizing skin discoloration on the face.
The process is picked up from the famous color wheel. There are a few colors that, when combined with some others, neutralize one another. And this is what gives your skin tone the single monotone shade.
Formulas in the form of foundations and concealers for color correction are available in the shades of purple, pink, yellow, peach, and green.
What Type of Skin Conditions Can You Use Color Corrector Foundations and Concealers For?
The primary culprits here are hyperpigmentation, melasma, discoloration, dark circles, and dark spots. The most common areas affected by hyperpigmentation are as follows:
Upper lip tends to darken because of hormonal changes.

Below the eyes is an area very susceptible to visible blood vessels and darker tissue.

On the forehead or cheeks; this can be hereditary sometimes.
You can also conceal temporary skin discoloration with the help of spot treatment until the condition heals. This includes spot-treating sunburns and acne scars.
One very effective preventative remedy is using sunscreen. Even reparative nighttime serums protect your skin from sun spots, acne scarring, and environmental damage.
What Color Concealer Covers Hyperpigmentation and Dark Spots?
As you already know, hyperpigmentation refers to different kinds of skin discoloration on the face. This discoloration consists of dark or red acne scars, rosacea, melasma, sun damage, uneven skin tone, and birthmarks.
Most signs and symptoms of hyperpigmentation get easily concealed using proper makeup. But you should avoid caking your face with heavy foundation. Instead, pick the right shade of foundation and/or concealer, and that's about it.
When using both, apply the concealer and blend it with the foundation to create a smooth, even look. You can do the same to cover up any hyperpigmentation on the body too. And while doing so, think of preventative methods like applying sunscreen at all times. You don't want any further discoloration or skin damage caused by the harmful rays of the sun now, do you?
So what is the best shade of concealer to camouflage dark spots and hyperpigmentation? It's the opposite shade of the color you're covering up. The shade you're looking to dial down on the face, choose a concealer with the opposite color. After all, that's the whole concept of color correction.
Many women buy the entire color corrector palette, which provides many different concealer shades. But you can buy these individually too.
Orange or peach conceals dark spots the most naturally.

Salmon is for dark circles under your eyes.

Green concealers work best for redness.

Purple covers up sallow skin.
As for hiding away dark spots, concealers 1-2 shades darker in comparison to your complexion are the most effective. And for concealing dark circles, pick a shade lighter.
The End
Fighting discoloration and dullness also involves protecting your skin against the harmful rays of the sun. So even though you're applying foundation and concealer, don't skip sunscreen. When you combine a foundation packed with complexion-correcting ingredients and sunscreen, you can expect camouflage and prevent your skin from any further damage.
Also, there's nothing wrong with applying a full coverage foundation if you wish to disguise discoloration and hyperpigmentation. As long as the product is safe and good to use, your skin is in great hands.
See also: