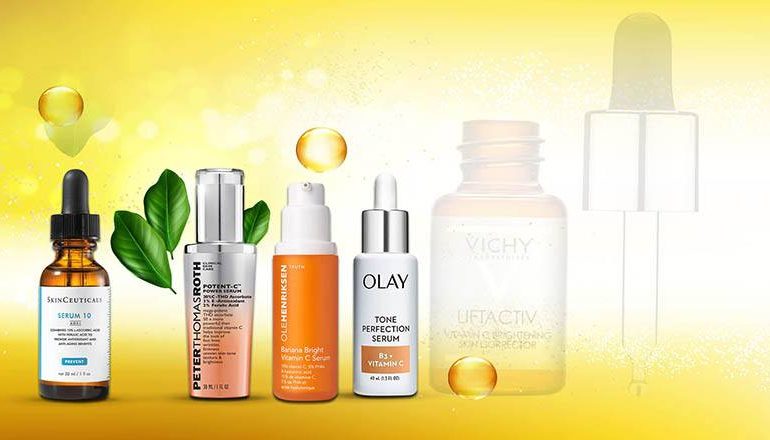 It's time you find out what is the best Vitamin C serum for hyperpigmentation. But why would you or anyone else want to do that? Precisely because Vitamin C serum formulations help in achieving bright, glowy skin. But best of all, they finally pave the way for saying goodbye to not only hyperpigmentation but also acne scars.
Vitamin C is a very commonly used ingredient when it comes to skincare products for the face. Because this miracle worker brightens dull skin, balances out uneven skin tone, hydrates the skin, protects it from environmental stressors, and diminishes acne scars.
And let me also tell you that sometimes Vitamin C goes by the names L-ascorbic acid and ascorbic acid. Plus, it's packed with antioxidants, which invite superb anti-aging benefits too.
Now let's get to know all there is to know about Vitamin C with regards to hyperpigmentation…
Does Vitamin C Really Reduce Hyperpigmentation?
The thing about hyperpigmentation, unfortunately, is that it's very difficult to treat. That means you have to incorporate the most effective and powerful yet gentle methods for fading the dark spots and discoloration. And, fortunately, the antioxidants present in Vitamin C do that.
Vitamin C also offers remarkable anti-aging and anti-inflammatory properties for clearing up your skin tone and texture. What the potent ingredient does is mimics the tyrosinase enzyme for preventing the production of melanin. Therefore, reducing hyperpigmentation.
What to Keep In Mind When Buying A Vitamin C Serum
You can incorporate a Vitamin C serum into your daily skincare routine for fading hyperpigmentation. But it can't be just any formula. There are certain factors that matter, in this case, to prevent potential skin irritation.
The first factor that comes to mind is the type of your skin. That said, the concentration of Vitamin C plays a huge part here. Make sure it's not more than 15-percent to 20-percent and not less than 5-percent to 10-percent.
Those with dry skin should choose a Vitamin C serum formulation infused with moisturizing hyaluronic acid as well. And if your skin type is oily, then go for ascorbic acid instead of ascorbic palmitate. Both are two different forms of Vitamin C.
Another thing to take into account is the unstable nature of Vitamin C. Due to that, it's necessary that your formula has a low value of pH. To be more specific, the pH value should be 3.5. This allows the serum to penetrate into your skin.
Speaking of Vitamin C's unstable properties, another important factor includes the addition of ferulic acid and Vitamin E. These two ingredients do an excellent job of improving the formula's stability.
And lastly, make sure the container is dark for protecting the contents inside from sunlight damage. It should also be an airtight container for increasing the shelf life of the skincare product.
Top 14 Vitamin C Serums for Hyperpigmentation
Vichy LiftActiv Vitamin C Serum
Vichy here presents a facial serum formulated with pure, dermatologist-grade 15-percent Vitamin C. Along with Vitamin E, naturally-derived hyaluronic acid, and antioxidants. The result? Firmer and brighter skin in just 10 days.
The hyaluronic acid hydration and Vitamin C antioxidants reduce hyperpigmentation of course, but also wrinkles and fine lines. Your skincare routine with this means adios to uneven and dull skin tone.
Key Features
A brightening skin corrector with pure Vitamin C

Natural origin hyaluronic acid for moisture retention

Allergy-tested, thus ideal for sensitive skin
Asutra Anti-Aging 20% Vitamin C Serum
Asutra offers an anti-aging Vitamin C serum that's made using only vegan, organic ingredients. It's a concentrated solution with the highest i.e. most effective form of bio-available, active Vitamin C. That helps in fading hyperpigmentation, sun spots, and wrinkles.
The concentration of Vitamin is at 20-percent, which is skin-friendly and non-toxic. Even the hyaluronic acid included is vegan and it moisturizes your skin very intensely. Many women use this formula for boosting collagen production too. Therefore, it has amazing anti-aging properties as well.
Key Features
Made with vegan and organic ingredients

Contains Vitamin C and hyaluronic acid

Non-toxic, cruelty-free, and paraben-free
Elastalift Vitamin C Serum
This Vitamin C serum comes from a brand that is against animal testing. So you can use it guilt-free for reducing hyperpigmentation, age spots, fine lines, and wrinkles. The formula, with its blend of Vitamin C and hyaluronic acid, also promotes a clearer, brighter, and healthier complexion.
A blend of lactic acid, ferulic acid, and glycolic acid is also added. That does all of the above plus support a youthful, luminous radiance.
Key Features
Stable Vitamin C serum for hyperpigmentation, sun spots, etc.

Ferulic acid antioxidants protect the skin

Non-greasy, quick-to-absorb formula for all skin types
SkinGlow Naturals Vitamin C Serum
SkinGlow Naturals Vitamin C Serum includes a plethora of many skin-nourishing ingredients. There's Vitamin C of course. Along with Vitamin E, hyaluronic acid, and other nutrients.
Hyaluronic acid is a skin moisturizer. Vitamin E reduces the appearance of sun damage on the skin. And the optimal blend of nutrients rejuvenates and repairs your skin. So it's a topical skincare solution for more than just reducing hyperpigmentation.
Key Features
Formulated with natural, organic Vitamins C and E

Cruelty-free and free of parabens, sulfates, and alcohol

Ideal for anti-aging benefits
CeraVe Vitamin C Serum
CeraVe is a brand that's responsible for providing the skincare industry with some of the most powerful yet gentle formulations for the face and body. And this Vitamin C serum is no exception.
It's got hyaluronic acid with pure 10-percent Vitamin C. It's a skin brightening serum with no artificial fragrances. The skin benefits of antioxidants provided by L-ascorbic acid here protect your skin like no other.
Key Features
A hydrating, skin-brightening serum

Contain 3 essential ceramides for moisture retention

Non-comedogenic, allergy-tested, fragrance-free, and paraben-free
InstaNatural Vitamin C Serum
There's a reason why this particular Vitamin C formulation has earned over 8,600 reviews on Amazon with an impressive rating. Think of it as an anti-aging serum, hydrating serum, and blemish defense formulation.
It minimizes and clears clogged pores, acne, and blackheads. And also fades the visibility of hyperpigmentation, redness, sun spots, dark spots, etc. The powerful antioxidants are the ones that boost collagen production to fight signs of aging.
Key Features
Daily blemish defense solution with Vitamin C

Powerful antioxidants offer ant-aging benefits

Hyaluronic acid replenishes and hydrates the skin
DearKlairs Freshly Juiced Vitamin C Serum
With 5-percent Vitamin C, this serum formulation is non-irritating and safe for daily use. It, no doubt, rejuvenates and energizes your skin. All thanks to the remarkable power of pure, freshly juiced Vitamin C.
The concentrated Vitamin C content along with the other natural ingredients provides abundant nutrition and moisture. It's a multifunctional formula that also clears up acne scars and acne while minimizing pores and preventing breakouts.
Key Features
Non-irritating, safe serum with 5-percent Vitamin C

Suitable for all types of skin, no matter your age

It's non-comedogenic, thus doesn't clog pores
PETERTHOMASROTH Potent-C Power Serum
This Potent-C Power Serum relies on 20-percent THA ascorbate (a form of Vitamin C), which is 50 times more powerful in comparison to more commonly used Vitamin C. So it's the best solution for an uneven skin tone and texture, dehydrated skin, fine lines, and wrinkles.
The performance of THD ascorbate receives a boost by 2 super-powerful antioxidants coming from ferulic acid and Vitamin E. That means you're looking at an advanced and complete formula for brightening, firming, and aging concerns.
Key Features
Rich, moisturizing serum with more powerful Vitamin C

Also contains ferulic acid and Vitamin E antioxidants

It's a fragrance-free product
Skinceuticals Serum 10 AOX+
With regular use, this Skinceuticals serum infused with AOX+ advanced antioxidant technology can reverse skin damage as a result of sun exposure and premature aging.
10-percent AOX here is L-ascorbic acid. And it blends with ferulic acid for protecting your skin against any further damage caused by environmental stressors. It's a very suitable choice for those with sensitive skin as well.
In fact, many dermatologists highly recommend this one to include in anti-aging skincare routines that also include the most effective exfoliators and scrubs for daily use.
Key Features
Combines Vitamin C with ferulic acid for antioxidants

Controls oil production, thus good for oily skin

Dermatologist-recommended to reduce signs of aging
Caudalie Vinoperfect Brightening Radiance Serum
There's no chance you're likely to come across a skin brightening serum like this. In fact, it ranks as one of the best anti-dark spot treatment methods.
The formula is lightweight and has been proven to be comparatively more (62x more) effective when it comes to correcting skin tone and texture, dark spots, sun spots, and acne scars.
It's powered by patented Vine Sap Viniferine for brightening. Along with olive squalene for moisturizing and green grape for visibly boosting radiance. The best of the lot if you ask me.
Key Features
Patented, lightweight serum corrects dark spots and acne scars

Olive squalene and green grape to moisturize

Non-photo sensitizing and oil-free
Admire My Skin Dark Spot Corrector
Do you know what's one of the highest recommended solutions for hyperpigmentation? The answer is this ingredient called hydroquinone. And what is does is fades hyperpigmentation along with melasma and dark spots. The acid peels your dark spots gently for revealing brighter, clearer skin.
It has Vitamin C too for making the formulation more effective. The same task is performed by other ingredients as well. Such as salicylic acid, azelaic acid, lactic acid, and kojic acid. These are all gentle acne-fighting and skin tone-correcting chemical exfoliants.
Key Features
2-percent hydroquinone for fading hyperpigmentation

Also infused with chemical exfoliants to prevent acne

It's a dark spot corrector
Radha Beauty Vitamin C Serum
Radha Beauty products may not be all the rage right now but that doesn't mean the brand's Vitamin C serum is any less superior than its competitors. The organic formula is infused with Vitamin C, Vitamin E, and hyaluronic acid. That means bye-bye hyperpigmentation along with fine lines, wrinkles, and dehydrated, dull skin.
20-percent Vitamin C delivers plenty of powerful antioxidants to protect your skin. And to stimulate collagen production for anti-aging action. On top of that, it's a vegan skincare product with no parabens, sulfates, or alcohol.
Key Features
A multipurpose, potent Vitamin C serum

Contains hyaluronic for plumping and hydrating the skin

Amino complex and Vitamin E to fight signs of aging
Majestic Pure Vitamin C Serum
Doesn't matter what your skin type is, be it oily, dry, combination, or sensitive, this Vitamin C serum is an optimal choice. Because, after all, it's got L-ascorbic acid that fights hyperpigmentation, age spots, and acne.
It's a high-potency serum that also addresses other common concerns like dark circles, sun damage, and fine lines and wrinkles. And the fact that every Majestic Pure creation is cruelty-free makes the purchase a guilt-free one.
Key Features
A topical serum packed with Vitamin C antioxidants

Suitable for replenishing all types of skin

No parabens, alcohol, or sulfates and it's cruelty-free
Ebanel Vitamin C Serum
Here's a Vitamin C serum that focuses on its Vitamin C content as much as its hyaluronic acid, Vitamins B5 and E, and retinol levels. So you're looking at a whole list of skin benefits apart from just fading hyperpigmentation.
It's an anti-aging, dark spot-correcting, skin-brightening formula. That also contains ferulic acid for reducing sun damage and treating acne. You don't have to worry about moisture retention, uneven skin tone, and signs of premature aging either.
Key Features
20-percent Vitamin C serum visibly refines skin tone/texture

Effective dark spot corrector with ferulic acid

Retinol and hyaluronic acid blend prevents dryness and breakouts
Benefits of Vitamin C Serums for Hyperpigmentation
Youthful Glow and Skin Rejuvenation
When it comes to collagen production, vitamins play a major role in that. As for making your skin look younger, protein is the nutrient behind it. However, Vitamin C does the job of both.
When applied directly to your skin, Vitamin C serum increases collagen synthesis while also promoting skin rejuvenation to make your skin look younger.
Anti-Aging Properties
What Vitamin C is full of is antioxidants. And what antioxidants do is fight rough molecules and free radicals responsible for wrinkling and aging your skin. So it goes without saying that Vitamin C acts as a very powerful barrier against the process of aging.
Brightening Skin and Fading Dark Spots
Is Vitamin C serum good for hyperpigmentation? The topical use of such a product has the ability to minimize the effects of hyperpigmentation. It reduces discoloration, age spots, and dark circles.
Protection Against UV Rays
A good Vitamin C serum also safeguards your skin against harmful UV rays of the sun. It also repairs skin damage, fine lines, wrinkles, and discoloration caused by sun exposure.
How to Use Vitamin C Serum for Hyperpigmentation
The topical form of Vitamin C, more often than not, is well-received. But it goes without saying that every skincare product causes side effects if not used properly. Sometimes even allergic reactions are possible if your skin type is sensitive or prone to allergies.
In that case, go about keeping the following instructions in mind.
First, do a patch test on a small area of your skin, like the upper forearm.

Apply a pea-size amount of serum in that region. And then wait for 24 hours at least

Does the skincare product cause any side effects or allergic reactions? If not, then it's safe to apply on your face.


You can do so during the day or at night, the choice is all yours.


Start by cleansing your face and then dry it using a clean, fresh towel.


The next step involves using a toner to remove any leftover traces of dirt and impurities present within your pores.


Now layer the skin with your Vitamin C serum; use a pea-size amount. It might take a few minutes for the formula to settle onto and into your skin.


Then you can apply the best moisturizing, broad-spectrum sunscreen.


As for the nighttime application, you can skip the sunscreen of course.
You can use Vitamin C serum once or twice daily. Or simply follow the brand's instructions printed on the label.
As for its compatibility with other similarly active ingredients, the one ingredient that's ruled out is niacinamide. It drastically reduces the effectiveness of Vitamin C. So avoid using both at the same time.
Frequently Asked Questions
Does Vitamin C Serum Fade Dark Spots?
The formulation certainly fades hyperpigmentation, which involves dark spots. Vitamin C impedes the production of melanin in your skin. And that, in turn, helps in reducing the visibility of dark spots. You're highly likely to spot noticeable results in just 3-4 weeks.
Does Vitamin C Serum Help In Treating Melasma?
Melasma is marked by dark skin patches. These, more often than not, are larger in comparison to age spots. And are caused by excess pigment or melanin i.e. hyperpigmentation. So, at such times, it's only logical to assume that Vitamin C serums fade the dark patches of melasma as well.
Just make sure to apply a mineral-based sunscreen after the serum to prevent further skin discoloration and increase in pigmentation.
Can Vitamin C Serums for Hyperpigmentation Be Used Daily?
I don't see why not as long as the formulation has a Vitamin C concentration between 5-percent and 20-percent. And as long as you're applying the serum properly, that is following the instructions I've discussed earlier.
You can apply your Vitamin C serum once or even twice daily.
Final Words
You should know that hyperpigmentation is a common skin concern. Irrespective of your skin tone or type. So there's no need to worry about it so much. As long as you have a good Vitamin C serum at your disposal, you can bid adieu to your skin discoloration, dark patches and spots, uneven skin tone, acne scars, sun spots, aging-related wrinkles and fine lines, etc.
The best part about Vitamin C formulations, at least the ones I've reviewed, is that they're multipurpose. And they're infused with a powerful yet gentle and safe concentration of pure Vitamin C.
Just don't skip your moisturizer and sunscreen after applying the Vitamin C serum. Because the UV rays of the sun tend to increase melanin production in the skin. And the only way to prevent that from happening is sun protection in the form of a high-SPF, broad-spectrum sunscreen over your Vitamin C solution.
Did you like this post about The Best Vitamin C Serums for Hyperpigmentation? Why not pin it!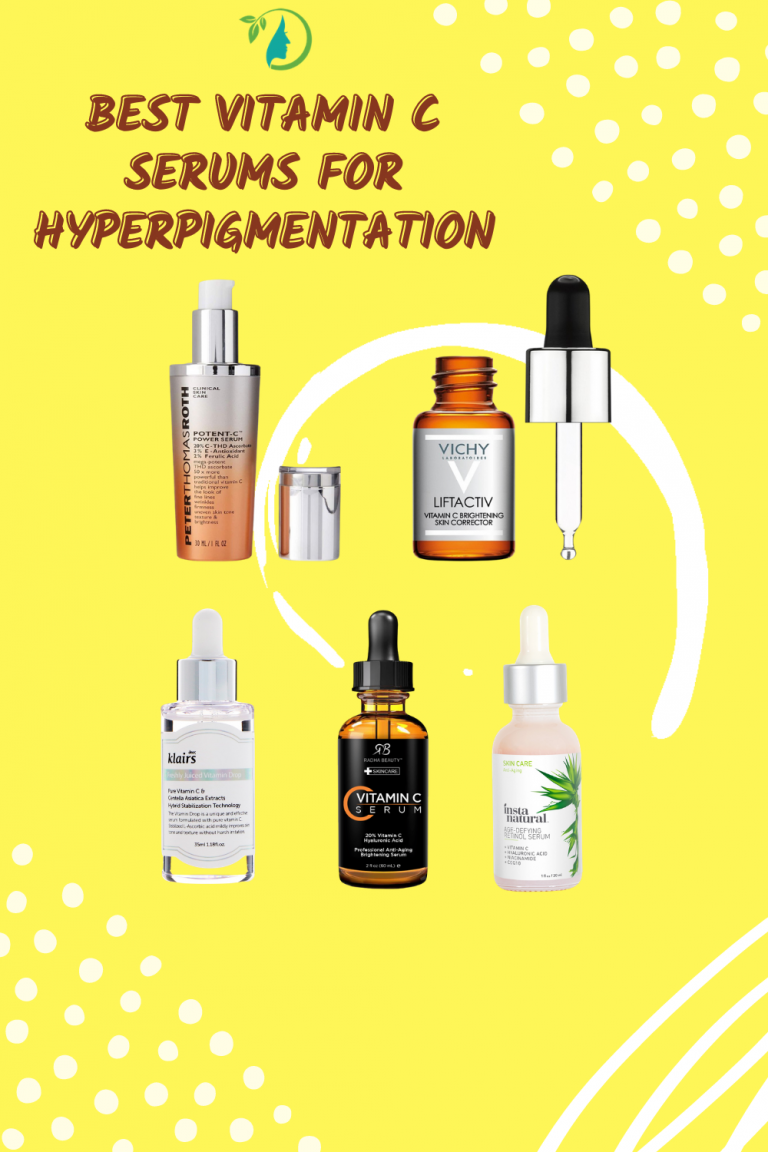 Related articles: