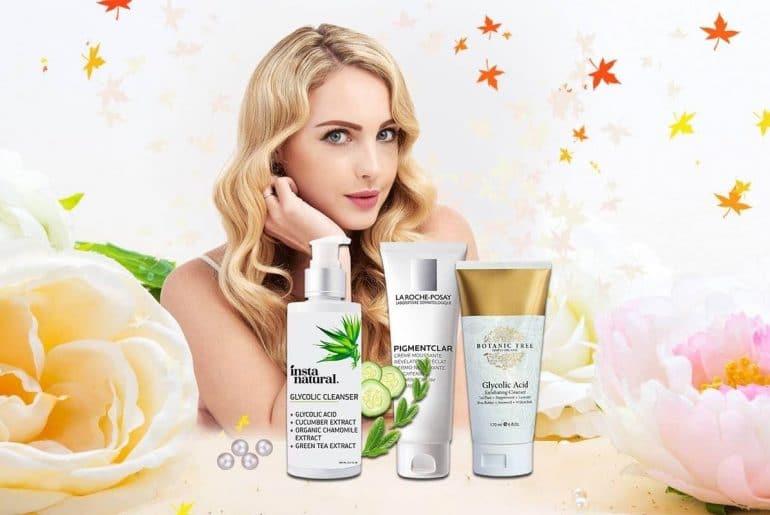 Dealing with hyperpigmentation can be a very disconcerting experience. Many women try to hide these dark spots by wearing makeup. But this is only a temporary fix. For a more permanent solution, it's time to start using the best skin lightening cream for hyperpigmentation.
The thing about acne scars, melasma, age spots, patchy skin tone, etc. is that they are very stubborn to get rid of. So concealing them seems like the next best alternative. However, treatment methods are slowly gaining popularity. And a part of such methods includes using safe skin lightening creams. Much like the ones reviewed below!
Best Skin Lightening Creams for Hyperpigmentation: Top 12 Picks
What is Skin Lightening or Bleaching?
Skin lightening creams provide skin bleaching carried out by an ingredient called hydroquinone. FDA recognizes this particular component as safe when used properly. Hydroquinone treats dark spots and dark skin irrespective of the factor or factors that cause the effect. Be it melasma, acne scars, or sun damage!
Lightening the skin and clearing the complexion is now no more impossible to achieve. Thanks to ingredients like hydroquinone. It has the ability to produce favorable results in a matter of a few months. At least in most cases!
But it goes without saying that using such skin lightening creams is a job to be carried out with care and caution. It's important that you apply the cream only to the affected areas. And sometimes it takes as long as a whole year for the skincare product to show significant changes in your hyperpigmentation.
Treatment Methods/Ingredients that Fade Hyperpigmentation
It's not uncommon for those who don't get acne to experience hyperpigmentation. Pigmentation, in this case, comes in the form of dark spots, age spots, and sunspots. And more often than not, the causes are aging, hormones, and/or sun exposure.
But the good news here is that you can reverse these effects by using top-recommended skin lightening creams. And speaking of treatment, here are other treatment methods and ingredients that help in dealing with skin hyperpigmentation.
Sunscreen
You know you can avoid pigmentation easily by using sunscreen. When your skin is protected against the harmful UVA and UVB rays of the sun, it's less likely to darken. To be honest, even the best lightening cream or any other expensive skincare product doesn't work if you neglect applying sunscreen daily.
Vitamin C
What is vitamin C packed with? It's got plenty of antioxidants required for brightening the appearance of your skin. This includes getting rid of pesky marks. No wonder vitamin C is a common ingredient found in skin lightening creams for hyperpigmentation.
Vitamin C also contributes to smoothening the texture of your skin and fighting fine lines.
BHAs and AHAs
It's not uncommon to come across face cleansers equipped with alpha-hydroxy acid and beta-hydroxy acid. The most common form of AHA for acne and hyperpigmentation is glycolic acid. As for BHA, it's salicylic acid.
What both these skin acids do is exfoliate the surface of your skin gently to unclog pores. Clogged pores are often the culprit behind acne.
Those with sensitive or dry skin should consider using either salicylic or glycolic or both. They do a wonderful job when it comes to fading marks. So don't underestimate their pigmentation-fighting power.
Spot Treatment
Targeting marks is a very effective method when you use a good concentrated formula. This formula should contain brightening ingredients like kojic acid, niacinamide, alpha arbutin, vitamin C, vitamin E, and licorice root extract.
Patches
Ever heard of glutathione skin lightening patches? Or other nightly patches that you apply over your dark spots. These deliver micro-currents deep into the skin, which reduce discoloration. And they do so by using niacinamides, peptides, and retinol.
The treatment method goes a long way when it comes to de-clogging pores and fading marks. After all, glutathione is known as a wonder drug for skin lightening in darker skin tones.
OTC Retinoid or Retinol
Retinol is incredibly effective at accelerating skin cell turnover. The ingredient penetrates the deepest layers of your skin and alters pigment production. That's how you know it's perfect for treating hyperpigmentation.
Over-the-counter retinol or retinoid diminishes dark spots that are well below the top surface of your skin.
Hydroquinone
Prescription hydroquinone has the ability to decrease melanin production in the skin. It's a prescription drug because side effects can be a part of the experience too. Like skin irritation, sensitivity to sun exposure, and increased UV radiation exposure.
So you have enough reasons to use the ingredient with extra caution. However, many skin lightening creams contain hydroquinone. And you don't require a prescription for these. Rest assured; they're safe, gentle, and effective options.
Microdermabrasion
Gentle microdermabrasion works very well when it comes to buffing away your skin's top layer to reveal the less pigmented, new layers underneath.
Salicylic Acid Peel
For speeding up the treatment of hyperpigmentation, another procedure that works against acne is salicylic acid peel. The quantity of this beta-hydroxy acid here is around 20% to 30%. In comparison to the 1-2 percent added to face cleansers, this seems like a huge amount.
Needless to say, it lifts the marks caused by inflammation by penetrating deep down into your oil glands. Since the percentage of salicylic acid is so high, a single peel once a month is recommended.
Lasers
When hyperpigmentation takes form in the skin's second layer, the spots are not easy to eliminate. So at such times, the best remedy is to use energy and heat in the form of Q-Switch Laser to get rid of it.
Low energy and heat are employed and so is a longer wavelength. This means the treatment method is safe for every skin tone.
How to Lighten Skin Color Naturally at Home
The truth about skin lightening creams is that, although they're effective, sometimes they take months to show drastic improvements. On the other hand, there are many popular home remedies that have the ability to lighten blemishes and skin tone in a matter of only a few days.
These plant-based methods minimize melanin production the most naturally. In light of the matter, here's the recipe to a plant-based facial scrub, toner, and moisturizer for your morning skincare routine. All three make it a point to reduce pigmentation quicker than you can imagine.
Homemade Lemon Juice Scrub
For exfoliating dead and damaged skin cells, it's important to pamper your skin's deeper layers with vitamin C from lemons.
All you have to do is take half a lemon and squeeze the juice out it in a bowl. To this, add a tablespoon of either brown sugar or salt. You can bring in some coconut oil as well, again 1 tablespoon of that.
Now apply the mixture to the face and leave it be for 20-30 minutes. Just avoid the eye area. Then wash off using warm water.
It's best to use this lemon juice scrub on all the hyperpigmented parts of the body. And that too on a daily basis if there's no skin irritation.
Homemade Lemon Juice Toner
After the scrub, it's time to apply the toner.
Take the other half of the lemon and squeeze out its juice in a bowl. Use a small cotton pad or ball for spreading this juice all over your face. Either that or just apply it on the pigmented spots. Then let it rest for 10-15 minutes and rinse off.
What you can also do instead is rub the other half lemon gently on your face. And for those with dry skin, mix a little bit of honey, yogurt, or milk.
Homemade Lemon Juice-Aloe Vera Moisturizer
Lemon contains vitamin C while aloe vera is packed with aloesin. Both ingredients have a favorable effect on melanin. So after using the homemade lemon juice scrub and toner, it's important to apply the moisturizer.
To prepare it, use fresh aloe vera gel (1/2 tablespoon) or the bottled version. Combine it with juice from half a lemon in a bowl. Then add some sweetened almond oil. You should only add a drop if your skin type is oily.
Then gently massage the moisturizer into the skin. And if your skin is feeling too sticky or oily, then use a clean cold damp cotton pad or cloth to lightly blot the face. Don't forget to add the finishing touch, which comes in the form of sunscreen (SPF 30 or higher).
Instructions to Follow When Using Skin Lightening Creams
Lightening agents can give rise to side effects if not used properly. It's nothing to worry about, to be honest. But it's always better to be safe than sorry, right? So here's a routine that you can follow.
Before you apply the cream or serum on your entire face, why not run a patch test? Just to make sure there's no negative reaction.

Use the face cream twice a day on the hyperpigmented areas. But not more than that as it might cause irritation or inflammation.

Make it a point to moisturize to prevent the onset of dryness that is often a part of using such skincare products.

When applying the skin lightening cream, don't bring it close to your eyes and around your mouth. These parts have delicate skin that is quite likely to not react well to harsh chemicals.

And lastly, sunscreen is a must. Sun rays are no friends of the skin. So don't skip sun protection, irrespective of whether or not you have hyperpigmentation.
The EndNote
When it comes to buying skin care products, there's no one right answer. I mean a cream that works best for your friend might not necessarily produce the same favorable results in your case. So it's very important to get to know the products before buying.
But you can breathe a sigh of relief in knowing that I have reviewed skin lightening creams that don't falter at treating hyperpigmentation. Dark spots may not be harmful or life-threatening, but they're still unwanted.
In the end, just keep in mind that certain ingredients work better than the others at diminishing spots and clearing complexion. Some of them include hydroquinone, kojic acid, azelaic acid, etc. So make it a point to go through the list of ingredients just to be sure.