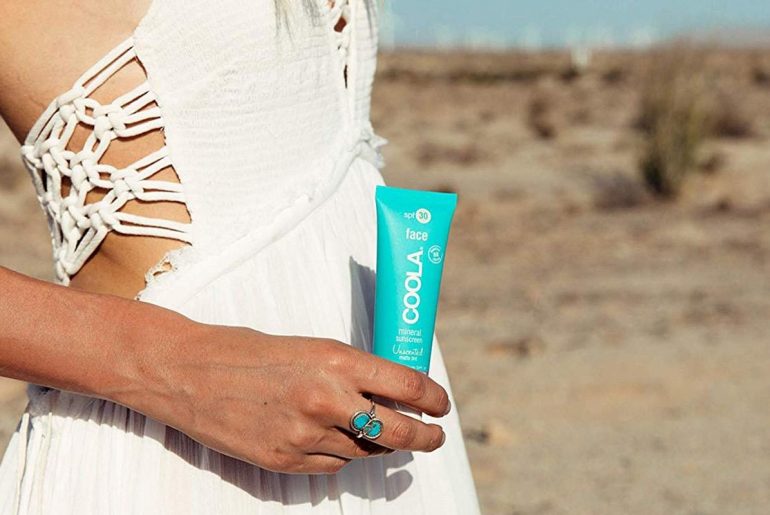 When you have melasma or hyperpigmentation, the decision of what sunscreen to buy becomes even more important. If you end up using the wrong product, your skin condition might just get worse.
The problem here is often a result of hormonal imbalance plus unprotected exposure to sun rays. But you can get a hold on the condition simply by applying the best sunscreens for melasma and hyperpigmentation.
You have to do whatever is in your control to prevent your skin from reaching the extreme end of the spectrum. And just avoiding stepping out in the sun is not enough. You have to use a proper broad-spectrum, SPF-packed sunscreen as a form of treatment.
Top 25 Best Sunscreens for Melasma and Hyperpigmentation
What Impact Do Sunrays Have on Melasma & Hyperpigmentation?
I'm sure you already know that skin conditions like hyperpigmentation and melasma are caused due to many reasons (1). When it's not over-exposure or unprotected exposure to the harmful rays of the sun, it can be hormonal imbalance. Or maybe it's your skin's reaction to some medication you're on.
Whatever the cause, there's no denying that sunrays just make matters worse. And by sunrays, I mean both UVB and UVA rays. They trigger skin pigmentation. What sunrays do is increase the production of melanocytes, which give rise to the formation of pigment. And that makes your melasma and hyperpigmentation worse.
Let me also tell you that using cosmetic products or medicine might reduce the dark spots and discoloration. But these signs don't take time to come back if you expose your skin to even a little bit of sunlight without applying proper sunscreen.
The best approach here is prevention. And the most effective way to do so is less sun exposure and more sunscreen.
How Does Sunscreen Prevent Melasma & Hyperpigmentation?
Sunscreens block the harmful UV rays of the sun from penetrating and interacting with the skin. And here's how that happens.
Some sunscreens contain physical filters like zinc oxide. This particular ingredient is the blocker that keeps the UV light from penetrating your skin.
The other option is sunscreens with chemical filters like octocrylene. What this does is react with the UV light to dampen its energy.
Just by the way, both are good to use for melasma and hyperpigmentation.
Choosing Sunscreens for Melasma & Hyperpigmentation
It's crucial that you pick a sunscreen formula that works toward reducing the dark spots and skin discoloration in a gentle and safe manner. So here are the most important things you should keep in mind…
Go for Physical Sunblocks
Sunscreens with physical sunblocks are perfect for skin conditions like melasma and hyperpigmentation. More often than not, chemicals sunblocks are used. So you have to make a conscious effort to stay away from them. And you can do so by going through all the stuff printed on the bottle. Look for the words "physical sunscreen."
The thing about physical sunblocks is that they contain more zinc oxide. And zinc oxide is the most effective when it comes to protecting your hyperpigmentation and melasma from the harmful rays of the sun.
Give Importance to Zinc Oxide
Like I already told you, zinc oxide is found in physical sunscreens. A higher concentration builds the best defense against UV rays. And by higher, I mean anything above 5-percent is great.
Avoid Oxybenzone
Oxybenzone is often associated with the words "hormone disruptor." (2) Melasma is a skin condition triggered by hormonal imbalance as it is. So you should avoid sunscreens equipped with this active ingredient that's just going to make matters worse.
Look for Invisibility
Many women apply sunscreen below the makeup. In that case, you might want to pick a formula that doesn't look too white on your skin. This means you should check if "invisible zinc" is used.
"Broad-Spectrum" Sun Protection
The UV rays of the sun consists of UVB and UVA exposure. The latter increases the production of melanoma and photodermatitis. Simply by changing your skin cell's DNA. But UVA rays don't give rise to any redness or pain often accompanied by sunburns. Over-exposure to UVB radiation does.
The whole range of UVB and UVA rays of the sunlight stimulates skin pigment production. And this is proven to worsen conditions like melasma and hyperpigmentation. So, at such times, your skin deserves a sunscreen labeled "broad-spectrum."
Only broad-spectrum sun protection has the ability to block or dampen both UVA and UVB rays. Just keep one thing in mind. The more protection your sunscreen provides, the lesser the chances of your dark spots and discoloration getting worse.
What is the Best SPF Level for Melasma & Hyperpigmentation?
Every sunscreen formula's Sun Protection Factor is the most important aspect. It determines how effective the lotion or cream is going to be. However, not many people understand how SPF works. It's not necessary that a higher SPF rating is always better.
SPF equals to the amount of time your skin remains protected against sunburns caused by the UV light. Needless to say, every skin reacts to the sun differently. Meaning my skin takes around 10-15 minutes to develop natural sunburns. So an SPF level that prevents burning for 150 minutes, which is 15x longer, is perfect.
As for those with extremely photosensitive skin that burns in only 5 minutes, the same SPF delays the burning for just 75 minutes.
So now you understand why a higher SPF rating doesn't protect your skin for longer hours. However, let me bring to your attention that the majority of sunscreens lasts for only two hours. And this timespan reduces when sweat and water invade your skin.
No wonder re-applying sunscreen is so important. Along with avoiding too much sun exposure and wearing protective clothing!
I would also like to discuss that SPF concerns just UVB radiation. And that's because it's UVB, and not UVA, that causes sunburns. Also, does a sunscreen with SPF 30 offer twice the amount of protection as one with SPF 15? No, not really. Let me explain with the help of a table below.
| SPF RATING | UVB PROTECTION |
| --- | --- |
| None | 0% |
| 2 | 50% |
| 15 | 93% |
| 30 | 97% |
| 50 | 98% |
| 100 | 99% |
As you can see, there's not much difference in the UVB protection between the ranges of SPF 30 and SPF 100. This explains why the FDA is capping SPF levels at 50+. It's the only way they can stop manufacturers from falsely marketing their SPF 100 sunscreens in order to trick us into believing that the higher protection is actually 3x better. When, in fact, SPF 100 offers only 2% higher protection against UVB.
As for sunscreens to apply for melasma and hyperpigmentation, most dermatologists recommend using SPF 30 or more. And if you're extremely photosensitive, then you can go for SPF 50 or SPF 100. But that's just for 1% or 2% higher UVB protection.
Frequently Asked Questions
Q. What about Zinc Oxide vs. Titanium Oxide in Physical Sunscreens?
One is obviously better than the other. So the better option for melasma and hyperpigmentation is zinc oxide.
The thing about zinc oxide is that it delivers greater UVA protection. But that doesn't mean titanium oxide is a useless active ingredient. It's just that one is better than the other.
Q. How Often to Re-Apply Sunscreen?
The answer to this question depends on many factors. For example, do you plan on working out or going swimming? If yes, then re-application is necessary more frequently. Than just sitting at home!
As for stepping out in the sun, you should re-apply your sunscreen every 2 hours.
How about those dealing with melasma and hyperpigmentation? You can re-apply the sunscreen as frequently as you can. You have to make sure no sun damage is caused at any point of the day. No matter what you're doing! Otherwise, your skin is highly likely to develop more discoloration and dark patches.
Q. Should You Avoid UVB and UVA Exposure When You Have Melasma & Hyperpigmentation?
To be practical, you can avoid these simply by using the best sunscreens for melasma & hyperpigmentation. The formulas are "broad-spectrum." Meaning they have the capacity to safeguard your skin against both the UVB and UVA rays of the sun.
Q. Do Sunscreens Work When Having Birth Control Pills?
What does birth control have to do with sunburns and sunscreen? Well, birth control medication manages your hormonal levels. So, needless to say, it gives rise to skin reactions in some cases. These reactions include blotchy spots in the form of skin patches as a result of unprotected sun exposure.
So if you're on birth control and are noticing dark spots, then it's important to use a sunscreen specifically created for treating skin conditions like melasma and hyperpigmentation.
Q. Apart from Sunscreen, What Else Lightens Melasma & Hyperpigmentation?
Ingredients like retinol and alpha hydroxy acids also work toward reducing the signs and spots often associated with melasma and hyperpigmentation.
I'm not a dermatologist but I do know that many of them recommend chemical peels and laser treatments. These are very useful when it comes to minimizing the visibility of dark patches on the skin.
However, they are treatments to reduce the spots and discoloration. What you need are products to prevent the problem itself from developing on your skin. Such as applying sunscreen so that your skin doesn't react or even interact with the damaging rays of the skin.
Physical vs. Chemical Sunscreens: What's The Difference?
First, let me talk about physical sunscreens. They contain active ingredients that reflect sunlight. Physical sunscreens are the most recommended for skin conditions like hyperpigmentation and melasma. And that's because they have the power to block more UV radiation and visible light from reaching your skin.
It's not just UV radiation that stimulates pigment production. Even visible light does the same.
Most physical sunscreens are labeled as such. But for those that aren't, look for active ingredients such as titanium oxide or zinc oxide.
As for chemical sunscreens, the deal is very simple. These are packed with active ingredients that absorb UV light before these damaging rays reach your skin. They haven't proved to be as effective as physical sunscreens when dealing with common concerns like melasma and hyperpigmentation.
The End
To be honest, it gets said enough that using the right sunscreen helps fading dark patches and preventing your melasma and hyperpigmentation from getting worse. Keeping the condition under control is the best thing you can do as a form of treatment.
Skin condition or not, sunscreen should be a part of every skin care routine. And it's better if the formula is broad-spectrum and SPF-equipped like the 25 sunscreens I've reviewed in this post.
Did you like this post about the Best Sunscreens for Melasma and Hyperpigmentation? Why not pin it!
More Hyperpigmentation Product Reviews: