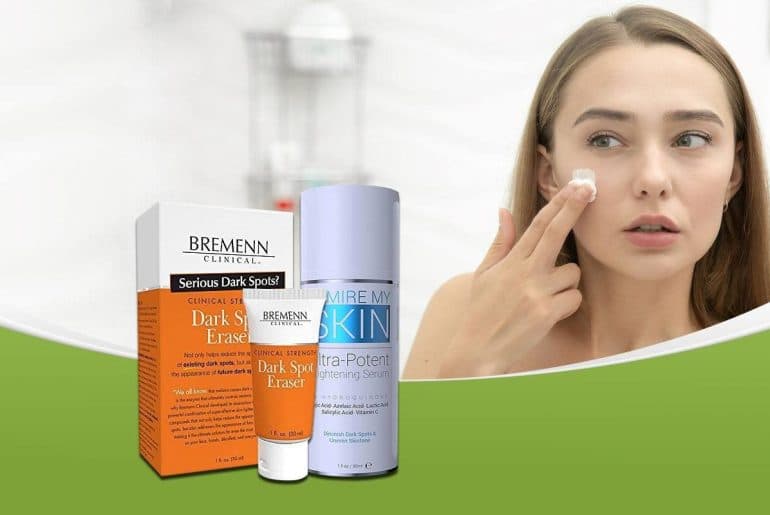 The best way to look at your age spots, acne scars, freckles, and skin discoloration is by seeing them as temporary. They're not imperfections and flaws when you can get rid of them. Am I right? In that case, it's time to get to know all about the best face washes & cleansers for hyperpigmentation.
Now I won't deny that face washes and cleansers are not as potent as serums when it comes to treating pigmentation. Nevertheless, they're an important part of your daily skincare routine. I mean along with oil, impurities, and makeup, you'll also be washing off your dark spots. And that does make a huge difference both short-term and in the long run.
So here's a list and reviews of the most gentle yet effective exfoliating cleansers that allow your skin to regenerate. Plus, they have excellent anti-acne and antibacterial benefits too.
The Possible Causes of Hyperpigmentation
Hyperpigmentation Face
The most common cause of the skin condition under the radar here is too much melanin production. But what is melanin? It's a pigment responsible for providing color to your skin. Skin cells known as melanocytes produce melanin. There are many factors and conditions in the body that affect melanin production.
Apart from that, hormonal changes during pregnancy can also bring about a change in your melanin levels. Then there are certain medications that cause hyperpigmentation. Along the same lines, even chemotherapy produces the same side effect.
I would also like to point out that Addison's disease has the ability to give rise to hyperpigmentation too. Even though this endocrine condition is rare, it can produce pigmentation in the hands, neck, and face. Basically, the areas exposed to the sun. Including areas of friction like knees and elbows.
In the end, it all boils down to an increase in the hormone level directly responsible for elevating melanin synthesis. This is how hyperpigmentation takes form. Even excessive or unprotected sun exposure raises your levels of melanin.
Which Deficiency Causes Skin Hyperpigmentation?
When it comes to DNA synthesis, Vitamin B12 surely plays a major role. The deficiency of Vitamin B12 causes neurologic, cardiovascular, hematologic, psychiatric, and gastrointestinal problems. But you and I are not concerned with such manifestations now, are we? The primary concern here is the deficiency giving rise to skin hyperpigmentation.
The treatment usually involves intramuscular Vitamin B12 injections every other day or every day for 1-2 weeks. After that, monthly injections go on for around 3 months. And after that, one injection every 3 months for as long as it takes.
But if you're deficiency is the result of the lack of proper nutrition, then oral tablets should suffice after the course of the initial injections.
However, it's best to speak to your doctor about this if you think your hyperpigmentation is the outcome of Vitamin B12 deficiency in your body. It's always advisable to have a word with a medical professional to know the actual cause and correct treatment method.
Which Acid Works Best for Treating Hyperpigmentation?
Hyperpigmentation is the dark patch that forms on your skin after blemishes heal. Needless to say, these dark spots aren't harmful. But that doesn't mean you shouldn't do anything to get rid of them.
In terms of treatment, there are many over-the-counter creams that speed up the fading process. And they do so only because of the inclusion of any one of the following skincare acids:
Mandelic Acid
It's an alpha hydroxy acid made using almonds. Mandelic acid is often used with ingredients responsible for treating an uneven tone and texture of the skin as well as wrinkles. It works best as a part of the anti-acne treatment too.
Azelaic Acid
The one thing azelaic acid is popular for is its anti-inflammatory properties. So it's very effective against hyperpigmentation and active acne. This particular ingredient also works very well for any raised brown marks or spots you might have.
However, azelaic acid comes with a drawback, which is only applicable if you have a dark skin tone. It tends to increase your chances of developing hypopigmentation.
Kojic Acid
Kojic acid is derived from fungus. It's a natural-quality bleaching agent often a part of treating age spots. So it's only logical to assume that the stuff helps in getting rid of brown-colored hyperpigmentation left by acne.
More often than not, skin lightening creams are equipped with kojic acid. They keep your melanin production in check to even out the complexion. And some of them even help in preventing future breakouts.
How to Use a Facial Cleanser for Hyperpigmentation
It goes without saying that the best face cleanser for hyperpigmentation should be a gentle formula. This means you need to stay away from potentially irritating or harsh ingredients. Make sure your face wash doesn't contain any "extra" skin whitening or brightening agents.
There are many cleansers out there with such "extra" features. They do sound tempting but end up irritating the skin or causing severe sensitivities. So it's important to keep your skin clean and balanced with only active ingredients responsible for clearing the spots.
As for how to use a facial cleanser properly, here's the answer to that:
Even when using foundation or concealer specifically created for hyperpigmentation, it's necessary to remove your makeup with the help of a good oil-based facial cleanser. But what if your skin type is acne-prone? Then go for non-comedogenic oil-based facial cleansers.

After removing the makeup, wash the remaining dirt and impurities with one of the best face washes & cleansers for hyperpigmentation I've reviewed in the article.
I have shortlisted only the top picks that are suitable for and gentle on all skin types. So you don't need to worry about your oily, acne-prone, dry, or combination skin.
The Best Treatment for Skin Hyperpigmentation
In this section, I'm going to name all the ingredients that have proven to be incredibly useful in treating skin pigmentation. So the terms don't sound alien to you at the time of choosing the best face wash for hyperpigmentation. You can expect the cleansers to contain some of these since they are very effective.
Topical treatment methods include components like azelaic acid, tretinoin, trichloroacetic acid, corticosteroids, GA, and hydroquinone. Skin whitening creams are almost always a part of treating post-inflammatory hyperpigmentation. Such products manage skin melanin production, no doubt about that.
There are many soy-based skincare products as well with serine protease. These are inhibitors that deliver therapeutic effects on hyperpigmentation. Along the same lines, Vitamin C is also another very popular natural ingredient known to treat post-inflammatory hyperpigmentation.
Apart from all this, broad-spectrum sunscreen also plays an important role. And when none of these work, dermatologists recommend combining this kind of therapy with laser treatment as well as cutaneous bleaching using hydroquinone and tretinoin. Such an approach works quite effectively for dealing with skin hyperpigmentation in a select few stubborn cases.
Conclusion
There's no harm in starting the treatment by using the right face cleanser for hyperpigmentation. When you use an effective, gentle exfoliating cleanser on a daily basis, you can expect an improvement in the color of your skin.
And when there are powerful ingredients like Vitamin C, glutathione, kojic acid, etc. to brighten your skin tone, then why not make the most of them!
The moral of the story here is that hyperpigmentation takes a while to heal. So you have to be patient and keep at it. Every little step also matters and produces long-term results.
Did you like this post about the Best Face Washes & Cleansers for Hyperpigmentation? Why not pin it!