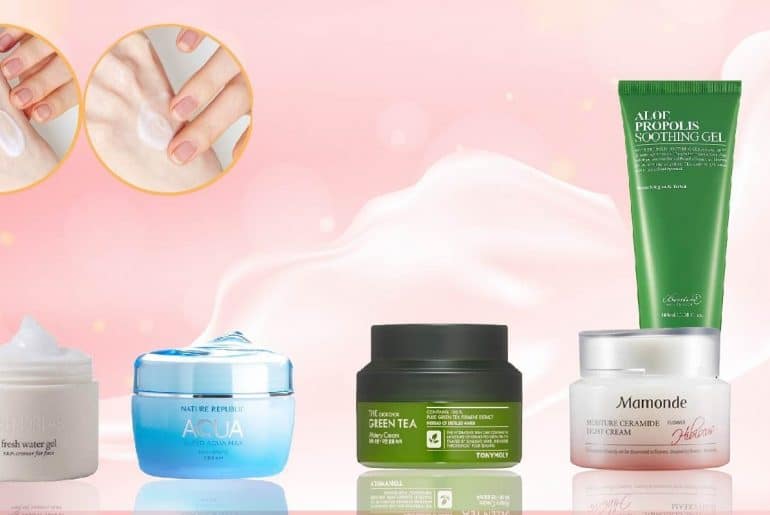 Excess shine, large pores, and an oily skin type; it's the perfect recipe for frequent acne and breakouts. The thing about applying a moisturizer on oily skin is that it doesn't encourage any extra sebum production, unlike popular opinion. But that's only if the moisturizer is specifically created for oily skin. This is where Korean or K-beauty products come into the picture.
See also:
The best Korean moisturizers for oily skin keep your sebum production from getting into the overdrive mode. In fact, these formulas are known for controlling the mass manufacturing of oil.
At the same time, since they come from the K-beauty category, the moisturizers also offer anti-aging and many other skin benefits. So it's time to get to know the top choices well-suited for oily skin.
Top Korean Moisturizers for Oily Skin
Why Moisturizing Oily Skin Is Important
Thick and heavy face creams are not what you should be using for moisturizing your skin. Rather oil-free, lightweight formulas are perfect for drawing moisture present within your skin and on the surface of it. Because when this happens, the hydration level of your skin strikes an optimal, healthy balance.
And there's nothing more fitting as oil-free, lightweight formulas than Korean moisturizers. They are packed with all the right kinds of hydrating ingredients such as hyaluronic acid and aloe vera.
On top of that, the creams are gentle for proper skincare without causing any unnecessary dryness or tightness. Moisturizers specifically created for oily skin regulate your sebum production to prevent the shiny appearance on the face. Without them, your skin ends up looking oily or becomes susceptible to breakouts.
Benefits of Using Korean Moisturizers for Oily Skin
The success and popularity of Korean or K-beauty products are growing by leaps and bounds. It's because Korean skincare brands are genuinely dedicated toward taking care of your skin. Something that you and I forget to do! For instance, when was the last time you actually cleaned your makeup properly at the end of the day?
The perfect Korean skincare routine involves removing all traces of even leftover makeup and then applying a night mask. In the morning, you wash off the sleep mask, do some double-cleansing. After that, bring in the moisturizer, no matter your skin type, and then the sunscreen. And finally, it's time to use your favorite, go-to foundation or BB/CC cream.
Korean skincare line also includes sheet masks, serums, toners, essences, and ampoules.
But why choose a Korean moisturizer? Or any other K-beauty product for that matter? It's because all of them contain natural oils, botanical extracts, and even fruit extracts. Their innovative, nature-inspired approach toward beauty benefits the skin the most.
If you've read the reviews, then you know that some moisturizers are equipped with beehive-derived propolis and snail mucus for repairing your skin's natural protective barrier. That's how innovative and natural Korean skincare products really are.
How to Choose the Best Korean Moisturizers for Oily Skin?
Increase your chances of picking the right skin care product for your oily and acne-prone skin. And you can do that simply by taking into consideration the following factors.
The form of the moisturizer
It only makes sense to assume that not all moisturizers are the same, form-wise. There are lotions, creams, gels, and serums. But for oily skin, what works best is a gel-based moisturizer. Just make sure the formula is also oil-free and lightweight.
Does it have SPF?
It's alright even if the answer is NO. In that case, don't forget to skip your sunscreen after applying the moisturizer.
But if your innovative Korean formula does come with SPF, that means it offers further skin protection. Never skip sunscreen as the UV rays speed up the process of aging. Apart from worsening acne, pigmentation, and the like!
Read the list of ingredients
The only way to make the right decision is to read the long list of ingredients your moisturizer is packed with. It's not going to take more than a few seconds, maybe a minute or two.
Just keep in mind that alpha hydroxy acids and retinol work effectively against acne. So that's how you can prevent your oily skin from breaking out. Another characteristic that ensures an acne-free experience is non-comedogenic. Meaning it doesn't clog pores and give rise to breakouts.
Is it dermatologist-approved or tested?
If the moisturizer is dermatologist approved or tested, then the Korean manufacturer states it so. After all, who doesn't like to display credibility!
Most of the K-beauty moisturizers for oily skin I've reviewed are recommended, approved, or tested by dermatologists. So you know they're more effective than the ones that aren't.
Important Skincare Tips for Managing Oily Skin
An oil-free, sheer moisturizer indeed controls the excess shine often caused by oily skin. But that doesn't mean there aren't other skincare routines or techniques also vital for keeping the shine at bay. So here they are!
Say Yes to Oil Cleansing
The whole idea of putting oils into your oily skin doesn't sound so logical now, does it? Well, I don't care how it sounds, and you shouldn't too. That's because oil cleansing is a very effective method of eliminating excess sebum present within the skin. And it does so without drying or irritating your skin.
Regulating the natural production of oil in the skin to reduce shine is crucial. But you have to pick the right oils. Lighter oils such as jojoba oil have the same molecular structure as natural sebum. Meaning it's good for preventing oil overproduction. Another light option is the geranium essential oil.
Say No to Over-Washing Your Face
When you wash your face more than 2-3 times a day, what you're actually doing is stripping away your skin's natural oils. When that happens, oil glands work harder to produce more sebum, thus resulting in breakouts and a shiny appearance.
Along the same lines, say no to alcohol-equipped cleansers. They dry out your skin excessively, which aggravates sebum overproduction. So go for foam-based or gel-based cleansers light enough to suit oily skin.
Say Yes to Toners and Clay Masks
Did you know that toners also clear away extra sebum? This excess sebum is often missed by the cleanser. So using a toner actually restores the natural pH levels of your skin. But keep away from toners with alcohol in them.
As for clay masks, they contain ingredients such as Kaolin clay, French green clay, and Bentonite clay. All three are effective at destroying impurities present in the pores, absorbing excess sebum, and refining the visibility of large pores.
For additional benefits, you can also select clay masks infused with charcoal. It's the best skin care ingredient for detoxification. Then there's soothing cucumber and sebum-regulating zinc as well.
Bottom Line
What skin type you have is actually the solution to your skin problem. Meaning if you have oily skin, then you should choose products specifically created for oily skin. Only then can you avoid sebum overproduction.
At the same time, please keep in mind that you shouldn't deprive your epidermis, the outermost skin layer, of essential natural hydration. So opt for moisturizers that restore and replenish the skin's normal pH balance. And you can do this by picking K-beauty formulas.
A Korean gel-based moisturizer works toward soothing the outermost layer of your skin. This also clears your complexion along with managing oily skin.
On top of that, when the consistency is gel-like, faster absorption takes place without any sticky or greasy residue. Just be diligent and soon your oily skin won't bother you anymore.
Did you like this post about the best Korean moisturizers for oily skin? Why not pin it!