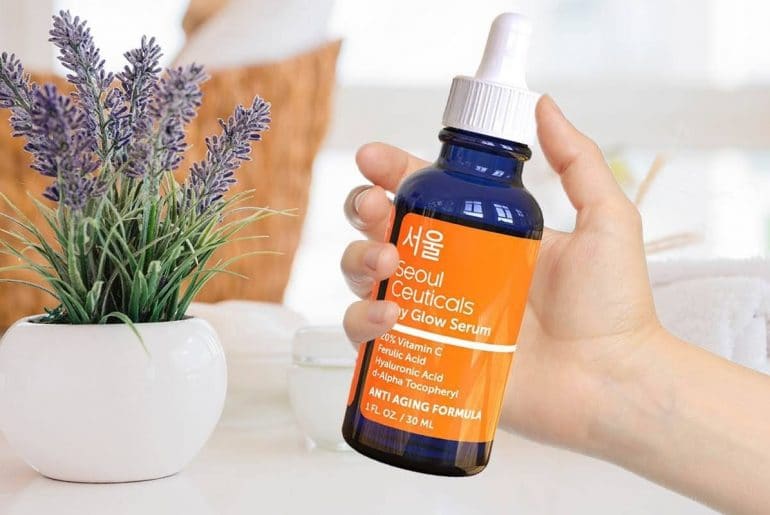 Often shadowed by essences, Korean serums have now finally occupied center stage. And that's incredible because this means you get to buy the best Korean serums for oily skin without having to loosen your purse strings completely.
Dealing with oily skin is not a pleasant or effortless task. Constantly having to apply powder foundation to the face to conceal the shine can get very annoying after a point. And in any case, that's not the solution; it's only a temporary fix.
Oily skin is often accompanied by large pores and breakouts. The only silver lining is that oily skin tends to develop fewer wrinkles and age better. But that doesn't matter when you can just as easily buy an oily skin-specific Korean skincare product that controls the oil and offers excellent anti-aging skin benefits too.
So here are the top 13 best selling Korean skin care products in the form of serums for oily skin!
How Does Oily Skin Benefit from Korean Serums?
The greater part of women with oily skin doesn't find it logical to use a serum. Most of them think that serum and even moisturizer formulas have a thick texture that adds a greasy look to the skin. Now I'm not concerned with moisturizers here, but I am going to clear the air regarding serums.
More often than not, serums, especially Korean serums designed for oily skin, contain lightweight and concentrated ingredients. And these active ingredients have the ability to penetrate your skin both quickly and effectively.
There are ingredients in these special serum formulations that accelerate the skin healing process, increase exfoliation, and reduce pigmentation and inflammation. They also contribute to preventing breakouts due to your oily skin.
Needless to say, oily skin-specific Korean products decrease the amount of sebum production to control oil. And while doing so, they also minimize the chances of acne often accompanied by oily skin.
How Are Serums Different From Moisturizers?
Allow me to be more specific here. In this section, I have explained how a serum for oily skin is not the same as a moisturizer.
Serums have a lightweight texture, which means they get absorbed into your skin easily. As for moisturizers, not all of them are as highly concentrated for quicker penetration as serums.

Serum formulas, by nature, focus mainly on boosting the hydration level of your skin. While providing hydration is just one of the qualities of only a few moisturizers for oily skin.

Serums not only get absorbed into the skin faster but they penetrate deeper as well. You simply cannot expect a moisturizer to reach that far.
In fact, for your skincare routine in the summer, dermatologists recommend using a serum in the day and a moisturizer at night. Now you know why.
How to Choose the Best Korean Serums for Oily Skin
No matter what type of Korean skincare product you're choosing, the base rules remain the same.
The first rule is that you should always moisturize. And NO, a serum is not a moisturizer. Skipping the moisturizer, even when you have oily skin, is not a good idea. And that's because the oil that you so badly want to get rid of does not "moisturize" your skin. Get my point?
What a moisturizer actually does is smooth out the surface of your skin. As long as you're using the best Korean moisturizer for oily skin, the formula is not going to add more oil or trigger breakouts.
The second rule is making sure your serum contains gentle ingredients. And not harsh ones that are known to increase oil production and cause skin irritation. In that case, let's talk about some of the most common ingredients Korean serums are packed with.
Not every Korean serum contains the same ingredients. But, generally speaking, most of the good ones are equipped with one or more of the following ingredients. These include Vitamin C, hyaluronic acid, salicylic acid, glycolic acid, niacinamide, tea tree oil, and retinol.
They're all-natural ingredients, and in some cases even organic, that don't aggravate oily, dry, or even sensitive skin. Meaning no harsh chemicals are included.
Speaking of no harsh chemicals, also keep in mind ingredients you should be avoiding. Any form or quantity of alcohol tends to make the skin excessively dry and dehydrated. Likewise, stay away from artificial fragrances, parabens, sulfates, etc.
And one last thing; look for a non-comedogenic serum. When the formula is non-comedogenic, you can rest assured knowing that it doesn't clog the pores. Blocked pores trigger breakouts and acne, which only add fuel to the fire. The fire here is the excess production of sebum/oil.
Commonly Asked Questions about Treating and Caring for Oily Skin
Is collagen good for oily skin?
The benefits of collagen nudge you in the direction of using this natural protein for dealing with wrinkles, acne scars, saggy skin, dry skin, and also eczema. Collagen, undoubtedly, improves the condition, appearance, and overall health of the skin. Apart from promoting injury recovery, gut health, and reducing joint pain.
Naturally occurring collagen consists of amino acids, the non-essential kind. Our body contains a lot of collagen, which plays a huge role in the deeper levels of the skin. Collagen provides your skin with all the stability and structure it needs to keep from falling apart. No wonder the protein is capable of maintaining a firm, youthful texture.
Now you should know that I'm talking about hydrolyzed collagen supplements here. As for collagen creams or moisturizers/serums that boost collagen, these too are very effective when it comes to restoring the protein in your skin cells. But it goes without saying that they don't work as effectively as collagen supplements.
Is Vitamin C serum good for oily skin?
It's quite common to come across Korean skincare for oily acne prone skin enriched with Vitamin C. After all, this particular natural ingredient delivers a healthy glow by reducing common skin problems like acne scars, wrinkles, fine lines, sun damage, and dark spots.
The thing about Vitamin C is that serums equipped with it are acidic by nature. Meaning they have the power to get rid of dead skin cells, thus leaving your skin feeling smoother and looking brighter. Vitamin C serums speed up the process of cell regeneration, which involves boosting elastin and collagen production. In short, anti-aging benefits too.
And here's great news for those with oily skin. Since your skin type often triggers breakouts, you might be glad to know that Vitamin C reduces this kind of scarring and hyperpigmentation.
The ingredient acts as an effective brightening agent. So you can use it in topical form for fading spots without expecting an alteration in the normal, healthy pigmentation of your skin.
Over to You Now!
The thing about the best Korean serums for oily skin is that they're great additions to your daily skincare routine. But the serum has to be an effective K-beauty product capable of delivering desired results.
However, the fact that you're looking for oily skin-specific formulas means you're placing the right foot forward. So it's time to go all-in by selecting the best serum for oily skin I've reviewed in the article. All the formulas that are shortlisted manage oily skin, no doubt. And they do so simply by providing hydration and, at the same time, preventing the greasy look.