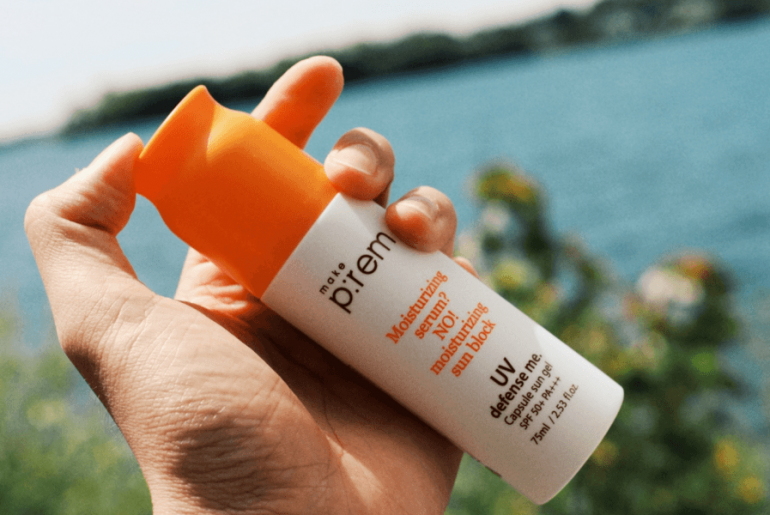 In my opinion, the most problematic skin type is either oily skin or combination skin. In both cases, all you want is for your skin to not look like fresh, just-out-of-the-fryer McDonald's French Fries by the end of the day. So is that such a tough goal to achieve or an unreasonable demand to make? Not when you're deliberately choosing to use the best Korean sunscreen for oily skin.
The chances are that up until now you've applied sunscreens that leave a greasy or sticky after-effect on your skin. And I'm sure you don't like that feeling. Nobody should, irrespective of the skin type.
So here's a list of the best sunscreen for oily skin manufactured by only the most popular K-beauty skincare brands.
First Off, Understand the Basics of Using Sunscreen
The full form of SPF is Sun Protection Factor.

Applying sunscreen daily, whether out in the sun or indoors, means reducing the risks associated with skin cancer by half.

Sun's UV rays cause many common skin conditions like dullness, pigmentation, and premature wrinkles.

Just keep in mind that it's never too late or too early to start using sunscreen.
Korean Sunscreen for Oily Skin: Better than Western and Non-Korean Sunscreens?
I don't like to bash what I hate, at least not online when there's already enough negativity to take in. But, as a professional reviewer, I have to paint an honest picture for you. And the truth of the matter here is that American-made or any other non-Korean sunscreens don't even come close to protecting your skin as effectively as their Korean counterparts.
The popularity of K-beauty products is growing by leaps and bounds every year. And this is happening for good reasons of course. But how can you tell one is better than the other? It's because the former, which is Korean sunscreen, is packed with a broader range of SPF ingredients for complete protection from both UVA and UVB rays.
In most non-Korean cases, SPF means only UVB sun protection. The UVA protection part is almost always nonexistent. The majority of sunscreens available at local supermarkets or drug stores offer just UVB protection. And this is bad news since UVA rays of the sun are very dangerous.
You should know that UVB rays cause sunburn while UVA rays tend to make your skin complexion brown.
Let me also mention here that sunscreens manufactured in Australia, Canada, and U.S. have been labeled as "drugs" by FDA. Therefore, using a new set of chemicals for sunscreens demands formal approval. And this particular process means jumping through many hoops, which is something that not many skincare brands are willing to do.
As for Korean sunscreens, the Korean manufacturers don't have to succumb to such restrictions. This paves the way for the introduction of new chemicals that are added to the cream to boost their performance.
Now let me tell you why the best Korean sunscreen for oily skin is superior to the non-Korean products. The former skips the white-texture, gloppy appearance that the latter often leaves on your skin. Oily skin-specific Korean sunscreens have a lighter consistency, more pleasant and less nauseatingly tropical smell, and quicker absorption capacity.
Another reason is the different SPF rating system of Korean sunscreens. It's a thing called PA, Protection Grade based on Persistent Pigment Darkening (PPD). Let's get to that below.
What is PA+++ in Korean Sunscreens?
The SPF rating of any sunscreen protects your skin from UVB rays. Meaning it prevents sunburns, provided you're applying the formula in the correct manner. But not every sunscreen offers UVA protection. Now, this is exactly what drags into the picture Korean sunscreens and their PA rating system.
More often than not, PA is followed by the "+" sign or signs. For example, PA+, PA++, PA+++, and even PA++++. This is a Japanese rating system that denotes how much protection against UVA rays the sunscreen provides.
Now let me tell you what each rating of PA means:
Minimal UVA protection is PA+.

Moderate level of UVA protection is PA++.

High protection against UVA rays is PA+++.

And extremely high protection is PA++++.
But there are a few drawbacks here you should be aware of. Not every country agrees with the method of achieving these measurement values of PA. So here's the primary concern. UVA rays turn your skin complexion brown and cause it to stay that way. This process is known as Persistent Pigment Darkening (PPD).
It's only common sense to assume that not everybody's skin is going to turn brown due to sun exposure. Sometimes the skin becomes darker or not very brown. Likewise, in a few cases, the skin complexion takes a longer time to reach the brown shade.
This means the effect the PA rating has on your skin depends on your particular complexion. And how your skin reacts or how soon it reacts to the exposure of the UV rays of the sun. But, generally speaking, the more the "+" signs, the higher the UVA protection.
The PA rating system is quite much like "broad-spectrum" sunscreens. Broad-spectrum SPF indicates protection against both UVB and UVA damage. So if you're confused about how many "pluses" to choose, simply opt for a broad-spectrum sunscreen. And, lucky for you, the Korean sunscreens for oily skin I've reviewed in this post all deliver broad-spectrum benefits.
Is SPF 100 Dangerous?
The thing about higher SPF is that it over-exposes your skin to the harmful UV rays of the sun. Meaning it works counterproductively. No wonder FDA has placed limitations on the level of SPF.
Theoretically speaking, SPF 100 implies you can expose your skin to the sun for 100 times longer. In most cases, the skin reddens after just half an hour of exposure during midday. So by the time you reach the full potential of SPF 100, your skin is already experiencing a sunburn. This is proof that theory and reality are not the same.
Now here's why SPF 50 and higher earn a bad reputation:
Higher SPF is scarcely any better in comparison to sunscreens with an SPF level between 30 and 50.

High SPF is not necessarily high SPF. Differences in light transmission, application thickness, etc. have a dramatic effect on the SPF level of sunscreen. Meaning an SPF 100 product can also yield SPF measurements between 30 and 40 because of small changes in light transmission or application thickness.
This explains why, in some cases, higher SPF values are capped at 60+ or 50+. These companies certainly don't want to mislead consumers and influence purchasing decisions.

Higher SPF is often misused under the assumption that you can remain in the sun for a longer time. This brings into the picture over-exposure to UVB and UVA rays, thus greater chances of sunburns caused by UVB and skin damage inflicted by UVA.

More SPF equals to more chemicals for the sun-filtering action. Some ingredients here pose major health risks when they penetrate your skin. And by major, I mean problems like hormone disruption and tissue damage. They can even trigger skin sensitivities or allergies.
How to Choose the Best Korean Sunscreen for Oily Skin
So you have oily skin, right? That means you don't want to lather your skin with heavy, thick cream to make the face look unnecessarily shiny. But don't perceive this as skipping sunscreen altogether.
Oily skin and breakouts don't equal to no sunscreen, no moisturizer. There's zero amount of wiggle room in that department. Not unless you're okay with sunburns, premature aging, pigmentation, and other skin damage.
But then how do you go about choosing the most suitable K-beauty or any other sunscreen for your oily skin? Here's the answer to that question.
Lightweight, Water-Based
The first thing that comes to mind is that the cream should be light, not heavy, and fast-absorbent. A lightweight texture dries down into a smooth, matte finish. As for quick absorption, it's better if the sunscreen is water-based (gel form).
Speaking of different forms of sunscreen, it's highly recommended to stay away from Korean sunscreen spray. Sun creams formulated as sprays are not such an ideal choice for the oily skin type.
Non-Comedogenic and Oil-Free
When browsing through Korean sunscreens, narrow down the list to include only non-comedogenic products. Non-comedogenic means the formula contains no pore-clogging ingredients. As you already know, blocked pores give rise to acne.
As for the sunscreen being oil-free, this part is crucial if you already have oily skin. The cream or lotion shouldn't be too greasy, thick, and heavy. Your oily skin should keep away from such sunscreens.
Broad-Spectrum and High SPF
I have already explained how broad-spectrum sun protection prevents damage caused by both UVA and UVB rays. And the best part is that most Korean sunscreens for oily skin, dry skin, sensitive skin, and combination skin offer broad-spectrum protection.
As for the level of SPF, it should always be more than 30. Only then can and should you expect the special Korean formulation to block as much as 97-percent of the harmful UV rays.
No PABA, No Oxybenzone
If your oily skin is also sensitive, then you simply have no option but to stay away from active ingredients like PABA and oxybenzone. They tend to aggravate skin sensitivities like rosacea, eczema, psoriasis, etc.
Instead, go for sunscreens with zinc oxide or titanium dioxide as their natural active ingredients.
Bottom Line
You know by now that sun protection is a compelling aspect. Irrespective of your skin type! So whatever your concern, which, in this case, is oily skin, pick the most suitable kind of sunscreen formula. And what's more fitting than oily skin-specific Korean sunscreens to provide sun protection while also controlling sebum production and breakouts!
Ditch heavy creams laden with ingredients known to clog pores, give rise to acne, and trigger skin sensitivities.