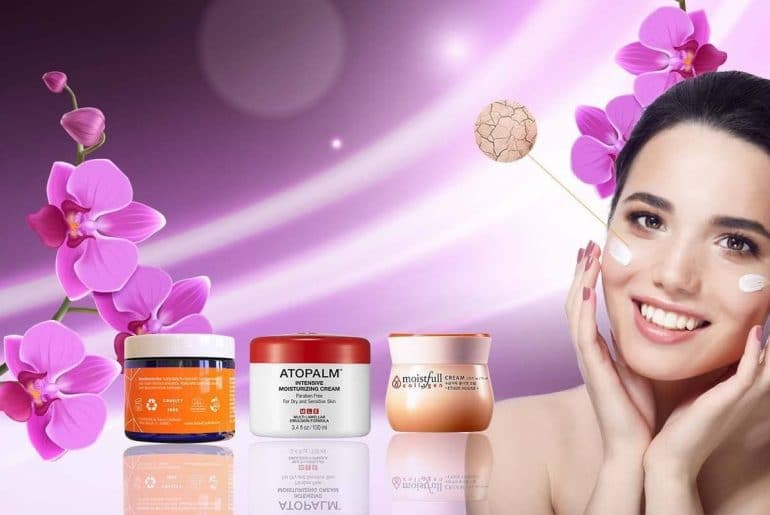 What's this new obsession over Korean beauty products? More and more women and even men are choosing Asian skincare to treat and pamper their dry skin. Comparatively speaking, the category of face cream is the most popular. And that's because face creams are the most important products to start with if you have dry skin.
So here are the best Korean moisturizers for dry skin. These formulas are science-backed and packed with innovative ingredients. At the same time, the Korean-made magic potions are not that expensive to purchase either.
The thing about Korean skincare is that the brands create targeted formulas. Meaning K-beauty products are clearly marked for a particular skin type. This includes dry skin, oily skin, sensitive skin, and combination skin. And Korean brands do this simply by adding the most suitable ingredients.
For example, dry skin deserves a face cream with excellent moisturizing and hydrating properties. As for oily skin, non-comedogenic and oil-free Korean formulas work best. And sensitive skin should stay away from specific ingredients like parabens, synthetic fragrances, alcohol, etc.
However, choosing from the lot for your dry skin can seem like a time-consuming task. So, lucky for you, I've done the needful. Therefore, all you have to do now is read the reviews and pick your go-to Korean magic potion.
The Best Korean Moisturizers for Dry Skin: Top 17 Choices
Why Are Korean Moisturizers Best for Dry Skin?
Now let me bring to your attention that just drinking generous amounts of water is not enough for keeping the natural moisture levels of your skin healthy. So it's only common sense to assume that even more care is required if you have dry, dehydrated, or flaky skin. This is why it's best to include a good moisturizer as well into your daily skincare routine.
But why does it have to be a Korean moisturizer? It's because the best K-beauty formulas are packed with extra reinforcements. Let me explain below.
The natural lipid barrier of your skin is supposed to provide protection against potential damage and water loss. But this natural barrier of protection doesn't always do its job. So during the times when your lipid barrier fails to prevent water loss and skin damage, the responsibility falls on the metaphorical shoulders of a moisturizer.
Korean moisturizers specifically created for dry skin offer complete protection from any sort of damage. And equally important is their ability to re-balance the moisture levels of your skin.
When your skin doesn't produce the required amount of lipid cells, the condition leads to dry skin. However, Korean moisturizers are specially formulated to make up for this lack of moisture retention.
How to Choose a Korean Moisturizer for Dry Skin
You already know that moisturizers seize every opportunity to boost hydration and the natural oils of your skin. No wonder it's crucial to use a moisturizer right after washing the face. And you simply cannot and shouldn't neglect this step if you have dry skin issues to deal with.
But how do you go about choosing the best Korean moisturizer formula for your dry skin? I mean yes, there are many K-beauty products specifically labeled for the skin type they're suitable for. Nevertheless, you should also know what goes into picking the right Korean moisturizer for dry skin.
There are Korean moisturizers that contain shea butter, jojoba oil, and coconut oil. These gel-based formulas are simply perfect for regular dry skin. But if the condition is slightly on the severe side, then you should select cream-based Korean moisturizers equipped with hyaluronic acid, lanolin, mineral oil, lactic acid, or dimethicone.
Another very effective ingredient used in K-beauty moisturizers is snail mucus extract. What this snail essence does is boosts moisture and replenishes dried skin cells.
The peptides present in snail mucin perform the task of repairing damage caused by aging, pollution, and sun exposure. Snail mucus extract also has the power to accelerate collagen production.
Along the same lines, there are Korean moisturizers with birch sap as well. Now, this particular ingredient is full of antioxidants and proteins. It's the best alternative to coconut water for your skin. And when used on dry skin, birch sap offers tons of hydration. Even in cold, dry climatic conditions!
In all, the Korean moisturizer you pick should contain moisture-trapping ingredients in the form of natural extracts and oils. And not chemicals and additives!
The Most Effective Methods to Treat/Prevent Dry Skin
Apart from using the best K-beauty moisturizer for dry skin, you can alleviate the problem by adopting other lifestyle habits.
Avoid Taking Hot Showers
Like I already told you, very hot water destroys the natural moisture and oils present in your skin. This means your skin's natural protection barrier gets eliminated. Keeping that in mind, consider using lukewarm or warm water. Even when you're just washing your face!
Use Night Masks
When dry skin is the problem, you should incorporate sleeping masks into your beauty routine. Sometimes moisturizers are not enough for hydrating excessively dry skin. This means your skin demands an additional boost. And what better way than night masks to provide that extra boost!
The best Korean overnight sleeping masks deeply penetrate your skin's inner layers to moisturize them. More often than not, they contain ceramides and hyaluronic acid for specifically targeting dryness. So you wake up in the morning with a radiant glow.
Get a Humidifier
Humidifiers add moisture in the air, correct? So if the weather conditions are dry and cold, you can use a humidifier to boost the moisture levels of your indoor setting. This way your dry skin can feel relieved.
I would also like to mention here that you shouldn't forget to moisturize and apply sunscreen to your neck as well as décolletage. These areas are also very susceptible to becoming dry and even aging. So include the neck, throat, plus chest areas too into your daily moisturizing routine.
Final Note
Are K-beauty products worth it? Does Korean skincare make the skin look and feel healthier? If you've gone through the reviews section of this post, then you know the answer to both the questions. After all, the majority of Korean moisturizers out there have earned a pretty good reputation. Be it for dry skin, oily skin, or sensitive skin!
Just keep in mind that when you invest time into your skin, the effort pays off. You only have to make sure you're using the right products for skin care. That's all.