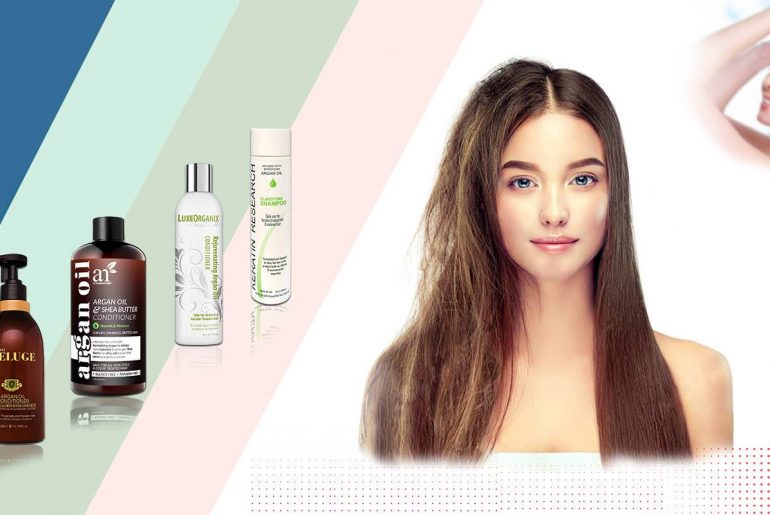 Many women choose the keratin treatment method to be able to deal with intolerably frizzy hair. The thing about frizzy or dry hair is that it's never easy to manage. So at such times, the treatment of keratin for hair seems like a good solution. After all, keratin-treated hair does look smooth and silky.
But the most crucial aspect of this hair treatment method is the shampoo you use for maintaining that healthy smoothness and shine. In a nutshell, the shampoo you choose should be mild or gentle with no harsh or harmful chemicals like parabens and especially sulfate.
Shampoos that strengthen the strands of your hair while also locking in much-needed moisture are what you need instead. So if your goal is to find the best keratin professional shampoo, then you might want to have a look at the reviews below.
Top 19 Shampoos for Keratin Treated Hair
Keratin Treatment for Hair: What Is It?
The keratin treatment method involves smoothing and correcting frizzy, unmanageable hair. With the help of chemicals concentrations and nutrients, the keratin levels in your hair's follicles and shafts are increased.
Keratin treatment is also known as Brazilian blowout. Now it's only logical to assume that you cannot use just about any shampoo for keratin treated hair. Formulas without any sulfate concentration are better suited for your hair at such times.
The thing about keratin-treated hair is that they are in a vulnerable state. This is why it's important to make sure harsh and drying chemicals like sulfates and parabens don't come in contact with your hair.
So your hair should be handled with total care. Speaking of which, here's something you might find relevant…
Keratin Treatment for Hair: The Do's and Don'ts
What to Do:
Post keratin treatment, you should keep your hair away from water for 3 whole days.

After these 3 days, maintain the shower routine, particularly using a conditioner.

Use the best shampoo for keratin treated hair, which is a sulfate-free formulation.

For sleeping, use a silky or shiny pillow cover.

After every shower, blow-dry the hair.

Use hair products that protect your keratin treated vulnerable hair from the humidity if you live in a highly humid environment.

When in the sun, wear a hat to protect your hair from direct UV rays.
What Not to Do:
Don't go for cheap, low-quality shampoos for keratin treated hair.

Along the same lines, avoid using clarifying shampoos since they dissolve keratin in the hair.

If you wash your hair multiple times a day, then make sure you don't do it more than 3 times. Too much hair wash weakens keratin concentration.

Avoid using different types of conditioners after keratin hair treatment. Stick to just one type of reliable, high-quality conditioner for at least a month post-treatment.
Benefits of Using a Shampoo Specifically Created for Keratin Treated Hair
Shampoo for the aftercare of keratin treatment should be such that it makes the smooth and silky effects last for a longer time. So if you pick a keratin specific formulation for your hair, then be ready for the following benefits.
Moisturized Hair
Keratin treatment, no doubt, leaves the hair feeling lifeless and dull after a few months. So if you wish to avoid that, then moisturizing your hair after the treatment is absolutely necessary. This is where keratin shampoos come into the picture. They contain natural ingredients that boost moisture. The most common one being argan oil.
Sulfate-free shampoos with argan oil deliver intensive hydration and deep nourishment. Then there are other formulations with essential oils, coconut oil, avocado oil, camellia seed oil, peach kernel oil, sunflower oil, Babassu oil, jojoba oil, etc. These too are infused into shampoos to offer long-term keratin treatment benefits in the form of abundant moisture.
Strong Hair
Keratin specific shampoos are packed with antioxidants and vitamins to boost the overall health and condition of your treated hair. Some of them are equipped with Vitamin E, Vitamin A, Vitamin B1, and more for providing protection against harmful elements and for strengthening your hair.
Keratin itself does a pretty good job of strengthening the hair. But if proper maintenance is not a part of the picture, then the keratin concentrations fail to live up to your expectations. So if you want to avert such a tragedy, then make sure the shampoo you use contains Vitamins A, E, and B1 along with omega fatty acids.
Choosing the Best Keratin Shampoo for Treated Hair
Now it's not important to use the same brand of shampoo as that of your keratin treatment. As long as the former is keratin-friendly, it's well-equipped to care for your treated hair. All you have to do is make sure it doesn't have any harsh chemicals that destroy your hair's natural moisture and the keratin concentration.
So here are the most important factors you should keep in mind when buying a keratin-friendly shampoo.
Shampoo Free of Sulfates, Parabens, and Sodium Chloride
It's only natural to want to prolong the smooth and silky effects of keratin hair treatment. So if that's the case, then you have to ditch shampoos packed with stuff like sulfates, parabens, and sodium chloride. Such ingredients are commonly added to shampoo formulations. But that doesn't make them safe for your keratin treated hair.
What sulfates, parabens, and sodium chloride do is strip away keratin and moisture from your hair. This means the smooth and silky effect of the treatment doesn't stand a chance.
Shampoo Infused With Natural, Nourishing Ingredients
So what are these natural, nourishing ingredients in keratin shampoos? Argan oil, Vitamins E, A, B1, and B2, coconut oil, keratin collagen complex, and more.
But also be sure to avoid using shampoos excessively loaded with high keratin concentration. If such formulas don't have enough vitamins to balance out the keratin, then that means your hair is going to take longer to heal eventually. These might not damage your hair per se, but they do invite unnecessary trouble.
Shampoo That is Mild on Your Hair and Scalp
A gentle formulation is your safest bet in the case of keratin treated or colored hair. And you know the shampoo is mild when it contains natural, organic ingredients for reviving the follicles of your hair.
You obviously don't want to expose your hair and scalp to very strong, chemical-laden formulas that end up doing more harm than good.
Commonly Asked Questions
Why should I use a special keratin shampoo after keratin hair treatment?
You use a special shampoo so you can effortlessly prolong the smooth and silky effects of your expensive keratin hair treatment. These shampoos have the ability to provide protection against potential damage.
As long as the shampoo you use is keratin-friendly, meaning sulfate-free, paraben-free, and sodium chloride-free, you don't have to worry about moisture retention and the loss of keratin from your hair.
Why are sulfates (normal shampoos) not good for keratin treated hair?
Normal shampoos are made with sulfate. And do you know what sulfates do? They disrupt the straightened effect of keratin treatment. Even when the smallest amount of sulfate comes in direct contact with your keratin-treated hair, it can undo the smooth and silky appearance and feel.
Why do keratin shampoos not foam as much as regular shampoos?
Now you should know that regular shampoos foam that much because of the inclusion of sulfates. It's a thickening chemical agent that produces foam when combined with water.
So in the case of sulfate-free shampoo, dampen the hair first and then apply the formula. And keep adding water if required.
Are dry shampoos safe to use for keratin treated hair?
Yes, of course, you can wash your keratin treated hair with dry shampoo. But, once again, make sure the dry shampoo solution doesn't have any sulfates or other such harsh chemicals.
In fact, dry shampoos are highly recommended during the first 3 days after your keratin hair treatment. That's because you're not allowed to wash your hair with water for those 3 days. So you can instead use a dry shampoo in order to get rid of all the excess oil and dirt. No doubt, dry shampoos clean and refresh your hair, thus destroying the oily appearance and bad odor.
When to wash the hair after keratin treatment?
As I've already mentioned, you should avoid washing your hair with water for 3 days after your keratin treatment. Otherwise, the smooth and silky effects transform into messy and frizzy. Likewise, make sure you don't get wet in the rain.
If cleaning your scalp is a priority during these 3 days, then how about using a sulfate-free dry shampoo instead?
How often should I wash my hair after keratin treatment?
Generally speaking, it's not advisable to wash your hair daily. As that might lead to making your hair either too brittle and dry or too oily. You don't want your daily showers to destroy the natural oils present in your hair.
After 3 days of not washing your hair post-treatment, you should wash your hair once every 2 days. Many women keep a gap of 2 to 3 days also. During this time, you can feel free to use a sulfate-free dry shampoo.
It's only natural for keratin effects to last for a longer time if the gap between two hair-wash sessions is longer. With fewer hair products used, your keratin-treated hair stays straight, smooth, and silky for a longer time.
What type of conditioner is good for keratin treated hair?
Normal or regular conditioners are not recommended because they're infused with sulfates and other such harsh or harmful ingredients. Instead, go for sulfate-free conditioners equipped with amino acids. These have the power to boost hair shine and nourishment.
How to find out if the shampoo contains hidden sulfates?
You should know that sulfate and sodium lauryl sulphate are pretty much the same ingredient. Both are surfactants that strip away color and keratin from the hair. If your shampoo doesn't have a problem producing lots of lather, then it's definitely got SLS. And that means it's not a good choice for keratin treated hair.
Sulfate occurs in other forms as well, which are as follows.
Sodium lauryl sulphate (SLS).

Triethanolamine (TEA).

Diethanolamine (DEA).

Sodium C14-16 olefin sulfonate.

Disodium laureth sulfosuccinate
The End
So for longer-lasting keratin treatment effects, keep away from shampoos that contain these hidden forms of sulfates. Unfortunately, not all shampoos out there are labeled sulfate-free. And what's even more unfortunate is that not all shampoos labeled sulfate-free are actually free of sulfates.
But the good news is that the ones that really are I have reviewed in the article. So you can rest assured knowing that your keratin treated or colored hair is in safe, sulfate-free hands.
Did you like this post about the Best Shampoo for Keratin Treated Hair? Why not pin it!
See also: