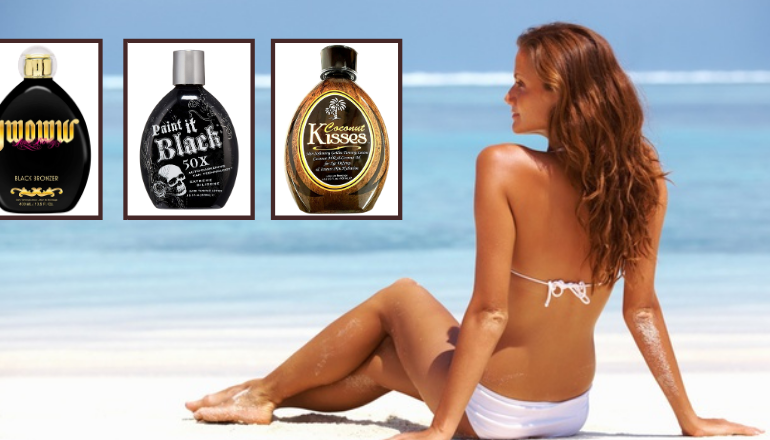 Hi girls, the 9 best tanning bed lotions I'm going to introduce in this article is the result of long days finding flawless tanned skin like those girls in "Baywatch."
I must admit that I'm a big fan of "Baywatch," both the series and the movie. Since I have pale skin, which is easily burnt by the sun, I admire the actresses' sunless tanned skin so much. It looks so smooth, vitalized, and super sexy. Therefore, I have done many tanning sessions in the spa, searched for the products that give me sun-kissed skin. And I did find out an excellent list of top tanning lotions.
If you are the same, 9 best indoor tanning lotions today will assist you in getting a sweet caramel skin as I did.
In case you're so familiar with indoor tanning and only come here to obtain my recommendations, the list is right after this paragraph. If you're only a beginner, please be patient. All the how-tos and the tips are waiting ahead. Stay tuned!
Our 9 best tanning bed lotions for your beach-ready skin
1. Jwoww Black Bronzer Dark Tanning Lotion 13.5 ounce - This best bronzer tanning lotion is an absolute killer
This bronzer is the best tanning bed lotion of all!
I've been under the tanning process a couple of months before I hit this lotion and fell in love right away. My skin was fairly golden back then, and just after 2 - 3 sessions, my skin had been built up a nice dark tanned color. Even the consultant in my spa said it was so quick.
The yogurt-like texture is so smooth and easy to apply all over the body. The berry smell is excellent, too, but I do prefer the scent of coconut. After a session, I usually wait 3 - 4 hours then take a shower. And no streaks at all!
The combination of many oils (like Black Currant Oil, Cannabis Sativa Seed Oil, Sunflower oil, and Kukui Nut oil) nourishes and gives me a nice glowing skin. Even though this bottle's smell was a little girly, a male friend of mine also likes it.
I've got an excellent brown color boost from this lotion. I've earned my wanted look, and I've still kept using it to maintain this satisfying result.
Pros
Effect rapidly
Give you a nice brown color skin
Berry scent is quite pleasant
Thick texture but easy application
Moisturize skin well, so after tanning, the skin is not dehydrated
Cons
Some people claim that it gives them an orange tint, but I think it depends on skin types and many other factors. From my personal and my friend's experience, it is not orange at all.
Best for:
It's suitable for everyone. Even the beginner could use it.
2. Millennium Tanning Paint It Black 100X - The most popular tanning lotion of all time
I must say that this black bottle has done its job pretty well, but it's not meant to be for those beginners with pale white skin. If you want to darken your skin as fast as possible with this lotion, you must have your skin color turned into a little golden first. Otherwise, your skin will be "orange" instead of "dark bronze," which happened to my friend. Luckily, the shade will fade away in 1 - 2 months, and you can start to tan again.
Beyond that, this lotion is definitely the best tanning bed lotion for advanced tanners at a reasonable price. You only need to notice to apply it over your skin evenly and rub until you do not feel greasy anymore before using a tanning bed. This lotion contains 100x bronzer (a dying substances complex which gives your skin color), so it may stain your clothes if it is not fully absorbed into your skin.
I realize that this lotion could immediately affect 1 - 2 hours after the tanning-bed time. My skin is visibly darker and has a nice bronze color. However, I do not use it on my face since it is pretty strong for facial skin.
Pros
Fast outcome
Easy to apply to the skin
Moisturize skin well, so after tanning, the skin is not dehydrated.
Cons
Since it contains a high dose of bronzer, it may irritate beginners' skin. My advice is to start with the Millennium Paint It Black 50X first to make your skin familiar with the tanning process.
Best for:
It's suitable for advanced tanners. The beginners should consider it before utilizing (though some can use it anyway).
3. Ed Hardy Coconut Kisses Golden Tanning Lotion, 13.5 oz - The best tanning bed lotion for beginner
This product is the first tanning lotion I tried. I love its luscious smell and how it turned my pale skin to a golden glow.
When I began to do tanning, I read tons of reviews and tips from the advanced tanners. And I picked this lotion for myself to start because of no bronzer and no tingling feel. A pure natural accelerator that gave me all pleasure.
The coconut fruit extract and coconut oil provide a lovely tropical scent. Those ingredients also intensely hydrate and soften the skin. Though its effect is gradual, it gives a beautiful starter boost for caramel skin. Just before I began to use the Jwoww Black Bronzer Dark Tanning Lotion, this Ed Hardy lotion had prepared me a nice base tan that was ready for a developing stage.
Pros
No bronzer that can stain your clothes
Smooth texture that can be evenly applied.
Pleasant tropical scent
Rich in moisturizing ingredients
The best tanning bed lotion for the starters
Cons
It might take time to see the golden skin outcome, but it's worth waiting.
Best for:
The beginning tanners should aim for this bottle. It prepares you with a beautiful golden canvas without any burns. After this lotion, your skin is ready to move one step forward to the advanced tanning products.
4. Tan Asz U Luau Island Black Bronzer - The best indoor tanning lotion with bronzer
This tanning lotion is never off the list of the top tanning lotions. Packed with no DHA (Dihydroxyacetone - a color additive), it only contains bronzers from natural sources. A plus in the ingredients is marula oil, which helps replenish and moisture the skin.
This lotion could be used without a tanning bed, but I recommend combining it in your session for a better result. A note for you that you should use disposable gloves to apply it onto your body because the bronzer substances could leave your palm of hand orange streaks if you do not wash off your hand immediately. I had been in that annoying situation. Though it will fade away in 1 - 2 days, it can be a real pain in the neck.
Besides such a downfall, this bronzer is a good tanning bed lotion. The bronzed glow it provides is such a delight. Moreover, the smooth and bouncy complexion nourished by the marula oil will please the most challenging consumer.
Pros
Bronzer from natural sources
DHA-free, paraben-free
Nice Awapuhi Peach scent
Good moisturizing effect with marula oil
Cons
It might leave orange stains if you do not wash off your hands immediately.
Best for:
It pleases everyone. However, it will be less effective for fair skin.
5. Australian Gold CHEEKY BROWN Accelerator Plus Bronzer
I just found out about this good tanning bed lotion, and it was my partner last summer, and yes, I love it. It is the combination of accelerator and bronzer, so it serves a sweet sun-kissed result. I've used it when I went to the beach and continued to consume it with a tanning bed after that. This lotion did establish a dark base tan and well-maintain the color on my skin.
My skin after the summer holiday was so gorgeous. I think that it is because of the Biosine Complex® - an advanced compound exclusively developed by Australian Gold that soothes, softens and moisturizes skin - and vitamins in this Cheeky Brown.
Furthermore, the streak-free bronzer blend of Henna, Caramel, and Beta Carotene deeply darken the complexion tone. It didn't stain my clothes or my hands' palm. The great thing is that it is designed for both outdoor and indoor uses. Therefore, after my sunbath on the beach, I can use it in my spa. How convenient!
Pros
This lotion combines bronzer with accelerator for the maximum tanning result.
Outdoor and indoor uses
Biosine Complex® technology and rich in vitamins nourish the skin.
Cons
I don't like the fruity gum smell, but you may give it a try.
Best for:
Good product for every skin type.
6. Somewhere on a Beach, Indoor Outdoor, Instant Dark Tanning Lotion 12.25 Ounce - A beach packed in a bottle

You can obtain a beach-ready skin just by this item. I promise. It gives you a fantastic color, just like the one you would get when you take sunbathe on the beach. And I cannot provide any complaints about its tropical tantini cocktail fragrance.
Upon application, it is well absorbed into my skin and leaves no residue. My skin feels soft and moisturized right away. Besides great tanning additives, the aloe vera and green tea leaf extract also help reduce the impact of free radicals and soothe the heated skin.
It can be used for outdoor tanning, but sadly, it does not contain any SPF to prevent skin damage caused by sunlight exposure. Therefore, I have always used sunscreen before applying this lotion if I want to get a sunbath. And I think you should do that too.
Pros
Bronzer combines with tan enhancers for both outdoor and indoor uses.
The beachy smell is so great.
Provide a nice sun-kissed tan
Aloe vera and green tea extract help moisturize the skin and reduce any irritation.
Cons
Lack of SPF to protect from the sunlight. It is better to use sunscreen when you take outdoor tanning.
Best for:
It's suitable for every skin type.
7. Australian Gold Sinfully Black 15x Deep Dark Bronzing Tanning Lotion, 8.5 Ounce - The budget choice
This tanning lotion with bronzer is indeed budget-friendly with a sound effect. It has an overall tanning outcome: giving a beautiful bronze tan and leaving no streaks. Nonetheless, the result may be fast for some and take place slower for others. It took me a week to see the tan, but in my friend's case, she was so happy to enjoy it after three days.
One thing disappoints me that it is so hard to get the lotion out of the bottle. The mixture goes smooth on my skin and not greasy at all. But I don't understand how come it is so difficult to get the lotion out. That is the biggest issue of the product.
Pros
Bronzer combines with tan enhancers for both outdoor and indoor uses.
The beachy smell is so great.
Provide a nice sun-kissed tan
Aloe vera and green tea extract help moisturize the skin and reduce any irritation.
Cons
Lack of SPF to protect from the sunlight. It is better to use sunscreen when you take outdoor tanning.
Best for:
It's suitable for every skin type.
8. Brown Sugar BLACK CHOCOLATE COCONUT CREAM 200X Bronzer - A charming prince for coconut lovers

I'm a fan of coconut, so this lotion's scent is a paradise to me. The wonderful thing is I still smell good after the tanning bed, no burned smell at all. For some other lotions, the difference before and after a session is huge, since you might not bear the whiff around your body, at the moment you step out of the tanning bed.
Its ability to darken your skin is pretty good. I can see the tan just after two sessions. However, the skin tone it brings up is not my favorite. If the dark matte hue is the love of your life, this cream is your thing. I prefer the bronzed glowing one.
Despite the tone, I still utilize it for outdoor activities. It seems to be less effective than combining with the tanning bed. Therefore, I won't quickly get the undesired dark hue, but I will be covered by a scent from tropical islands whenever I go out.
Pros
It darkens your skin pretty rapidly.
The scent is sent from heaven.
It can be used for outdoor tanning as well.
Coconut cocktails and argan oil moisturize the skin and prevent free radicals from harming the skin.
Cons
The dark hue skin tone is not my type.
Containing 200X black bronzer, it may cause itchy feelings for some beginners.
Best for:
I think the advanced tanners will love this lotion. It's kind of a bit strong for the beginners. However, if you are so into the coconut whiff, you can use it for outdoor tanning like me.
9. Supre - Snooki Ultra Dark 70X Black Bronzer

My first impression about this lotion was the creamy moisturizing texture. This purple cheetah printed bottle scores with the sweet almond oil and multiple natural extracts like coffee arabica seed, black walnut, rose extracts, and on in its ingredients. Those substances' properties indeed help nourish and tighten the complexion.
In my personal experience, I didn't see the outcome appear so fast as others claimed. However, it did moisturize my skin and made the pores look smoother. My overall body skin radiantly glowed. The color took time to reach my expectations.
If you wish to earn the beach-ready skin within two weeks, I don't think this is a good option. On the contrary, it will help you gradually build a nice golden tan.
Pros
Firming your skin with bunches of antioxidant extracts.
Its price is a great deal.
Cons
Sometimes it irritates my skin.
The effect comes slowly.
Best for:
The sensitive skin should avoid this tanning lotion since it might irritate your skin as it does to me. Others who do not rush for a dark bronze skin would find it the best indoor tanning lotion to build a perfect base.
We've gone through all the 9 best tanning bed lotions. Now is the part all beginners are expecting: the how-tos and tips.
Find the best tanning bed lotion by understanding the right type
You must choose the right type of tanning lotion that meets your expectations and your skin types.
There are certain kinds of tanning lotion that serve specific requirements. To help you choose your best tanning lotion for tanning beds, I sum up three typical types herein: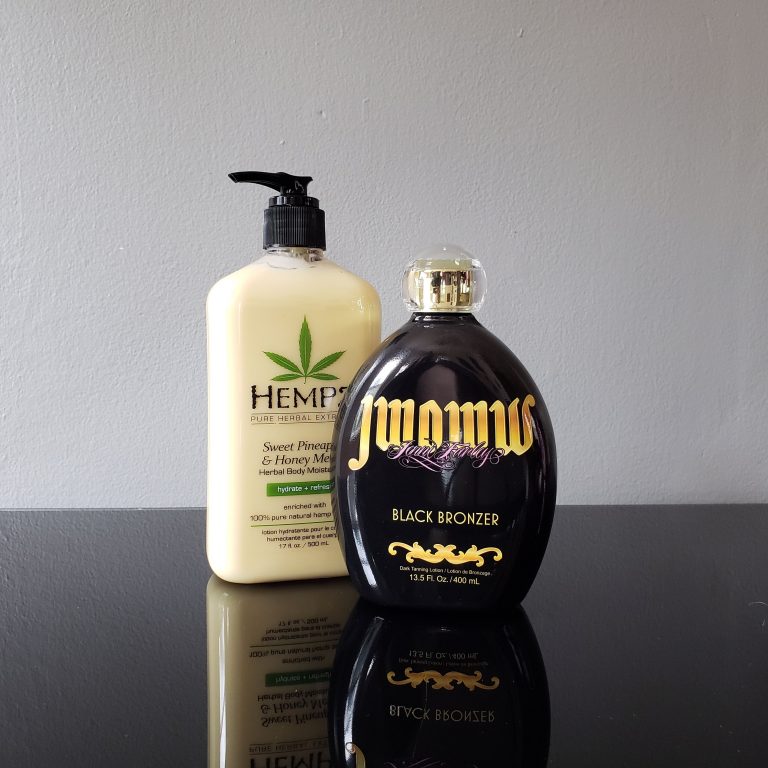 The Bronzer
The bronzer lotions contain ink-functioned ingredients to dye and tint your skin. This type is the most popular one these days, I suppose. It gives an as fast as possible effect to bronze your skin. It can be utilized alone or with a tanning bed for the best result. However, you should apply evenly to avoid streaks and patches.
Some bronzers could leave stains on your clothes, so be aware of them.
The best bronzer tanning lotion I've ever tried is Jwoww Black Bronzer Dark Tanning Lotion - I have given all my compliments to this chick above. Suppose you are hesitant to use a tanning bed. In that case, you can always try a self-tanner (I highly recommend the Jergens Natural Glow + Firming Body Lotion to be the starter's partner - a low price, moisturizing lotion gradually provides a natural-glowing tanned skin).
I've already served another article about Best Self-tanners for fair skin for all you girls.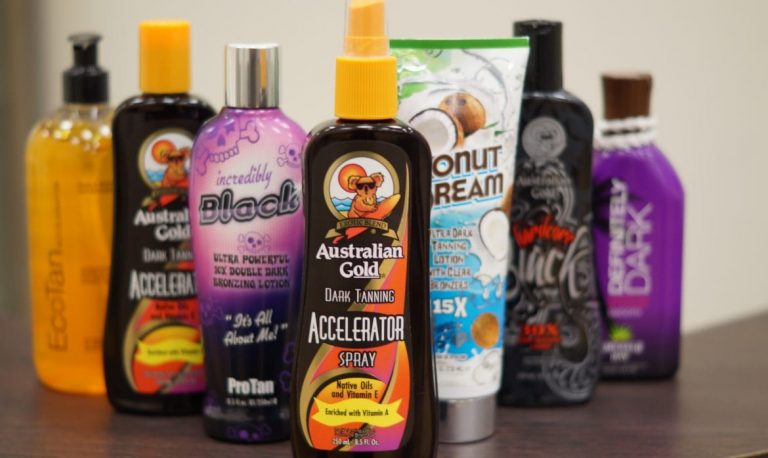 The Accelerator/Intensifier
An accelerator/intensifier is an essential lotion for the indoor tanning process. It contains zero bronzer ingredients, so it will not dye your skin. Its mechanism is to escalate the UV light absorbent level, which will allow your skin to produce more melanin.
This type is the best tanning bed lotion for beginners, as I also started to tan my skin with an accelerator. The results may occur slowly a bit, but it's safe for the skin to build up a base.
The first intensifier I used was Ed Hardy Coconut Kisses Golden Tanning Lotion, which is still one of the best tanning bed lotions, in my opinion. It had provided me with an excellent base of tanning and natural caramel skin. Another product was Millenium Tanning Paint It Black - which my friend keeps voting for the position of the best indoor tanning lotion 2020. It was her love at first sight.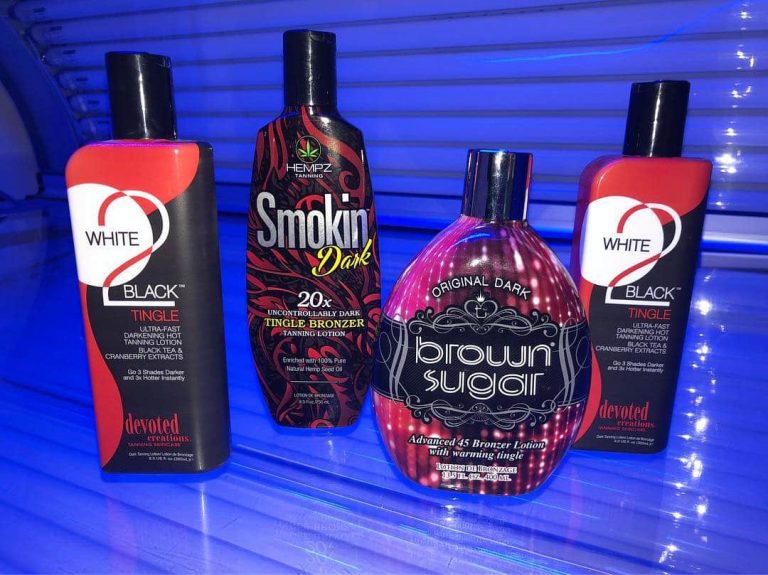 Tingle Lotions
A tingle lotion is not for a beginner, although it is said so. Its mechanism is different from the accelerator, which does not impact the melanin production. It focuses more on the UVA ray effect to darken the color of produced melanin. The oxygen in the blood is the main component that supports that UVA's work.
Tingle lotions cause a thing called micro-circulation, which raises blood to the skin surface (read more about micro-circulation at here). In that way, the UVA ray can reach more in-depth to the oxygen in the blood and complete its job by darkening the melanin. Your tanned skin will be developed to a whole new level.
For me, I don't like the tingling sensation this type of lotion brings up. My skin is sensitive, so it is usually reddened and heated after I use a tingle. However, I have to admit that tingle lotions are the most effective indoor tanning lotions. If you can bear it, it will turbocharge the result. Otherwise, sensitive skin should avoid this kind of lotion.
You can always consider choosing one of 15 Best Self-tanners for sensitive skin. It's much safer and I think it's more suitable for your sensitive skin.
That's all you need to know to find your best indoor tanning lotion. Depending on your interest, you can choose the type of cream you want. If you are a starter, don't rush. Choosing an accelerator or bronzer is the safest way. Or you already have a nice tanned base or do not belong to the sensitive skin type, go for a tingle. It certainly leads you to flawless skin like Tyra Banks in the fastest way.
An advice for you: Never use tingles for the face. Since your facial skin is thinner than the body while the effect from an itch is too strong, your face will suffer the broken capillaries. And that's not a good thing.
How to efficiently use a tanning lotion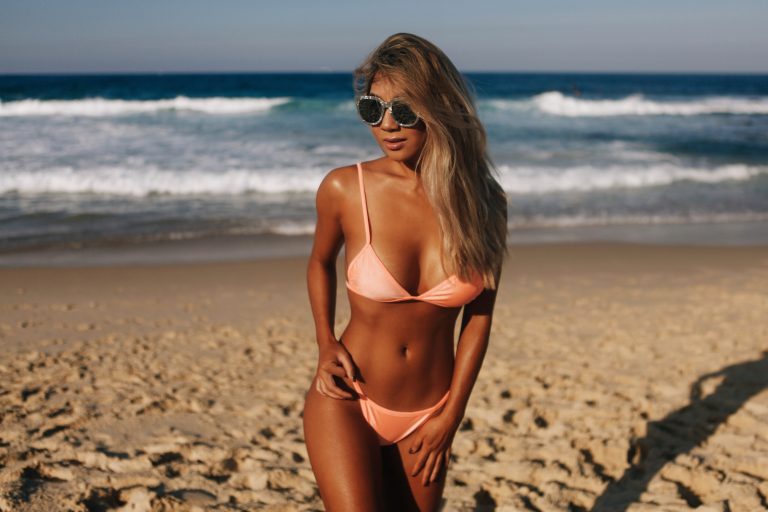 Prepare your skin first
Exfoliate
Use an exfoliator to scrub away the dead, dull skin. This step will help the tanning lotion maximize its execution. The ingredients in the cream penetrate more in-depth, giving a more substantial impact.
Our picks of 9 Best Exfoliators For Acne might give you a good reference to select an exfoliating product.
Shave or wax
You should shave or wax before your tanning session (if waxing, you need to do it 4 - 5 days before to avoid irritation). Smooth skin will be tanned more evenly and prevent the tanning lotion droplets accumulate in the hair follicle.
Take a shower
After a session, you will need to wait for a few hours to take a shower. Then bathe before applying lotion. This act also helps your skin soft and moist, and the lotion works more efficiently.
Finally, before heading up to your spa for tanning, make sure you bring goggles with you. The UV ray is hugely harmful to your eyes.
Applying tanning bed lotion
Get plenty of lotion into the palm of your hand, then massage evenly onto your skin. You can mix the tanning lotion with a moisturizer to keep your skin not dehydrated after the session.
Remember to wash off your hand before lying in the tanning bed. The lotion could pile up in the gaps between the fingers and make that skin area darker than others. You don't want that, do you?
Taking a shower after the tanning-bed time
Use your favorite showering cream to remove the tanning lotion after a few hours gently (I usually wait for 4 - 5 hours). By waiting, the tanning lotion will have time to do its job well. And please, do not exfoliate again until your next session.
A key takeaway for the beginners
Please read through my guide in this article to well-prepare before you begin your tanning-bed time. I was so nervous for the first time in the tanning bed. I did not use a proper lotion, and consequently, my skin dried off right after the session.
Therefore, I don't want you to be in the same situation. I hope you can choose your best tanning bed lotion through this post and follow those steps carefully to fully enjoy your perfect tan.
Breakthrough the common questions
Do I need a proper lotion for indoor tanning?
Yes. You will find it's a bit strange when your salon does not require you to use one. However, a proper lotion designed for indoor tanning contains moisturizing ingredients that hydrate your skin after a session. Moreover, a tanning lotion will help you get your desired result more quickly. So be wise to select the best tanning bed lotion for your best tan.
Is a tanning bed safe?
Yes. Don't be so scared of what was in the "Final Destination" movie. It's all fake. You will be advised the proper procedure to follow when using a tanning bed, and the spa consultants will closely monitor your session. The risk you should be concerned about is the UV rays exposure might lead to skin cancer.
FDA also issued regulations on using tanning devices, which all spas/salons must follow (you can read about these regulations on American Academy of Dermatology Association page).
However, such risk might be mitigated by strictly following the procedure at the salon and using appropriate tanning products like a good tanning bed lotion, a moisturizer after a session, and do not rush for a tanned skin by over dosing of UVA light, etc.
Compared to outdoor tanning, how is indoor tanning more beneficial?
You can control your session's time and the UV ray level exposure to your skin with a tanning bed. You can do your tan anytime in a day, not depending on the external factors.
For outdoor tanning, you cannot monitor such things since the best sunlight only occurs at a specific time. Sometimes, you have to postpone your planned tanning because of a shady day. Therefore, your result can be less consistent.
Is it possible to be naked when indoor tanning?
Yes, and I recommend that too. Some people are not comfortable to do so. They wear swimsuits to only tan the area they will show on the beach. But I prefer full-body tanned. Since you will be all alone when you are in the spa's room, it's nothing to be shy about.
How long does it take to have the desired tan?
It depends on your current skin color. The paler your skin is, the longer time it takes. Since the light skin will easily get burnt, you girls with such skin type should be more patient. You have to frequently take tanning sessions with less time per each to build up your tanned base and avoid being burnt gradually.
When you get your desired look, you still need to make appointments 1 - 2 times a week with your salon to maintain the result.
Conclusion
The healthy and charming look of tanned skin always draws people's attention. By selecting the best tanning bed lotion, you will get there soon. I sincerely hope this article will be beneficial.
If you are only in the initial stage of tanning, Ed Hardy Coconut Kisses Golden Tanning Lotion is an excellent deal to build your tanned base.
Don't walk away if Jwoww Black Bronzer Dark Tanning Lotion is not in your basket yet. It is my best tanning bed lotion up to now, and you will admit the same after trying it.
You can always share your tips with us or ask about the most updated trend in tanning in the comments below. I much appreciate it if you follow our Skincare Top List page and wait for more exciting things! Happy tanning, girls!
Recommended Resources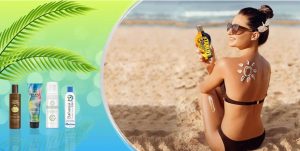 Best Tanning Lotions for Sensitive Skin (Hypoallergenic, Soothing, & Moisturizing)
What tanning products do is accelerate and boost the whole tanning process. The thing about tanning lotions is that they're responsible for developing a natural-looking bronzed look quicker. And they also make sure the tan lasts for a longer time. Thanks to the special ingredients present in these formulas.