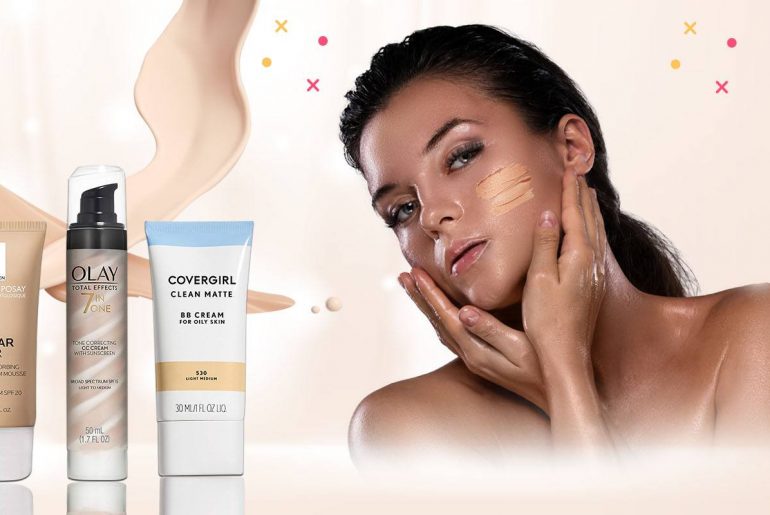 When they made their first appearance on the market, BB creams made quite a bang in the beauty and make-up communities around the globe.
Why?
They combine skincare and make-up in one perfectly balanced – and highly convenient – formula. It's nice to have the option to skip a full-blown morning make-up routine, while still getting that flawless, radiant, healthy complexion that we all strive to have.
I know how challenging finding the perfect formula for oily skin can be. So, I did the hard work for you – and rounded up the best BB creams for oily skin in one handy guide!
Top BB Creams for Oily Skin
How We Found the Best BB Creams for Oily Skin
BB creams are magic workers when it comes to combining moisturizing, sun protection, light coverage, and several skin-soothing properties – all in one bottle.
But how do you pick the best BB creams for oily skin?
Keep on reading for a few handy tips!
Matte Effect & SPF
When that excess sebum starts acting up, making your face appear all shiny – and not in a good way – you want products that will be able to keep it under control. And that's where formulas with a matte finish can be your biggest ally:
If you struggled to find something that works for your skin type all your life, trust me; you're going to want to give oil-free BB creams with matte effect a try!
Oh, and be sure to check whether sunscreen's a part of the deal, too. Shine-control is cool and all, but protecting your skin from sun damage is far more critical in the long run!
Check the Label for Ingredients
Labels are your friend because let's face it; beauty jargon can be confusing. So, rather than focusing on what a particular BB cream for oily skin promises to provide, take a hands-on approach and learn to read labels and ingredients lists.
For example, things that can benefit your skin – active ingredients such as hyaluronic acid, jojoba or coconut oil, and natural plant extracts – are always a welcome addition on any BB cream's list of ingredients.
Also, check if the particular product is labeled as "non-comedogenic" because oily skin needs all the help it can get in avoiding clogged pores and acne breakouts.
On the other hand, you should steer clear of parabens, artificial fragrances, oxybenzone, and formaldehyde.
Level of Coverage
You can't expect to get full coverage from BB creams – you're only setting yourself up for disappointment.
Their primary purposes are hydrating and protecting your skin, and setting the stage for "no make-up" make-up looks. You know, lazy Sunday type of thing.
Still, that doesn't mean that you don't have any options coverage-wise.
However, this is something that you should decide for yourself. My advice is to go with buildable coverage:
Get something that's sheer and light on the first go, but can be layered up to medium – or even high – coverage level when the need arises.
Watch the Shade
This part seems pretty obvious, but you'd be shocked how often I see girls wearing foundation or BB creams that are completely wrong for their skin tone. A lot of girls assume that getting the right shade doesn't matter as much when they're using tinted moisturizers and BB creams – but it does.
So, make sure that you figure out your skin tone and match your BB cream to it. Otherwise, you're only going to waste your money.
If you do happen to make a mistake, though, try mixing it with a more appropriate shade of foundation, and create one that's uniquely yours!
Conclusion
Whether you choose to call the beauty balms, blemish balms, or BB creams for short, there's one thing that we can agree on:
The best BB creams for oily skin can make for a beautiful addition to your daily skincare and make-up routine.
They offer nourishment, hydration, oil-control, cover up imperfections, redness, and large pores, leaving you with a flawless complexion and a healthy glow. And whichever one you end up picking today, you can rest assured that your skin will be in caring, revitalizing, and natural beauty-enhancing hands!
More BB Creams Product Reviews: