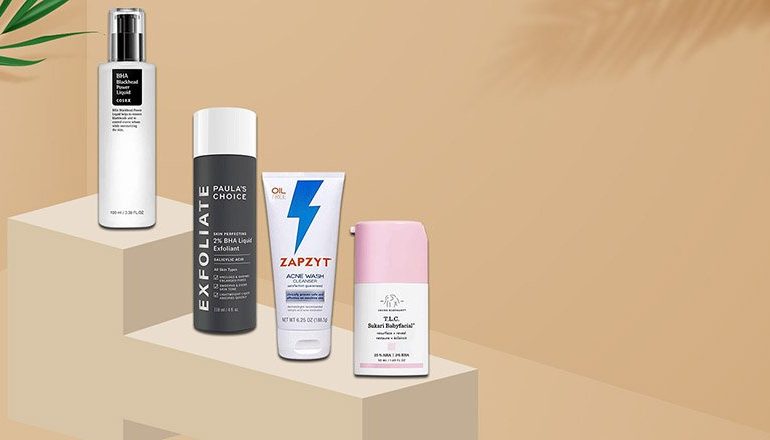 As far as your skincare routine is concerned, it's only natural and beneficial to be cautious. Because nowadays there are so many skincare and beauty products out there that are loaded with seemingly dangerous, abrasive, and even bizarre ingredients. So do the best BHA products fall in that category too?
Generally, women avoid using products whose list of ingredients includes the word acid. But let me tell you that considering acids like beta hydroxy acid as harmful or harsh ingredients is nothing but a very common misconception.
The real truth about BHAs is that they gently exfoliate your skin. They dissolve dead cells to boost skin cell turnover. And, more importantly, beta hydroxy acids penetrate your skin to unclog your pores, thus treating and preventing the most common skin problem known as acne.
So there's no doubt, rather there's a lot of scientific-backed data, that BHAs make your skin feel and look smoother, clearer, and even younger.
BHA - What Is It?
The full form of BHA is Beta Hydroxy Acid. And it's a chemical exfoliant commonly infused into skincare products like masks, cleansers, and serums. The most commonly used BHA is acne-fighting salicylic acid. Then there's citric acid as well.
The nature of beta hydroxy acids is oil-soluble. This means they have the capacity to penetrate deep into your pores. And that's how they target breakouts, including acne, blackheads, and whiteheads.
BHA - What Are Its Benefits?
Since BHA is a chemical exfoliant, it can prove to be extremely beneficial for the skin.
It exfoliates, thus helps in getting rid of dead skin cells. These often tend to clog pores and cause acne.

It reduces the visibility of aging-related signs like fine lines and wrinkles. BHA also minimizes the appearance of large pores, dark spots, pigmentation, etc.

It improves the texture and tone of your skin.
BHA - What to Use with It?
BHA is an acidic ingredient after all. So if you combine it with other acidic ingredients such as Vitamin C or AHA (alpha hydroxy acid), then you're inviting unnecessary skin irritation.
But what you can do instead is use your BHA cream or serum at night and include Vitamin C in your morning skincare routine. Or vice-versa.
BHA and Salicylic Acid - Are They the Same?
Let me tell you that salicylic acid is a form of BHA. This type of beta hydroxy acid is naturally derived from the bark of willow tree, the bark of sweet birch, or wintergreen leaves. And you can use it for treating and preventing body acne as well.
So, technically speaking, both are the same. In fact, salicylic acid and BHA are terms you can use interchangeably.
What Are the Best BHA Products?
How to Use BHA Skincare Products
The rules and instructions are pretty straightforward if you ask me...
If your skincare routine involves a facial cleanser and toner, then it's best to use the BHA exfoliator after cleansing and toning.

If the BHA product you're using is liquid-based, then add some on a cotton pad and then apply over the skin. But if it's a lotion or is gel-based, then your fingertips are more than enough for the job.

When applying the BHA exfoliator, feel free to cover the region around the eyes. But avoid the eyelids, under your eyebrows, and directly below the eyes. Otherwise, you're only going to welcome mild irritation.


Chemical exfoliators like BHA get absorbed into your skin very quickly. So there's no need to wait after application. Move on immediately to the next product that is a part of your skincare routine. Such as a moisturizer or serum.

As to how much to use, this depends on your skin. So experiment with the amount until you achieve the desired results.

It's also equally important to exfoliate your neck area. So don't neglect this particular region as it's also prone to developing aging-related lines and wrinkles along with sun damage.

Then comes the number of times to use BHA products. One BHA formulation once per day seems to do the trick. Although certain types of skin, such as extremely dry, oily, or acne-prone, might benefit more if you use the product twice daily. But if this causes irritation or dryness, then scale down to once a day or once every other day.


As for BHA masks, these formulations are to be used once per week. Since, more often than not, such masks are infused with a higher concentration of BHA, you should consider them as a form of treatment rather than daily application. Also, keep in mind to avoid using another BHA or AHA equipped serum or cream after the mask. You don't want to over-exfoliate your skin, which tends to cause irritation.

And no matter what, always apply sunscreen after using BHA products. Because beta hydroxy acids increase your skin's sun sensitivity levels. Likewise, apply a moisturizer after exposing your skin to BHA is also necessary for keeping away dryness.


Frequently Asked Questions About BHA
Can You Use BHA with Other Skincare Products?
If that product is a moisturizer, then yes. In fact, that's necessary for hydrating your skin and preventing dryness. Speaking of hydration, go for a moisturizer or serum infused with hyaluronic acid. You can safely combine it with best BHA products.
What not to use instead is a more active ingredient such as retinol. Retinol + BHA = skin irritation. In that case, you retinol and your BHA product on alternative days.
Is BHA Suitable for Treating/Preventing Acne?
That's what beta hydroxy acid is the most popular and commonly used for. Its oil-soluble nature allows BHA to penetrate deeper into your pores. That's where all the acne-causing sebum, bacteria, and debris lie. So what BHA does is get rid of them all to unclog your pores, thus preventing acne formation.
Beta hydroxy acid skin care products work best for oily and acne-prone skin. They also offer anti-inflammatory properties that make them more effective as acne-fighting and blemish-fighting solutions.
BHA also naturally calms the skin. So those with sensitive skin and concerns like rosacea and skin redness can benefit from this particular gentle chemical exfoliant too.
Can BHA Get Rid of Blackheads and Whiteheads?
Since it can get through pore-clogging oil and dissolve all the dead skin cells and excess sebum that cause acne, BHA has the ability to clear out whiteheads and blackheads as well.
Is It Safe to Use BHA Every Day?
It is okay to use one single BHA product daily. But make sure you're not combining the application with other more active ingredients like retinol.
How Much Concentration of BHA Should I Use?
More often than not, BHA-infused skincare products contain a concentration of not more than 2-percent. There are formulations higher than 2-percent BHA as well. Some go as high as 10-percent too.
But it goes without saying that you should first introduce your skin to a lower concentration and then climb up the ladder if needed. Although 1-percent to 2-percent is considered to be the most effective.
Is BHA Suitable for Dry Skin?
Generally, BHA products are the most recommended for acne-prone and oily skin. But if you wish to use a BHA formula for dry skin, make sure the concentration of beta hydroxy acid is 2-percent or less. Also, you can try using the product every alternate day to prevent excess dryness.
And just by the way, those with dry skin mostly go for AHA products.
How Often to Use BHA?
You can apply the BHA skincare solution once or twice a day. It all depends on what type of skin you have. Start with once at night. And if there's no negative reaction, then you can increase the application to twice daily. But if irritation or dryness does occur, then reduce the application to once every alternate day.
How Long Does BHA Take to Show Results?
By results, I mean positive or desirable results. BHA products, for the most part, take about 4 weeks to 6 weeks to work. Sometimes, it might even take as long as 2-3 months. You have to be patient either way.
Can I Use BHA with Vitamin C?
Vitamin C serums have proven to be very effective as a form of anti-acne treatment. But you should also know that Vitamin C too is an exfoliant. So it's highly recommended to avoid combining Vitamin C and BHA.
Both together tend to cause skin irritation. But you can include one in your morning skincare routine while the other in your evening or night application. Or use Vitamin C and BHA separately on alternative days.
Is BHA Bad for the Skin?
Beta hydroxy acids work on both the surface of your skin and deep within the pores. Thanks to their oil-soluble properties, BHA products are more suitable for oily skin, acne-prone skin, clogged pores, enlarged pores, and blemishes.
BHA is also a great choice for sensitive skin because of the skin-calming effect it produces. This means skin prone to rosacea or redness can benefit as well. Plus, it makes way for gentle exfoliation. So you have every reason to believe that BHA is good for your skin.
Who Shouldn't Use BHA Products?
Those who have aspirin allergies.

Those with excessively dry skin. Using AHA instead is a better option.

Those with sun-damaged skin. Once again, AHAs are more suitable for treating this kind of damage and also for improving the appearance and texture of your skin.
Pregnant women can use BHA products so long as the concentration of the acid is 2-percent or lower.
The EndNote
So I have talked at length about BHA exfoliation and how BHA products are good for your skin. I've also reviewed some of the most effective BHA formulations. The gentle chemical exfoliant does an excellent job of getting rid of dead skin cells. It penetrates deeper to thoroughly cleanse your pores, thus preventing acne, blackheads, and whiteheads.
So make sure you're using a product that suits your skin type. And also keep in mind to avoid over-exfoliating with BHA. Remember that's only going to cause dryness and/or skin irritation and not speed up the healing process.