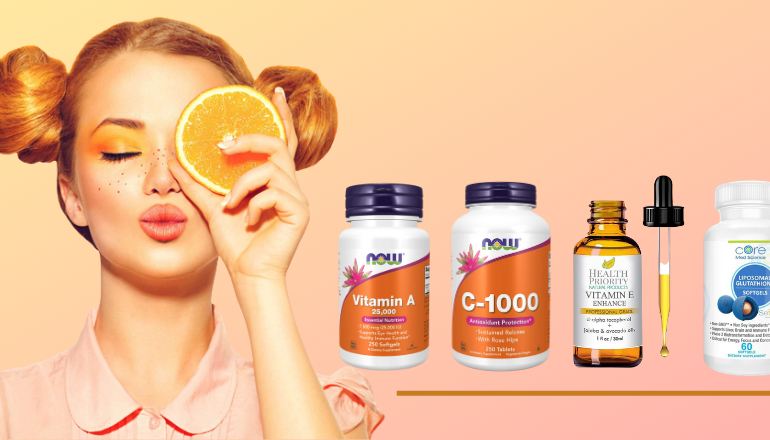 During my high-school, while most of my female classmates discussed pimples, skin care, make-up, or even vitamins for healthy skin, I was not keen on that yet. Additionally, the compliments I received mostly were for my glowing skin. That was why I did not bother much about how to maintain that "property".
Still, that glorious time did not last long when I found out some dark patches with brownish dots on my cheeks and forehead reflected unpleasantly in the mirror. I believed it was revenge for not loving my skin as I should have done.
Putting that stress aside, I've tried to understand my skin condition as much as possible and have looked for some best products for melasma that make it fade away quickly. Eventually, I've understood that one of the major reasons for my skin pigmentation is vitamin deficiencies after taking an annual health check-up and doctor consultation. Thus, DOES IT MEAN THAT I JUST NEED TO TAKE SUFFICIENT AMOUNT OF VITAMINS? However, skin pigmentation is a chronic condition mostly exacerbated by excessive ultraviolet radiation triggering the increase in melanin production.
Don't panic! There are ways to ease it down, and that's why I am here for you. Alright, in this post, I will share with you some best vitamins for skin pigmentation, and list out thebest supplements for melasma. Grab a cup of juice, and let's get started!
How do vitamins for skin work?
Vitamins are not something really new to us, I believe. When you have a cold, besides taking pills, your mom also prepares a cup of hot lemon juice as she believes that your body needs to have more vitamin C for quick recovery. And, when you ask a salesgirl in any cosmetics stores which lotion or hair shampoo is better, the name of a vitamin contained in the ingredients will be pointed out as an outstanding reason why it is good. Thus, it is not deniable that vitamins are essential for human health, and the deficiency or overdose of any vitamins can cause serious health problems or impairment of body development.
One of the most essential functions that vitamin works for the human body is to ensure and promote cell health, especially skin cells. There are 2 ways to take vitamins: traditionally, we take it orally, and in these present days, we can apply them topically. Although some studies have shown that topical medication is more effective than oral medication, it is true for only some specific cases, and oral medication is still applied as a treatment for severe skin conditions that do not respond to topical medication.
Which vitamins are best for skin pigmentation?
Vitamins are not the only substances for your body to function normally; yet, vitamin deficiency causes serious hazards such as my case: melasma. Hence, before heading for the best products for skin pigmentation, let me share with you some vital vitamins for soothing and supporting our unwanted skin condition that I believe that you are definitely eager to know.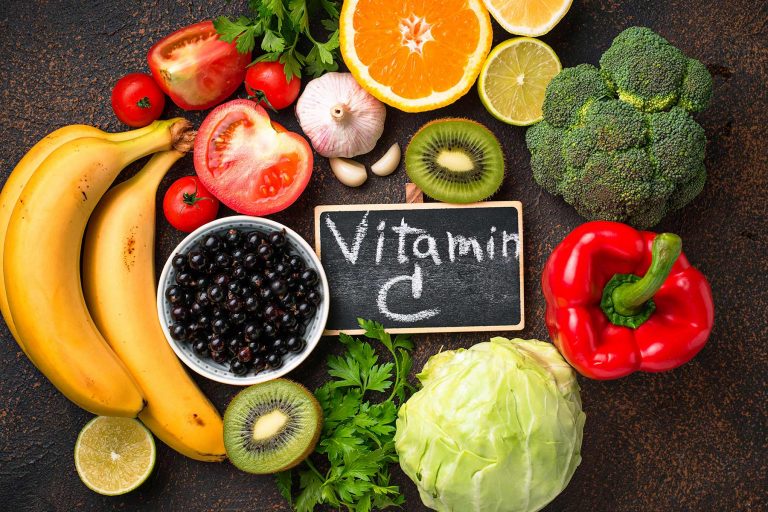 Vitamin C
For me, I can say that vitamin C is the most common vitamin I have taken frequently since I was small. This is the first best vitamin for skin I want to introduce to you due to its marvelous benefits.
Vitamin C, which is also called ascorbic acid, is a key factor to enhance the production of collagen in the skin. Collagen, which is a protein made by fibers, plays an important role in forming and strengthening skin and connective tissues. Therefore, it is true to say vitamin C is the best vitamin for skin healing. Moreover, vitamin C also works as an antioxidant to remain your skin to be in the firm and elastic form.
When vitamin C is taken orally, it boosts your sunscreen to reach the highest of efficacy. Vice versa, when it is applied directly on your skin, dark spots and tan can be lightened as vitamin C can restrain the enzyme tyrosinase to produce melanin.
Although you are very disciplined in having vitamin C regularly, that consumption is still useless due to some negative factors:
UV radiation – Overexposure to UV radiation can reduce collagen production, which generally weakens your skin condition; thus, the healing process of an inflammatory area or wounds takes a longer time.

Unhealthy lifestyle – The overdose of alcohol and smoking or overeating sugar and refined carbs badly causes the depletion of vitamin C, and inhibits the collagen production in the skin.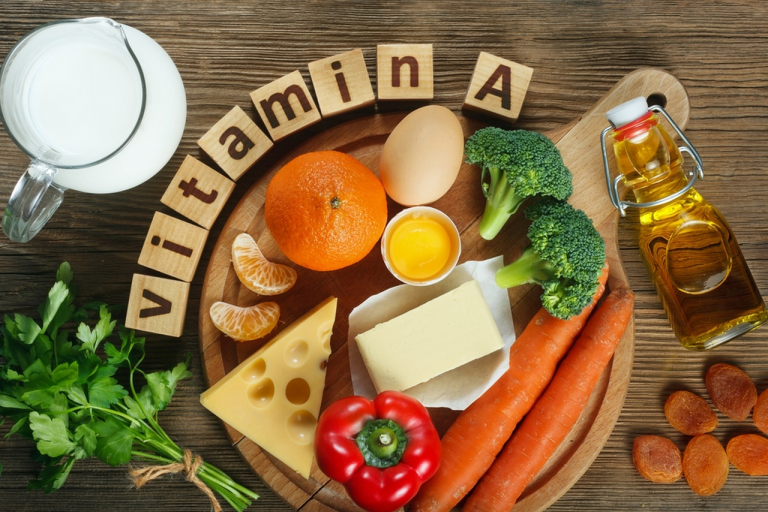 Vitamin A
The following best vitamin for skin in this list is vitamin A. Same as vitamin C, it is indispensable to ensure the normal function of the human body. Furthermore, it contributes substantially to the cell growth and development, and strengthening antioxidant activities.
Vitamin A contains 2 compounds, such as retinoid and carotenoids. Retinoids are touted as a holy grail ingredient that brings your youthful look back. Let's take a look at its benefits to understand why:
Encouraging the production of collagen in the skin.


Softening and minimizing wrinkles and fine lines


Providing excellent exfoliation of dead and dry skin cells that reduces pore-clogging and inflammation.


Providing brighter and more glowing skin tone by enriching the growth of new blood vessels.
Carotenoids are also known as a vital component in the antioxidant skin system. The ones with a high concentration of carotenoids have been proved to have a brighter skin and look younger than their real age. Carotenoids also support in lightening skin by reducing the UV absorption of skin.
Hence, in general, vitamin A ensures the growth of healthy skin cells. In particular, vitamin A is the best anti-aging vitamin with an excellent exfoliation to enhance new cell growth and brighten skin tone.
Please patiently stay here with me. Don't rush for vitamin A now. I know its benefits sound like all what you need, right? But don't you know that vitamin A's appearance is always in your daily meal? VitaminA deficiency is definitely uncommon as you can obtain vitamin A from both plant (carotenoids) and animal (retinoid) sources. Therefore, don't worry about that unless you are starving yourself!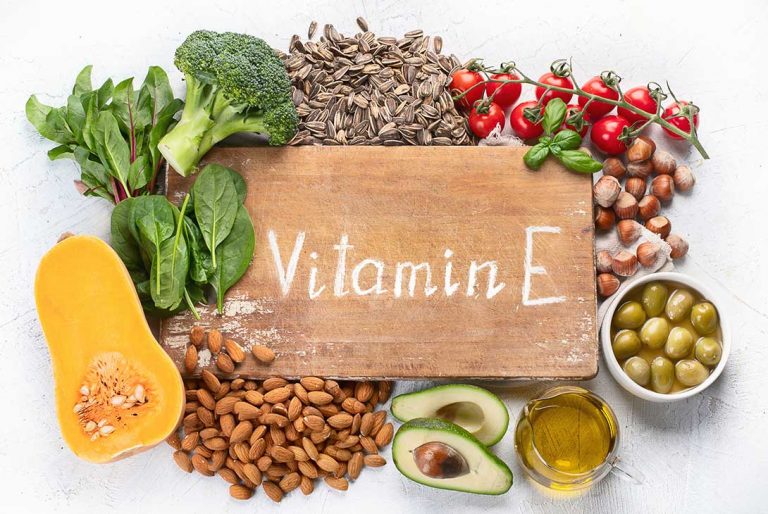 Vitamin E
Vitamin E is another nutrient that your body needs. Besides boosting skin cells' regeneration process like other vitamins' function, vitamin E, additionally, normalizes the immune system and eliminates free radicals. In other words, vitamin E prevents all harmful ultraviolet rays and inflammation from sun damage.
Therefore, having the right amount of vitamin E for your skin is important to enhance your photoprotection as a natural skin shield and fasten the skin healing process due to inflammation. If you are looking for the best vitamin for skin healing, vitamin E is also a good option.
Interestingly, don't you know that your body also produces vitamin E itself? Vitamin E is produced in sebum, which is a natural oil released from the sebaceous glands. In normal conditions, sebum's primary function is to protect your skin from dryness. As a result, if you have dry skin, vitamin E can help recover the normal moisture level.
Yet, there are many skin care products or supplements containing vitamin E; we also can consume vitamin E from oils, nuts, or seeds such as almonds, sunflower seeds, and vegetables as well. The overdose of vitamin E (more than 15mg daily) also causes serious risks. As it is a fat-soluble substance, high density of vitamin E stored in fat cells can seriously cause blood clotting and stroke. Additionally, vitamin E is also not a good option for acne-prone skin as the excessive oil production causes clogged pores.
Which vitamins are good for lightening dark spots?
This should be the most common question for skin pigmentation treatment, I believe. Dark spots can be caused by not only the extreme sun exposure but also the acne blemishes.
And, if you pay full attention to the previous part, I also mentioned some vitamins that have a property in lightening dark spots are vitamin C and A. Besides that, vitamin B12 is also an incredible nutrient for lightening dark spots.
Although our body cannot produce vitamin B12, we still can find it easily from animal products such as lean beef. Its primary function in our body is to ensure the formation of red blood cells and boost energy by converting food consumed into glucose. For skin, vitamin B12 involves promoting collagen formation together with vitamin C as well. The deficiency of this vitamin also causes skin changes like hyperpigmentation.
Therefore, having a well-balanced diet or sufficient amount of supplements containing those best vitamins for skin will develop the brighter look with a healthy skin.
Top 4 Best Supplements For Melasma with hard-earned advices
It is challenging to get all the vitamins needed for the body in daily meals, I believe. Thus, vitamin supplements are not a bad idea for us to consider. After doing some research, and giving a try to them, there are best supplements for melasma that I cannot wait to share with you. Let's get started!
1. Vitamin C-1000 (from Now) - Best Supplement for Skin Pigmentation
The most impressive information I got when during research about Vitamin A - 25,000 was its brand – NOW. NOW is a family-managed company based in the USA, and it has existed incredibly in the market for more than 50 years. Therefore, I believe, to develop and sustain the reputation, they have set high standards in their operation to produce safe products for users.
As the name implies, the main function of Vitamin C – 1000 from NOW is to provide the sustained amount of vitamin C together with bio-availability deprived from rose hips for our body. As claimed, this supplement totally performs well its jobs such as strengthening the immune system; enhancing the collagen production; protecting the body's cells from free radicals; and antioxidant protection. Thus, Vitamin C – 1000 from NOW is also certified vegan/vegetarians, quality GMP assured, non-GMO, soy free, kosher, which make this supplement product more user-friendly. One tablet is recommended to use daily.
Since the day I started using Vitamin C – 1000 from this brand, I have been noticing the positive change of overall health. The main purpose I got this product was to enhance my immune system as I used to get sick easily. And, it perfectly works for me. Additionally, my facial skin has been gradually brighter, firmer, and less acne-prone. Melasma's color has been lightened as well. Although it takes time to realize the change in my skin, I am satisfied with my current skin condition.
In general, I can say this is the best product for melasma I have ever had. I totally experience no side effects derived from this product. Personally, I just do not like its huge tablet. It was hard for me to swallow during the first few times. Thus, if you do not think it is an obstacle, I believe Vitamin C – 10000 is a great choice.
Pros
Manufactured by a reputable brand – NOW
Quality examined and assured
Improving overall skin health, especially for melasma
Cons
Big tablet, which is hard to swallow.
Good for:
Based on my personal result after consuming this Vitamin C-1000 and sharings from friends who have suffered skin pigmentation such as post-inflammatory hyperpigmentation and freckles, we all have received a better and healthier skin status. Moreover, even though we have different personal illnesses such as gastritis, hypertension or diabetes, we have not faced any side effects during taking this supplement. Therefore, I strongly believe that it is good for all types of skin pigmentation.
2. 100% Natural & Organic Vitamin E Oil (from Health Priority Natural Products) - Best Vitamin E Supplement for Skin
Vitamin E oil has been used for a long time in skin care products because it is so healing for the skin. If you are looking for a product with vitamin E, it is careful to differentiate 100% natural vitamin E and synthetic vitamin E. Normally, on a label, the natural vitamin E is marked as d-alpha tocopherol, d-alpha tocopheryl acetate, or d-alpha tocopheryl; and synthetic form is labeled as dl-prefix. Although they are vitamin E, you better choose products containing 100% natural vitamin E since the synthetic form is only half as effective.
100% Natural & Organic Vitamin E Oil from Health Priority Natural Products, which is made in the USA, is one of the best vitamin E supplements for skin that I really want to introduce to you. Besides its perfect 100% natural vitamin E, this oil is also infused with jojoba, avocado, and rice bran oils, which dramatically enhances the efficacy of vitamin E and makes it easy to apply. There are 2 versions of this product: unscented and scented by adding the Organic Lavender Essential Oil or the Organic Essential Palmarosa Oil.
My mother has used it for a year, and her skin condition looks healthier compared to last time. It reduces her wrinkles and fine lines, brightens her skin tone by fading her melasma, and especially fades a scar under her chin as well. Sometimes, I apply this product to heal and soothe chapped skin, and it is quickly absorbed. Therefore, I believe this is also one of the best products for melasma if you prefer topical medication.
Yet, the price is bitterly high for a small bottle containing 15 ml of oil. I only apply it every 3 days with only one deep drop, and it takes only 3 weeks to run out. Therefore, it might be too expensive for you to give it a try. However, if you go for vitamin E capsules, I highly recommend you to get consulted by a doctor to avoid serious bleeding due to an overdose of vitamin E.
Pros
Formulated by 100% natural vitamin E
Good product for skin pigmentation's treatment
Cons
Too expensive for a tiny bottle
If you have a sensitive or acne-prone skin, let it be tested on your skin for a couple of minutes before application because it might cause redness or irritation
Good for:
As I understand that for some people who suffer from fear of taking pills; the remaining options for skin pigmentation treatment are totally uncomfortable. Therefore, regardless of its high price, this product is here for you, my besties!
3. Vitamin A – 25,000 (from NOW) - Best Vitamin for Skin Healing
According to its label, it is claimed as an essential nutrition that settles tissues throughout the body, supports eye health, and strengthens the immune system.
The reason I decided to take this product is to clear up my acne due to stress and unhealthy diet when running a company project. Before that, although I tried to get back to my normal daily life after it was done, my acne was still there. Hence, as advised from a colleague who dealt with acnes before, I chose Vitamin A – 25,000 from NOW.
An amazing change happened after 3 months of taking this product. 80% of my open acne wound was healed, and the facial skin looked normal again as well. However, after a medical check-up, I found out I got a bit high cholesterol. Then I realized that a soft gel contains 25,000 IU, which is more than the recommended amount a normal person should take. Moreover, vitamin A is fat-soluble; therefore, it causes high risks to our health due to overdose. Consequently, I only took this product every 3 or 4 days.
Pros
Manufactured by a reputable brand – NOW
Good for acne treatment
Provides healthy skin
Cons
High dose of vitamin A for a soft gel
Fishy smell
Personally, I find this supplement acceptable as my cholesterol was back to normal level when I stopped taking it daily. Moreover, it also brought a quick result in acne treatment, which surprised me a lot. However, due to its high dose, and different people have different health conditions, there is still a risk for our health. I believe a consultation with a doctor must be done before using it.
Good for:
I believe that this vitamin supplement is produced for those who cannot stop squeezing or scratching their acne as it speeds up the healing process, and reduces the skin discoloration due to post-inflammatory hyperpigmentation. Yes, I know this vitamin supplement would become your holy grail; however, please consume it with care (appointment for doctor consultant is utmost) to avoid unexpected side effects due to its high dose.
4. Liposomal Glutathione Softgels (From Core Med Sciences) - Best Vitamin for Skin
Before reviewing this product, I believe "glutathione" sounds rare to you; thus, let me share with you briefly about it first.
Glutathione is a nutrient that is produced by the liver. The most powerful job of glutathione is its antioxidant function as it strongly protects your body from free radicals and oxidative damage. Moreover, glutathione is believed to be an effective ingredient in skin care products for skin pigmentation and aging prevention.
Liposomal Glutathione Softgel by Core Med Science is one of the supplement products containing glutathione that I believe to use. This product is made in the USA, non-GMO, soy-free, and claimed not to contain Chinese ingredients.
If you do a quick research about glutathione, you will find out that it cannot survive in the human stomach; therefore, to solve this problem, this product is formulated with liposomal to protect glutathione and optimize the absorption.
I got this product after knowing about glutathione as a powerful antioxidant. This nutrient sounded unfamiliar to me at that time; however, I still bought it from Core Med Sciences. My first impression is that there are no unpleasant tastes or smells compared to the other soft gel form. Additionally, I really woke up with more sharpness and clarity after the first use, which amazed me a lot.
Moreover, after a month, I found my facial skin less acne, and the pores were tightened. Melasma on my forehead was less obvious, and dark spots due to acne were faded as well. Overall, I can say after taking this product, I feel healthier with more energy and sound mind, and my look is also brighter and younger compared to last time. For me, this product is also considered one of the best products for melasma; however, it is not budget-friendly.
Pros
No chemical smell and taste
Good for skin pigmentation treatment
Cons
It's a must to wait 45 to 60 minutes to eat or take another supplement (for me, it is too long)
Too expensive but no significant outcomes for skin
Good for:
Generally, this supplement product fulfills my expectation about the improvement in treating my skin pigmentation. Therefore, I can say that it is a good option for everyone. However, the ugly truth is that its quality does not fit to its price. Therefore, if you are looking for products with outstanding outcomes, it is not worth trying.
Final words
In short, vitamins are vital to us; however, we cannot ensure that we can have all of them in our daily meals. Therefore, supplement products are the best option for us to strengthen the immune systems, and provide a brighter look.
The product I love the most among 4 products I review is Vitamin C – 1000 from NOW. Its price is affordable so that I can make a repurchase decision without any thinking. Moreover, the result it brings to me surpassed my expectations.
I understand that skin pigmentation treatment, especially melasma, takes time to see the difference. Therefore, my advice for you is that you need to be patient, read the supplement product's description carefully, and get consulted by a doctor if you have no glue which vitamin or product you should go for.
I hope you find my review informative and useful for you to make a good decision. Please feel free to share your thoughts in the comment section. I'd love to hear from you, too!