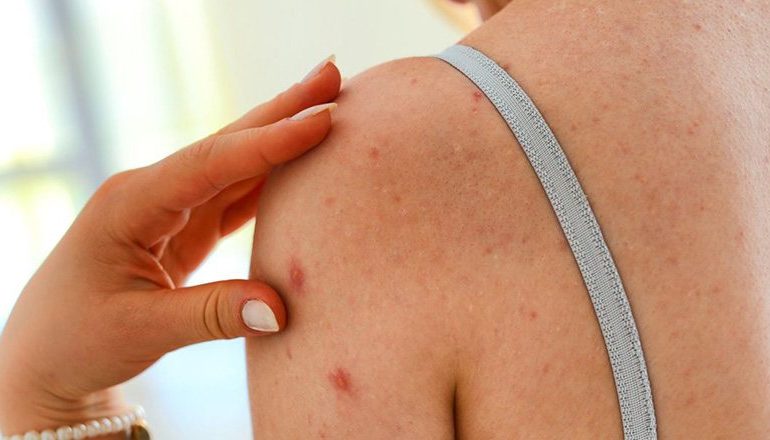 When you have oily skin, it's not just the accumulation of excess sebum that's troublesome. It's also the fact that too much oil tends to cause acne. So if your skin type is oily, then it automatically becomes acne-prone too. And not just on your face, but the body as well.
Body acne is also a very common condition among adults. No wonder there are so many best salicylic acid body washes out there. Salicylic acid is nothing but a very gentle beta-hydroxy acid. It penetrates your skin to defend its layers against acne-causing bacteria.
There's a lot more to it actually, which you can get to know simply by going through these top reviews below.
Top Salicylic Acid Body Washes & Soaps
Salicylic Acid Is Not Just for Acne Breakouts
It's true that salicylic acid is the best anti-acne ingredient. But that doesn't mean this particular beta-hydroxy acid offers no other skin benefits. Its exfoliating properties are also very useful. This is how salicylic acid helps other ingredients present in the body wash to penetrate deeper into your skin.
Salicylic acid's anti-inflammatory benefits are also one of the reasons why the ingredient is so commonly used in skincare products. It helps in loosening and removing dead skin cells to make the skin look smooth, soft, and well-moisturized.
That explains why the treatment of keratosis pilaris, a common condition where the skin becomes dry, patchy, and bumpy, involves using creams with salicylic acid.
Important Features to Consider
Taking care of your skin is a priority here, right? In that case, it's also a matter of greatest importance to understand what goes into an acne-fighting wash. So these are the factors you should be looking for in a body wash that treats and prevents body acne.
Active Ingredients Like Salicylic Acid, Glycolic Acid
What is the meaning of an active ingredient in this context? It's a pharmaceutical component that's biologically active. The most common ones used for fighting body acne are salicylic acid and glycolic acid.
That said, what is the better choice between salicylic acid and glycolic acid? For oily and acne-prone skin, the answer is salicylic acid because this beta-hydroxy acid is oil soluble. Meaning it dissolves the oil present within your skin's layers to get rid of acne-causing bacteria.
As for glycolic acid, this is an alpha hydroxy acid that works as a mild exfoliant. Since it's not oil-soluble, chances are it doesn't cut through your skin's excess sebum to cleanse your pores thoroughly.
But glycolic acid contributes greatly when it comes to minimizing the appearance of acne scars and age spots. Nevertheless, both are effective as far as clearing body acne is concerned. It's just that salicylic acid is more commonly used because of its oil-soluble quality.
No artificial fragrances
It goes without saying that artificial scents in body washes trigger skin sensitivities. As a matter of fact, even some natural, plant-based fragrances tend to cause irritation. And you don't want that if your skin is already prone to acne, redness, etc. So it's best to choose fragrance-free body washes and lotions at such times.
Non-comedogenic and dermatologist-recommended/tested
What non-comedogenic means is the body wash doesn't clog your pores, thus preventing acne breakouts.
Another label that matters is dermatologist-tested or dermatologist-recommended. This implies that the formulation is safe, gentle, and effective for sensitive, delicate, or troubled skin. Meaning it doesn't cause unwanted flare-ups.
Also, when a body wash with salicylic acid is dermatologist-recommended, you know not more than 2-percent salicylic acid is used. This much amount is perfect when it comes to treating and preventing body acne without causing excessive dryness or skin irritation.
Moisturizing ingredients
Salicylic acid offers deeper penetration into your skin. No wonder it's the best for those dealing with extremely oily and/or acne-prone skin. And deeper penetration means cleansing your pores from deep within. That means your skin also requires ingredients to maintain its moisture levels.
So it's only logical to go for a body wash with salicylic acid that also contains moisturizing ingredients like hyaluronic acid, shea butter, coconut oil, aloe vera, etc.
How to Use the best Salicylic Acid Body Wash?
Let me get straight to the point here. Since salicylic acid tends to get rid of oil from deep within, it's very important to moisturize your skin after every application.
Also, if your skin type is oily or acne-prone, then select a body wash with an optimal concentration of salicylic acid (not more than 2-3 percent).
You should start slowly just to check if the formula suits or troubles your skin. Begin by using the body wash every alternate day. If it suits, then there's no harm with daily application.
Since this active ingredient performs the task of exfoliation also, you might want to refrain from scrubbing too hard. Simply follow the instructions printed on the packaging. And don't rush when it comes to seeing results. The process usually takes a few days, if not weeks.
Tips for Getting Rid of Body Acne
Acne sometimes takes form in the most unpredictable or strange places, right? But there's no rule or set of instructions body acne follows. As long as there's acne-causing bacteria or excess sebum in your pores, breakouts are going to trigger.
With that in mind, you can take a few necessary steps for making sure your body remains free of acne and blemishes.
Choose skincare products like body lotions, body washes, etc. that don't contain artificial fragrances. Along with no mineral oil and synthetic dyes.

Apply sunscreen on your body when exposing your skin to the harmful rays of the sun. Speaking of which, never ditch sunscreen when tanning, even if you're using a tanning bed. Both natural and artificial UV light tends to damage the skin and cause acne.

Exfoliate your skin 1-2 times a week. But as long as your body wash is equipped with salicylic acid, you don't have to exfoliate separately.

Choose skincare products infused with both alpha and beta hydroxy acids. That means both salicylic acid and glycolic acid. The latter exfoliates surface bumps. While the former offers deeper penetration for thorough cleansing.

Make sure your clothing is made of natural materials such as linen and cotton. In short, avoid synthetic fabrics.

Reduce or eliminate the intake of processed foods and sugar. Even smoking is doing no good when it comes to keeping your skin healthy, hydrated, and nourished. Instead, incorporate more fresh fruits and veggies into your diet. And drink plenty of water.

Ditch baths for showers to wash off bacteria from your skin.

Allow your pores to open up and release stress by increasing physical activity. You can exercise on a daily basis to make sure this happens the most naturally.
Frequently Asked Questions
Q. Is it Safe to Use Salicylic Acid Body Wash During Pregnancy?
Acne during pregnancy is a common occurrence. All the more reason to choose your skincare products wisely, right? In that case, acne-fighting salicylic acid seems like a good option. But is this active ingredient safe for pregnant women? Fortunately, the answer is yes.
Just as long as the salicylic acid concentration in the formula is not more than 2-percent, you're fine. Also, avoid using the product excessively.
Q. Is Salicylic Acid Suitable for All Types of Skin?
For one thing, the beta-hydroxy acid is oil-soluble, which means it works best for oily skin. Salicylic acid has the ability to get into blocked pores to remove the excess oil, bacteria, gunk, and other such impurities. At the same time, it exfoliates your skin by getting rid of dead skin cells.
The bottom line is that salicylic acid is the most suitable for oily and acne-prone skin. So those with dry skin might not benefit also due to the fact that it is likely to cause dryness. Especially if the body wash equipped with salicylic acid doesn't also have moisturizing ingredients.
Even those with sensitive skin should stay away unless the formulation contains soothing, calming natural ingredients such as oats, green tea extract, chamomile, aloe vera, Vitamin E, etc.
Other Salicylic Acid Body Washes & Soaps We Reviewed
Conclusion
Any part of your body where there are sebaceous glands and hair follicles, acne is very likely to develop. No wonder body acne is such a common occurrence. The main problem is the underlying bacteria, oil, and dead skin cells.
All this just brings into the picture an effective active ingredient that unclogs and cleanses your pores to fight acne. Salicylic acid's exfoliating properties are also very helpful at such times. In fact, it's the most commonly used exfoliant in skincare products.
You only have to make sure the body wash is armed with moisturizing ingredients for boosting hydration. And the options I've reviewed contain these moisturizing ingredients in the most natural form in order to also fight skin irritation and sensitivities.