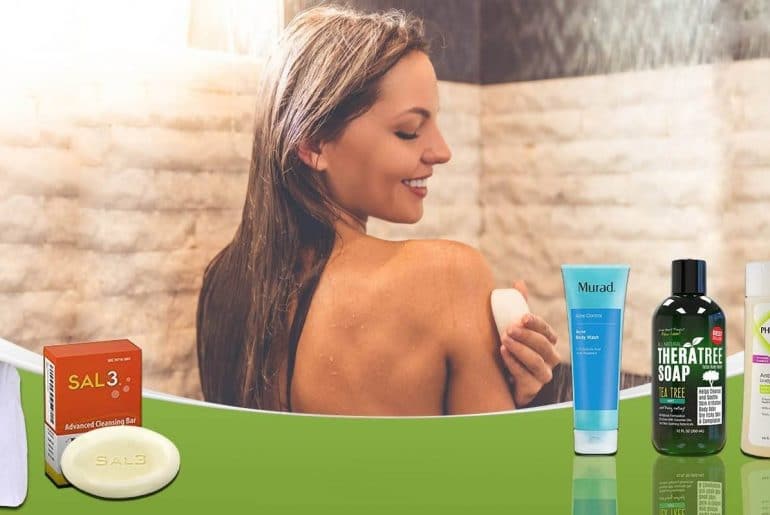 Oily skin, whatever its trigger, is not easy or pleasant to deal with. It can be caused due to your genetic makeup. But more often than not, oily skin is a result of overly sensitive skin. Maybe you're not using the right product or products, which is leading to excess sebum production. Either way, the final outcome is acne breakouts.
In that case, how do you manage the oiliness and greasy feeling? To get your sebum production under control, what you need is the best body washes and soaps for oily skin. These oily skin-specific formulas cleanse your skin without taking away its natural oils. This way your body doesn't have to enter overdrive mode for producing extra.
At the same time, these body washes leave you feeling clean and refreshed for a longer time. They make your skin soft without causing unnecessary dryness.
Top Body Washes and Soaps for Oily Skin
How Does Oily Skin Cause Acne?
There's no need to get into unnecessary complicated details here. A simple explanation is more than enough. So let me do that for you below.
Oil or sebum in your skin is produced by sebaceous glands. Sebum is nothing but a waxy and oily substance, which delivers protection and hydration. Natural sebum is required for healthy skin. Without it, you simply cannot expect your skin to look and feel healthy.
So anyway, when your sebaceous glands produce excess sebum, your skin is bound to become oily. Now the causes for manufacturing excess sebum vary. Factors like genetics, age, hot climate, enlarged pores, skipping sunscreen, etc. play a major role.
Whatever the case, over-production of sebum always leads to oily skin. And this excess oil ends up clogging your pores, which gives rise to acne breakouts.
Tips for Managing and Reducing Oily Skin
It's not easy caring for oily skin when all you think you should be doing is scrubbing and applying strong chemicals for drying up the extra oil. However, this might seem like the right thing to do. But it's not. You're only just abrading your skin. In fact, even drying it out excessively, which in itself leads to more sebum production.
So please consider treating your skin gently. Only then can you expect less oil and fewer acne.
Cleanse Your Skin Using Mild products
You don't have to choose harsh body wash formulas packed with ingredients that aren't skin-friendly. Instead, go for mild and moisturizing body washes that eliminate dirt, impurities, and oil in a gentle manner. These ingredients include salicylic acid, glycolic acid, and lactic acid. They unclog your pores and get rid of excess oil without causing any kind of skin irritation.
Use Warm Water for Your Bath
When you use warm water, you're allowing the best body wash and soaps for oily skin to actually work effectively. As opposed to hot water, which destroys your skin's natural oils. The goal here is to control the oil, and not completely eliminate it. It's not like you're washing dishes here!
Also, reduce the amount of time you spend in the shower. Around 10 minutes or less should be okay. So how about those long soaks in your precious tub? In that case, use a highly moisturizing bubble bath. And after that, don't skip gentle, moisturizing body lotion.
Exfoliate Your Skin Once Every Week
You know what weekly exfoliation does? It helps in getting rid of dead skin cells. And that reduces body acne and blackheads. When you exfoliate your skin, you're keeping its sebum production under control.
Moreover, exfoliation contributes to making your skin look younger.
Moisturizing Your Skin Reduces Oil
The popular opinion is that you shouldn't moisturize oily skin because it makes the skin look even more greasy. This opinion may be popular but that doesn't make it right. Of course, you ought to avoid heavy creams and oils. However, lightweight moisturizers actually benefit oily skin.
When your skin is well-hydrated and well-moisturized, the chances of sebaceous glands over-producing sebum in order to make up for the lack of moisture are drastically minimized.
Frequently Asked Questions
How Can a Body Wash Help in Treating Oily Skin?
As long as the body wash is made using high-quality, natural, and gentle ingredients, you can expect an improvement in oily skin. What such formulas do is eliminate excess oils residing over and under your skin. They also get rid of impurities, bacteria, and dirt that often lead to acne breakouts.
This is why treating oily skin is very important. Because if you neglect it, you'll end up having to deal with a host of other skin problems like dark spots, dull complexion, uneven skin tone, etc.
When oil keeps building up under your skin, it almost always causes breakouts. Another thing you should know that excess oil is a breeding ground for bacteria. And that causes skin infections.
So at such times, a body wash designed to tackle oily skin eliminates all impurities, dirt, and oil. These formulations don't include strong disinfectants that damage your skin along the way. Rather they're infused with natural, skin-friendly ingredients to boost nourishment, protection, and overall skin health.
Is There a Permanent Solution for Oily Skin?
To be frank with you, getting rid of oily skin completely is extremely hard without proper maintenance. Your skincare routine should include exfoliation, oily skin-specific body wash and lotion, facial masks containing oatmeal, honey, or clay, etc. Limiting bath time and using warm water during baths also matter.
As long as you keep these factors in mind, you can manage oily skin. It requires effort, no doubt. Drinking lots of water and incorporating a healthy diet are also contributing elements. Even so, oily skin can never be completely eliminated. Daily care and maintenance are crucial to the process.
Conclusion
It's annoying and sometimes even complicated to care for oily skin. But when you do, the results are equally rewarding. Body washes are skincare products you use on a daily basis, sometimes even twice a day. So you have every reason to buy a formula well-suited for your skin type and condition.
The body washes I've shortlisted not only manage sebum production. But they also treat most of the side effects associated with oily skin.
More Body Washes Product Reviews: