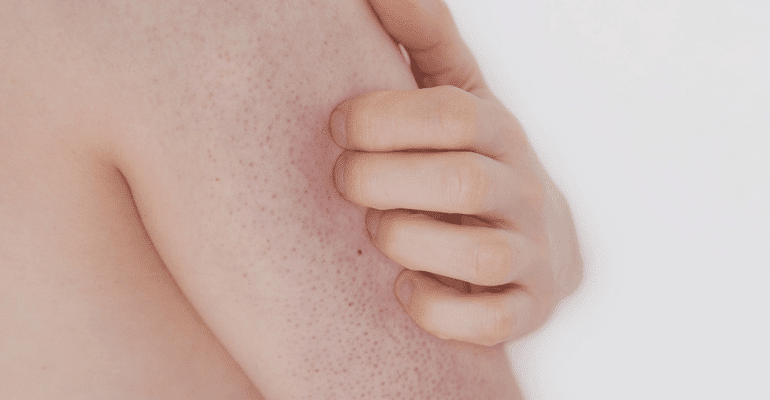 Hair follicles are found almost everywhere on the body, right? And with these hair follicles comes the common problem of dealing with breakouts. Sometimes the problem also takes the form of rough little red bumps instead of typical acne or zits. In that case, it's keratosis pilaris.
If the condition is keratosis pilaris, then what you need is the best keratosis pilaris body washes . When hair protein keratin blocks and clogs your pores, it causes small bumps. And this is not just limited to your face.
Hair follicles are found nearly everywhere, including your arms, thighs, and legs. And the best treatment for the condition is using a formula that combines both hydration and exfoliation. Such as the 15 body washes I've reviewed below.
Top 15 Best Keratosis Pilaris Body Washes
Top Choice - CeraVe Body Wash with Salicylic Acid
It's only natural for an effective product like the CeraVe SA Body Wash to come up so very often. I mean I have reviewed this particular salicylic acid equipped formulation for many common skin conditions. After all, the active ingredient is very useful when it comes to exfoliating and softening rough skin.
Moreover, the formulation contains 3 essential ceramides for restoring your skin's natural protective barrier. Restoring and maintaining; isn't that great!
With the help of patented MVE technology, the ceramides remain replenished. And the same can be said about skin moisture and hydration.
There's niacinamide also to calm the skin. Speaking of which, it's got zero harsh microbeads. And that's another piece of good news for those with sensitive or irritated skin.
Non-comedogenic, fragrance-free, non-irritating, paraben-free, and non-drying; it's the perfect solution not only for keratosis pilaris but also for the overall health of your skin.
CeraVe Body Wash Key Features
Essential ceramides and MVE technology

Skin-soothing with salicylic acid and niacinamide

Formulated by dermatologists
Runner-Up Choice - Glytone Keratosis Pilaris Exfoliating Body Wash
Formulated with key ingredients like caffeine and glycolic acid, this body wash reduces rough skin texture like no other. The skin tone, because of keratosis pilaris, tends to become uneven. And that means it demands a crucial ingredient for softening and smoothing the surface.
That crucial ingredient, in this case, is glycolic acid. A higher concentration does an excellent job of exfoliating dead skin cells. As for caffeine, it tightens your skin and clears your skin complexion.
The anti-aging properties of caffeine are very impressive. It reduces the visibility of wrinkles and even cellulite. The whole system here is perfect for moisturizing your skin and improving the texture of your skin.
Just after the first use itself, you're bound to notice smoother skin, no matter how rough the bumps.
Glytone Keratosis Pilaris Exfoliating Body Wash Key Features
High concentration glycolic acid

Fragrance-free, thus good for sensitive skin

It's a kit with a body lotion and exfoliating loofah
Best Budget Choice - Mario Badescu A.H.A. Botanical Body Soap
It's products like these that assure you that you don't necessarily have to spend more in order to pamper your skin. Mario Badescu here offers both affordability and freedom from skin conditions like keratosis pilaris.
The botanical body wash helps in clearing and preventing ingrown hairs without irritating your skin. It's got grapefruit and papaya extracts that facilitate the removal of dead skin cells. So your skin is left to feel smooth and soft after every wash.
On top of that, ginseng extracts rejuvenate your skin while oats soothe the irritated and sensitive areas. Please don't forget that oatmeal offers excellent healing and soothing properties. And all this combines well with the natural botanicals to exfoliate your skin thoroughly.
Controlling body acne, breakouts, bumps, uneven or rough skin texture, etc. on your shoulders, chest, back, arms, and legs is possible with this botanical formulation that leaves behind no soapy residue.
Mario Badescu A.H.A. Botanical Body Soap Key Features
Formulated with grapefruit and papaya extracts

Contains healing, soothing oatmeal

Light fragrance and non-comedogenic
But Wait, What Is Keratosis Pilaris?
Keratosis Pilaris
It's a skin condition also known as chicken skin. And it takes the form of small rough bumps on the skin. They're more like tiny, red, inflamed pimples that, more often than not, are a result of dead skin cells clogging hair follicles. They can be brown in color too.
Keratosis pilaris affects common areas like the buttocks, upper arms, and thighs. But you should find some relief in knowing that the skin condition isn't contagious. And also that the bumps don't cause itching or discomfort.
But it does get worse in the colder months of the year when the skin becomes excessively dry. Even during pregnancy as a matter of fact.
What Are the Causes of Keratosis Pilaris?
When hair protein, known as keratin, clogs your pores, it leads to the formation of small bumps on the skin. Below every tiny bump lies your body hair that is trapped inside the pore. The most common cause of this is another skin condition called atopic dermatitis.
But chicken skin is common among people with dry skin, fair skin, obesity, eczema, and melanoma. It's also common among children and teenagers.
Keratosis pilaris becomes a part of the body from late infancy to mid-twenties. So by the time you reach 30, the condition and its symptoms subside completely. Even hormonal changes in women lead to flare-ups like these, particularly during pregnancy.
Why Use These Body Washes and Soaps for Keratosis Pilaris?
For one very simple reason, that they contain a blend of exfoliators that cleanse your skin thoroughly to get rid of the clogged particles and dead skin cells. These formulas are not only effective but also gentle for sensitive skin.
The ingredients of the body washes and soaps I've reviewed are naturally derived and also penetrate deeper. This allows the breakdown of rough and dead skin cells. It also reduces redness and inflammation often caused by skin conditions.
At the same time, body washes like these are pH-balanced as well. In simple words, the active ingredients penetrate more effectively for getting rid of pesky bumps.
All this action without drying out your skin. Now that's something you cannot expect with any regular body wash or soap!
How to Manage Keratosis Pilaris?
Managing the condition takes the form of two treatment methods. One is where you address dry skin by moisturizing it. And the second is removing dead skin cells to clean out the clogged pores. Hence, both exfoliation and hydration are important.
Exfoliate Using AHAs and BHAs
Exfoliators in the form of alpha-hydroxy acids and beta-hydroxy acids are very effective when it comes to treating keratosis pilaris. The most common ones include glycolic acid, salicylic acid, and lactic acid. What these do is cleanse your pores and eliminate dead skin cells.
At the same time, the active ingredients moisturize your skin. Also, they get the job done both effectively and gently.
Exfoliate with Moisturizers, Creams, and Lotions
Once more, as long as the lotion, cream, or moisturizer contains salicylic, glycolic, or lactic acid, you can expect it to cleanse your pores thoroughly. This means ditching your regular moisturizer when dealing with skin conditions like keratosis pilaris.
The formulation has to contain effective yet gentle exfoliators, along with moisturizing or hydrating ingredients. Such as aloe vera, jojoba oil, almond oil, olive oil, hyaluronic acid, etc.
Avoid Unprotected Sun Exposure
The thing is that when you exfoliate your skin, it's bound to become more sensitive. Especially in the case of salicylic acid, your skin becomes more vulnerable to unprotected sun exposure. So you have all the more reason to put on sunscreen when outside. Preferably SPF 30 or higher.
Commonly Asked Questions
Q. What Are the Home Remedies for Keratosis Pilaris?
After all, the goal is to minimize the bumps, right? And you can do that by taking warm baths. Keep them short and make sure you're using a gentle, stiff brush for removing those bumps.
The next is exfoliation of course. For that, you can use an exfoliating body wash. I have reviewed so many of them for you, so just pick one. To go with that, use a gentle loofah.
You can even use coconut oil on your body. This ingredient has excellent anti-inflammatory properties. It not only exfoliates but also soothes dry, itchy skin.
Now, here's an unusual or unheard-of remedy for keratosis pilaris. Buy a humidifier as humidifiers add lots of moisture into the air. This moisture keeps your skin's natural, protective moisture barrier intact to prevent flare-ups of any kind.
You can also avoid wearing clothes that are too tight-fitting. Because anything too tight leads to friction. And that, in turn, causes skin irritation.
Q. What Ingredients in Body Washes for Keratosis Pilaris Are Safe for Sensitive Skin?
Let me make one thing very clear here. That a little bit of tingling sensation caused by exfoliators like salicylic, glycolic, and lactic acid is normal. Only if the sensation is too much to handle does it mean that the formula is not good for your sensitive skin.
In that case, go for formulations that aren't equipped with alpha or beta hydroxy acids.
Also, you can look for soothing and calming ingredients like oatmeal, aloe vera, Vitamin E, Vitamin C, etc. Those body washes and soaps that are dermatologist tested or recommended do not cause any form of irritation, even if your skin type is sensitive.
Q. Which Oil Works Best for Treating Keratosis Pilaris?
The answer is coconut oil. That's because it has lauric acid, which helps in breaking down keratin and avoiding the build-up of this protein in your pores. And this goes a long way when it comes to reducing the appearance and presence of bumps on your arms, butt, chest, legs, etc.
You should also know that coconut oil's anti-inflammatory properties are great for reducing redness as well.
Q. What Types of Foods Are the Best for Keratosis Pilaris?
What you eat doesn't cause this skin condition. But what you eat can certainly promote healthy skin. The list includes fresh vegetables and fruits. Along with complex carbohydrates, healthy fats, and lean protein.
Q. Does the Sun Help with Keratosis Pilaris?
There's a reason why chicken skin is not a big concern in the summer months of the year. As long as you have your sunscreen on, the sun helps in treating keratosis pilaris.
Q. Does Drinking Water Help with Keratosis Pilaris?
Dry skin is one of the common causes of the condition, correct? And one of the common causes of dry skin is the lack of sufficient moisture and hydration. In that case, drinking enough water in the day does indeed help at such times.
But, at the same time, please note that exposure to water for a long time and hot water tend to cause more skin irritation when dealing with keratosis pilaris.
Q. Is It A Bad Idea to Pick Keratosis Pilaris?
Skin affected by keratosis pilaris is either lighter or darker than your healthy skin. And if that's the case, then it means you're fidgeting with the bumps. So the answer is YES, it is indeed a bad idea to pick keratosis pilaris.
More Body Washes & Soaps for Keratosis Pilaris
Puracy Citrus & Sea Salt Body Wash
You'll find only plant-based ingredients in this one. The first is coco glycinate that moisturizes, refreshes, and softens your skin. It's a natural surfactant for producing fluffy foam. Then comes vegetable glycerin for making the skin feel silky smooth.
And, ultimately, Pink Himalayan Sea Salt to exfoliate, hydrate, and balance your skin. This plant-powered body wash is hypoallergenic, which actually goes without saying since there are no harsh ingredients.
Puracy Citrus & Sea Salt Body Wash Key Features
Formulated with vegan cleansers

Vegetable and fruit-derived moisturizers

pH-balanced and hypoallergenic
CeraVe SA Lotion
This one's a lotion version of the CeraVe body wash with salicylic acid I reviewed earlier. So most things are the same. This includes salicylic acid, lactic acid, and hyaluronic acid for softening and smoothing the skin.
With essential ceramides for natural protection, the body lotion is hypoallergenic and richly textured for bumpy, dry, and rough skin.
CeraVe SA Lotion Key Features
Exfoliating salicylic acid and moisturizing hyaluronic acid

Ceramide-replenishing MVE technology

Non-comedogenic, hypoallergenic, and fragrance-free
SmellGood Raw African Black Soap
With pore-cleansing being such a key factor in treating keratosis pilaris, you may want to try African Black Soap. It gets rid of acne, blemishes, itching, dryness, etc. While also rejuvenating your skin and cleaning out pores.
The soap contains natural Earth ingredients taken from palm tree leaves, shea tree bark, cocoa pods, and plantain. The beauty of African black soap is that it offers excellent cleansing capabilities to leave your bumpy, uneven skin feeling soft and smooth.
SmellGood Raw African Black Soap Key Features
Totally natural and handmade

Thorough cleansing properties

Great for keratosis pilaris, acne, dryness, etc.
Keratone KP Body Wash
With 10-percent glycolic acid, this formulation exfoliates your skin to reduce bumps, redness, and irritation. Only natural ingredients like organic jojoba oil, aloe, and Gotu Kola are involved. And they work flawlessly to rejuvenate and soften your skin.
The deep exfoliation and gentle properties are what make it so suitable for treating keratosis pilaris.
Keratone KP Body Wash Key Features
Formulated with organic ingredients

10-percent glycolic acid penetrates deep

Free of parabens, synthetic fragrances, petrolatum, etc.
Touch Keratosis Pilaris & Acne Exfoliating Body Wash
You might be skeptical to use a combination of salicylic acid and glycolic acid on your face but it's a whole different ball game when the combination is a body of your body wash, right? Before anything else, this combination for your body exfoliates and cleanses your skin.
On top of that, the body wash is pH-balanced to allow the exfoliating, cleansing acids to penetrate more effectively for reducing pesky bumps. So this may not be an ideal form of keratosis pilaris face treatment, but it's the best for your body.
Touch Keratosis Pilaris & Acne Exfoliating Body Wash Key Features
Exfoliating glycolic acid and oil-soluble salicylic acid

Skin-soothing aloe vera and antioxidant-rich Vitamin E

Non-drying formula with hyaluronic acid
Touch Keratosis Pilaris Treatment Body Lotion
Now here's the lotion version of the previous product. Manufactured by the same brand, this body lotion exfoliates with the help of glycolic acid and salicylic acid. This one too is pH-balanced.
On top of that, there are deep moisturizing ingredients to do away with the dryness often accompanied by keratosis pilaris.
Touch Keratosis Pilaris Treatment Body Lotion Key Features
Oil-soluble salicylic acid for deep exfoliation

Effective pH level

Soothing aloe vera and moisturizing Vitamin E
SAL3 Salicylic Acid Sulfur Soap Bar
In case you didn't know, sulfur is a very effective acne-fighting ingredient. It's the gentler version too, no doubt. It unclogs your pores by drying out dead skin cells. That explains why this ranks as the best sulfur soap for keratosis pilaris.
The formulation's antifungal and antiseptic properties are also exceptional. Plus, it has salicylic acid and a natural scent with no artificial fragrances or perfumes.
SAL3 Salicylic Acid Sulfur Soap Bar Key Features
Exfoliating salicylic acid and acne-fighting sulfur

Keratolytic, antifungal, and antiseptic action

Dermatologist-recommended and fragrance-free
Curamarx KP Essentials Keratosis Pilaris Exfoliating Body Wash
The star of the show is the combination of two active ingredients. Namely lactic acid and glycolic acid. Both fight the condition of keratosis pilaris by unclogging pores. They also alleviate roughness and redness often caused by sensitive skin.
Apart from the obvious, there's aloe vera for moisture. And the best oil for keratosis pilaris, which is actually a blend of two oils (jojoba oil and almond oil). Then there's Vitamin E and Vitamin C as well to soothe inflammation and minimize irritation.
Curamarx KP Essentials Keratosis Pilaris Exfoliating Body Wash Key Features
Pore-unclogging lactic and glycolic acids

Contains aloe vera and jojoba and almond oils

No artificial scent, thus suitable for sensitive skin
BumpKlear Bumpy Skin Wash
When getting rid of rough and dry skin is your main concern, you might want to try this Bumpy Skin Wash. Exfoliating with alpha and beta hydroxy acids is a must that means. They get the job done smoothly and gently.
It's one of the best dermatologist-recommended formulations that work miracles.
BumpKlear Bumpy Skin Wash Key Features
Moisturizing ingredients like aloe and Vitamin E

Formulated with alpha and beta hydroxy acids

Gentle and dermatologist-recommended
Braunfels Labs Sulphur Soap
Sulphur soap is the best form of treatment not only for keratosis pilaris but also for acne. It also helps in controlling rosacea. You can expect this soap to dry out your dead skin cells, which helps in unclogging your pores.
When used daily, the soap is bound to reduce redness by more than 50-percent in only a week.
Braunfels Labs Sulphur Soap Key Features
10-percent acne-fighting sulfur

Natural, fresh scent; thus fragrance-free

Great for keratosis pilaris, acne, and rosacea
ReTone Keratosis Pilaris Exfoliating Body Cleanser Wash
It's not uncommon for dermatologists to recommend an exfoliating body wash formulated with glycolic acid. After all, it's this particular ingredient that eliminates roughness, bumps, and dead skin cells in the gentlest manner.
ReTone, needless to say, prepares the skin for a multifaceted moisture application and regeneration. And there are no parabens added to this skincare product, which means safety is also the brand's utmost priority.
Braunfels Labs Sulphur Soap Key Features
Gentle, exfoliating glycolic acid

Free of parabens, retinoids, and phthalates

Mild, pleasant scent
Zakia's Morocco Moroccan Black Soap
Although alpha hydroxy acids are the go-to exfoliators for skin conditions like keratosis pilaris, Moroccan Black Soap brings into the picture 100-percent pure, traditional, and natural ingredients that get the job done nevertheless.
The cleansing properties here are excellent even without the use of harmful chemical, foaming, and wetting agents. And the best part is that you can use it for bathing as well as shaving.
Zakia's Morocco Moroccan Black Soap Key Features
Classic black soap with olive oil and Argan oil

Light, silky smooth lather

Great for all types of skin
The EndNote
No doubt, the skin condition here is easily manageable. Thanks to the availability of body washes formulated with active ingredients like salicylic acid, glycolic acid, and lactic acid. These not only exfoliate but also moisturize your skin.
Moreover, they don't have harsh or harmful chemicals like parabens, artificial fragrances, phthalates, and the like. Meaning there's nothing in there to aggravate your skin; only healing, soothing, and moisturizing natural or plant-based ingredients.
More Body Washes Product Reviews: