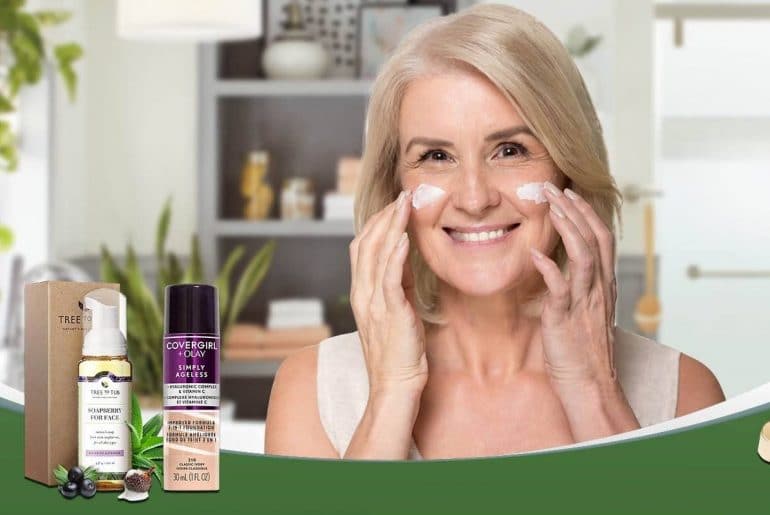 As you grow older, your skin goes through several changes. But I'm sure you already know that. However, did you know that your foundation should also change with your age? Maybe your 20s and even 30s were all about dealing with acne breakouts and/or oily skin. But mature skin is all about other concerns like fine lines, wrinkles, and dark spots.
In that case, your skin would benefit more from the best foundations for mature skin over 60. Healthy-looking, radiant skin always remains in style, irrespective of day and age. This explains why there are so many skincare and beauty brands developing makeup for age-specific skin.
Just like you wouldn't dare to apply the night cream you did when you were a teenager or even in your 20s, you wouldn't use the wrong kind of foundation. Instead, go for the top choices I've reviewed in this article for you. They are specially designed to work with mature skin. They improve texture and also conceal wrinkles and lines with ingredients that activate a more glowing, youthful complexion.
Best Foundations for Aging Skin Over 60: Top 15 Recommendations
Covergirl & Olay Simply Ageless 3-in-1 Liquid Foundation
Olay is a brand name synonymous with anti-aging skincare. And this one's a collaboration between Olay and the renowned makeup company Covergirl. It's a 3-in-1 liquid foundation formula with excellent anti-aging benefits.
The foundation plumps up the skin instantly to minimize the visibility of wrinkles and fine lines. So your skin gets an opportunity to look younger and your complexion radiant. It even solves problems of uneven skin tone and dark circles.
The special Covergirl & Olay formulation contains Vitamin C and hyaluronic acid. Both of these ingredients are commonly added to face moisturizers and serums as well for providing hydration. So this liquid foundation boosts the hydration levels of your skin, no doubt. And that's how your skin ends up looking radiant and healthy.
You get to choose from multiple shades. So finding the right match for your particular skin complexion is not a worry. And to your much relief, the foundation I'm reviewing here is cruelty-free. About time we all buy skincare and beauty products that are not tested on animals!
BareMinerals Complexion Rescue Tinted Hydrating Gel Cream
The reasons for loving this Complexion Rescue formula by bareMinerals are plenty. First off, it's got powerful hydration to offer. The hydration is brought about by coconut-derived ingredients and marine botanicals. They nourish, condition, and replenish your mature thirsty skin.
There are mineral electrolytes, magnesium, potassium, and calcium packed in here too. Simply for energizing your skin and promoting moisture. For the perfect hydration boost, the brand decided to add water encapsulations as well. These also deliver a very refreshing light and cooling sensation.
What's more, you ask? Well, there's broad-spectrum SPF 30. The sunscreen content is mineral-based and non-chemical. As for the coverage this tinted gel cream offers, it's between sheer and medium.
The labels you ought to know about the product are non-comedogenic (non-pore-clogging), hypoallergenic, non-acnegenic, cruelty-free, and dermatologist-recommended. No parabens, mineral oil, phthalates, fragrances, SLS, and other such harmful or harsh substances.
It Cosmetics Your Skin But Better CC Cream
What I'm currently reviewing is a full-coverage color-correcting cream with excellent anti-aging benefits and sun protection.
Let me make it clear that no amount of parabens is used for manufacturing the CC cream, or any other It Cosmetics products. And the mineral-based SPF 50+ added to the formula is broad-spectrum, meaning your skin stays protected against both UVB and UVA rays.
Now let me tell you why this ranks as the best full coverage foundation for mature skin. It's because the CC cream wears very well on aging skin. And you know it does when the foundation doesn't settle into creases and wrinkles. Also when it doesn't exaggerate pores.
The coverage stays put to give your skin an even complexion and beautiful glow. And you only need a very small amount for activating the benefits. Since the CC cream feels light against the skin, there are no caking or flaking issues to deal with.
And the fact that SPF 50+ is included adds nothing but more value and credibility to the product. It's actually the most suitable for women who don't like to wear too much makeup or any makeup at all.
Maybelline New York Instant Age Rewind Eraser Treatment Makeup
It's not easy finding the best makeup for mature skin over 60. But brands like Maybelline are striving to change that with products like Instant Age Rewind Eraser. This breakthrough treatment formula consists of anti-aging properties and active ingredients.
So why did I choose to shortlist this Maybelline creation? It's because of the micro-corrector applicator that comes along with the makeup. The applicator micro-fills to smooth all your wrinkles, lines, and spots.
The formula is super-concentrated just so you know. This makes the application very easy, quick, and convenient. The active ingredients and anti-aging properties I was talking about earlier consist of collagen and goji berry. Both have such a powerful ability to minimize the visibility of mature skin wrinkles and fine lines.
To make the experience more whole, the foundation is also equipped with SPF 18 sunscreen for preventing sun damage. The effectiveness of this Maybelline makeup is clinically proven. So you can and should look forward to only the best results.
Bella Mari Natural Moisturizing Foundation
It's difficult to come by natural, pure high-coverage foundations, with a decent rating of SPF that too. So when you do, especially for mature skin, all you want is to seize the opportunity. So do just that with this Natural Moisturizing Foundation. The SPF level here, just by the way, is 30, which is generous enough.
Only organic ingredients are used, this implies no parabens and talc. The best part, in my opinion, is the unique combination of full-coverage capacity, moisture boost, and sun protection.
The foundation is the first on the list that contains natural Earth minerals as well as antioxidants. So it's not just coverage and sun protection you get, your skin also remains protected from within against common skin aggressors present both inside the skin and outside.
To be honest, it's the safest to use so far. But, more importantly, the amazing coverage is the most attractive characteristic for the majority of women. Even with dark spots, acne scars, and large pores, the formula does an excellent job of concealing without making your skin feel greasy or heavy.
And one more thing, it says "moisturizing" foundation. This moisturizing part is, in no way, oily or acne-causing. To top it all off, the scent is reminiscent of soothing and comforting essential oils.
Almay Smart Shade Anti-Aging Skintone Matching Makeup
So if I had to give you just one reason to consider buying this one, then that reason would certainly be the unique ToneMimic technology. The makeup foundation is formulated with this particular skin tone-sensing bead technology.
The first impression is the white color foundation when you squeeze it out of the tube. But what actually comes out are shade-sensing beads that get activated when you apply pressure at the time of application.
Once you thoroughly blend this it your skin, the foundation transforms your complexion. What you get is natural-looking, buildable coverage, with zero streaking issues. You can choose from the six shades provided by the brand. And every shade and product developed by Almay is hypoallergenic, which means your mature sensitive skin remains reaction-free and protected.
So if you're thinking of buying Smart Shade, do it for the ToneMimic technology that takes of the form of tiny skin tone-adjusting spheres. And don't worry, everything is dermatologist-tested, cruelty-free, and fragrance-free.
Vichy Dermafinish Liquid Foundation
Now it's time for a product that ranks the highest in every mature age category. By that, I mean this is the best foundation for mature skin over 40, 50, & 60. All in all, it's the most acclaimed choice for anti-aging benefits, and also for its high amount of coverage.
The liquid foundation offers skin-correcting properties. It's oil-free, smooth, lightweight, glides on very easily and evenly. The finish provides a very natural-looking glow. You get high-coverage without your skin feeling too dry or cakey.
What's exceptional here is the inclusion of the brand's exclusive thermal spa water. This helps in hydrating your mature or aging skin. You should know that skin hydration has the power to fortify elasticity. And mature skin demands every such action that strengthens its weakening elasticity.
Moreover, the foundation is allergy-tested, non-comedogenic, and dermatologist-tested. Meaning good for sensitive skin, oily skin, and acne-prone skin. Nor does it have any artificial fragrances.
By far, it's the best liquid foundation that delivers twice the amount of coverage of conventional foundations. Plus, 16 hours of makeup wear is no joke. And so isn't the mineral-based, broad-spectrum SPF 30 sunscreen.
Estee Lauder Perfectionist Youth-Infusing Makeup
Once again, for a much-needed hydration boost, you can rely on Estee Lauder. The brand, much like Olay, is synonymous with anti-aging skincare and beauty products. And their Perfectionist Youth-Infusing formula is the best of the lot in the category of products specifically designed for mature skin.
It's got anti-aging serum technology that gives your skin a radiant and youthful look. The makeup is suitable for all types of skin. The hydration that it offers is oil-free by the way. And no doubt, the foundation minimizes the appearance of wrinkles and fine lines.
But what I found to be the most appealing is that it evens out red areas present between the eyebrows and around the cheeks and nose perfectly well. Plus, the stuff is plenty moisturizing. It doesn't settle into creases in the case of mature skin, which is great.
Medium-light coverage is what you should be expecting. Along with protection against UV rays! Once you use Estee Lauder, there's no chance you'll even think of eliminating it from your daily makeup regimen for many, many years.
Mary Kay TimeWise Matte-Wear Liquid Foundation
As you can see, this is a product that cannot be labeled as the best drugstore foundation for mature skin. I think only Olay falls in the category. As for Mary Kay, it's a special formulation that comes in 23 different skin-perfecting shades. Let me bring to your attention first and foremost that the liquid foundation here is transfer-resistant and humidity-resistant.
The matte-wear foundation offers oil-control and shine-control even when you have no heavy makeup on. The matte finish is long-lasting, along with the oil and shine control effect. But the thing I found to be the most gratifying is the inclusion of peptides and Vitamin E. Both of these ingredients activate skin-firming action. Meaning you get anti-aging benefits too.
The liquid foundation is the perfect age-fighting formula if you ask me. It's suitable for all skin types just so you know. It minimizes the visibility of wrinkles, fine lines, pores, dark spots, and other skin concerns. All this along with providing oil and shine control I talked about earlier.
But what about coverage? Many women have rated Mary Kay above even Estee Lauder. But that's only if your skin type is dry. Otherwise, both perform equally well in the case of mature or aging skin. The coverage this liquid foundation has to offer is not something you're even remotely likely to complain about, that's for sure.
Cover FX Natural Finish Foundation
Many women are compelled to deal with hormonal acne even in their 50s. So this water-based liquid foundation by Cover FX is specially designed for them. It has a very lightweight texture that leaves an incredibly soft and luminous finish. The coverage starts from medium, but you can build it up to heavy as well.
It's one of the very few oil-free liquid foundations perfect for mature skin. The two most skin-benefiting ingredients included are Vitamin E and Vitamin C. Both of these protect your aging skin from harmful free radicals.
A little bit of foundation goes a long way in this case. And bonus points for the formulation not giving rise to any more breakouts on your face, even with heavy coverage. In fact, the liquid foundation helps in concealing mild rosacea as well. No sticky feeling, no matte effect either; just natural, healthy, radiant skin with pink undertones.
L'Oreal Paris Cosmetics Visible Lift Luminous Serum Tint
About time I review a foundation manufactured by none other than L'Oreal Paris Cosmetics. Their Visible Lift formula is the perfect hydration boost to bring about radiance and skin improvement almost instantly.
The serum tint in the form of this hydrating sheer makeup revives dull and tired skin by activating radiance. The formula is infused with hydrating elements like nourishing oils along with Vitamin E. A blend like this provides your mature skin with all the nourishing moisture it demands at that age. Plus, you get radiant color for making your skin look healthy.
Needless to say, the formula is deeply moisturizing and also lightweight. It smoothens wrinkles and fine lines instead of settling into your creases. At the same time, the foundation balances out your skin complexion. Instant hydration is what you should expect. Also look forward to this hydration and freshness lasting all day long.
Revlon PhotoReady Insta-Filter Foundation
Here's another brand like L'Oreal that manages to make it to every list of best foundations. The Photo-Ready Insta-Filter is a foundation that does an excellent job of imitating Instagram app filters. This means your skin is bound to look clear and your complexion even.
The formula is equipped with a blender built into it, which makes the task of blending much, much easier. Even building coverage because of this integrated blender becomes quite effortless. The coverage capacity is medium and buildable by the way.
Many women go for Revlon because of its High-Definition Filter technology. This softens your fine lines, wrinkles, dark spots, and other such aging-related signs. Just like Instagram filters! So your skin looks naturally fresh with a flawless finish.
It's very surprising how an innovative formula like this stays put throughout the day. And how it works with all skin types to smoothen skin tone.
Let me also point out that you're looking at the best foundation for mature skin with large pores. And that is so because the special Revlon formulation blurs pores like no other, even with aging skin. That too without feeling heavy! Now you understand why it's so highly recommended?
Too Faced Born This Way Foundation
Let's say this is your first time not only applying but also choosing a foundation. If that's the case, then don't expect anything to go wrong with the Too Faced creation. It is the perfect lightweight, gorgeous-looking foundation for mature skin. It doesn't dry out your skin or make it look cakey.
The undetectable, oil-free formula covers skin imperfections in the most natural manner. Speaking of which, medium to full coverage should be expected. You can put it on daily without a single worry with regards to the buildable coverage.
The foundation, even though lightweight, is long-lasting. There's no chance you, as a first-timer or even with aging skin, won't be happy with your Too Faced purchase.
Perricone MD No Foundation Foundation Flair
Perricone MD develops formulas that look medical-grade. Just have a look at the bottle and you'll know what I'm talking about. There's no denying the products they manufacture are as effective as medication. As for this No Foundation Foundation Flair, it's an extraordinary multi-purpose formula.
The foundation lets your skin glow while also protecting it from the UVB and UVA rays of the sun. The latter part means SPF is included too. Not just any SPF, I'm talking about broad-spectrum, mineral-based sun protection.
What about coverage though? Is that also equally impressive? I don't see why not. The foundation protects your skin undertones while delivering translucent coverage. It also boosts your skin's moisture levels all day long.
Even absorption is something you need not worry about. The foundation is infused with ingredients that provide a high potency and anti-aging benefits. The anti-aging action helps in firming the appearance of your skin.
But what's exceptional is the blend of special-treated pigments and light-diffusing mica. This combination added to foundations soften the appearance of pores, wrinkles, and fine lines. So your skin, no matter how mature or unhealthy, manages to look naturally radiant and smooth.
Laura Mercier Silk Crème Photo Edition Foundation
Time for the last recommendation. But just because this is the last one doesn't make it any less cut-throat. After all, the brand is none other than Laura Mercier. It's a company very popular for developing the most skin-friendly, anti-aging formulas. And their Silk Crème Photo Edition Foundation is no different.
It's an oil-free, high-performance, high-pigment formulation that creates the perfect flawless canvas, which lasts throughout the day. Once you apply it on your skin, you'll instantly notice just how soft and comfortable it feels. You also don't take time to notice how the foundation conceals your most problematic areas too.
It's specifically designed to suit all types of skin, including dry, oily, and acne-prone. The Silk Crème has the capacity to smoothen your skin texture while also visibly balancing out skin tone. It's got color-true pigments that disappear on your skin to activate even, smooth blending.
Laura Mercier, no doubt, is a world-renowned brand known for makeup, skincare, and fragrances. So there's no way their foundation is any less competitive than the others on the list.
Full Coverage or Sheer Foundation: What Works Best for Mature Skin?
The middle ground between sheer and full coverage is highly recommended for mature skin. Aging skin does well with foundations that are light-reflecting and have a dewy finish. But this doesn't work if your skin type is dry. In that case, you shouldn't go for mattifying foundations that end up making your skin look even more dry and old.
Most of my recommendations in this post are buildable sheer to full coverage. They meet all demands with regards to moisturizing, covering, and providing sun protection. The thing about these light to full coverage formulas is that they make your skin look radiant almost naturally.
Once again, the level of coverage should be light or medium to heavy. On top of that, it should also be buildable coverage.
Choosing a Foundation for Mature Skin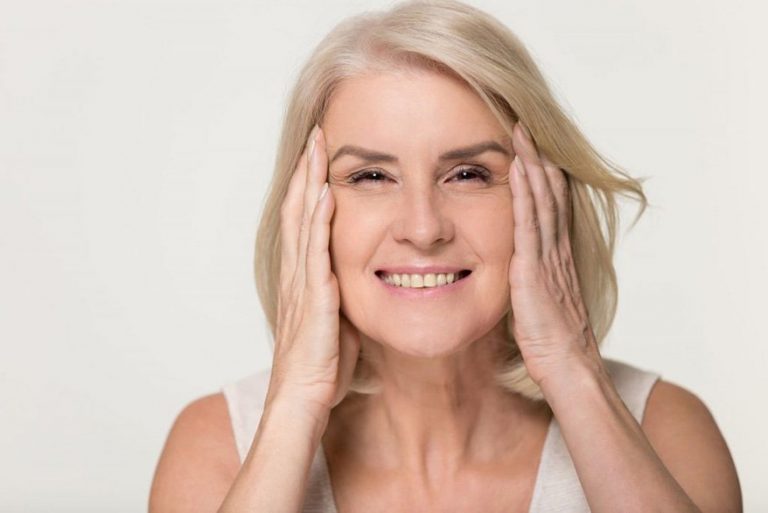 Here are some factors you might want to keep in mind. After all, choosing a foundation for mature skin over 60 is not the same as buying foundation in your 20s or even 30s or 40s.
Go for a Lightweight, Hydrating Texture
Satin-finish or hydrating liquid foundations are your best buddies once the skin starts to age or look old. The lightweight texture of these foundations is ideal for when your skin becomes dry due to a drop in your hormone levels.
Water-based formulas contain hydrating ingredients, right? And this hydration boost is what your skin demands during that time. So go for foundations with sheer coverage that also offer a luminous dewy glow when dealing with wrinkles and fine lines.
Avoid Mattifying, Heavy Formulas
If you don't, then you're only welcoming your foundation to settle into your creases, wrinkles, and fine lines. And that, in turn, makes your aging-related signs look even more pronounced.
The thing about thick mattifying formulas is that they offer fuller coverage all right. This works for age spots, uneven skin tone, etc. More often than not, these are also equipped with pigments. Such a foundation might look fine at first, but as time passes and all the hydrating ingredients get absorbed into your skin, the pigments can end up making your skin look cakey.
Obviously, there are exceptions like the ones I've reviewed in my article. Full coverage foundations like these have been proven to not look cakey during the day or by the end of it.
Choose Buildable Coverage
The decision of how much coverage is good enough for mature skin over 60 is one that's not easy to make. So it would be wise of you to buy a foundation with buildable coverage. The beauty of buildable foundations is that they're designed to start with a sheer look. And then you can build and layer the formula to achieve the desired level of coverage.
The best part about these formulations is that they make your skin look natural, no matter how heavy or sheer the coverage. You can use these foundations for covering your dark spots simply by adding those extra layers.
Select a Warmer Shade of Foundation
Do you pick foundations that match your skin color? If yes, then you cannot do that anymore when dealing with mature skin. It's because skin complexion grows paler as you age. So if you choose a matching shade, it can make your skin look pasty if you're fair or ashy if you're brown.
This means you ought to make it a rule to go for warmer foundation shades. These don't contain a lot of pink undertones. So they have the ability to counterbalance the ruddiness. So think twice before you buy a foundation that matches your skin tone. Instead, go for a warmer shade than your complexion.
Dewy or Matte?
As for the finish of the foundation, should you opt for matte or dewy? I have already discussed how heavy, mattifying formulas are not good unless they don't make your skin look cakey. The choice between the two here only depends on your skin type, and not how old you are.
If you have oily skin, choose a matte foundation. As for those with dry skin, they benefit the most from dewy, hydrating formulations. Dry skin and matte finishes just don't get along well. The proof and result of that combination is always a dehydrated appearance.
Useful Tips for Applying/Using Foundation on Mature Skin
1. Start with Exfoliating and Moisturizing
Prepping your skin before applying foundation is very important. Because what exfoliation does is get rid of dead skin cells to make way for a smooth canvas for your foundation. When dead skin cells are gone, your foundation and makeup get the opportunity to glide on smoothly.
The next step is to moisturize your skin. This layer of hydration allows the ingredients of your foundation to penetrate deeper. Just make sure your face moisturizer has hydrating ingredients like hyaluronic acid or such. Do this even if your skin type is oily as moisturizing the skin doesn't increase but manages excess sebum production.
2. Don't Skip Sunscreen
If you ask me, then I would highly recommend buying a foundation with built-in sunscreen. And ideally, you should do this if you don't have the habit of applying sunscreen daily. However, if you make it a point to not skip sunscreen in your daily skincare routine, then you can purchase a foundation without SPF. This means applying sunscreen separately.
Sunscreen goes under your foundation and makeup. And what it does is deliver a boost to your skin's protective barriers.
3. Use a Primer
Did you know that primers are especially useful for aging or mature skin? Once your moisturizer sets in, feel free to apply the primer. This product creates a protective barrier between the skin and makeup, thus preventing the latter from blocking your pores and causing breakouts. Primers also increase the wearability of your makeup.
But don't just apply any primer. For mature skin, choose a primer with a higher dimethicone concentration. This particular ingredient provides your skin with a smooth, velvety feel. It fills in your wrinkles and fine lines, which makes the surface of your skin smooth and leveled for the foundation.
Some primers are also armed with antioxidants, hydrating ingredients, and sunscreen for additional skin protection. But in the case of mature skin, you'd be better off with a primer that has excellent light-reflecting properties. These activate a healthy, natural glow without highlighting your fine lines and wrinkles.
4. Apply the Foundation with a Damp Sponge or Fingers
Either use a damp sponge or no sponge or brush at all. When applying your foundation with a damp sponge, what you're actually doing is adding more hydration. A damp sponge also prevents streaky application.
But if you don't like the idea of using a damp sponge, then blend the formula with just your fingers. Just pat and press gently to create a smooth texture.
Wrapping It Up
It's surprising how many skincare and beauty brands have managed to develop such hydrating, full coverage foundations for mature skin. Whether your skin concern is age spots, wrinkles, dryness, or such and such, these foundations minimize all of these problems. In fact, they even resolve some of them.
Inventing the time machine and going back to your 20s is not possible now, is it? And maybe you don't even want to do that. So the only logical step is to get hands on the best foundation specifically designed for aging or aged skin.