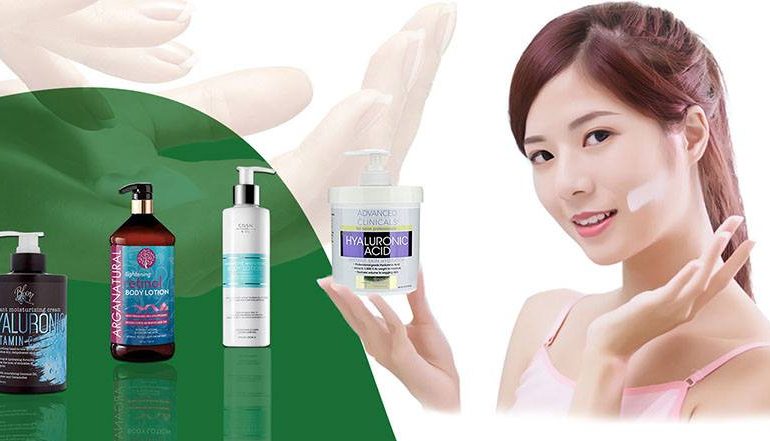 If there's any genius skincare ingredient, then it's got to be hyaluronic acid. It's a deeply hydrating and moisturizing ingredient that benefits both dry and oily skin. The element comes naturally from plant sources, thus good for sensitive skin as well.
See also:
Up until now, a part of only face creams, moisturizers, and serums, hyaluronic acid is being infused into body care products too by renowned skincare brands. And that's explainable because it is indeed a powerfully skin-enriching and regenerative ingredient.
That said, you have to get acquainted with the best hyaluronic acid body lotions. Because why does only your face get to feel and look softer, smoother, and moisturized!
What Does Hyaluronic Acid Do To Your Skin?
There's no need to feel terrified because this ingredient has the word "acid" in it. Contrary to what you might be thinking, hyaluronic acid is a very gentle skincare ingredient. It works like a sponge. In fact, hyaluronic acid can hold hydration thousand times its weight. And this keeps your skin feeling dewy and plump all day long.
A moisturizing ingredient, hyaluronic acid pulls water from your environment to smooth out rough and dry patches. Along with reducing fine lines and wrinkles and also firming your skin.
Also, did you know that many facial filler treatments include hyaluronic acid for creating lift, replacing volume, and boosting a youthful appearance?
The moral of the story is that this particular hydrating ingredient, that's naturally derived by the way, alleviates dryness, dehydration, and dullness while also promoting wound healing. And many women incorporate facial serums infused with hyaluronic acid to reap its anti-aging benefits too.
Can Hyaluronic Acid Dry Out Your Skin?
There are reasons enough to believe that this wonder ingredient, only if used incorrectly, has the ability to backfire. What it does is infuse moisture into the topmost layer of your skin. That means the plumpness and hydration are only temporary or short-lived, right?
And if your skin is extremely dehydrated and/or dry, which is what the climate looks like as well. Then, in that case, hyaluronic acid tends to absorb the very little moisture present within your skin instead of pulling your skin toward the moisture. The result of this, oftentimes, is skin that feels more dehydrated, duller, and drier. Therefore, more susceptible to developing aging signs.
No wonder it's so important to combine hyaluronic acid with other moisturizing ingredients. Such as coconut oil, jojoba oil, shea butter, aloe vera, etc.
Is Hyaluronic Acid Bad for the Skin?
Generally speaking, hyaluronic acid is safe to use on all types of skin without causing any possible adverse side effects. So when users complain of negative reactions related to hyaluronic acid formulas, more often than not, it's because the product also contains some form of preservatives. And preservatives are nothing but bad news for your skin.
If anything, hyaluronic acid is bad for extremely dry skin. But that's only if you don't combine it with moisturizing ingredients. Failing to do so causes the substance to draw moisture from deep within, thus doing more harm than good.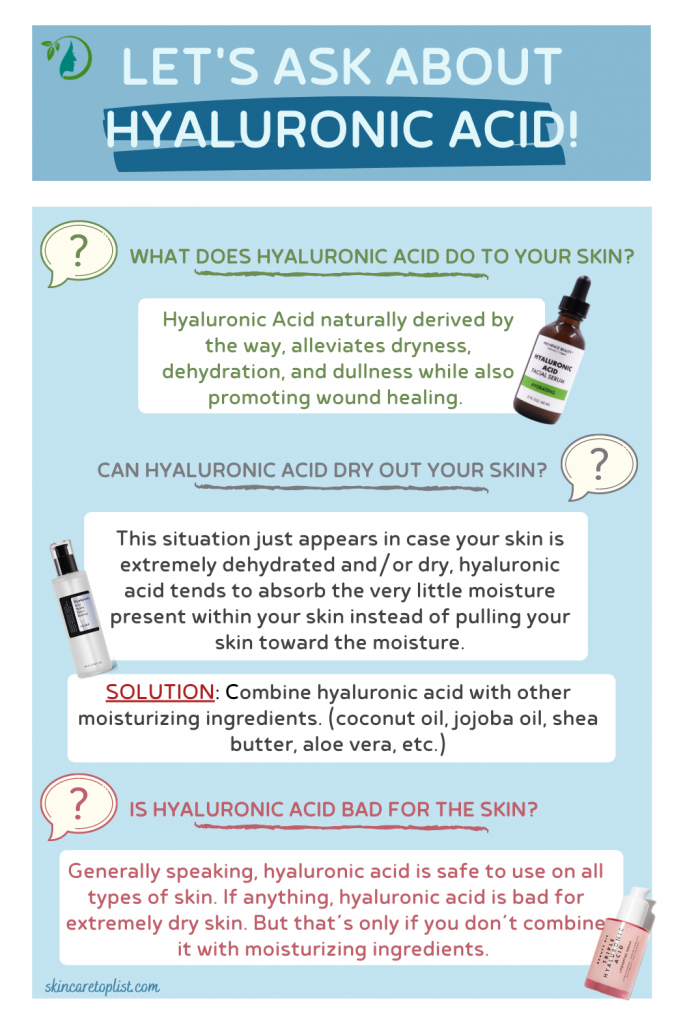 What Are the Best Body Lotions with Hyaluronic Acid?
1. Vichy Ideal Body Lotion & Serum-Milk with Hyaluronic Acid
Let's start with a body lotion formula that's quite sought-after for its skin firming and hydrating qualities. You'll find in here 10 botanical oils, Vichy's exclusive mineralizing water, and hyaluronic acid of course. Hyaluronic acid has the capacity to hold water thousand times its original weight. Therefore, ideal for retaining moisture and making your skin look plump.
As for the 10 botanical oils, they work best to encourage smoothness and radiance. Furthermore, mineralizing water contains 15 essential minerals for strengthening your skin's natural moisture barrier protection.
And bonus points for the body lotion also being fast-absorbing, non-greasy, and allergy-tested.
Key Features:
Contains hyaluronic acid, volcanic water, and essential oils

48-hour continuous hydration

Ideal for sensitive skin and paraben-free
2. CeraVe Daily Moisturizing Lotion
Now here's a brand that's slowly becoming synonymous with gentle skincare. CeraVe's Daily Moisturizing Lotion is well-equipped to tackles all kinds of common skin issues. And the best part about this one is that it's suitable for not just the body but your face too.
The formulation does indeed contain hyaluronic acid. I mean how else is it going to keep your skin's moisture levels in check! Then there's the brand's special MVE controlled-release technology. Along with essential ceramides, this delivers all-day moisturization.
Did you know that this lightweight lotion is a favorite choice among both men and women with sensitive skin too? All thanks to its non-irritating, non-comedogenic, and hypoallergenic nature.
Key Features:
Fragrance-free, oil-free daily moisturizing face and body lotion

Hyaluronic acid and ceramides for moisture

Lightweight and gentle to apply
3. Neutrogena Hydro Boost Fragrance-Free Hydrating Body Gel Cream
With hyaluronic acid, this amazing Neutrogena Body Gel Cream quenches your skin's thirst instantly. It's an ultra-light and refreshing formulation capable of creating the much-needed moisture reservoir for your skin.
It's a clinically-proven solution for boosting hydration and smoothness. Plus, the lotion is non-greasy and fast-absorbing. And those with sensitive skin have nothing to worry about once they find out that this skincare product is developed by dermatologists.
Key Features:
Ultra-light gel cream for boosting hydration

Fast-absorbing and non-greasy

Clinically proven and fragrance-free
4. Advanced Clinicals Anti-Aging Hyaluronic Acid Cream
You can hit two birds with one stone in this case. Meaning this hyaluronic acid cream here locks in moisture while also transforming your skin complexion and appearance. The former is a result of hyaluronic acid of course. As for skin transformation, ingredients like Vitamin E, squalene, and borage oil take care of that.
And did you know that an increase in water retention also contributes to minimizing the visibility of your fine lines and wrinkles? Plus, there's aloe vera for soothing the most sensitive skin as well.
Key Features:
Anti-aging formula with hyaluronic acid

Infused with Vitamin E, squalene, borage oil, and aloe

Cruelty-free and paraben-free
5. Cetaphil Daily Hydrating Lotion with Hyaluronic Acid
If I have reviewed a CeraVe product, then a Cetaphil formula is also a must. After all, both brands give each other a run for their money. Both are responsible for the improvement and transformation of the skin of millions and millions of women and men.
As for Cetaphil's Daily Hydrating Lotion, it's a dermatologist tested and recommended solution. Intense hydration goes without saying, due to the inclusion of hyaluronic acid.
Only that CeraVe offers a more advanced formulation with essential ceramides and the patented MVE controlled-release technology for longer-lasting moisturization. But Cetaphil here is a more suitable choice for sensitive skin because of the use of simple, gentle ingredients.
Key Features:
Daily intense hydration

Fragrance-free, non-comedogenic, and dermatologist-tested

The best choice for sensitive skin
6. Medix 5.5 Hyaluronic Acid Cream
Believe me when I say that this hyaluronic acid cream works like a magic potion. The formulation is a blend of natural antioxidants, anti-aging ingredients, and hyaluronic acid of course. The hydrating element moisturizes and repairs rough, dry skin. There's no doubt about that.
Moreover, the cream contains Bulgarian rose, aloe vera, shea butter, rosemary extract, goji berry extract, and sunflower extract. All combine to intensely hydrate and transform your skin and its appearance. That means you can look forward to a reduction in the visibility of your fine lines and wrinkles.
Key Features:
Contains natural antioxidants and anti-aging ingredients

Face and body cream suitable for sensitive and oily skin

Non-greasy formula with Bulgarian rose oil (natural skin toner)
7. Arganatural Tightening Body Lotion
When your skin demands complete transformation, it's necessary to incorporate body lotions like these into your daily skincare routine. And by body lotions like these, I mean formulas that are equipped with more than just hyaluronic acid. This body lotion also contains caffeine and retinol.
Where hyaluronic acid is for boosting skin hydration dramatically, retinol is for reducing the visibility of wrinkles and fine lines while caffeine is for minimizing the appearance of cellulite by firming and toning your skin.
What's even more appealing is that this body lotion is a suitable choice for all skin types.
Key Features:
Deeply nourishing to improve skin elasticity

Visibly firms and tightens the skin

Fast-absorbing and streak-free
8. Hyalogic Episilk Hyaluronic Acid Lotion
The harshness of rough skin and dullness of dehydrated skin knows no bounds. But don't be disheartened by that because there is an effective solution that takes the form of this regenerative body lotion infused with vegan-friendly hyaluronic acid.
The Hyalogic formula here also includes in its list of ingredients skin-nourishing jojoba oil and shea butter. Both of which provide longer-lasting hydration when combined with hyaluronic acid. So your skin is never going to go thirsty again.
Key Features:
Gentle, hypoallergenic daily hyaluronic acid body lotion

Vitamin E antioxidants combat free radicals

Also contains shea butter and jojoba oil
9. ASDM Beverly Hills Porcelain Doll Body Lotion
Each and every ingredient in here is added keeping a higher purpose in mind. Such as honey for its antioxidants along with its anti-inflammatory and antibacterial properties. Then comes watermelon for its amino acids that protect your skin from potential environmental stressors that often cause premature aging.
The list also includes hyaluronic acid of course. This offers deep nourishment in the form of long-lasting hydration.
But, no doubt, it's the healing qualities and antioxidants present in this case that make the body lotion a must-buy. And these also stem from Vitamin E, almond extracts, babassu oil, and camellia seed oil.
Key Features:
Packed with flower extracts and natural-grown fruits

Fragrance-free, cruelty-free, and paraben-free

The perfect solution for sensitive and dry skin
10. EltaMD Moisture-Rich Body Creme with Hyaluronic Acid
I won't deny that I didn't know much about the EltaMD brand before I came across this Moisture-Rich Body Creme with Hyaluronic Acid. But now that I've done my research and read all reviews, most of which were laudably positive, I can swear by the potency of EltaMD formulas.
It's a very suitable choice for sensitive skin, dry skin, and even flaky skin. The essential nutrients and long-lasting hydration sort of seal the deal for me.
Plus, the lotion is luxuriously creamy and rich. Even so, it glides on pretty quickly and easily while also penetrating deep within for thorough skin nourishment and hydration.
Key Features:
Hyaluronic acid binds moisture

Formulated with a moisture-replenishing ceramide

Also infused with mango seed butter and niacinamide
11. Bloom Hyaluronic Acid Cream for Body, Face, and Hands
First of all, the list of ingredients includes more than just hyaluronic acid. It has coconut oil, aloe vera, shea butter, and Vitamin E. Coconut oil moisturizes and treats acne. Aloe vera fights skin aging, moisturizes, and reduces acne. Shea butter contains a high concentration of vitamins and fatty acids for softening and soothing your skin.
Then there's Vitamin E for its free radicals-fighting antioxidants. So your skin feels more than just well-nourished and hydrated throughout the day. In only a single application, you're bound to notice a significant reduction in skin itchiness, dryness, and dehydration.
Key Features:
Formulated with hyaluronic acid

Along with coconut oil, aloe vera, shea butter, and Vitamin E

Ideal for dry, sensitive, and irritated skin
12. Cash & Co. Magnetic Moisture Oil-Free Body Lotion
Slather this oil-free daily moisturizer all over your body to transform your dull and dry skin. It's got hyaluronic acid that plumps and firms aging skin. So your wrinkles, fine lines, and even cellulite, as a matter of fact, are bound to appear less and less visible.
The brand has used botanical extracts to achieve the goal of radiant-looking skin. But it's the Magnetic Moisture technology that speaks volumes. After all, the anti-aging and healing skin benefits of magnetic and heat fields are quite well-known for bringing about cellular regeneration and detoxification.
Key Features:
Non-greasy, oil-free daily moisturizer

Super-nutrient hyaluronic acid included

Magnetic Moisture technology for healing and anti-aging
Frequently Asked Questions
What Should You Not Combine with Hyaluronic Acid?
Another possible reason for criticizing hyaluronic acid is that you're combining it with retinol. The latter tends to cause skin irritation. Especially if you don't include a proper moisturizer into your skincare routine.
Can You Use Hyaluronic Acid Daily?
I don't see why not as long as you're combining it with a good moisturizer. Or as long as your hyaluronic acid formula is also infused with moisturizing ingredients like shea butter, aloe vera, coconut oil, and the like.
Also, it's highly advisable to apply the cream or lotion to clean and damp skin. Avoid putting the hyaluronic acid formulation over your daily sunscreen or moisturizer. It's supposed to go under these skincare products.
Can You Add Hyaluronic Acid to Cream or Lotion?
Yes, you can do that but first, you have to dissolve hyaluronic acid in water. The concentration of the hydrating ingredient should be 5 to 10 percent.
You might also like to know that hyaluronic acid of a low-molecular weight offers deeper penetration than the regular kind of hyaluronic acid. But in defense of the latter, its moisturizing properties are more intense.
And if you're making your own hyaluronic acid lotion, then don't forget to also include 1 to 4 drops of pure therapeutic essential oils. Such as neroli oil, argan oil, grapefruit oil, geranium oil, etc.
Do You Need to Apply Moisturizer After Using Hyaluronic Acid?
If you wish to reap the full benefits of hyaluronic acid, then it's imperative to apply a moisturizer over hyaluronic acid. What the former does is lock in the moisture the latter provides. And this is very useful in case you have dry skin or if the weather conditions are too dry.
Without the moisturizer or moisturizing ingredients, hyaluronic acid only ends up drawing moisture from within your skin, therefore drying out and tightening your skin unfavorably.
Final Thoughts
So if you have dehydrated and itchy skin, then you're only going to benefit from using a body lotion infused with hyaluronic acid. The active skincare ingredient is indeed very popular for its ability to fight wrinkles, fine lines, dry skin, dehydration, dull complexion, and lots more.
Think of it as a moisturizing powerhouse for your skin that you can use on a daily basis. Just make sure the formula you choose, both for your face and body, is also packed with other moisturizing ingredients. And don't combine hyaluronic acid with retinol. Because if you do, skin irritation is inevitable.
Did you like this post about the best hyaluronic acid body lotions? Why not pin it!