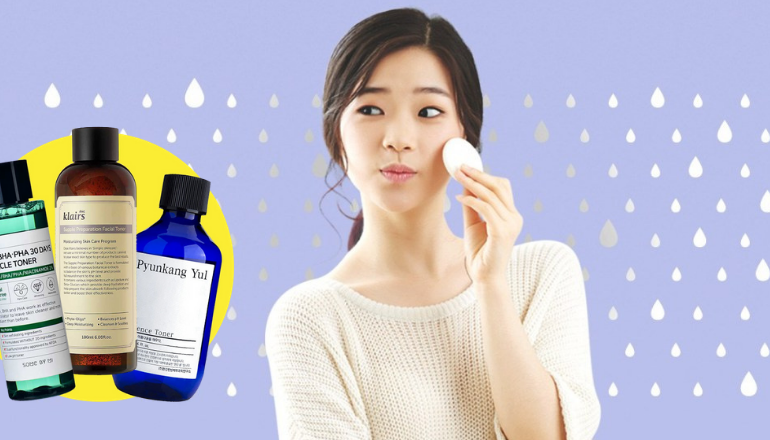 You must be too familiar with the use of serum, exfoliator, sunscreen in your skincare routine, right? However, you are still not earning a satisfactory outcome from your performance? Haha, then you are just like me before I knew about the 7 best Korean toners, which I will share with you in the below part.
In fact, toners are often undervalued and neglected in skincare. Don't worry, I was under that circumstance too. That's why though I had tried many expensive serums, many facial lotions, somehow my skin still hadn't met my expectations.
But Korean girls are not like that. They even invented the "7-skin methods" — which is placing seven layers of toner onto the skin — to make the best use of the therein nutrients (I save this secret to reveal later. Please be patient!). That is why their skin is very smooth and radiant.
The difference between Korean and typical Western toners is that they focus on: skin balancing, moisturizing, and repairing damaged skin. Conversely, Western ones — mainly containing alcohol or hazel witch — concentrate on pores reducing and oil-control.
While alcohol or witch hazel may dry out your skin, minerals or natural extracts in Korean toners bring on the calming and moisturizing effects. Some of them, additionally, have ceramide or niacinamide to correct skin imperfection. In a nutshell, switching to Korean toner is such an eye-opening experience.
I have compiled a list of the 7 best Korean toners for you. All of them will boost your skin up to a new level. But, before coming to that part, let's feed your curiosity about the use of toner and why it is beneficial.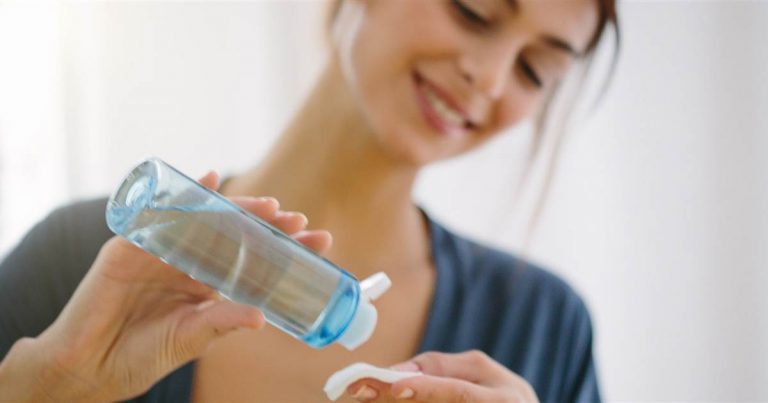 So what is toner?
In short, the toner is a liquid like water that waters your skin. It sounds complicated, doesn't it?
The primary function of a toner is to rebalance your skin after the cleansing step. It includes the hydrating and the preparation for the next skincare steps like serums or moisturizers. To make it easier to visualize, I steal a line from Charlotte Cho, the co-founder of Soko Glam, once said on Allure Magazine:
"It brings your skin back to its natural acidic state, sweeping impurities away and helping your skin absorb your skincare products. Your skin is like a dried-up sponge. If you put thick cream on a brittle, dry sponge, it won't accept it and isn't 'prepared' for moisture. But if you wet the sponge, the cream will sink in more easily."
Yet, just put a toner in practice, and you will see your expensive serum/moisturizer works more efficiently.
Now, let's regard the list of 7 best Korean toners for which you are waiting. Each product has different work, some are designed for a specific skin type, but all the toners will please you at the highest quality.

Spotlight 7 best Korean toners
1. PYUNKANG YUL Essence Toner - The best Korean toner comes from the simplest
You will be surprised like I used to be when you know this toner only has seven ingredients. Yes, only seven elements! That's why this is one of the least irritating toners as far as I've known.
I came to this blue bottle from my friend's recommendation. She kept insisting: "Common, try it. This is the best Korean toner I've ever used. You must give it a chance." So I brought it home in doubt.
And thank god I did that!
At first, I couldn't stand its herbal smell. But my friend gave me a huge bottle so I had to reluctantly bear it. Three days, five days,... and a week had passed. The only thing I could say was: "OMG!" The result was absolutely outstanding. My skin had never been so hydrated and bouncy like that, not to mention the acne-inflammation calming. "The best Korean toner indeed!" I had to exclaim.
For your curiosity, this toner's unique thing is 91.3% Astragalus Membranaceus root extract - a plant in the legume family - that makes it smell like herbs.
In Oriental medicine, Astragalus Membranaceus root increases resistance effect, healing wounds and moisturizing the skin. It has been used in Eastern medicine for more than 4,000 years as a tonic and an antitoxin. With these anti-inflammatory and antibacterial effects, you will experience the happiness of pimples flattened just after 2 - 3 days. Yes, just like I did!
Hence, though Pyunkang Yul Essence Toner cannot compare to the best korean toner for acne prone skin - SOME BY MI Aha-Bha-Pha 30Days Miracle Toner, I still highly recommend it to those who get mild acne.
The Astragalus Membranaceus extract is also rich in minerals and antioxidants. Furthermore, it resists elastin breakdowns and maintains the skin's texture and elasticity (elastin is a protein found in connective tissue, which connects cells). Such performance is also the reason that makes Pyunkang Yul Essence Toner as one of the best anti-aging toners.
Since the texture of the toner is denser than most other ones, like a combination of essence and toner, I do not use a cotton pad but use my hands to apply it directly. Then I use my fingertips to massage gently, including the skin near the lips and the puffiness eye area. After applying and massaging, the toner absorbs instantly, leaving no sticky shine. My skin feels hydrated and moisturized right away.
This toner's formula is quite simple and gentle, so it also is very suitable for applying in the 7-Skin Method. After that, I need not use a moisturizer, and my skin is still plump and smooth. So cool, huh?
Pros
Dermatologist-tested
Artificial Fragrance-free, color-free, Alcohol-free, Paraben-free and cruelty-free
No irritation
Economical ( I consumed the 200ml bottle for nearly 04 months.)
EWG safe ingredients (explore more about EWG)
Cons
I've seen no cons yet.
Best for:
This is the best facial toner for every skin type.
2. SOME BY MI Aha-Bha-Pha 30Days Miracle Toner - The champion for acne-prone skin
This toner is certainly the best Korean toner for acne-prone skin so far. It is packed with AHA-BHA-PHA complex, and a high tea tree extract content - all of these are shining stars in the acne-fighting process (you can read more about BHA and AHA in our articles 10 best BHA products and 8 best AHA products).
The mechanism of this toner is: AHA and PHA (polyhydroxy acid) release dead cells on the surface, facilitating BHA to deeply remove excess oil, dirt, and clog in pores. Therefore, this toner reduces the leading cause of acne and decreases oil production.
Such a mechanism, additionally, makes 30 Days Miracle being the best Korean toner for oily skin.
The addition of PHA into the ingredient makes this toner compatible with more skin types because of its being milder, less irritating than AHA. Also, PHA helps a lot in reducing inflammation, swelling, and taking control of acne-related problems.
Furthermore, the concentration of 10,000ppm tea tree extract (equivalent to 1%) is higher than that of other tea tree products to help disinfect and reduce inflammation more effectively.
Another hero in the ingredients table is Niacinamide. In my opinion, the effect of brightening the skin of Niacinamide in this toner is not visible. However, it certainly does reduce the stinging, burning sensation caused by chemical exfoliants.
Pros
Dermatologist-tested for sensitive skin
Skin-friendly pH 5.5
Non-irritation
No allergenic components
EWG safe ingredients
Cons
The smell of tea tree extract may cause some people uncomfortable.
Best for:
Acne-prone skin type.
A word to the wise: Do not entirely rely on this single toner to treat your acne. Remember that treating acne is a long game. You should combine other products in your complete routine to earn the best result.
3. KLAIRS Supple Preparation Facial Toner - The best Korean toner for dry and sensitive skin
"Dear, Klairs'' is a Korean cosmetic brand under the Wishcompany that runs the website Wishtrend. It is a brand with the best Korean toner for sensitive skin. Klairs always focuses on sensitive skin issues, so their products consistently avoid using harmful ingredients such as colorants, flavorings, alcohol, parabens, etc. The company is also very concerned with environmental issues. As a result, they pledge not to test on animals and box packaging of their products made from recycled paper.
After the debut, Supple Preparation Facial Toner has become a big hit because of its gentleness for sensitive skin. There are many impressive substances in its ingredient table as:
Betaine: derived from beets, gently exfoliating the skin.

Natto Gum: this is a fermented soybean extract, playing as an antioxidant.

Centella Asiatica Extract: reduce acne-inflammation and restore skin.

Licorice Root Extract: An antioxidant helps soothe the skin, improve an uneven skin tone.

Panthenol: also known as Vitamin B5, a skin maintenance and repairing substance.

Sodium Ascorbyl phosphate: A form of Vitamin C, which brightens the skin, treats dark spots, and is a powerful antioxidant.

Copper Tripeptide-1: Restore the skin barrier and anti-aging.
This toner is also one of the best moisturizing toners for every skin type. My sister and my mom love it, though they have oily skin. The ability to shoot a hydration-booster into the skin right after applying onto the face is incredible. Both of them have been so much into this toner. They claimed that it could well moisture their skin so that less oil was produced.
However, "something works for one person doesn't mean it will serve another." This toner has a scent, and some people do not like it. Well, worry no more since Klairs knows how to please its customers. The manufacturer has provided an unscented version: Supple Preparation Unscented Toner - similar formula but without the smell.
For my part, I do prefer the unscented version to the original one. However, since I've tried both versions, I can tell that their functions and effects are similar. Both are the best moisturizing toners that suit all skin types, especially sensitive ones.
Pros
Very gentle
Fast absorbing texture
Non-irritation
No artificial fragrance (the scent comes from the essential oils).
Best for:
All skin types.
4.Son&Park Beauty Water - The radiance-boosting skin tonic
I've used this toner when I was under post-acne dark spots on my face, and I must say it is the best toner for glowing skin.
This toner was invented by Son Dae Sik and Park Tae Yun - the 02 top Korean beauty artists. They are the "glowy and dewy makeup" trend-maker and also the first inventors of BB cream. Yes, you don't mishear! That's why this toner is a must-try item.
I was so curious about its name at first - "Beauty water." What on Earth would it do? Hence, I found out that it is a multitasking bottle - both a makeup remover and a toner. All in one! Great, isn't it?
However, I usually use it as a toner since its makeup removing function is not good. The company said that it is also equipped with mild exfoliating competence with papaya extract. Though, it scores with its excellent toning and hydrating ability. If there is a competition, I will vote this Beauty Water as the best hydrating toner. You have my words!
Moreover, you can deploy the Lotion Mask with this toner, and I swear, you will be addicted to the incredible result of glowing skin. For normal skin, you may not need to use a moisturizer after that. But my advice for those who have dehydrated skin: never forget your best friend - the moisturizer (you may want to look at our top-choice of 19 best Korean moisturizers for dry skin).
The marvelous thing is it's very gentle for everyday use and suitable for all skin types. Such one of the best toners for face I've tried.
Pros
Non-irritating
Perfect for the Lotion Mask method
A superhero for dehydrating skin
Cons
The price is a bit not so comfy, but I can tell it's worth a whole lot.
Best for:
It's suitable for all skin types, and especially the dry skin must try this item.
5. AHC Aqualuronic Toner - The best moisturizing toner with triple Hyaluronic Acid
I have mentioned how much I've been into AHC eye cream in my post 10 Best Korean Eye Creams. And yes, the same goes for this AHC Aqualuronic Toner.
I love the way AHC puts in this toner the powerful combination of triple Hyaluronic Acid, Ceramides, and French Seawater that ultimately hydrate and improve skin tone. I love the way AHC makes the texture supremely lightweight. I love the way AHC makes this toner extremely safe for every skin type. In brief, I love everything about it!
Additionally, potent antioxidants like Niacinamide or Orchid Extract and anti-inflammation substances like Tea Tree Leaf Extract or Chamomile Extract are included. Therefore, it well-suits acne skin and aging skin.
I have run out of beautiful words to compliment this toner and this brand. Just mark a short note to you girls: Must-try!
Pros
Triple Hyaluronic Acid intensely moisturizes the skin.
Ceramides strengthen the skin's barrier.
Rich in antioxidants and anti-inflammation ingredients.
Lightweight, fast-absorbing.
Cons
Its slight scent may make some people unpleasant.
Best for:
All skin types will be pleased with this toner.
6. ETUDE HOUSE Soonjung pH5.5 Relief Toner - A choice for irritating sensitive skin
Honestly, compared to the Klair Supple Preparation Toner, this less moisturizes your skin a bit. However, I cannot ignore the cooling heated skin coming from using this good toner for face. If your skin is red and heated by external factors, Etude House Soon Jung pH 5.5 Relief Toner will help soothe and cool the skin immediately.
This toner is packed with up to 97% natural ingredients. Including 02 impressive components:
Natural active ingredient Panthenol: to soothe and moisturize the skin.

Madecassoside: derived from the Centella Asiatica, a calming, anti-inflammatory, and anti-acne substance.
Whenever my skin is prone to irritation or dryness from cleansing, I dispense an amount of it to cotton pads and put on my face. The heat is gone right away. The refreshment left on is unbelievable. The best face toner to ease inflammation skin!
For that reason, this is undoubtedly the best cheap toner you don't want to miss out, on particularly if your sensitive skin is suffering from redness and irritation. The dermatologically tested formula will ease your skin instantly. Also, pH 5.5 is similar to the skin's natural pH to protect your skin's barrier.
A key takeaway for those who have sensitive skin: Never omit using sunscreen when you go out. The sunscreen will prevent your skin from the sun's heat and other external factors that could cause irritation and redness. If you don't know what sunscreen to choose, you can always look up for your most suitable choice in our article 25 Best Sunscreens for Melasma or 12 Best Korean Sunscreens.
Pros
Non-comedogenic and Non-hypoallergenic.
Dermatologically tested.
Low pH formula.
Best for:
It's suitable for all skin types.
7. NATURE REPUBLIC Soothing & Moisture Aloe Vera 90% Toner - A love from aloe vera
With 90% aloe vera extract, the Nature Republic Soothing & Moisture Aloe Vera Toner 90% ensures basic skincare needs for women, including the most sensitive skin, without causing greasiness.
Nature Republic aloe vera is tested and certified by the California Organic Product Certification Organization (CCOF) to contain only organic ingredients. The ingredients do not contain harmful ingredients like Paraben, Talc, or fragrance and are not of animal origin, so they are very benign and suitable for all skin types.
If you are looking for a basic toner that also meets your moisturizing standard, it's hard to say no to this toner.
Pros
Free of parabens, talc, mineral oils, and artificial coloring.
Aloe vera will calm your irritating skin.
Low pH formula.
Cons
Only provide the fundamental moisture needed. Dry skin may find it not hydrating enough
Best for:
Normal skin without any defects.
Here is the end of the list. Next, I will introduce the "7-skin method" I have mentioned above, which optimizes the toner's use. Let's have a common sense of what it is as well as its how-to!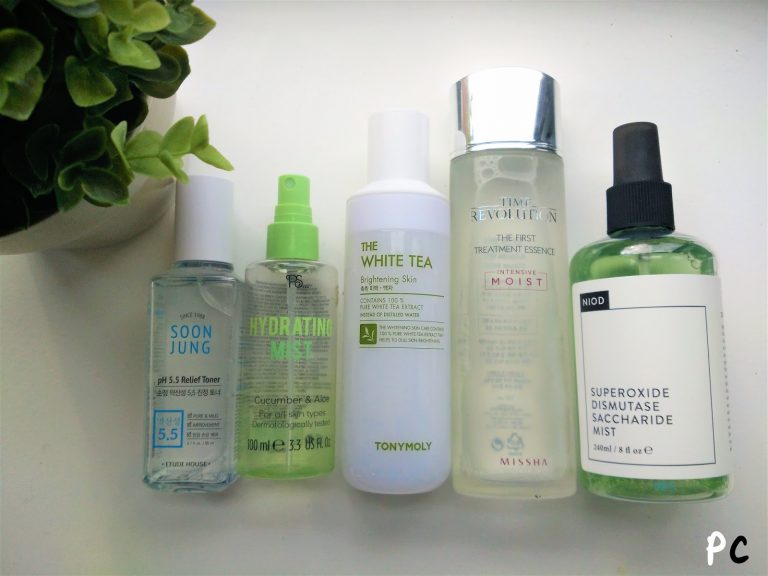 The guideline of the famous "7-skin method"
What is the "7-skin method"?
I'm so sorry if I bother you by repeating the "7-skin method" all the time. But hell yes, this is the best invention from Korean beauty ever! I swear if you buy all 7 best Korean toners above but not deploying this method, it's a huge waste, my girls!
The person who came up with patting the seven steps of toner on her face is Sarah Lee. She is a famous beauty blogger in the beauty world and also the co-founder of the Glow Recipe.
The 7-skin method is simply a way of using toner at least three and up to seven times on the skin. This way helps the skin regain its pH balance more quickly.
With the technique of patting or applying toner only once, it just cleans up the skin and rapidly evaporates. So the ability to retain moisture on the skin is quite low. As for the 7-skin method, the toner layers are piled up to prevent evaporation and moisture loss.
I may be old-fashioned when I came to the term "7-skin method" two years after its peak time. However, I was so grateful for what it did to my skin. During my fighting-acne period, I was so afraid of using moisturizer because of the greasy feeling and I always felt that moisturizer caused my acne worse. This method and the best Korean toner - Pyungkang Yul Essence Toner - were my rescuer back then.
The texture of the moisturizer can be quite thick, making it unsuitable for layering. However, the toner is water-based, so it will barely be a problem for the skin when applied in layers.
How to perform this method
1
Wash your face as usual.
2
You can use a cotton pad or apply the first toner layer directly to your face with your hands. It's best to spread it while your face is still slightly moist, rather than waiting till your face completely dries. You should start applying from the inside of your face towards your nose and gently move upwards and outwards. Otherwise, you can target the driest areas of the face and start from there.
3
Use your hand to press the second layer of toner onto your face gently. Don't rush to apply the next coat while your face is still wet, but wait a bit until your facial skin becomes a bit damp. This way allows the toner to be absorbed deep inside, and it means you're ready for the subsequent layer.
4
Repeat five times. Up to the seventh layer, you can place other skincare products!
Tip: You can make adjustments for yourself. Some people do the 7-layer method weekly and 3 or 5-layer every other day. For me, I do the 7-layer every Sunday in the evening and alternate with the 3-layer on Monday and Wednesday night. I usually utilize the amount of toner as per my sense and adjust under the sensation of the skin.
The key takeaway
Find the ideal number of layers
Too much toner can irritate the skin. Let's start with 3 layers, then increase to 5 and observe the skin's response. If the skin responds well, do increase to 7 layers.
For those of you who have intense dry skin, you can increase the number of layers to more than 7. But I encourage all of you to get to know your skin and experiment to find the ideal number of layers.
Which toner is suitable?
It is very noteworthy: I recommend staying away from those with synthetic fragrances, alcohol (ethanol or ethyl alcohol, dry alcohol, methanol, SD alcohol, and benzyl alcohol), and acid toners because they can irritate if used too many times.
You should look for a toner with a light and fast-absorbing texture containing minerals or Hyaluronic Acid to boost moisture and soothe the skin.
For the 7-skin method, I recommend the best Korean toner - Pyunkang Yul Essence Toner, or the Son&Park Beauty Water or ETUDE HOUSE Soonjung pH5.5 Relief Toner.
Troubleshooting corner
If using a low pH cleanser, do I need a toner?
Even a gentle cleanser can disrupt the skin's protective barrier, resulting in dry, irritation, stress, and even blemishes. Therefore, toners still need to be used even when using low pH cleansers.
Do toners aggravate dry skin?
If your skin feels dry, irritated, and tight after using a toner, it can be an alcohol-including toner to clean pores and eliminate excess sebum. When consumed, the alcohol-containing toners can make the skin feel completely clean at first, but this ingredient will cause more harm than good in the long run.
What are the ways to use a toner?
You can apply toner by dabbing it into a cotton pad and caressing it on your face. Or you can pat it onto your skin directly with your hand. Adopting the right one depends on your skin type.
If you have acne-prone skin, you may want to use the cotton pad method as it will remove any acne-causing impurities on your face after cleansing. If your skin is naturally dry, patting it with your hands may help the skin absorb better.
Can I use toner to remove makeup?
This is a huge misconception. Everyone knows oil and water cannot be dissolved together. The toner comes from water, but impurities (Dirt, makeup, sunscreen, etc.) combined with the pores' sebaceous glands are oil-based. Therefore, you cannot use toner to remove makeup and any dirt deep in the pores.
Conclusion
Well, I hope that you have found your missing puzzle in the skincare routine with these 7 best Korean toners. Please mark my words, "the best usually comes from the simplest." Your glowing skin is not always coming from the high-end serums or the over-budget hydrators. Do not underestimate the toner - which prepares for you a balanced pH, deep clean skin canvas to absorb those fancy products.
After all, I would much appreciate it if you can choose your favorite Korean toner from the list above. Provided that you're still not having any clue, just pick Son&Park Beauty Water - it cannot go wrong. Otherwise, the best Korean toner in my opinion - Pyunkang Yul Essence Toner will fit in any shoes.
In case you shake your head with the 02 above options, the AHC Aqualuronic Toner definitely pleases your high-demand.
Or you have another opinion, please let us know by commenting below. We can't wait to hear your valued ideas.