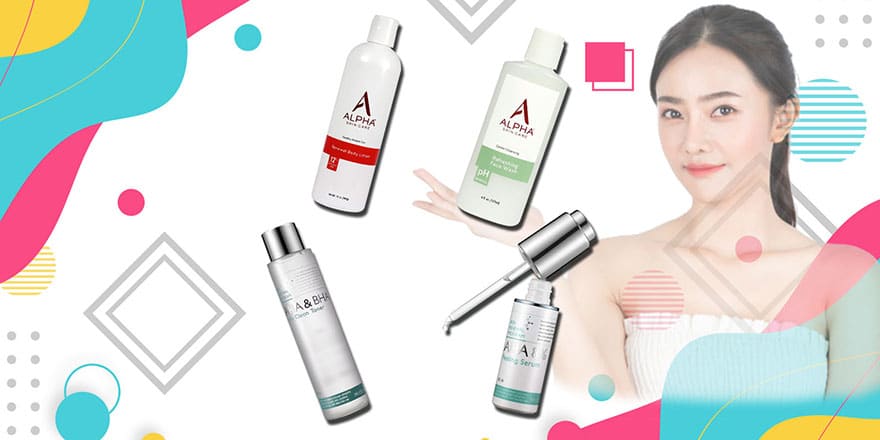 At this point, I'm certain you must have heard of AHA skincare products. After all, the active ingredient is very commonly used by many skincare brands around the world. But do you actually know how it benefits the skin? Or even how the best AHA products work?
First of all, AHA stands for Alpha Hydroxy Acid. It's a chemical yet gentle exfoliant for the skin. So if you don't know much or anything at all about this chemical yet gentle skin exfoliant, then it's time to change that. Along with do away with any possible misconceptions you might have about the potency of this particular ingredient.
What Is Alpha Hydroxy Acid (AHA)?
Does the word "acid" of alpha hydroxy acid scare you? If yes, then you're not the only one. Nevertheless, let me assure you that AHA is the gentlest form of skin exfoliation. Even gentler than the majority of cleansing brushes and scrubs out there.
As for what are AHAs, they're a collection of natural as well as synthetic ingredients that exfoliate your skin's uppermost layers. And this makes your skin feel more refined, more hydrated, fresher, and smoother. It even offers visible skin-firming i.e. anti-aging benefits.
Now let me point out that there are various types of alpha hydroxy acids. However, only two among them are the most commonly used. And these include lactic acid and glycolic acid.
Here's a quick description of each AHA added for cosmetic purposes…
Glycolic Acid: What makes this sugarcane-derived AHA so special is it's remarkable ability and size for penetrating your skin's uppermost layers. Meaning glycolic acid penetrates deeper within to hydrate and improve the texture of your skin. It's also suitable for all skin types and all ages.
Lactic Acid: Yet another very commonly used AHA, lactic acid works just like glycolic, but slower. However, it doesn't penetrate deep enough. Even so, milk-derived lactic acid gets the job done when it comes to gentle, effective skin exfoliation.
Malic Acid: It's a larger component than lactic and glycolic. Along with exfoliation, malic acid also provides antioxidants to the skin. Rinse-off peels and leave-on exfoliants usually consist of this particular apple-derived AHA.
Tartaric Acid: Now this one's even larger than malic acid. And it comes from grapes. Tartaric acid does a better job of exfoliation while also maintaining your skin's natural pH balance.
Citric Acid: Citric means derived from citrus fruits like lemon, lime, grapefruit, and oranges. And what citric acid does best is boost your skin's antioxidants. However, it can prove to be slightly irritating because of the skin-sensitizing and naturally lower pH value of 2.2.
Mandelic Acid: And finally, there's mandelic acid that is derived from bitter almonds. Men and women constantly dealing with acne find much relief with the use of mandelic acid. It's the largest in size, thus the slowest in terms of penetrating into your skin. And this makes mandelic acid a very suitable choice for sensitive skin.
Benefits of AHA Skincare Products
Here's why you should be running, metaphorically of course, to buy skincare products infused with AHA right away…
1. AHA Exfoliates Your Skin
There's no denying that alpha hydroxy acids exfoliate dead skin cells to pave the way for new ones. This means AHAs can help in getting rid of a dull complexion often caused by the accumulation of dead skin cells. Dead skin cells also give rise to acne, wrinkles, and age spots by the way.
2. AHA Promotes Collagen Production
Protein-carrying fiber, collagen preserves your skin's youthful appearance. But, as you age, this collagen tends to break down. Not just a part of aging, these fibers also get affected by sun damage. So, at such times, AHAs boost collagen production simply by getting rid of the damaged collagen fibers.
3. AHA Visibly Brightens Your Skin
It's only natural for your skin complexion to look more radiant with the removal of dead skin cells. In fact, alpha hydroxy acids like glycolic acid and citric acid are the best in this department. The former eliminates the accumulation of dead skin cells. And the latter contributes to clearing and brightening your complexion even further.
4. AHA Reduces the Visibility of Wrinkles and Fine Lines
Anti-aging benefits and AHAs go hand in hand. No denying that alpha hydroxy acids improve your skin's overall texture. This includes reducing the appearance of surface wrinkles and fine lines.
5. AHA Corrects Skin Discoloration
Discoloration caused by hyperpigmentation, acne scars, melasma, and even aging can be treated with the help of AHAs. Alpha hydroxy acids encourage the turnover of skin cells. These, no doubt, are pigmented evenly. So, long-term AHA use, unquestioningly, minimizes and also corrects skin discoloration. Particularly glycolic acid.
6. AHA Promotes Blood Circulation
Did you know that the anti-inflammatory effect of AHAs boosts blood flow to your skin? That means welcome a healthy and radiant skin complexion.
7. AHA Increases Product Absorption
Your skincare routine might consist of using more than just one product. If that's the way it is, then you have every reason to use an AHA-infused formulation. Because what this does is allow the other skin-enriching products to absorb better.
Here's how it happens. AHA exfoliation breaks down the layer of dead skin cells. So your moisturizer doesn't just sit over your skin, it actually penetrates into your skin to hydrate it more effectively.
8. AHA Prevents and Treats Acne
Is alpha hydroxy acid an acne-fighting ingredient like benzoyl peroxide? Yes, it surely is. Even in the case of stubborn or consistent acne. More often than not, acne is the inevitable outcome of clogged pores. And one of the most common causes of clogged pores is the accumulation of dead skin cells.
Alpha hydroxy acids also minimize the enlarged sized of your pores. This means AHA product are a suitable choice for acne-prone skin.
Also, did you know that AHAs like lactic acid and glycolic acid help a great deal when it comes to reducing acne scars as well? On the other hand, malic acid and citric acid calm inflamed skin. And not just for the face, alpha hydroxy acids also help in dealing with chest acne, back acne, and the like.
Different Types of AHA Skincare Products and How to Use Them
Needless to say, not every AHA product is supposed to be applied or used in the same manner. So first, let me tell you how many kinds of AHA products are there. And then allow me to discuss how to use them.
AHA face serums and toners

AHA facial masks

AHA body lotions
The rule of thumb is to apply the exfoliant after cleansing and toning. You start from the thinnest-textured skincare product and work your way up to the thickest one.
As for how to use each of these different formulations, here's what you might want to know…
How to Use AHA Face Serums and Toners
Just take a few drops of the serum formula on your clean, dry fingers and tap it gently all over your cleansed face. Then wait for around 10 minutes before you apply your daily face moisturizer.
But if you're using AHA for the first time, then it's best to use the AHA serum on top of your moisturizer. Also, as a beginner, limit your application to once every alternate day. And then depending on how your skin type reacts, increase or decrease the usage.
As for using AHA toner, remember to apply it before the serum and/or moisturizer. Once again, take a few drops into your palms and gently press them into the face.
How to Use AHA Facial Masks
These should be used by those whose skin is already used to chemical exfoliation. Caution should be practiced nevertheless.
As for how many times to use AHA masks, you can follow the guidelines provided by the brand.
For application, apply the mask solution to a cleansed face. Make sure to avoid the area around your eyes since that region has the most delicate skin. Also because these masks tend to sting or tingle, which is certainly not something you want your eyes to go through. Leave it on for the span of time recommended by the brand.
And then after you rinse it off, don't apply any other skin exfoliating product in order to prevent irritation. Rather, use hydrating and soothing ingredients in the form of facial oil or moisturizer.
How to Use AHA Body Lotions
Not like your conventional body lotion, an AHA lotion is supposed to be applied to thoroughly cleansed skin. So make sure that you use a water-soluble body wash to get rid of impurities and oil during your shower.
During application, it's okay to focus more on the regions that demand more exfoliation. That is where your skin is extra uneven, rough, or dry.
And it's completely okay and safe to use AHA body lotion on a daily basis. But if your skin has never been exposed to alpha hydroxy acids, then start with every alternate day. Therefore, allowing your skin to adjust to the chemical exfoliant.
Best AHA Product Reviews
Tips for Those New to Using AHA Skincare Products
Apply Sunscreen Everyday
Little known fact; alpha hydroxy acids increase sun sensitivity. So you have yet another reason to apply a high-SPF (30 or higher) sunscreen lotion when you use AHA products.
Start Slow Using A Lower AHA Concentration
Don't be a daredevil and apply the AHA formula on a daily basis if your skin is not used to chemical exfoliants. Instead, start slow by using it every alternate day. And make sure to select a product with a lower concentration of AHA.

Then, as time passes and if no adverse side effects take form, you can increase the usage to daily application if required.
Avoid Over-Exfoliation
You'll be going overboard if you end up using an AHA solution with a stronger concentration. At such times, skin irritation is inevitable.
Never Use AHA After Shaving
Don't even think about applying a body lotion infused with AHA to your freshly shaved hands or legs. Shaving, after all, is just another form of exfoliating your skin. So there's no need to do the same thing twice on the same day.
Frequently Asked Question
What Is Better, AHA or BHA?
Both beta and alpha hydroxy acids are skin exfoliants. Both reduce inflammation, even out skin tone, minimize the enlarged size of pores, get rid of dead skin cells, fight acne, and unclog pores.
The primary difference is that AHA is water-soluble while BHA is oil-soluble. Meaning these BHA-packed skincare formulas do a better job when it comes to deeper penetration to remove excess sebum and dead skin cells. As a result, more suitable for acne-prone and oily skin.
As for AHAs, their action is limited to just the uppermost layers of the skin. Thus, targeting only surface-level problems like acne scars and also dry skin. This point stands out every time you compare the most commonly used AHA i.e. glycolic acid with the most commonly used BHA i.e. salicylic acid. Here's a very good example!
Is Glycolic Acid the Same As AHA?
AHA stands for Alpha Hydroxy Acid and glycolic acid is a form of alpha hydroxy acid. One that's naturally derived from sugarcane. This particular AHA is the smallest molecule, thus encouraging the deepest penetration for exfoliating dead skin cells.
What Percentage AHA Is Safe to Use?
If the concentration is high, it means the solution is more effective? That's just hogwash!
The recommended percentage for the most common AHA i.e. glycolic acid is 5%. And that of lactic acid is between 5 and 10 percent.
Is Hyaluronic Acid A BHA or AHA?
The word "acid" in hyaluronic acid does indeed create confusion. But let me assure you that hyaluronic acid is not a chemical exfoliant. Instead, HA takes care of skin hydration. It's a naturally-derived humectant that holds moisture thousand times its original weight.
Can I Use AHA On A Daily Basis?
The answer to this actually depends on your skin type. And if your skin is used to chemical exfoliation. If it's your first time, then keep the application limited to once every 2-3 days. Then gradually increase to once every alternate day, thus slowly building up your skin's tolerance level.
As for those whose skin is prone to sensitivities, they might benefit more by not using AHA skincare products daily.
Are AHAs Bad for the Skin?
When applying multiple skincare products, it's crucial to allow your skin to get acquainted with them gradually. If you end up using too much or too many AHA formulations at once, then it's only going to cause skin irritation. The outcome of this is more noticeable wrinkles, fine lines, and even acne.
So make sure you limit the use and buy the bets AHA products with a lower concentration of the chemical exfoliant. Because a higher percentage of AHA disrupts your skin's barrier. And this, no doubt, does more harm than good.
The Bottom Line
The moral of the story is that alpha hydroxy acids truly, really work. The best and most common ones are glycolic acid and lactic acid. And they should be a part of your daily skincare routine if your top priority is to exfoliate dead skin cells in the gentlest manner.
Chemical exfoliators, at one point in time, were not such a recommended choice. Especially for sensitive skin. And particularly when the formula consisted of a blend of alpha and beta hydroxy acids. But, thanks to the advancement of science and technology, the more recent formulations offer the complete benefits of chemical exfoliation without giving rise to any side effects.
Alpha hydroxy acids, traditionally praised ingredients, are a must for every skin care enthusiast.