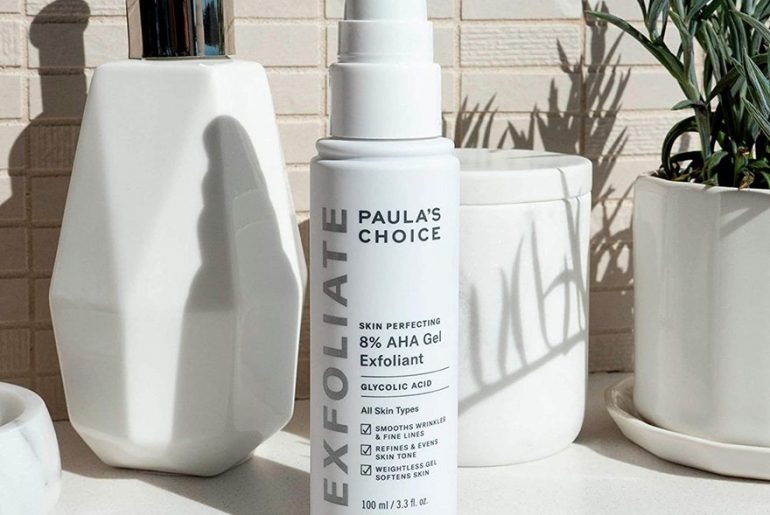 When you hear the word acid, you immediately think of the solution being too harsh or packed with chemicals that might do more harm than good. But that's really not the case when alpha and beta hydroxy acids are used in the right proportion. This brings the comparison of glycolic acid vs salicylic acid into the picture.
Alpha hydroxy acids (AHAs) like glycolic acid are better known for their gentle, skin-soothing properties. As for beta hydroxy acids (BHAs) like salicylic acid, these are more effective in terms of having anti-inflammatory properties.
But let me tell you that both are very constructive solutions for the most common skin problems. That said, let's get into the depth of the comparison. And get to know more about these two very commonly used hydroxy acids.
What Is Glycolic Acid?
It's an alpha hydroxy acid naturally derived from pineapples, sugar beets, and sugarcane. The water-soluble AHA exfoliates your skin thoroughly to get rid of dead skin cells. This AHA also encourages skin cell turnover, thus reducing acne scars, wrinkles, fine lines, and hyperpigmentation.
The concentration used, more often than not, ranges between 5 and 30 percent. The higher it is, the more effective the glycolic acid solution. But that doesn't mean lower concentrations, over time, aren't as effective. In fact, a lower concentration is more suitable if you have sensitive skin.
What Is Salicylic Acid?
This particular beta hydroxy acid can either be naturally derived from willow tree bark or synthetically produced. It's oil-soluble in nature, meaning salicylic acid, unlike glycolic, has the ability to penetrate deeper. It gets deep into the pores for exfoliating your skin gently. So all the dead skin cells and excess oil clogging your pores get eliminated.
For acne-fighting, salicylic acid works best. This includes all kinds of acne; cystic acne, blackheads, and whiteheads. BHAs like salicylic acid are also known for their anti-inflammatory and anti-microbial properties. That helps in preventing potential breakouts.
As for the concentration used, it should always be as low as only 2-percent or lower. Using a higher concentration doesn't equal better or faster results.
Benefits of Glycolic Acid
Needless to say, it's a very effective remedy for acne-prone skin. In this case, the acne could be large cystic acne or tiny blackheads. After all, all acne formations are a result of dead skin cells that tend to block your pores. And, at such times, glycolic acid loosens these dead skin cells. Along with getting rid of pore-clogging excess sebum as well.
Another well-known benefit of glycolic acid takes the form of anti-aging properties. It makes your skin look more luminous and vibrant. Therefore, eliminating the rough, dull texture for bringing about smoothness. It even contributes greatly to reducing excess pigment and stimulating collagen production for minimizing the appearance of wrinkles and fine lines.
And lastly, glycolic acid allows other skincare products to absorb better. This means if your skincare routine consists of a Vitamin C, ant-aging, or retinol serum, then these formulations penetrate more deeply after applying glycolic acid. Even makeup goes on more smoothly.
Benefits of Salicylic Acid
Salicylic acid penetrates deeper into the skin for targeting stubborn acne, including whiteheads and blackheads. It dissolves the bacteria, debris, and oil that's clogging your pores. While also taking care of inflamed pimples.
Salicylic acid, as a beta hydroxy acid, is also a very effective yet gentle exfoliant. It breaks down your dead skin cells. That's the job of salicylic acid's keratolytic properties.
Not only does it target dead skin cells but salicylic acid also helps in getting rid of excess oil. You can even treat whiteheads and blackheads using salicylic acid. All thanks to this particular BHA's ability to dissolve your keratin plugs directly and regulate your skin cells.
When to Use Glycolic Acid?
Glycolic acid, even though a more suitable choice for skin brightness and treating aging, can be an effective solution for acne as well. But the best thing about this AHA is that it suits the majority of skin types. Even those with sensitive skin.
But if your natural skin tone is on the darker side, then glycolic acid might cause more skin darkening. In that case, make sure the concentration is not more than 10-15 percent.
So, in a nutshell, glycolic acid works best for…
Treating mild pigmentation.

Reducing the size of enlarged pores.

Firming up your skin and minimizing the visibility of wrinkles and fine lines.

Improving skin resilience to make your complexion look well-balanced and clear.
When to Use Salicylic Acid?
Without the shadow of a doubt, salicylic acid is a very effective remedy for acne-prone and oily skin. On top of that, it offers anti-inflammatory properties that reduce irritation and calm your skin. Provided the concentration is 2-percent or lower.
Here's the list of what salicylic acid does best…
Exfoliates to get rid of acne, whiteheads, and blackheads.

Soothes skin redness often caused by conditions like rosacea.

Unclogs large pores to reduce their size.

Works best for acne-prone and oily skin.
Glycolic Acid vs Salicylic Acid - The Differences
The most obvious difference is that glycolic acid is an alpha hydroxy acid. And salicylic acid is a beta hydroxy acid. The former is water-soluble while the latter is oil-soluble. This explains why salicylic acid penetrates deeper for more effective acne-fighting action. So it's more suited for acne-prone and oily skin.
As for glycolic acid, the solution works better for those who want to tackle aging signs like wrinkles and fine lines. And for those who to improve skin texture and tone. Glycolic acid is also more preferable for all skin types. In fact, it also helps in treating hyperpigmentation, sun damage, and the like.
Glycolic Acid and Salicylic Acid - How to Use Them
Both active ingredients work their magic after you cleanse your face thoroughly. If the alpha or beta hydroxy acid is a part of your facial cleanser, then you can simply wash your face the normal way using warm water.
If glycolic acid or salicylic acid comes in the form of an exfoliant, then first cleanse your face thoroughly. Then pat your skin dry with a fresh, clean towel. Apply the formulation on a cotton pad. And then gently apply it on your entire face. And let the exfoliator do its job.
Then it's time to apply your face moisturizer to prevent dryness often accompanied by exfoliation. Also, exfoliators tend to increase your skin's sensitivity to the sun. That said, don't skip your sunscreen after the moisturizer.
What Are the Best Glycolic Acid Skincare Products?
What Are the Best Salicylic Acid Skincare Products?
Frequently Asked Questions
Why Should You Use Chemical Exfoliants?
Chemical exfoliants in the form of AHAs (glycolic acid) and BHAs (salicylic acid) are game-changers. They exfoliate by dissolving your dead skin cells, debris, and oil. Therefore, both treating and preventing acne while also encouraging skin cell turnover. So your skin looks clearer, brighter, smoother, and fresher.
Can Glycolic Acid and Salicylic Acid Be Used Together?
The answer to this commonly asked question is YES. Allow one exfoliant to dry before you apply the other. But it's likely that your skin cannot tolerate two such potent exfoliants at once. In that case, alternate the forms of hydroxy acids. Meaning wash your face with a salicylic acid cleanser in the morning. And then use a glycolic acid exfoliant or serum in the night.
Those with combination skin can benefit more from applying glycolic acid over the dry patches and salicylic acid in the oily zones.
Can I Use Salicylic Acid Daily?
Yes, it is safe to use salicylic acid on a daily basis. As long as the beta hydroxy acid concentration built into the cleanser or exfoliant formula is 2-percent or less.
But sometimes it can lead to mild skin irritation or stinging. However, this happens only when moderation limits are not taken into consideration.
Is Salicylic Acid Safe During Pregnancy?
The topical form of salicylic acid is safe to use during pregnancy. That means cleansers and exfoliants with this particular BHA are safe for pregnant women.
Just make sure the concentration is only 2-percent or less. Even if a small portion of this gets absorbed into your skin, it's highly likely to not develop any risks as far as your growing fetus is concerned.
What Should Not Be Used with Salicylic Acid?
Firstly, salicylic acid is an active, potent ingredient. So it should not be used with yet another potent ingredient, such as retinol or Vitamin C. Otherwise, skin irritation, dryness, sensitivity, and redness are inevitable.
Likewise, using salicylic acid exfoliant vs glycolic acid exfoliant together means excessive exfoliation. So consider using different forms of these hydroxy acids. For instance, combine a salicylic acid cleanser with a glycolic acid exfoliant or serum.
What Should Not Be Used with Glycolic Acid?
You simply should not layer Vitamin C with any alpha or beta hydroxy acid. Because if you do, it's only going to disrupt your skin's natural pH balance. The combination has proven to be very harsh for some people. So make it a point to use them separately, at different times.
Final Thoughts
Skincare products these days are mostly infused with alpha or beta hydroxy acids. The most common alpha version is glycolic acid and lactic acid. And the most effective beta hydroxy acids are salicylic acid and citric acid. So it can get confusing choosing between AHAs and BHAs.
But I don't think it's confusing anymore if you've gone through the article thoroughly. Just keep in mind that both chemical exfoliators share many common characteristics. It's just that salicylic acid is more suitable for acne-prone and oily skin. And glycolic is a more functional anti-aging tool.