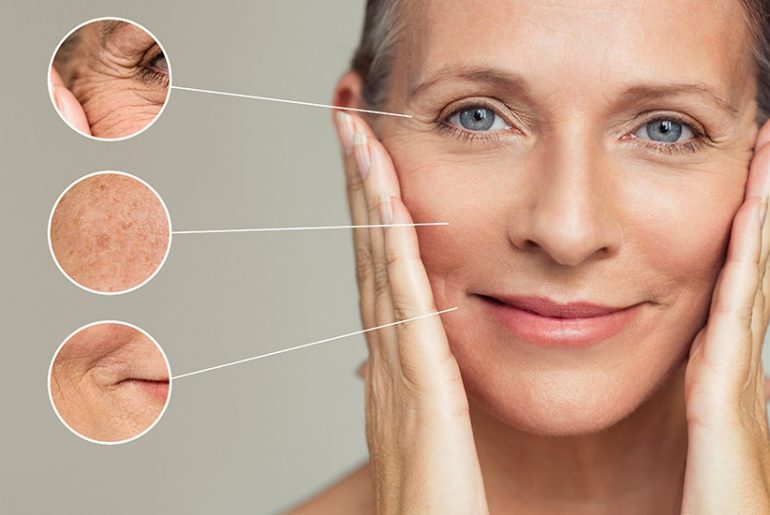 Skincare at every age is an important part of daily routine. But it becomes even more crucial as you get older. But why is that? Simply because the body produces less collagen as you grow older. And less collagen means more dead skin cells, thus more dryness and dullness.
Your skin then starts to look older and skin tone uneven. But the good news here is that exfoliation has the capacity to keep all these unwanted side effects at bay simply by preventing the clogging of your pores.
So if you really want to get rid of dead skin cells, then you've got to start exfoliating at least 3-4 times a week. And if that's not enough, then I have reviewed some of the best exfoliators you can use on a daily basis as well. These work very effectively when it comes to diminishing age spots and rejuvenating tired-looking skin.
So let's get to the list specifically created for mature skin, shall we?
Top Face Exfoliators & Scrubs for Mature Skin
What Is Mature Skin?
It's only natural for the body to change as you grow older. That said, with age, the turnover or metabolic capacity of your skin cells also changes. In the sense that it becomes slower. Along with that, collagen production and fibroblast activity also reduce.
Your skin starts to look dehydrated, dull, and dry as a result of unhealthy aging. And this often gives rise to age spots, fine lines, wrinkles, dead skin cells, and the like.
So mature skin is marked by these warning signs. In that case, you can pay heed to them simply by incorporating skin care products and lifestyle habits to reverse or control the effects of aging. And to prevent external factors like pollution, sun exposure, tobacco, unhealthy diet, etc. from further aggravating the problem.
Why Use Face Exfoliators and Scrubs for Mature Skin?
Like I already told you, mature skin means having to deal with dead skin cells all the time. And not just that, you also have troubles like dullness, dryness, more irritation, age spots, wrinkles, and more.
So when you don't exfoliate your skin enough, you're not removing these dead skin cells. As a result, dullness, flaky texture, dry patches, and other such unwanted signs continue to thrive on and under your skin.
Here's another reason. Since you have mature skin, your chances of using anti-aging creams and moisturizers are highly likely. Am I right? In that case, exfoliation helps other skincare products penetrate deeper. Apart from stimulating collagen synthesis and increasing cell turnover.
With every passing year, what also increases is your skin's exposure to the negative effects of sun, pollution, and the environment. And when that happens, skin dryness and irritation are inevitable. So why not counterbalance the effects by exfoliating your skin daily or regularly!
Choosing the Best Face Exfoliators & Scrubs for Mature Skin
If you want to get the exfoliation part of your skincare routine done right, then make sure you're using a product that doesn't do more harm than good.
Type of Exfoliator
The most common type of facial exfoliator is a physical exfoliator. They take the form of brushes and scrubs. More often than not, these consist of microbeads. That's why physical exfoliators are not such a suitable choice for sensitive skin; they can be harsh on the skin.
Also, there's just no denying that the removal of dead skin cells takes place only on the surface. Meaning physical exfoliators don't reach under the surface of the skin to remove oil, dirt, and impurities from within.
The next is a chemical exfoliator. And it has the capacity to penetrate deep for the destruction of oil, dead skin cells, grime, etc. These also unclog your pores to prevent acne.
The most common types of chemical exfoliators include alpha and beta hydroxy acids. Glycolic acid is the most common one among the chemical exfoliators I've reviewed.
Ingredients
Obviously, ingredients matter only in the case of chemical exfoliators. So apart from the chemical exfoliating ingredients such as glycolic acid, salicylic acid, and lactic acid, there are other ingredients added too. So you have to make sure these are plant-based.
Good examples include aloe vera, green tea extract, orange extract, and more. The formulation should be gentle on the skin, which is crucial if your skin type is sensitive.
As for mature skin, the exfoliator should also offer anti-aging benefits. Some of the most common age-defying ingredients added are retinol, collagen, stem cells, glycerin, Vitamin C, etc.
Skin Type
Your mature skin isn't a type of skin. Skin types include oily skin, acne-prone, dry skin, combination skin, normal skin, and sensitive skin.
If you have sensitive skin, then look for dermatologist-tested or hypoallergenic formulations. Those with oily or acne-prone skin, choose only non-comedogenic products. As for dry and combination skin, they demand a formula that exfoliates without causing excess dryness.
How Often to Exfoliate Your Face?
With 50 million skin cells shedding daily, dead skin cells don't take time to develop. So you have every reason to exfoliate daily.
That said, chemical exfoliators are more fitting for daily cleansing. Because they contain exfoliants with skin-soothing ingredients, for example glycolic acid and aloe vera. On the other hand, physical exfoliators are too abrasive.
But there are certain rules to keep in mind if you have dry, sensitive, or acne-prone skin
Sensitive or Dry Skin – Stay away from harsh products i.e. physical exfoliators. And for daily exfoliation, make sure the formula is infused with gentle, moisturizing glycolic acid.

Acne Prone or Oily Skin – Go for salicylic acid chemical exfoliators because of their oil-soluble nature. It's the best for unclogging pores on a daily basis.

Combination Skin – Feel free to pick either chemical or physical exfoliators and scrubs. Exfoliate 2-3 times a week to keep your dry patches, dead skin cells, and oily zones under control.

Mature Skin – For mature skin, place your trust in glycolic acid as this alpha hydroxy acid offers anti-aging benefits.
How to Care for Mature Skin?
Apart from regular or daily exfoliating, here's what you can do
You can massage your face regularly to boost elasticity and blood circulation. It's also a great idea for fading fine lines and wrinkles.

Protect your skin from the harmful effects of the sun by applying sunscreen all the time.

Buy a humidifier if you can because what the appliance does is add moisture into the air. And that, in turn, provides hydration to your skin if you live in dry weather.


Make sure you're consuming healthy drinks and foods. And that means no smoking, no drinking, and exercising daily.
Frequently Asked Questions
What are the Effects of Over-Exfoliating and Under-Exfoliating?
When you go overboard, skin irritation is the most obvious warning sign. Such as visible redness or flaking. Needless to say, skin damage occurs. And then conditions like eczema are only unavoidable.
Under-exfoliating, on the other hand, makes the skin look dull, rough, and congested. Due to the building up of dead skin cells.
Is Cleansing the Face Necessary Before or After Exfoliating?
You start by cleansing your face and then using the exfoliator. Because the latter, more often than not, targets only your dead skin cells. As for the former, it removes other unwanted elements like makeup, dirt, grime, etc.
When is the Best Time to Exfoliate?
The answer to this depends on your personal preferences. Meaning if you wear makeup daily, then it only makes sense to exfoliate at the end of the day. So you can get rid of all the makeup residue.
But if you prefer starting your day with a glowy complexion, morning exfoliation is the best.
Is It Okay to Use Multiple Exfoliants?
More than one exfoliant is only going to invite unnecessary skin irritation. Even though all the options you're using are gentle on the skin. It's better to use just one type of product at a time.
However, you can combine chemical and physical exfoliators. Just don't go overboard.
Does Exfoliating Reduce Wrinkles?
The process removes dead skin cells, excess oil, dirt, and other impurities. These elements do indeed make your skin look dull and old. So for your skin to look more youthful and radiant, it's important to exfoliate.
In fact, when you exfoliate, you're also allowing your anti-aging skin care products to penetrate deeper into the skin.
How to Exfoliate Skin?
When using a physical exfoliator, just remember to be gentle. No matter what type of skin! Make gentle, small, circular motions with your scrub. In the case of an exfoliating brush, these should be short and light strokes.
Keep going for about half a minute. And then rinse your face using lukewarm water.
And if using a chemical exfoliator, bring it on after the cleanser and toner. You can use your fingers for application. Make sure to leave out the area around your eyes.
Other Face Exfoliators & Scrubs We Reviewed
Chemical Exfoliators for Mature Skin
Conclusion
Skin cells shed in millions a day. Unfortunately, these don't just vanish into thin air. Rather they cling to your skin and dull complexion, clog pores, and highlight wrinkles and fine lines. So what's the best line of defense here? The answer is exfoliation.
When you exfoliate regularly, you're getting rid of so many dead skin cells you can't even imagine. And that means opening the door to younger-looking, more radiant skin. And this is even more useful if you're also applying anti-aging creams or moisturizers.
More Face Wash Product Reviews