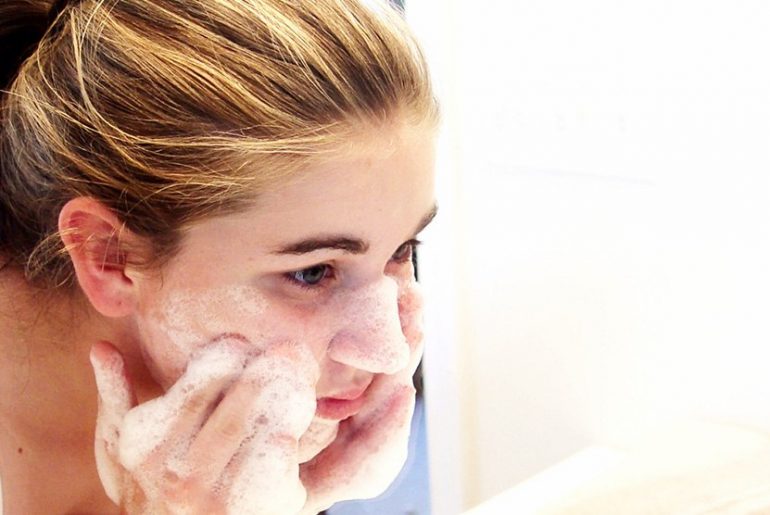 It's only a matter of time for hormones to start creeping up. But what's not decided yet is how these hormones are going to change the way your child looks. Hormones and skin changes go hand in hand. So how about getting to know the best face wash for teens beforehand?
Did you know that oil glands in the skin remain inactive throughout childhood? It's during puberty that these inactive oil glands come to life. And with them so does acne. So it's only natural to include a good facial cleanser along with SPF into your teenage kid's daily skincare routine.
Top 12 Face Wash Formulations for Teenagers
CeraVe Foaming Facial Cleanser
This CeraVe cleanser, without the shadow of a doubt, is a solution for both teenage acne skin and adult acne skin.
The magic ingredient added to it is a combination of 3 essential ceramides. And what ceramides do is not only restore but also maintain the skin's natural protective barrier. The primary role of ceramides is to hydrate the skin, which forms the protective barrier.
It's got hyaluronic acid as well, yet another highly effective hydrating component. The face wash is non-irritating and non-drying to say the least. And the niacinamide content in it helps in calming the troubled or sensitive skin of teenagers.
Cetaphil Gentle Skin Cleanser
Let me present to you the best face wash for 11 year old, and it is as good a facial cleanser for teenagers as it is for adults. No matter the gender! More importantly, Cetaphil is non-irritating and sting-free, which is great news for the delicate skin of tweens.
It's a formulation that preserves the skin's natural moisture barrier for protection. Much like CeraVe above, but Cetaphil does so with the help of propylene glycol. This substance attracts water and enhances the appearance of the skin by restoring suppleness.
No pore-clogging, no disrupting the skin's natural pH balance, and no stripping away natural protective oils. It's the gentlest solution for both kids and grownups.
Neutrogena Rapid Clear Stubborn Acne Face Wash
If there's any acne-prone or oily skin specific face wash for teenagers, then it's this Neutrogena solution right here. The formula helps in controlling oil like no other, and for hours. The cleanser is oil-free, obviously, but also rich and creamy.
If you ask me, every Neutrogena formulation gets rid of surface oil and controls shine. But this one does the same without making the skin feel and look dry. All thanks to the use of acne-fighting benzoyl peroxide.
Even though benzoyl peroxide is added, the facial cleanser is gentle on the skin. So your stubborn acne doesn't stand a chance with daily application.
InstaNatural Vitamin C Facial Cleanser
Who says that the skin of growing kids doesn't demand potent antioxidants? Particularly when these antioxidants come from natural, organic Vitamin C! Well, that's the beauty of this best face wash for tweens.
Vitamin C is all about unclogging pores, which is a common concern in the case of oily teenage skin. It also helps in clearing blemishes and breakouts. Vitamin C works best also when it comes to fading the visibility of skin damage, spots, and discoloration caused by excess sun exposure.
The formulation penetrates deep into the skin to make sure the moisturizers and soothing oils make an impact.
Biore Deep Pore Charcoal Cleanser
Let me tell you why this can just turn out to be the best face wash for teenage girl acne. For one thing, the cleanser is equipped with natural charcoal. A unique ingredient indeed, charcoal draws out oil, dirt, and other impurities in the most effective manner.
What does that tell you? That this face wash is an ideal pick for teens with oily or acne-prone skin. It's so effective that you can see results just in a single wash.
The charcoal cleanser naturally absorbs excess sebum, purifies pores, and makes way for skin smoothness. That's the beauty of such remarkable Japanese skin purifying technology.
Beauty by Earth Foaming Face Wash
The strength of this foaming face wash seems like the perfect solution for transforming the skin. Only natural, organic ingredients have been used. And these don't disappoint a bit as far as cleansing oil and dirt and clearing pores are concerned.
There's aloe vera for hydration. So you don't have to worry about breakouts taking control due to skin dryness. Calming and soothing ingredients keep teenage oily and acne-prone skin looking clear, moisturized, well-nourished, and healthy.
No harsh chemicals, no skin irritation, no burning, no dryness; in short, no disappointments.
Christina Moss Naturals Facial Cleanser
So here's why Christina Moss Naturals can be the best face wash for boys as well and not just girls. The concentrated cleaning power of the cleanser eliminates oil, dirt, and other impurities from the skin. That's the sole purpose of the face wash, be it for male or female skin.
What are the ingredients that make it possible for the cleanser to do such an amazing job? Well, there's rosemary essential oil, rose flowery extract, aloe vera juice, olive fruit oil, and coconut oil.
Rosemary acts as a natural antiseptic. Aloe is in charge of hydration. Olive oil provides antioxidants to boost the fight against teen acne. And coconut oil gently moisturizes the skin. Top this off with no parabens, SLS, synthetic fragrances, and consider it as hitting the jackpot.
Sugar Coated Soapery Kids Face Wash
Every single thing about this facial cleanser screams made for teenagers. The formula is tear-free and gentle, no doubt about that. It's got a natural, pure blend of tea tree essential oil, which acts as a very effective natural cleanser.
For teens and even pre-teens, the formulation works like a charm. It thoroughly cleanses, removes oil and dirt, clears the complexion, boosts hydration, and prevents acne. You can think of it as the best face wash for 14 year old boy or girl.
And you don't need much to get the job done. A little bit goes a long way, which implies you don't have to keep buying this deep cleanser very frequently.
La Roche-Posay Effaclar Purifying Foaming Gel Cleanser
Not every facial cleanser respects the skin's natural pH balance. They may be able to cleanse away oil and dirt but, while doing so, they also disrupt the pH balance of the skin. In that case, you might want to start using this foaming gel cleanser by La Roche-Posay.
Needless to say, it keeps the skin's natural pH balance intact. It's a soap-free and oil-free face wash that has a refreshing gel texture. The formulation consists of zinc pidolate for getting rid of excess shine and oil along with purifying the skin.
The best part here is that the product is non-comedogenic. Meaning it doesn't clog pores and cause breakouts, thus addressing the most common concerns of teenage skin.
Clean & Clear 2-Pack Day and Night Face Cleanser
The one bottle is Morning Burst and the other is Night Relaxing. The former wakes the skin up with the help of invigorating citrus. Along with ginseng and cucumber. And the latter contains sea kelp extract and deep-sea minerals that wash away the whole day's grime and dirt.
Both cleansers help in removing oil and impurities. The oil removal part is especially important in this case because skin during the teens tends to be very oily and acne-prone. What's even more appealing about Clean & Clear here is the oil-free texture.
Om Botanical One Step Exfoliating Face Wash
What this exfoliating face wash contains is a blend of unique ingredients. These include pineapple and green papaya. They are non-abrasive, natural exfoliators to make teenage skin feel and look softer and smoother.
Then there's Vitamin C as well derived from acerola cherries. Vitamin C infuses antioxidants into the skin for fighting damage-causing free radicals. On top of that, no alcohol, gluten, or animal testing.
It's the best organic solution if you ask me that clarifies and tones the skin for quick, noticeable results.
DHC Deep Cleansing Oil
The last on the list is an oil-based cleanser. But the oil base here comes from olive oil, which means this is a highly nutritive formula packed with vitamins. It's very gentle for every skin type, even for delicate or sensitive teenage skin.
Olive oil is a natural moisturizer that restores and maintains your skin's natural barrier without blocking pores and causing breakouts. At the same time, rosemary leaf oil is also included for helping tone the skin.
There's absolutely no denying or undermining just how well this olive oil-based cleanser hydrates dry skin and balances oily skin.
Skin Changes During Teenage Years and the Importance of Using a Gentle Face Washh
Our skin, no matter at what age, protects the inner layers from dirt, pollutants, and bacteria present in the environment. And it does so with the help of natural sebum or oil production.
What sebum does is keep microorganisms and dirt from penetrating the body. It also makes sure the skin's natural oils don't escape. Because if they do, your skin loses all the moisture and hydration it requires to look and feel healthy.
Now, this natural process often gets disrupted because of hormonal changes during puberty or the teenage years. Such inevitable changes activate excess sebum production. And when too much oil exists, it tends to clog pores and cause acne.
So you might think that scrubbing or exfoliating the skin all the time is going to get rid of the excess oil. But that's where you're wrong because you're also eliminating all the sebum this way. That means the much-needed hydration also gets removed in the process, thus causing dryness and skin irritation. It's a vicious cycle if you ask me.
So to prevent that from happening, teenage skin deserves something mild or gentle. A formulation that is only going to get rid of excess sebum and not destroy the skin's natural oils and moisture. It's the most effective way to break the vicious cycle of over-cleansing.
When Is the Right Time to Start Using A Face Wash?
It's not necessary for you to wait for acne to start breaking out. Hormonal changes during the age of 10-12 years start to show early warning signs of acne. And that's when it's safe to begin using a gentle face wash formulated for teenagers.
At such times, it's not in the skin's best interest to simply wash the face with just water or any soap. The development of a good skincare routine, at this point, creates a solid foundation.
Ingredients/Elements to Look for When Buying best Face Wash for Teens
Here's how you can narrow down your search.
Salicylic Acid or Benzoyl Peroxide
Facial cleansers with either of these super ingredients are very effective when it comes to treating and preventing acne. Salicylic acid unclogs pores by removing dirt, excess oil, etc. present in them.
As for benzoyl peroxide, it eliminates bacteria responsible for giving rise to acne. It even gets rid of dead skin cells to promote the growth of new, healthy ones. But avoid benzoyl peroxide if your skin type is sensitive, although a low concentration is safe.
Natural Scents Instead of Artificial Fragrances
Don't ever use a face wash that smells like perfume or deodorant. The thing about chemically or artificially produced scents is that they tend to irritate the skin.
If your skin type is already troubled or sensitive, which is the case for teenagers during puberty, then the growth of acne and other common skin-related problems becomes inescapable. So ditch such chemical and artificial components for natural ingredients.
No Rough or Harsh Ingredients
With the onset of acne or excess sebum production, it's tempting to want to scrub daily. But you should refrain from doing so because using such harsh ingredients has a counterproductive effect.
They tend to dry out the skin. As a result of which the skin starts to produce more oil. Such rough elements even cause skin irritation, which is bad news if your skin type is already sensitive.
Moisturizing Ingredients
Even if your skin type is oily or acne-prone, you should make sure your face wash contains moisturizing components. Such as aloe vera, hyaluronic acid, olive oil, Vitamin C, rosemary essential oil, etc. When you moisturize the skin, it keeps your oil glands from producing excess sebum.
It's the best way to restore the natural balance of the skin and prevent acne.
Treating Teenage Acne
Topical treatment for acne breakouts is as good an effective remedy for teenage girls and boys as for adults. Avoid spot treatments since they have proven to be harsh on the skin. What such harsh, drying ingredients do is make matters worse.
So instead of spot treatment, why not include a face wash equipped with salicylic acid or benzoyl peroxide? Both are mild acne-fighting ingredients commonly found in facial cleansers that don't dry out the skin.
But for teenagers, salicylic acid works best because benzoyl peroxide is not such an ideal substance for sensitive teenage skin. However, a minimal concentration of benzoyl peroxide does not cause any harm.
Tips for Taking Care of Teenage Skin
Using the best facial cleanser for teens is important. But you already know that, don't you? However, do you know how much washing is to be done? What about other skincare tips that you can incorporate into your daily life to prevent acne and the like?
1. Wash Your Face Daily
Needless to say, you should wash your face with a mild cleanser every single day. It's the only way to get rid of dirt, excess oil, pollutants, bacteria, and dead skin cells.
However, avoid washing your face too many times a day (not more than 2-3 times). Over-cleansing has a counterproductive effect on the skin. I mean you want your face to look clean and smooth, and not dry and dull, right?
2. Moisturize Your Face After Cleansing
Applying a moisturizer after washing the face is very, very important. Yet many women and men neglect doing this. Particularly those that complain about the skin being oily or acne-prone. But this is wrong.
When the skin becomes excessively dry, the oil glands strive harder to produce more sebum. So you see how skipping moisturizer can cause acne instead of preventing it? No matter your skin type, moisturizing your face after washing keeps hydration intact and dryness at bay.
3. Apply Sunscreen
Premature aging, skin damage, dullness, discoloration, dryness, sun spots, and the like are certainly going to invade your skin if you skip sunscreen, even during teenage years.
4. Avoid Squeezing or Popping Pimples
I'm sure you've heard this one many times before. When you force any type of action on your acne, you're only just creating a permanent scar.
When you squeeze or pop a pimple, you're causing it to become bigger and more inflamed. Therefore, leaving an even larger acne spot on your face. So whatever you do, keep those hands off.
5. Incorporate a Healthy, Well-Balanced Diet
Don't feed your system unhealthy junk foods and sugary treats. They may taste delicious but an unhealthy diet leads to acne breakouts during teenage years and even adulthood.
To be more specific, include food items like avocados, fatty fish, walnuts, sweet potatoes, bell peppers, broccoli, berries, kale, spinach, watermelon, etc.
6. Get Your Beauty Sleep
No doubt, teenagers require a lot of sleep to compensate for the large amount of energy that body growth demands.
Another thing to keep in mind is that sleeping properly helps in managing stress levels. And you do want to do that because stress also encourages the formation of acne.
Final Note
Daily cleansing is a critical aspect, particularly during the teenage years. As soon as you spot the first signs of acne or oily skin, it's best to start using a well-equipped face wash. Much like the top 12 I have reviewed in this post.
Hormonal changes during puberty give rise to all kinds of skin concerns. And the first step for tackling these issues is using the right kind of facial cleanser. The second step is moisturizing the skin. And the third one involves applying sunscreen at all times.
You cannot prevent the process of hormonal changes during the teenage years. But you definitely can control how the skin looks when those hormonal changes are taking place.
Just make sure to avoid harsh soaps and scrubs. They only destroy the natural oils and moisture present in the skin. Also, these soaps and scrubs have a high pH value. And you're looking for something neutral to avoid aggravating the skin.
More Face Wash Product Reviews