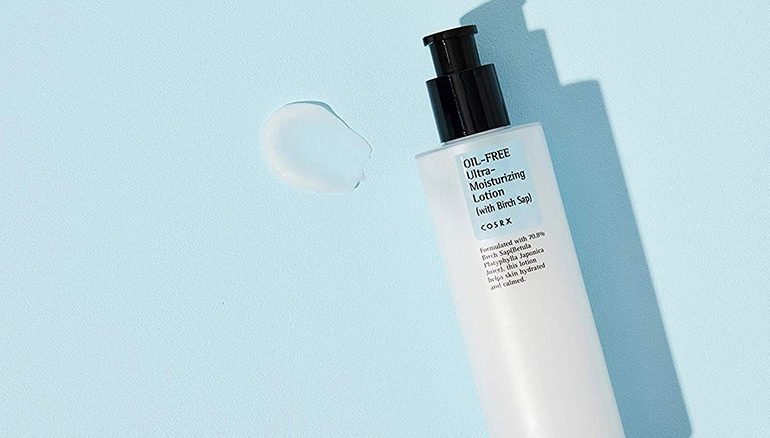 How do you even begin the process of choosing the Best Korean moisturizers?
I mean the K-beauty industry offers so many fancy, exotic brands with so many innovative, science-backed ingredients that it's only natural to get confused. But it's now time for you to breathe a sigh of relief because I've got only the top recommendations for you.
The thing about moisturizers is that they're a very important part of daily skincare routine. A good moisturizer minimizes the visibility of dry patches, fine lines, etc. by providing hydration and moisture throughout the day. As for Korean moisturizers, these special formulas encourage bright, dewy complexion. And, no doubt, moisture plays a huge role in that too.
So how about getting on with the best-selling K-beauty moisturizers? After the reviews, I have discussed just about everything you might want to know about Korean moisturizers and the very popular K-beauty skin routine.
Our Reviews For The Best Korean Moisturizers
Innisfree Green Tea Balancing Cream
The very first pick on the list is a Korean moisturizer infused with Jeju green tea extracts. These have a sort of magical power to nourish the skin while also striking the perfect balance of moisture.
It's a skincare product created for normal and combination skin. But the best part about it is that you can use the formula on sensitive skin too without worrying about it giving rise to any irritation. Speaking of which, the smell of the cream is very pleasant, and the texture non-greasy.
All you have to do is apply the moisturizer on your face and neck. After that, just pat it into your skin very gently for complete absorption. The absorption part is quite smooth by the way; it doesn't take time is what I mean. And you only require a tiny amount for each application.
To be honest, those dealing with cystic acne have also applauded the cream's ability to not aggravate their breakouts or oily zones on the face. And that says a lot about how lightweight, refreshing, and even moisturizing this special green tea-enriched formulation really is.
SeoulCeuticals Korean Skin Care Snail Repair Cream
If you're new to K-beauty products, then you probably might have not heard about snail mucin extract. If not, here's the deal. The thing about snail extract in moisturizers is that it fixes sunspots, smoothens wrinkles and creases, and even halts acne.
The mucus in there promotes elastin and collagen production. And that's why this ingredient is so popular and effective when it comes to pampering your skin. No matter your skin type! In that case, the SeoulCeuticals Snail Repair Cream contains 97.5-percent snail mucin. This percentage is higher in comparison to other such Korean moisturizers.
You should look forward to more youthful, brighter, and healthier skin within just a few days. It's not like you have to wait for weeks or months for the cream to work its magic. And that's great news, isn't it? I mean don't we all want everything to happen quickly!
It's a cruelty-free product just so you know. 97-percent of the formula is naturally derived and 72-percent is organic. The skin-benefiting ingredients include Vitamin E, jojoba oil, aloe, and shea butter.
Moreover, the moisturizer is packed with anti-microbial properties and super nutrients for clearing and brightening your complexion along with making your skin look and feel younger. Plus, it's non-comedogenic! And that means there's no doubt this snail repair solution ranks as the best Korean moisturizer for acne-prone skin and oily skin.
Atopalm Intensive Moisturizing Cream
Now here's presenting the best Korean moisturizer for sensitive skin, and even dry skin as a matter of fact. The current K-beauty product is made using only rich, moisturizing ingredients that feel gentle as they're working to replenish skin hydration.
What these ingredients do is mimic the natural lipids present in your skin. And by doing so, they restore the lost lipids as well as prevent excess evaporation of natural moisture. It also protects the skin against potential damage often caused by environmental stressors.
This paraben-free Intensive Moisturizing Cream is equipped with MLE technology. The full form is Multi-Lamellar Emulsion. It's what gives the formula the wonderful capacity to mimic the healthy lipid layer of your skin I was talking about earlier. The Korean brand has created a line of skincare products with MLE technology.
As for this one, it allows your skin to rebalance and self-recover naturally. So you can expect a beautiful and healthy look instead of irritation and dryness. There's no loss of hydration here, and even if there is, MLE boosts moisture and then seals it in to avoid dehydration.
In all, it's a non-greasy formula perfect for sensitive and dry skin.
EverGlam Deeply Moisturizing Face Cream
The perfect miracle for dry skin, this Deeply Moisturizing Face Cream by EverGlam is supremely effective. The solution is long-lasting and non-oily to make the experience even more unforgettable. Now let's get to know everything about the product below.
The unisex formula offers hydration that simply doesn't make the skin feel greasy. But here's the thing, hydrating your skin is like completing a task only by 50%. What I'm trying to say is that maintaining this hydration is the other half of the battle. Don't you think so?
In that context, the Korean moisturizer is full of ceramides. The ceramide complex in here creates microcapsule barriers that help in retaining moisture levels for a long time. If you keep using this formula regularly, you'll spot drastic changes in your wrinkles and fine lines. Continuous hydration has that kind of an anti-aging effect on the skin!
You're also highly likely to notice the brightening and smoothening of your complexion along with a reduction in the size of your pores. No doubt this formula rejuvenates and nourishes the skin while also doing away with aging-related signs such as wrinkles and fine lines.
The texture of this cruelty-free, non-toxic, paraben-free cream is very lightweight. So even application is a very pleasant task. But if you're considering buying this anti-aging, moisturizing formula, do it for the ceramide complex that hydrates your skin as well as activates moisture retention.
Apart from ceramides, there's tiger grass for soothing redness and irritation. Then there's green tomato for anti-wrinkle and rejuvenation benefits. And lastly, argan oil for its antioxidants and conditioning properties. So it does seem like the perfect miracle now, doesn't it?
Etude House Moistfull Collagen Cream
There's a lot of stuff in here that I'm certain your skin will thank you for later. The Moistfull Collagen Cream by Etude House contains around 63% super collagen water. This particular ingredient gets softly and easily absorbed into the skin. And it offers all-day moisturizing properties.
But what is super collagen water? Water particles that supply tons of moisture for nourishing and hydrating your skin cells. Needless to say, the gel texture is watery, which enhances both absorption and adherence. The hydrating effect this formula produces doesn't feel sticky throughout the day.
Then there's also baobab oil in here. A single baobab tree is known to contain as much as 120,000 liters of water. So it's only natural for the oil derived from the tree to also offer plenty of hydration.
In all honesty, the current Korean moisturizer is very effective if hydrating your skin is your top priority. After all, the Etude House cream's gloss lasts for as long as 12 hours post-application.
COSRX Oil Free Ultra Moisturizing Lotion
Do you think all Korean moisturizers are good for day and night use? Well, obviously not. But if that's your concern, then how about I now review a K-beauty cream that is suitable to apply in the day and night. It's the COSRX Oil Free Ultra Moisturizing Lotion.
The formula contains birch sap instead of water. That means 70-percent birch sap is used. This natural ingredient is skin-friendly, no doubt. You can make the moisturizing lotion a part of your day and night skincare routine even if your skin type is sensitive. That's the beauty of birch sap, the fact that it's ideal for sensitive skin too.
The cream gets absorbed quickly. And just like the others, it doesn't leave any greasy or sticky residue. So those with oily skin can also benefit from birch sap here. The formula not only restores moisture but it also maintains hydration levels.
It's a dermatologist-tested, paraben-free, cruelty-free, and hypoallergenic moisturizer. And I'm telling you this so you understand that there are no red flags to using the current oil-free moisturizing lotion for treating and calming irritated skin.
Nature Republic Super Aqua Max Combination Watery Cream
Specifically designed for combination skin, this Super Aqua Max Water Cream offers 24-hour lasting moisture. This is Nature Republic's second creation I've reviewed. So it goes without saying that the Korean brand is very well-known in the K-beauty industry.
Let me start by disclosing the name of the primary ingredient. It's seawater. That means your skin gets to make the most of the highly beneficial ocean elements. Along with seawater, there are over 25 marine extracts like seaweed, algae, kelp, etc. So if you want to know what makes this formula different from the others, you have the answer.
It's a lightweight cream that keeps the skin moisturized without giving rise to a greasy or flaky feeling. It's the perfect solution between too oily and too dry is what I mean. The moisturizer rests on the skin much like a barrier. And along the way, it smoothens and softens the surface.
Moreover, you can apply the cream in the day and at night. As for the fragrance, it's tolerable if you ask me. But feel free to do a patch test just to ensure the fragrance doesn't trigger sensitivities, which is quite unlikely to happen.
As for the final words of the review, I would only like to say one thing. That this water cream by Nature Republic is a lightweight, moisturizing formula the most suitable for combination skin.
Eco Beyond Lotus Aqua Bloom Cream
Eco Beyond is a trusted brand in the current world of K-beauty skincare products. And their Lotus Aqua Bloom Cream is full of proteins, antioxidants, minerals, and vitamins. The lotus flower content in here does the job of purifying, soothing, exfoliating, firming, and tightening your skin.
If you think just lotus flower is what you get, you're wrong. The moisturizer is also gifted with hyaluronic acid, which is just the ingredient your skin demands for replenishing moisture. Hyaluronic acid is a very effective anti-aging ingredient as well. It reduces the visibility of wrinkles and fine lines.
You can apply this lotus flower + hyaluronic acid equipped cream in the day and night. It makes your skin look dewy and hydrated without the oily or sticky feeling. Expect only greatness from a formula like this. Also expect no parabens, animal testing, and chemical fragrances. The packaging too is recyclable by the way.
Like I already told you, Eco Beyond is indeed a trusted brand.
First Aid Beauty Ultra Repair Face Moisturizer
There aren't many moisturizers out there that you can rely on when it comes to providing daily hydration for smooth, soft, and silky skin. A product you can use on a daily basis should be lightweight, quick-absorbing, and instantly moisturizing. Much like the First Aid Beauty Ultra Repair Face Moisturizer.
If you apply makeup, then you can begin by first prepping your skin with this repair formula. It's good to use in the morning and at night right after cleansing. But what are the ingredients present in this? Let's talk about that in the next paragraph.
There's meadowfoam seed oil, avocado oil, shea butter, colloidal oatmeal, and ceramides. The ceramides reinforce the protective barrier of your skin. Avocado oil hydrates, nourishes and softens the skin. Shea butter is packed with minerals, vitamins, and essential fatty acids.
Meadowfoam seed oil is a natural emollient for moisturizing. And lastly, colloidal oatmeal relieves irritation and itching caused by common skin conditions like eczema and rashes.
What you're dealing with here is a non-comedogenic, gluten-free, allergy-tested Korean moisturizer that is suitable even for the most sensitive or delicate skin. When the ingredients are so carefully selected, the outcome is almost always desirable.
The Face Shop Arsainte Eco-Therapy Moisturizer
Here's another daily moisturizer infused with natural ingredients that you can use for strengthening the moisture levels of your skin. This Arsainte Eco-Therapy Moisturizer creates a soft, moisture-enriched, even barrier over your skin. It's got lecithin and ceramide, which make sure moisture and oil levels are well-balanced.
The lightweight consistency and fresh, soft scent are the most appealing aspects of the formula. That you can apply in the day and at night. The lightweight consistency part is particularly useful if you don't want your face to look oily all day long. Speaking of oily skin, this moisturizer works well even on sensitive skin.
It's quite relieving to know that the Korean brand The Face Shop has managed to deliver a special formulation that doesn't trigger breakouts. Their moisturizer feels great under foundation and other makeup. Plus, it smells refreshing and clean.
Klairs Rich Moist Soothing Cream
Not every moisturizer works well throughout the year. I mean some are specifically created for the colder months of the year while some tackle high humidity levels. In that case, how about I recommend a Korean moisturizer ideal for all-year hydration, even if your skin is sensitive? So here's everything you might want to know about the Klairs Rich Moist Soothing Cream.
The formula reduces the temperature of your skin for minimizing redness. It has the ability to even diminish the visibility of pores. Restoring the natural balance of your skin is what this soothing cream does best.
The moisturizer contains the most beneficial ingredients like ceramides, lipidure, and shea butter. All three are enhanced moisture-providing ingredients that are a part of many K-beauty skincare products.
Needless to say, the Klairs solution replenishes moisture while also controlling oil. Moreover, it's a vegan product perfect for the growing community of vegan consumers. Basic essentials like these are hard to come by when they're so incredibly effective, soothing, and gentle.
Mizon Collagen Cream
Even if you buy the Mizon Collagen Cream by mistake, you'll have nothing to complain about. It's because of the inclusion of collagen aqueous solution. This highly concentrated formula of adenosine and collagen reduces wrinkles and replenishes moisture. It also improves visual glow and elasticity.
You'll find no parabens and artificial fragrances or coloring. On top of that, the special Korean moisturizer is dermatologically tested. It soothes and lifts the skin like no other. And why wouldn't it when the formula ranks among the best anti-wrinkle collagen creams in the current K-beauty industry.
And like I already told you, even if you accidentally buy the Mizon Collagen Cream, expect no breakouts. It even works on stretch marks; the moisturizer is that effective.
Suxxess Revitalizing Face Cream
Do all revitalizing creams have high-intensity properties? Meaning do they all have the capacity to regenerate skin, deliver deep nourishment, improve elasticity, and boost moisturizing effects? I don't think so. Achieving so many goals at once is not possible for just a single face cream. Unless it's the Suxxess Revitalizing Face Cream!
The formula is equipped with ingredients that get absorbed into the skin very quickly. Such fast-absorbing elements leave the skin feeling hydrated and refreshed without any greasy or sticky feeling.
The renewal and ultra-hydrating formulation here is richly textured to prevent the formation of fine lines. Furthermore, the vitamins in here protect your skin from environmental and natural toxins and triggers. And to make it suitable for sensitive skin, Suxxess has not added any artificial fragrances.
But the star on this stage is hyaluronic acid. It's an ingredient popularly used in Korean skincare for providing hydration into the deepest layers of your skin. Organic shea butter is also involved for moisturizing dry skin, treating acne, and for anti-aging skin benefits.
The cherry on the cake is the genuine "cruelty-free" label of the Suxxess Revitalizing Face Cream.
MAKEP:REM Hydrate Me Micro Tension Moisturizing Cream
Many moisturizers tend to provide only temporary solutions. They, instead of strengthening the natural moisture levels of your skin, provide short-term moisture. The latter is what wears out as the clock ticks. But the former stays. So if you approve of the former, then why not consider buying this Micro Tension Moisturizing Cream?
The Micro Tension in here makes way for quick absorption. It builds the natural moisture present in your skin, thus strengthening it for more hydration. All you have to do is spread the formula over the face gently.
It's a non-irritating, clinically-tested Korean product that many women use no matter their skin type. Visible results are a part of the experience, and you get to experience them soon enough.
It's wonderful how a moisturizer features advanced technologies. In this case, hands down, it's the Micro Trans Moisture technology. This makes sure the formula's effective ingredients deliver penetration and stability to make room for greater moisturization and effectiveness.
And what adds more appeal to the product is its reasonable cost. Not many high-quality K-beauty moisturizers and creams are available at such an affordable price.
Laneige Water Bank Moisture Cream
The first of its kind and the last on the list, this Laneige Water Bank Moisture Cream is created for clear, smooth skin. The hydration, no doubt, lasts throughout the day. Think of the experience as rubbing water on the face. What it does is soothe, calm, and moisturize the skin.
Unquestionably, the skin feels and looks glowy. This formula is especially useful for those with dull, dry, and dehydrated skin. It delivers not only short-term but also long-term skin benefits. After a few weeks of use, you'll notice significant changes in the natural moisture and hydration levels of your skin.
The texture and after-feel aren't even heavy or greasy in case that's what you're wondering. No pore-clogging, no breakouts, no sticky feeling; it all works out for the best. Even when your skin type is a mix of sensitive skin and combination skin!
But First, What is a Moisturizer?
It's a term we all use for everything that goes on the skin. Such as lotions, gel creams, regular creams, and also overnight masks. They keep the skin smooth, hydrated, and soft.
What a moisturizer does is reduce the level of hydration in the form of natural moisture and oil that evaporates from your skin. And while doing so, it also seals in moisture to keep the barrier of your skin healthy and strong.
The skin barrier is important because, when damaged, it allows environmental microbes and irritants to enter. The outcome of which is inflammation and dehydration. Even redness and flakes start to take form. So face and body moisturizers are not marketing ploys to nudge you in the direction of buying more products. They're actually very beneficial for your skin.
With that in mind, you should know that the skincare and beauty industry offers many products that moisturize the skin. But not all of them are labeled as moisturizers. Some of them come in the form of face oils as well. So it all depends on what ingredients are present in that formula and what type of skin the product is the best suited for.
Let me address a very important relevant question here. Should you use a separate moisturizer, serum, face oil, etc. for keeping your skin nourished? The answer is NO. This is not needed, but you can choose to adopt a multi-step routine if you wish. Particularly if your priority is to treat specific skin issues such as dullness, dryness, acne, and the like. There's no harm in that.
How to Choose the Best Korean Moisturizers Based On Your Skin Type
The answer to the second question is not that simple. The best Korean moisturizers is a skincare product that doesn't work on all skin types. So to help you understand Korean moisturizers better, let me answer the question more specifically.
Dry Skin
A Korean moisturizer specifically created for dry skin contains the ingredient hyaluronic acid. This particular component leaves the skin feeling and looking plump after every use. And it does so by providing hydration to your dull, dry skin.
The thing about Korean moisturizers with hyaluronic acid is that they're heavy in terms of texture. So you have to let the cream absorb into your skin, which might take a few minutes. Only then should you apply your foundation or any makeup over it.
Oily or Acne-Prone Skin
This often comes in the form of a gel-based formula. A Korean moisturizer for oily skin or acne-prone skin is a lightweight, oil-free, and cooling formula. It doesn't contain any pore-clogging (non-comedogenic) or artificial ingredients. At the same time, the moisturizer leaves no greasy or oily residue post-application.
Sensitive Skin
Korean formulas for sensitive skin are armed with Centella Asiatica extract. It's also known as cica or tiger grass. And what the ingredient does is soothe and repair damaged skin. Just a little bit of the moisturizer on your face each time can do wonders.
Combination or Normal Skin
This K-beauty product has a lightweight, creamy texture. It's slightly thicker in comparison to a gel. The moisturizer may be thicker but it's equally absorbent.
The best Korean moisturizers for combination skin makes your dry spots look and feel softer and greasy areas more subdued.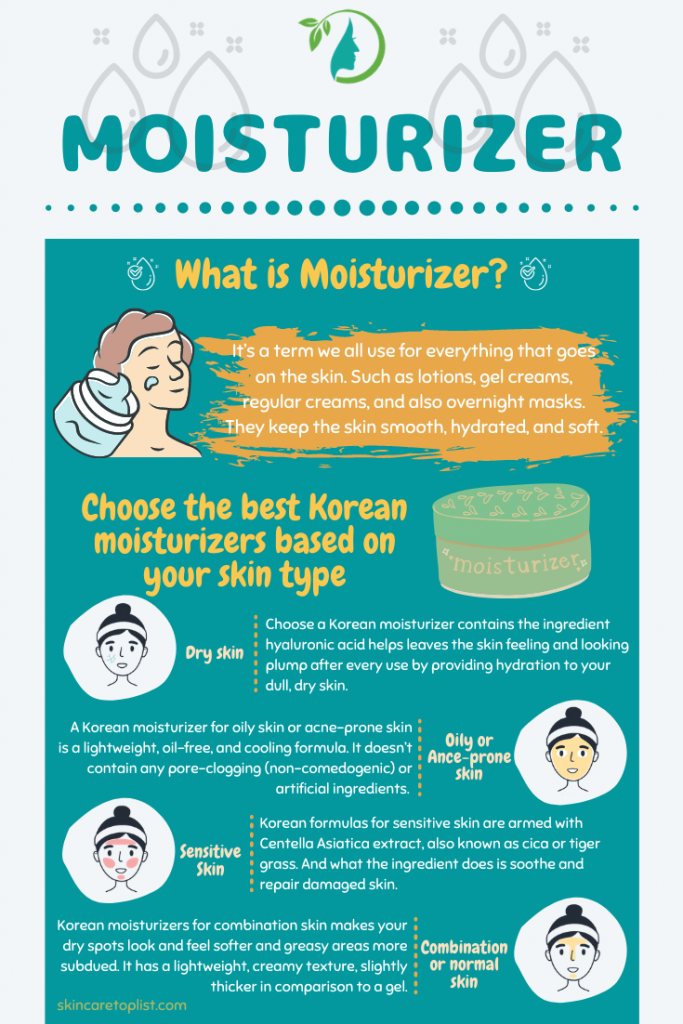 Korean Skincare: What Makes Them Better?
So many countries manufacture skincare and beauty products, so what is so special about Korean products? Why are so many women choosing K-beauty products over American-made or mainstream ones? Let's find out!
Natural Ingredients
The best part about Korean moisturizers, serums, lotions, and the like is that almost all of them are equipped with natural, skin-friendly ingredients. The kind that are suitable for all types of skin. This includes oily, dry, sensitive, acne-prone, and combination skin.
Some of these natural ingredients are aloe vera, baobab oil, birch sap, seaweed, avocado oil, green tea extract, colloidal oatmeal, Damascan roses, etc. The level of hydrating, soothing, moisturizing, and nourishing properties such types of ingredients provide is something you simply cannot find in non-Korean, commercial skincare products.
Affordable Price
Another very appealing aspect of the K-beauty industry is affordability. Korean formulas are wallet-friendly, which means you don't have to spend a huge amount of money for healthy, glowing skin.
Advanced Technology
No doubt, Korean brands know how to make the most of modern technology. The proof of that lies in the majority of Korean moisturizers I've reviewed in this article itself. There are some formulas armed with snail extract for anti-aging benefits. Then there's Multi-Lamellar Emulsion technology for boosting skin hydration and moisture levels.
I have reviewed some K-beauty formulas that contain ceramide complex as well. This, once again, is added for activating moisture retention. So, needless to say, Korean skincare brands have succeeded in leaving no stone unturned when it comes to protecting and nourishing your skin.
Quick, Desirable Results
No doubt, Korean formulas have the ability to produce favorable results sooner than their non-Korean counterparts. Every formulation is created for specific skincare goals. As long as you pick a product based on your skin type or condition, for example the best non-comedogenic Korean moisturizer for oily or acne-prone skin, you can expect quick and effective results.
How to Apply Korean Moisturizer to Reap the Most Benefits?
Here some very useful tips you might want to follow when using just about any face moisturizer.
Gently Massage the Moisturizer Into Your Skin
By gently massage, I mean don't rub the formula incessantly. When you patiently tap the cream into your skin, you're keeping the latter from stretching out and forming wrinkles. Rubbing your skin also makes the surface more prone to irritation and sensitivities.
So even though rubbing on the moisturizer seems like an effective way of encouraging it to get absorbed into your skin, refrain from doing so. It's actually quite detrimental to the health and texture of your skin.
Allow the Moisturizer to Sink In
Let's say you've picked the best Korean serum or moisturizer enriched with all the right ingredients. But how are these active ingredients going to do any good if you don't let your skin absorb most of them? Make sense to you?
In that case, wait for the formula to reach under the surface and penetrate your skin. This shouldn't take more than a few minutes.
To gain something, you have to be willing to lose something. The gain here is moisturized, nourished, healthy-looking skin. And the loss is your precious time.
Wrap-Up
Applying a moisturizer is one of the two most effective ways of making your skin look and feel healthy. The second is using sunscreen. So don't skip either if you care about the well-being of your skin. Neglecting skincare has an impact on both the short-term and long-term health and appearance of your skin.
To be honest, nobody understands the importance of proper, natural skincare better than South Koreans. No wonder the majority of women in South Korea has such a beautiful, glowing, and dewy complexion. So it's only great news that even your skin can manage to pull that off provided you use the best Korean moisturizers.
Did you like this post about the best Korean moisturizers? Why not pin it!