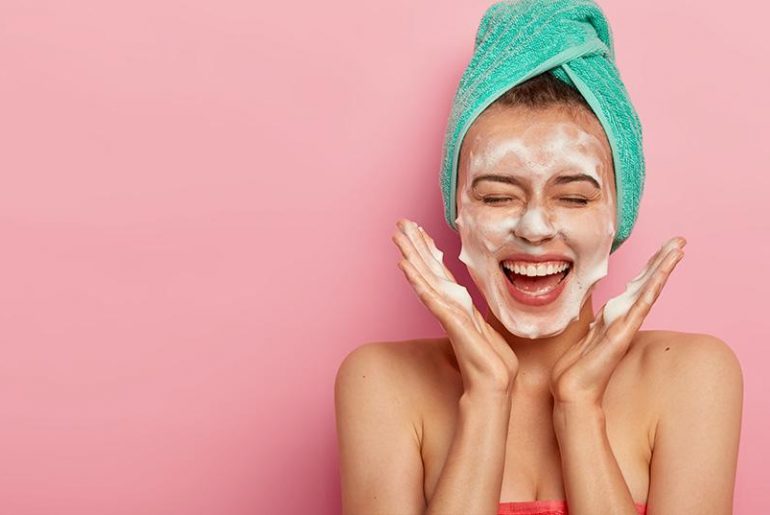 Those constantly struggling with acne or even blemished skin are probably already familiar with salicylic acid. And those that aren't might find the term salicylic acid slightly menacing. But that's not the way to describe this very commonly used gentle anti-acne active ingredient.
In fact, the best salicylic acid face washes are incredibly effective when it comes to deep cleansing. These skin-friendly formulas get rid of excess oil from your sebaceous glands. Therefore, eliminating the root cause of acne.
Let me also bring to your attention that salicylic acid is a form of beta-hydroxy acid. In simple words, it's a natural exfoliator that removes dead skin cells and unclogs pores. It's also oil-soluble, which implies deeper penetration into your skin's layers for thorough cleansing. And it facilitates anti-inflammatory action as well.
So, without further ado, let's get to the list of top 20!
Top 18 best Salicylic Acid Face Washes & Cleansers
Salicylic Acid Face Wash – Who Should Use It?
The active ingredient salicylic acid belongs to the family of beta-hydroxy acid. What it does is penetrate deep into your pores to unclog and cleanse them. Salicylic acid face washes also get rid of dead skin cells. And since it dissolves oil and such impurities, your skin is bound to look more radiant.
In that case, if you have acne-prone, oily, or even dull-looking skin, then facial cleansers with salicylic acid are the best for you. The beta-hydroxy acid also activates anti-inflammatory action. And this makes it suitable for calming skin sensitivities or irritation as well.
Salicylic Acid Face Wash – What Are the Benefits?
I'll get straight to the point here:
It Gently Exfoliates the Skin

It Fights Acne

It Reduces Excess Sebum Production

It Treats Hyperpigmentation

It Acts as an Astringent
Salicylic Acid Face Wash – How to Choose?
It's just good sense to take certain important factors into account when buying an acne-fighting facial cleanser with salicylic acid.
Type of Skin
To be honest, most salicylic acid-equipped face washes are suitable for all skin types. At least the ones I've reviewed are. They're oil-free, non-comedogenic, non-irritating, non-drying, hypoallergenic, dermatologist-recommended, etc.
In simple words, the best for oily, acne-prone, dry, sensitive, irritated, and combination skin.
Concentration of Salicylic Acid
It's only natural to ask the question, how much salicylic acid is safe for daily use? The answer is 2-percent. This explains why most skincare products with this beta-hydroxy acid, including face washes, have not more than 2-percent salicylic acid.
Otherwise, if it's greater than 2-percent, the formulation tends to dry out your acne and aggravate it further. But anything between 0.5-percent to 2-percent is safe.
Ingredients
Speaking of the primary ingredient i.e. salicylic acid, in some formulas this is naturally derived from willow bark. Aside from that, you should look for natural, botanical ingredients. Some of them include aloe vera, oat extract, jojoba, green tea, and the like.
The more important goal here is to make sure your facial cleanser doesn't contain harmful or harsh ingredients. Such as parabens, artificial fragrances, sulfates, etc.
Price
My reviews section is proof that you don't have to shell out big bucks just to keep your skin healthy, radiant, and acne/blemish-free. Affordability is a huge part of the buying decision because you're going to be using the face wash on a daily basis.
Just make sure to read through the list of ingredients since cheaper priced products are often loaded with more artificial, drying, or harsher elements.
Salicylic Acid Face Wash – How to Use?
It's best to follow the instructions provided by the brand. But here's the general consensus nevertheless.

Start by splashing some warm water on your face.
Then gently massage your salicylic acid face wash into the skin for about half a minute. Use a circular motion for building foam and spreading the formula all over your face.

And now rinse your face thoroughly with warm water.

Then comes the part where moisturizing your skin is very important.
First, pat your skin dry using a clean, fresh towel. And then moisturize to prevent dryness and the loss of natural moisture.
As to how many times to wash the face with salicylic acid?, the answer depends on how oily your skin is. Generally speaking, twice a day should suffice. That is once when you wake and once before you sleep.
Frequently Asked Questions
Q. How Often to Use Salicylic Acid Face Wash?
If you're just transitioning into this acne-fighting skincare routine, then do it slowly. Start with once a day and then move on to twice a day if you don't experience any side effects like skin irritation or dryness.
You can wash your face with a salicylic acid formulation on a daily basis, there's no harm in that. As long as the concentration is not more than 2-percent, even those with dry or sensitive skin have nothing to worry about.
Speaking of which, make sure the list of ingredients includes soothing and calming natural elements like aloe, chamomile, oats, etc.
Q. What Is the Best Dermatologist-Recommended Face Wash for Acne?
Most dermatologists worldwide recommend using salicylic acid as the most effective acne treatment. This beta-hydroxy acid unclogs pores, reduces inflammation, and eliminates dead skin cells.
Salicylic acid destroys the very source of breakouts by dissolving the acne-causing bacteria itself.
Q. Salicylic Acid Is the Best Treatment for What Type of Acne?
Adult acne, hormonal acne, and cystic acne; along with whiteheads and blackheads. After all, salicylic acid prevents your pores from getting clogged. So you don't have to deal with such common concerns on a daily basis.
Q. Does Salicylic Acid Help in Treating Psoriasis and Dandruff?
It's best and highly advisable to not expose your skin to a salicylic acid concentration of more than 2-percent. However, a higher level of salicylic acid does indeed peel away your dead skin cells. And that means getting rid of dandruff, psoriasis scales, and even warts.
Q. Are There Salicylic Acid Face Wash Side Effects?
OTC facial cleansers formulated with salicylic acid don't cause anything more than mild dryness or redness if at all. And when infused into shampoo formulations, salicylic acid can cause temporary hair weakness and hair loss.
Another thing to keep in mind, whatever your skin type or situation, is that applying sunscreen after using salicylic acid is very important. And that's because the ingredient makes your skin more susceptible to sun damage and sensitivity.
Whatever the case, there's no denying that salicylic acid works like magic when it comes to getting rid of excess oil and acne. Just make sure the concentration is not more than 2-percent. Otherwise, serious side effects like diarrhea, headache, vomiting, dizziness, etc. might occur.
Q. What Is the Difference Between Salicylic Acid and Benzoyl Peroxide?
Both are effective as acne-fighting ingredients, thus either or both are used in face wash formulations for treating acne. But what is the difference between the two?
Salicylic acid targets breakouts like whiteheads and blackheads. It also prevents the formation of potential or future comedones. As for benzoyl peroxide, it's the most effective ingredient for targeting acne. The thing works best on red, pus-filled pimples.
Apart from that, benzoyl peroxide also helps in getting rid of dead skin cells and excess oil. It kills the bacteria that's giving rise to acne below your skin.
In terms of usage and side effects, you should know that benzoyl peroxide is more drying in comparison to salicylic acid. It's also not a such a safe and gentle option for sensitive skin.
Salicylic acid is a beta-hydroxy acid while glycolic acid is an alpha-hydroxy acid. The former penetrates deep into your pores to loosen dead skin cells and unclog pores. As for the latter, it breaks down and eliminates dead skin cells completely.
In the case of salicylic acid, it treats acne. On the other hand, glycolic acid exfoliates your skin to prevent dryness, dullness, pigmentation, and the like. Along with increasing collagen production, which means anti-aging benefits. Apart from fighting acne of course.
Salicylic acid is more suitable for oily, acne-prone, and sensitive skin. And glycolic acid is a well-tolerated alpha-hydroxy acid for the majority of skin types.
Q. What Is the Difference Between Salicylic Acid and Lactic Acid?
Lactic acid is much like glycolic, which means it's another alpha-hydroxy acid. But it's the gentler version of glycolic acid. Both glycolic and lactic are chemical exfoliators that eliminate dead skin cells and improve skin complexion.
But the added advantage of lactic acid is that it treats dry skin and improves hydration. As opposed to salicylic acid, which only performs the task of unclogging pores and fighting acne.
Q. Why Is Salicylic Acid Better Than Face Scrubs for Exfoliation?
You may think using a scrub helps in getting rid of dead skin cells. I mean just the idea of scrubbing off dry and dead layers of the skin sounds appealing, right?
But an abrasive scrub does more harm than good. The granules present in these scrub formulations are simply tearing and damaging your skin. And when your skin has micro-tears, it becomes more susceptible to sun damage, pollution, and environmental stressors.
So what is the safer alternative to abrasive scrubs? It's the use of chemical exfoliants like salicylic acid.
Other best Salicylic Acid Face Washes & Cleansers We Reviewed
The EndNote
Now you know why salicylic acid ranks as the top acne-fighting ingredient in face washes. In fact, this beta-hydroxy acid also helps in treating conditions like psoriasis. After all, it gets rid of dead skin cells.
Without having to scrub your skin using harsh products, your complexion improves. And all bacteria, dirt, and excess oil that's actually giving rise to acne in the first place also get eliminated. That's the power of this highly dermatologist-recommended acne-fighting ingredient.
More Face Washes Product Reviews: