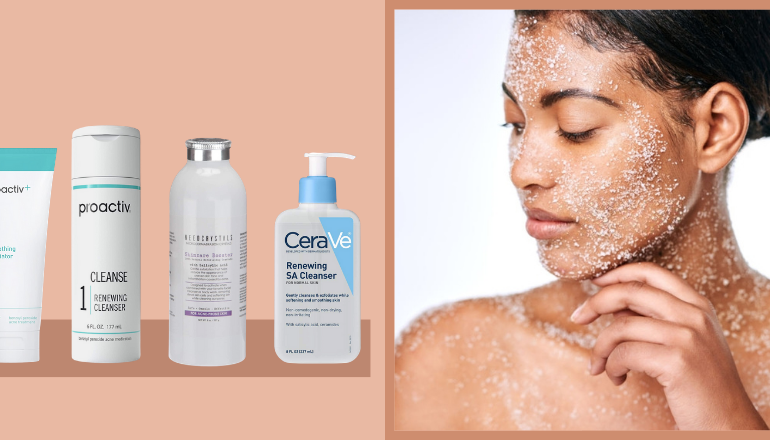 I once told you that I'd suffered a rough time dealing with blemishes in my article Best Primer for Acne Prone Skin, remember? Well, treating acne is a long game. And fortunately, you are empowered with a tool to win that game - exfoliator. Drawing upon my own experience, I will share about 9 best exfoliators for acne that are game-changing.
Now, let's begin with my story.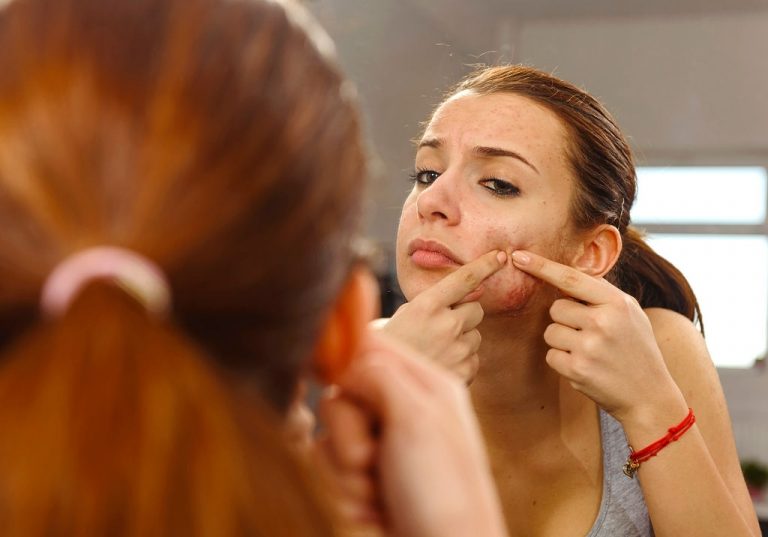 How I won my acne-fighting game?
Back in those days, I had a breakout coming from my ignorance. I had started doing makeup but did not use a proper makeup removal product, only washed my face with a mild cleanser.
Gradually, my pores were clogged, and pimples bursted outgrowing. I was freaking out. I searched for many acne-prone skincare items. Face washes, toners, serums, moisturizers, acne spot BB creams. Anything with labels "acne-prone", "blemish skin", "pimples", etc.
But my skin soon couldn't be helped.
Then I calmed down and took a time break. After researching, I stopped my makeup and built up my own routine. At first, my skin care was as simple as possible. Here is it:
Morning: cleanser - toner - moisturizer - sunscreen.

Evening: makeup remover - cleanser - toner - moisturizer.
After two weeks, my acne condition was neither worse nor better. I didn't know why. Until my husband said: "Your skincare products were good, but perhaps your skin needs more appropriate treatment." I realized that all things I had done previously just to keep the situation from aggravating. I had never used an attacking regimen for acne.
Therefore, I began learning about ingredients that fight acne. I got to know about Salicylic Acid (or Beta Hydroxy Acid - BHA), Benzoyl Peroxide, Sulfur, etc. And at that time, the puzzle I missed in my routine - an exfoliator - was founded.
As far as I learned at that moment, an exfoliator containing active acne-fighting ingredients like BHA, Benzoyl Peroxide or tea tree oil helps a lot. They kill acne-causing bacteria, clears the clogged pores, and also removes the layer of dead skin to promote the penetration level of nutrients.
After understanding the mechanism, I started to exfoliate my face once a week in addition to my routine above. I applied the how-to for facial exfoliation on Wikihow (I have briefed the guidelines in another section below).
I patiently tried a ton of exfoliators to find the best one. Some were not effective at all. Also, there were some bringing outstanding visible results. However, my skin commenced reducing acne. Such a relief!
Of course, it took time to get rid of acne completely, but seeing progressive outcomes like that, you girls cannot imagine how much I was glad. One and a half years of suffering finally came to an end!
Now, I've still been using exfoliators to prevent future breakouts and revitalize my look. The skin's tolerance for exfoliation is greater, so I do it twice a week. It helps my complexion be brighter and also reduces tiny wrinkles.
Well, it's time for you to receive a similar result. Just look at my utmost exfoliating products herein and pick one for yourself, girls.
A list of best exfoliators for acne-prone skin starts now!
1. Dermalogica Daily Microfoliant - The holy savior
Not liquid. Not gel. But powder!
If there is any exfoliator that everyone must try at least once in their life, it is Dermalogica Daily Microfoliant.
Dermalogica Daily Microfoliant shows itself uniquely in rice-based powder. When contacting with water, it turns into creamy-paste form and activates its ingredients to polish skin. This baby has rice enzyme and papain enzyme, which gently remove dead cells without weakening the skin at all.
Salicylic Acid is also equipped - an ingredient so familiar to those who have acne problems - to help unclog pores. Plus, this product features exclusive Brightening Complex technology from a complex of ingredients: Green Tea, Ginkgo Biloba leaf extract, and Colloidal Oatmeal. Thus, I observed my skin gradually brighter, more even skin tone.
You will not believe this, but just after 2 months of using, my acne was almost gone, pores were minimized, and my skin less produced oil. No product else could do that. That is why I called it "the Holy Savior." If possible, I even score this baby over 5, maybe 10, 20, or even more. There is no word I can express about the outstanding effectiveness of it.
Moreover, though you have been advised that it is better to use an exfoliator at night to avoid skin sensitivity upon exposure to the sun, this Holy savior can perform the opposite! You can use it in your morning routine, and worry-free about it can be vulnerable to your skin. It even provides a smooth canvas for applying makeup layers. Incredible!
Must try, my girl, must try! It is the best chemical exfoliant, the best exfoliator for oily acne prone skin ever!
Pros
Exfoliator that can be used daily without over-exfoliating.
Gluten-free, paraben-free, vegan, cruelty-free.
Perfect for all skin types.
Unique formula with rice and papaya enzyme.
Unbelievable effectiveness in reducing acne.
Cons
The high-end item for those who have a hefty budget.
Best for:
It's suitable for everyone, especially those who have sensitive acne-prone skin.
2. Proactiv Acne Renewing Cleanser - A godsent exfoliating face wash
If someone asks me which brand I think has the no. 1 acne treatment regimen, I can say it is Proactiv without hesitation.
Yes, Proactiv indeed is the no.1 acne-related skincare brand. Launching in 1995, Proactiv was not a one-hit-wonder, but a hero came from zero. It started a revolution in blemish treatment and prevention at home (you girls may explore more about it onForbes). All its products are specifically designed for acne-prone skin with their exclusive Combination Therapy®: cleanser - toner - treatment.
This three-step therapy was, for the first time in the world, deeply focused on corrupting the acne cycle on the whole face instead of "spot treatment."
The Proactiv Acne Renewing Cleanser is the first step in the Therapy. The superstar in its formula is 2.5% Benzoyl Peroxide. This active ingredient is shown to effectively kill the P.acnes (a causing-acne bacteria) and prevent flare-ups. With no soap contained but tiny beads, Renewing Cleanser gently exfoliates dead cells without drying your skin
Honestly, I have not tried using the complete three steps. I only used this product and Demalogica Daily Microfoliant alternately that my acne seemed to be extremely controlled. I'm still addicted to Korean moisturizers (I did make a list of Best Korean Moisturizers) because of their more comfortable price and cute packaging.
After I finish my current moisturizer - Belif The True Cream Aqua Bomb, I will switch to Green Tea and Hyaluronic Acid Moisturizer and let you know in my upcoming post. Just wait for it!
Pros
Cleansing and exfoliating in one step.
It can be used daily without over-exfoliating.
Non-irritation.
Unbelievable effectiveness in reducing acne.
Cons
It's quite costly, but the price of something usually equals its quality.
Best for:
It's suitable for everyone to use every day.
3. Proactiv+ Skin Smooth Exfoliator - The caregiver to your skin
This is another product from Proactiv that I found can be the best exfoliating face wash.
Also packed with Benzoyl Peroxide 2.5% and tiny beads, this exfoliator does its job as efficiently as the Skin Renewing Cleanser above. However, the "plus" in its name indicates that there are upgrades in its formula compared with its brother.
Besides the core Combination Therapy®, the manufacturer put the Smart Target® technology into practice in this Skin Smooth Exfoliator. The Benzoyl Peroxide molecules are broken down into micro-crystal type, which penetrates the skin faster and attacks P.acnes more quickly.
According to Proactiv, you can see the result of acne decrease only after 01 week using Proactiv+ Acne System. For me, it took me 3 weeks to see the outcome since I only used this eExfoliator. But that was still so fast.
Linoleic Acid, Linolenic Acid, and Glycolic Acid are also added to smoothen the skin surface and minimize the pores' appearance. Thus, I noticed that my pores did shrink down a little bit, and my tiny wrinkles in the middle of two eyebrows were ironed. The product reduces blemish and also improves the complexion. In just one step! How wonderful it is!
Pros
Cleansing and exfoliating in one step.
Daily use without over-exfoliating.
Non-irritation.
Sulfate-free, Paraben-free.
Decrease acne so quickly.
Cons
It's a bit dear but worth every penny.
Best for:
Every skin type that suffers mild-to-moderate acne is recommended to try this exfoliator.
I guarantee that you will not regret it!
4. NeedCrystals Microdermabrasion Crystals with Salicylic Acid - The spa-quality at home
You have heard about microdermabrasion before and think that it is only carried out at a professional spa? Today you will learn that you can do it at your comfortable home with NeedCrystals Microdermabrasion Crystals with Salicylic Acid.
This face scrub has a unique way to use - it only activates by combining with your face wash. Mix your facial cream with NeedCrystals (the ratio 2:1) until it becomes a creamy paste, then gently scrub on your face for 2 minutes. And voilà! You are not disappointed with the out-performed result!
This is the best exfoliating scrub for acne. In comparison with the complicated microdermabrasion system in the spa, I prefer this one. The 2% Salicylic Acid contained in the formula helps a lot with blind pimples and whiteheads. Meanwhile, the Corundum works well to wash away blackheads.
All dead cells located above the epidermis, called the stratum corneum (in other words, it is the outer layer of dead cells) will be gently eliminated). And by that, it stimulates all the underlying cells to regenerate at once. Acne scars, wrinkles, and fine lines are not your worry anymore. Earning a vibrant, youthful skin has never been that easy!
Pros
Cruelty-free, 100% vegan, GMO-free, paraben-free, fragrance-free, dye-free, and gluten-free.
An easy way to decrease acne, acne scars, wrinkles, age spots.
You can mix with your shower cream to exfoliate your body skin.
Cons
2% Salicylic Acid may cause your skin to be sensitive to the sun
Best for:
I do not recommend this product to sensitive skin because of the high content of Salicylic Acid. Do not use daily (2 times a week is enough) and always use a moisturizer to avoid dehydration.
5. The Body Shop Tea Tree Squeaky-Clean Exfoliating Face Scrub - The 100% vegan choice
I just love this scrub very much! This is one of the best face scrubs for acne I have tried till now. The fresh sensation and soft skin it brings is just so hard to resist. My face looked better, just the first time I used it, literally. It leaves a clean feeling but does not dry my skin out. Plus, it is not pricey at all, so I use it for my neck and my back too.
The Body Shop is so well-known for its blemish-suitable Tea Tree product line. This scrub is not exceptional. Tea Tree oil kills bacteria that can cause acne and prevent impurified skin. It makes my complexion glow. Even my husband loves it. He has used the whole The Body Shop Tea Tree line, and sometimes, I was so jealous of his no-acne, no-clogged-pores skin.
One more thing, the tea tree oil comes from the organic tea tree plants in Kenyan forest. The tea tree leaves are hand-harvested from the best crops and distilled to the oil in 12 hours by the Kenyan farmers. The Body Shop has cooperated with Kenyan Organic Oil Farmers Association since 2007 to buy the most qualified organic tea tree oil (you can read more on Reuters). In return, the Kenyan farmers' year-round income is guaranteed and by that, they do not over-exploit the forest - the source of the organic ingredients. Therefore, the quality is ensured as well as the environment is not destroyed.
The Body Shop also uses recycled plastic for its product's packaging to protect the Earth. Its commitment "Enrich our planet" is so honorable.
Pros
Cruelty-free, 100% vegan.
Keep skin clearer-looking with a refreshing sensation.
Reasonable price with high quality of preventing breakouts and giving you a radiant skin.
Cons
If you're looking for a feeling of beads scrubbing on your face, it may disappoint you. The beads are so tiny that you cannot feel it2% Salicylic Acid may cause your skin to be sensitive to the sun
Best for:
I think this is most suitable for oily acne-prone skin. The menthol in its formula may cause sensitive skin irritation.
6. CeraVe Renewing SA Cleanser - The best drugstore exfoliator from the #1 Dermatologist Recommended Brand
CeraVe is the first cosmetic brand in the world to add ceramide, cholesterol esters, and fat to skin products. This breakthrough in beautifying technology makes skin healthier and more radiant. CeraVe is also approved and patented by the Eczema Association in the US. CeraVe cosmetics is one of the benign cosmetic brands that many people believe in.
CeraVe Renewing SA Cleanser is a product line for oily acne-prone skin ladies! It is favorably regarded by the beauticians for its gentleness and ideal cleansing effect.
The formula with highlighted ingredients as below:
Ceramide: one of the essential lipids that help restore the skin barrier.

Niacinamide: brighten the skin, improve wrinkles, prevent allergies, and reduce acne.

Hydrolyzed Hyaluronic Acid: increase the skin's ability to absorb moisture, lock-in the water from evaporating.

Salicylic Acid: you have heard many times that this is a golden ingredient to help fight acne.
Though it has Salicylic Acid in the formula, the sensitive skin could consume it every day without concerns due to Ceramide, Niacinamide and Hyaluronic included. That's why when you wash your face with this product, the skin is gently exfoliated, removing dirt, excess oil, and remnants of the makeup without damaging the moist barrier.
For those hectic days and I don't have time to perform all the steps in my skincare routine, I usually just remove my makeup, use this face wash and finish with Belif The True Cream Aqua Bomb (this moisturizer is such a star, you can read the review in Skincare Toplist's blog Best Korean Moisturizers for Oily Skin).
Among expensive cosmetics brands, CeraVe is the best option in terms of quality and overall value.
Pros
Developed by dermatologists.
Non-comedogenic and Fragrance-free.
Reasonable price in terms of effective impact.
Cons
If you have a dry sensitive skin, this product may further dry your skin out (the Hyaluronic Acid content may not be enough for dry skin).
Best for:
Oily sensitive acne-prone skin will thank this product. Not recommended for dry skin. If those who have dry skin want to try CeraVe products, please take a look at CeraVe Hydrating Facial Cleanser instead.
7. CURE Natural Aqua Gel Exfoliator - The best solution for acne sensitive skin
You may not know this but in 2009, Cure Natural Aqua Gel was selected as a guest gift at the 81st Academy Awards. Cure Natural Aqua Gel is one of the best selling exfoliation products in Japan. As far as I know, one bottle is being sold every 20 seconds. Is it persuasive enough to you?
Natural Aqua Gel has the nicest formula I've ever seen with 91% pure water and natural botanical extracts of aloe, ginkgo biloba and rosemary. It also contains no alcohol, artificial flavors, colorants or preservatives, making it extremely safe for the skin, even for those with sensitive skin. Cure Gel reacts with the dead cell and removes it through massage. This mechanism is completely different from the acid exfoliation or small-bead scrubs, which easily irritate or scratch the skin.
Key Ingredients:
91% Activated Hydrogen Water: Extremely pure with the function of helping nutrients absorb quickly.

Aloe Leaf Extract: this is an antioxidant with antibacterial features, helping minimize inflammation, acne, redness.

Rosemary Leaf Extract: natural extracts with high levels of nutrients such as vitamin C, vitamin B3, ... with anti-inflammatory and antibacterial effects for the skin.

Ginkgo Biloba Leaf Extract: contains flavonoid and ginkgolides, helps reduce skin irritation, regenerates skin tissue and anti-aging.
With such a great formula, it was my choice when I got pustules all over my face. I did not use a scrub since particles would break the pus and spread bacteria to another area. My skin back then was sensitive, often had red rashes and an itchy feeling. Natural Aqua Gel kindly cleaned up the dead cells layer without irritation. My pustule spots were quickly flattened, and redness was calmed, though I used it once a week. Very satisfied!
Pros
Non-comedogenic, Fragrance-free, alcohol-free, preservations-free.
Non-irritating.
Soothe the redness and help flatten pustules quickly.
Cons
Packed in a 250ml bottle with the usage validity of 6 months after opening, we cannot use up all in time. My advice is using it for the body too.
Best for:
All skin types would love it. However, it may not be satisfying enough for oily, large pores skin.
8. Neutrogena Oil-Free Acne Face Wash - The best drugstore exfoliating face wash
This face wash has a thick texture, a good foaming ability that helps cleanse the skin more effectively. Microbeads work gently to reduce oil, remove dirt and impurities that build up in pores without drying or causing skin allergies. Your skin will be clean and smooth after the first week of use.
It is formulated with MicroClear®, a powerful clinical technology that helps active ingredients go deep into pores to treat acne effectively. The combination of Salicylic Acid and Glycolic Acid not only refines pores, but also makes the surface of your skin satiny.
I used this face wash through my teenage (it was affordable to me back then). And it was so great to prevent adolescence acne. The only thing I was not satisfied with is that I felt the residue on my skin after rinsing it off.
This face wash has a thick texture, a good foaming ability that helps cleanse the skin more effectively. Microbeads work gently to reduce oil, remove dirt and impurities that build up in pores without drying or causing skin allergies. Your skin will be clean and smooth after the first week of use.
It is formulated with MicroClear®, a powerful clinical technology that helps active ingredients go deep into pores to treat acne effectively. The combination of Salicylic Acid and Glycolic Acid not only refines pores, but also makes the surface of your skin satiny.
I used this face wash through my teenage (it was affordable to me back then). And it was so great to prevent adolescence acne. The only thing I was not satisfied with is that I felt the residue on my skin after rinsing it off.

Now I am nearly 30, so I demand more in a product that can prevent premature aging signs as well. This face wash is a bit harsh for the skin that is coming into the aging stage. However, in my opinion, this face wash is the best drugstore face scrub for teenagers who have acne due to how it worked on me. Now I am nearly 30, so I demand more in a product that can prevent premature aging signs as well. This face wash is a bit harsh for the skin that is coming into the aging stage. However, in my opinion, this face wash is the best drugstore face scrub for teenagers who have acne due to how it worked on me.
Pros
Dermatologist-tested.
Dissolve oil, dirt, and impurities.
Well-reduce adolescent blemish.
Cons
Maybe a little harsh for mature skin.
The fragrance is strong.
Feel greasy on the skin after rinsing off with water.
Best for:
As I mentioned above, this is a good drugstore scrub for teenagers who have dry acne-prone skin. Though it is labeled "daily scrub", please only use it 2-3 times a week to avoid over-exfoliating.
9. St. Ives Acne Control Face Scrub Apricot - The budget choice for a family

This is the most widely-used exfoliator. In my family, my mom, my sister-in-law, and my husband all use this one. It has a mild apricot smell, but the scent is not lingering too long. In fact, its scent is quite pleasant.
The natural ingredients which are dermatologist-tested contain apricot extract, and walnut shell powder efficiently remove dead cells without damaging your skin. The formula is well-done with the active ingredient 2% Salicylic Acid for the treatment of acne.
I've never seen my mom or my sister-in-law have pimples. I think St.Ives scrub plays a part in helping them get rid of the blemish. For me, I've used chemical peel quite often, so my skin is too sensitive with a large-bead exfoliator. However, I use it for my shoulder and back - where sometimes whiteheads appear - and it works!
For such an attractive price, this scrub is suitable to use for a whole family (even use for the body). It's extremely economical.
Pros
Dermatologist-tested, paraben-free, oil-freeDermatologist-tested.
Contain Salicylic Acid to treat acne and prevent future breakouts.
Can be used for the whole body.
Cons
Perhaps a little harsh for sensitive skin.
If you have severe acne-prone skin, it is not for you.
Best for:
Normal and oily skin type with mild-to-moderate acne.
This is the end of the list, and you're still wondering why you should use an exfoliator? OK, let me explain further hereby.
Why do you have to use an exfoliator when treating acne?
Fighting acne and preventing breakouts
As I mentioned earlier, an exfoliator is a weapon to defeat acne. Many people ignore exfoliating when they have acne because they think that exfoliating makes acne worse.
In fact, acne's root comes from overactivation of the sebaceous glands under the skin. Such operation causes sebum overproduction. When the sebum combines with dirt and dead cells, clogged pores, whiteheads, and blackheads are formed. That is an ideal environment for acne-causing bacteria to perform more severe inflammatory acne such as pustules.
Therefore, in addition to washing your face every day, you need to periodically exfoliate your skin every week to avoid the dead cells to cause prone skin.
Diminish the signs of aging
In my acknowledgement, the self-removal process of dead cells on the skin takes place strongly before the age of 30. But from 30 years old, the skin regeneration cycle is slower and slower. Therefore, it is more difficult for dead skin cells to peel off over time. Such dead cells deposit a thick layer on the skin surface, limiting new cells' reproduction, leading to premature aging signs.
Regular exfoliation will speed up the regeneration of the skin, remove dirt and sebum deep in the pores, thereby helping you look more youthful and vibrant.
Boost the nutrient absorption of the skin
Whenever you find your skincare products seem not to be highly effective, your conditions do not improve much, then possibly your outer layer of dead cells is blocking nutrients penetration. You should do exfoliation right away.
After exfoliation, the skin is clear-up and well-prepared. This is the best time to use lotion products, treatment agents, as well as other cosmetics. The stratum corneum was thinned off, so the epidermis easily absorbs the nutrients in the cream/serum and escalates its use.
---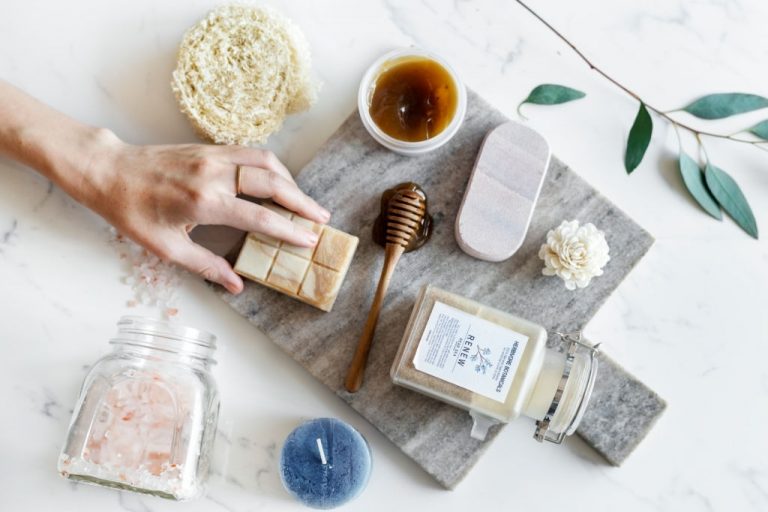 Guidelines to use an exfoliator
1
Guidelines to use an exfoliator
You should understand your skin is under which type and condition. You cannot use an exfoliator for oily skin to your dry skin or vice versa.
If you have mild acne-prone skin, it's not an issue using a large-particle exfoliator. However, moderate-to-severe blemish skin must avoid those scrubs. Sharp beads will scratch pustules spots and escalate the spreading to all over your face.
The chemical exfoliators or gel peelings are highly recommended to those who have moderate-to-severe acne conditions. (E.g. The Dermalogica Daily Microfoliant or Proactiv+ Skin Smooth Exfoliator is specifically designed for acne. In case you prefer a high dose of Salicylic Acid product, please regard our top BHA list.)
2
Cleanse your face
Before starting to apply an exfoliator, remove your makeup and wash your skin with a cleanser.
Note: Hot water should not be used because it dries out the skin. You can use warm water to cleanse your face and let it dry naturally; this will help restore the necessary moisture in your skin.
Also, you'd better select a fitting cleanser for your skin. We already had our comments on some best BHA face washes; hope you find one that suits you the most.
3
Applying an exfoliator
For physical exfoliator (like a scrub or a peeling gel):
Use warm water to wet the skin (Warm water will open the pores for deep cleansing and not dry out your skin).
Then dispense a small amount of exfoliating product and gently massage your face for one minute. Do not rub the skin brutally to avoid redness and damages. Also, be cautious about not exfoliating the skin around your eyes.
Finish by rinsing off your face well with warm water and dry skin with a clean towel.
Note: Massaging your face longer than 60 seconds may cause discomfort or irritation.
For chemical exfoliator (liquid or powder form):
After washing your face, damp a cotton pad with your chemical exfoliator and tenderly wipe all your face (except eye skin). Wait for 20-30 minutes, then continue to apply serum and moisturizer (do not rinse).
4
Skin care after exfoliation
The friction of using a physical exfoliator can dry out your face and cause redness. You should use a Hyaluronic Acid ampoule or serum to soothe and hydrate the skin.
Subsequently, take moisturizing steps to nourish skin glowing and shiny.
5
Follow up the effectiveness of exfoliating products
Pay special attention to your skin for the next several weeks. If an exfoliating product does its job, you will soon find your skin smoother and brighter. Congratulations on finding a best exfoliator for acne that works!

Watch for signs of redness, itching, or a rash. These are signs of an allergy or sensitivity. If you experience any of the symptoms listed above, stop using this exfoliator and choose an alternative product. You can also check with a dermatologist to check if your skin is allergic or sensitive to ingredients.

Try a variety of exfoliating products if you are not satisfied with the first one. Try a variety of exfoliator if you are not satisfied with the first one. You may need to try several times to discover the appropriate product for your skin. Be patient and keep an eye on your skin condition, and you will find the "chosen one"!
6
Frequency of using an exfoliator
Only use an exfoliator once or twice a week. You will want to feel the soft and refreshed skin every morning. However, using an exfoliator too often can strip away delicate skin cells, leaving redness and pain.
You should use an exfoliating product once a week when you initially utilize it. You can increase to twice a week if you feel your skin can bear it. Moderation is the key to effective exfoliation. Otherwise, your skin will be over-exfoliated.
Provided that you over-exfoliate your skin perchance, regarding our way out below.
Solutions in case you are over-exfoliated
Be careful when you see your skin showing redness and a slightly sore, itchy sensation signs, as they represent the first symptoms of skin being damaged by excessive exfoliation. Especially when you scrub your face harshly or overdose acid for chemical exfoliation than the skin can tolerate, you will feel your skin burning.
Remember that the outer layers of dead cells are only about 2/100 millimeters thick, so it's easy to remove, and your skin can grow new cells on its own. So, exfoliating too much will harm your healthy skin cells that are being regenerated.
When you find your skin getting over-exfoliation, following the below instructions:
The first thing to do when you exfoliate excessively is stop using the exfoliator for about 2-3 weeks (maybe longer depending on your condition). Your skin needs time to recover.

Then stop using deep cleansing face washes and aim for those with pH lower than 7. The cleansers for sensitive skin are the most appropriate in this situation.

Avoid acid toner, acid serum as well as retinoid products. Switch to Hyaluronic Acid toner, ampoule, or serum to ease your redness. Try those that are also packed with Ceramide or Peptide to recover the cells.

Use a basic moisturizer with good hydrating ability and may contain some ingredients to help soothe skin irritation such as niacinamide, green tea extract, licorice extract, etc.
After your skin gets rid of the pain and fully recovers, start to use a gentle exfoliator for acne only once a week.
Coming up next is the FAQs section to puzzle your questions out.
FAQs
Is the exfoliation necessary for blemish skin?
Yes. You can read my answer in the section "Why do you have to use an exfoliator when treating acne?" above.
Only aging skin should exfoliate?
No. Young or old, the skin is still aging slowly but surely. Above 30, the cell's changing cycle is slower, so the maturing process occurs more rapidly. The remaining dead cells will make the skin dull and flaky. Exfoliation slows down the aging signs, rejuvenate your face, so there's no need to delay until the aging stage. Do it as soon as possible.
Exfoliation of the eye area, should or should not?
No, you should not. When exfoliating the face, absolutely avoid the skin around the eyes because it is the most delicate, sensitive, and vulnerable area.
Skin blemishes or large pores should be aggressively scrubbed or rubbed for deep cleaning?
Absolutely not. If you do that, bacteria will penetrate easier, stimulating pores enlarged and spreading pustules more and more. Furthermore, scrubbing too hard can damage the skin and loosen the muscles.
After exfoliation, is the skin susceptible to sun exposure?
Yes, if you exfoliate during the day. You should exfoliate at night. The reason is that after exfoliating, our skin is soothing and vulnerable, so it takes a night's sleep to restore before continuing to fight with dust and sunlight. Always remember to wear sunscreen before you leave home. (In case you don't know which sunscreen is suitable, visit the top choices of Best Korean Sunscreen and pick one).
Final words
As Demi Moore used to say:
"I'm a big believer in that if you focus on good skin care, you really won't need a lot of makeup."
I do believe that too. If you have a good skincare routine, your natural skin will be healthy, radiant, and acne-free. Without any makeup, you still "shine bright like a diamond." So let the exfoliator give you a hand!
My top choice Dermalogica Daily Microfoliant will not let you down. Try once and let it blow your mind. After 2 months, you will see the difference as I did.
You want to bring a spa home, huh? Why are you still hesitating to pick NeedCrystals Microdermabrasion Crystals right away for yourself?
So afraid to try those hard-core exfoliators? The CeraVe Renewing SA Cleanser is never a disappointment to anyone.
Well, that's all about the best exfoliator for acne. If you are still under consideration, just drop a comment below to let me understand your problems. We can work it out and find the most proper product for your own good.