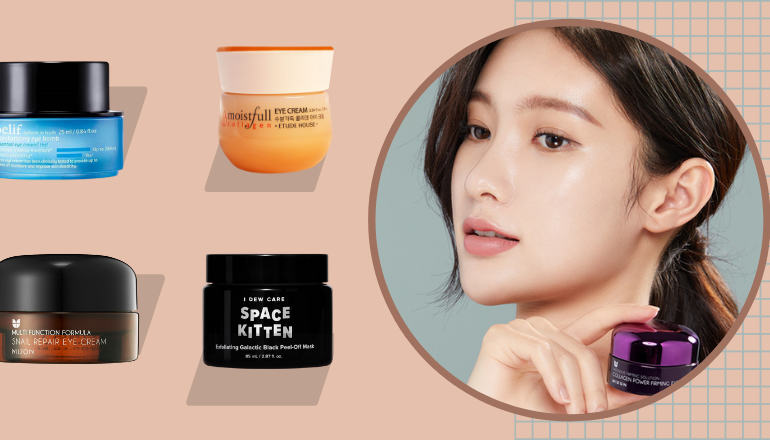 "The beauty of a woman must be seen from in her eyes because that is the doorway to her heart, the place where love resides." - Audrey Hepburn.
Yes, the eyes are the doorway to the heart. But, as you may not know, the skin around our eyes also plays a vital role in expressing that doorway's beauty.
Sadly, most girls don't understand the importance of eye cream and usually skip this skincare step. So please do not walk away before you guys have done learning why eye cream is so vital, and why I chose these 10 best Korean eye creams for myself.
The skin around the eyes is the most delicate and sensitive area of the face. The eye area does not have the sebaceous and sweat glands. It means the lipid layer protecting that eye skin also does not exist. Without the protective lipid film, only a slight lack of care leads the skin to be dry, and wrinkles are more easily formed.
Mirror, mirror on the wall, who has "the weariest eyes" of them all?
Now I want you, with your bare face, to sit in front of the mirror and honestly answer these 5 yes-no questions below:
Do the dark circles appear under your eyes?

When you are not smiling, do you have puffiness under your eyes? Please do not confuse the eyebags and the Aegyo Sal smiling eyes (*).

Do you have fine lines around your eyes when not showing emotion?


When you laugh, do the corners of your eyes appear crow's feet?


Have you passed the aging period yet? (The age of aging varies from person to person. However, the early signs typically appear at 20, are more pronounced at 25, and can be easily seen when over 30.)
With the question of whether eye cream is necessary, I think you already got the answer. If the most responses are "yes," then you should start using eye cream today.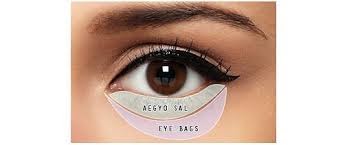 Credit: Pinterest / kPopsurgery.
(*)Aegyo Sal appears close to the lower eyelid. When smiling, the person with Aegyo Sal looks cuter and younger. Meanwhile, eye bags will appear when the skin is less firm and aging, makes you look exhausted, and lacks vitality.
Aegyo Sal is one of classic Korean beauty (refer to here).
Honestly, I hadn't used eye cream until I was 26-year-old. Such a huge mistake of mine, but it was rather a little late than not happening. It all began on the day I bumped into an old friend of mine in a Starbucks queue. We had a fun chit-chat time until she surprisingly said: "Honey, I care about you. Who the hell is this guy that makes your heart broken?" And I was like: "A what?" That's it. My drained eyes made her think I was dumped and had been crying all night long. True story!
Therefore, if you want to have a resplendent look, do not underestimate your eye skincare. Try staying up late one night. I bet the dark circles under your doorway to the soul will make you terribly gloomy for sure.
However, those who have never used an eye cream before somehow may find it challenging to choose the best eye cream for their own. I have carried out a roundup of 10 best Korean eye creams here in this article to shoo the butterflies in your stomach away with my personal experience.
Are you ready to hit the ground running?
Why do I target Korean eye creams?
The big wave of Korean beauty trends
You have still not forgotten the trend "10 Steps Korean Skincare", haven't you? And the most recent trend coming from the land of kimchi was "glass skin" - that is de wy, radiant, glowy, and appears poreless with a mirror-like shine. (In case you're craving to earn this standard K-beauty, you may want to put your eyes on some of our best Korean serums and our best Korean moisturizers.)
It's concrete evidence that the K-beauty now attracts the world's most attention. The secret behind the K-beauty is the leading innovative technology in their skincare products. Accordingly, Korean eye creams arouse an outstanding hit globally as well.
Delivers excellent results
Korean eye creams are so famous these days, mainly due to their innovative formulations. By mostly containing natural ingredients, they are non-irritative and suitable for many skin types. Also, Korean manufacturers only use the best quality ingredients in their formulations. That's why consumers trust that Korean eye creams are effective for their skin.
Budget savior
With extremely excellent quality and effectiveness, Korean eye lotions' prices are quite reasonable and affordable for any girl. Korean cosmetic brands extremely pamper customers when offering many product lines with various different prices. With any budget, you girls can easily find your own item with completely unexpected pleasure.
Packaging designs
Hell yeah, I fall in love with their packaging designs. Not only outstanding quality, affordable prices, but the lovely and eye-catching packaging designs also help Korean eye balms to be liked by girls.
Just try to compare Korean cosmetics with cosmetics in other countries; you will see the difference in packaging design. Korean designs often have bright colors, cute youthful motifs. Don't believe it? Try to look for a round of products from Innisfree, Missha, or Tony Moly. Extremely eye-catching and adorable, right?
Consider three things to find your best Korean eye creams.
Understand your skin condition
Knowledge is power! Don't expect an eye cream for eye bags to treat your dark circles efficiently. You must know what problems you are facing first. Otherwise, it can be counterproductive and cause unpredictable side effects.
Search for key ingredients
Depending on your personal needs, do look for some key ingredients below:
Hyaluronic Acid – this ingredient does fantastic work in lock-in moisture and keeping the skin hydrated.

Ceramides – one of the three types of lipids involved in the membrane structure on the skin's surface, ceramides account for 40-50% of the lipid in the stratum corneum (the remaining is cholesterol and free fatty acids). Ceramide plays an essential role in ensuring the skin's protective barrier function (the Hydrolipid film) and maintaining its essential moisture.

Retinol – here is a gold ingredient in preventing premature aging signs. Retinol may help boost collagen production and reduce the appearance of fine lines and wrinkles.


Vitamin C – Vitamin C is a powerful antioxidant that may help your skin brighter. It will gradually reduce dark shadows under your eyes and defend your skin against the sun.


Caffeine – this one helps reduce swelling as well as dark circles. Caffeine gives you a fresher appearance.
Besides, you may find some natural ingredients in Korean eye creams like honey, chamomile, green tea, and snails extract. You're imagining a snail crawling all over your face, aren't you? Don't be shocked. Snail secretion filtrate is really a thing these days.
Fragrance or fragrance-free
I usually look for fragrance-free items since they can be used on sensitive skin. However, if your favorite product is scented, you should test whether it can cause irritation or not.
An additional rule for you to earn the healthy under-eye skin is always using sunscreen. Sunscreen will help prevent your sensitive skin around the eye from forming premature aging signs. Take a glance at our top picks for some of the best Korean sunscreens.
OK, it's time to discover the best Korean eye creams hereunder.
Behold my top picks of the best eye creams from Korean brands!
1. A.H.C. The Real Eye Cream For Face - Skincare Toplist No. 1 choice

I'm a huge devotee for Anne Hathaway. That's why I cannot ignore the cosmetics brand to which she used to be an ambassador.
AHC's philosophy makes anyone fall in love. AestheBalance consists of three principal elements: an updated skincare research methodology, a sophisticated formulation, and optimal use of the most pleasing results. I have great admiration for their technology innovation, making them one of the leaders in the cosmetics industry in Korea.
Do you know that for every 2 seconds, one tube of The Real Eye Cream For Face is sold in Korea? This spectacular figure has made this be the best-selling eye cream in the country of kimchi.
AHC unique Micro-emulsion technology scales the size of ingredient molecules down to 1/200 the size of pores, helping nutrients penetrate deeply into the skin, nourishing the skin from the inside. As a result, moisturizers such as hyaluronic acid or essential vitamins and peptides promote a super-level skincare effect.
The most distinctive feature of this eye cream is that you can use it for your whole face, representing a prime example of the advanced technology from AHC. With natural ingredients, The Real Eye Cream for Face is precisely a benign product and does not cause skin irritation at all. Over time, you will benefit from the superior ability to blur wrinkles in the nose, neck, emotional lines as well as the eyelids.
I'm so addicted to this black tube that I don't even think about changing to another product. To me, this is the best dark circle eye cream in the world, as it has all the criteria I mentioned from the beginning: key ingredients with high technology, excellent packaging design preventing double-dipping, the price not too high, and fragrance-free. Whenever I feel too lazy to perform my skincare ritual, I simply put on this all-in-one product all over my face. The dark shadow under my eyes is reduced, my whole complexion is well hydrated, and I can see my pores are a bit tighter. Have you been convinced yet?
Pros
The most innovative technology from the Korean cosmetics industry benefits you greatly
The Korean best-selling eye cream
Give you a typical "glass skin" as Yeonseo Oh
Cons
It kind of has a slow effect on mature skin
Best for:
I advise anyone should try at least once this best eye cream 2019. For mature skin, use under your morning makeup and use a stronger one such as Mizon Collagen Eye Cream at night for a more visible outcome.
2. Mizon Collagen Power Firming Eye Cream - The best collagen eye cream from the land of kimchi
Don't you know what's to give your mom on her birthday? Buy this, and she will thank you for revitalizing her youth again. This Mizon Collagen Power Firming Eye Cream is the best anti-aging eye cream for 50s that I've heard tons of my friends talk my ear off.
Its outcome will make you gasped in surprise. Yes, I'm that confident, girls.
The manufacturer is so proud that they only deliver the best quality products to its customers. As a consequence, we are holding in hand their best collagen eye cream. Mizon has 42% concentrated marine collagen packed in the formulation, plus paraben-free and fragrance-free. Such formulation encourages damaged tissue under your eyes into fixing itself. Additionally, it stimulates the collagen and elastin production to develop a more glowing, younger looking skin. It is one of the best eye creams for wrinkles.
Furthermore, this beauty is guaranteed by Mizon that it is hypoallergenic, specially designed for sensitive skin. You'll be worry-free from beneath-eye skin irritation.
My friend keeps telling me how happy her mom is upon using this eye cream. She says it is incredibly hydrating without being thick or oily. Just by applying a thin layer, her mom can feel refreshing on the skin. The liquid absorbs right away, and her wrinkled eyes are moisturized immediately. "It's the first eye cream that I've seen real results from." - she cheerfully announced.
Indeed, I visited her mom lately and could tell that she looked full of vitality. She welcomed me with a beaming smile, and I hardly saw fine lines around her eye area. This item also seemed to help reduce the pores' appearance close to the top of her nose. After a few days, I brought a jar home for my mom too. Now, both moms are prettier than their own daughters!
Pros
Efficiently help to bye-bye crow's feet
Free from harmful ingredients
Moisturizing for the whole day
Non-irritation
Cons
It does not go on well under makeup (it can cause concealer lumpy)
Best for:
This eye cream is the most suitable for mature skin. I consider it as the best anti-aging eye cream for 50s because of its result to my friend's mom.
3. Belif Moisturizing Eye Bomb - The best eye wrinkles cream so far
Belif Eye Bomb is one of my favorite eye creams, just behind the AHC Real Eye Cream For Face.
Belif is a premium cosmetic brand from Korea, belongs to LG Household & Health Care LTD group. Belif is favored by the ladies thanks to the inheritance of the 19th-century drug makers' technology with natural ingredients such as rosemary, mint or patchouli, and other herbs.
Belif Moisturizing Eye Bomb's focal point is the ability to instantly throw an aqua burst into your skin. As per its description, the marvelous hydrating and moisturizing effect maintains up to 26 hours. For my own experience, it can last longer. I did a test by myself: I applied this cream on a Saturday evening, and my beneath eye skin was moist until Monday morning, which was around 30 hours roughly. Surprise now, my friends?
Besides its good hydrating, this eye also helps with premature and mature aging signs.
Pennywort extract activates cell division and stimulates collagen synthesis of connective tissue, promoting skin cells' formation.
Comfrey leaf extract helps in anti-inflammatory, significant damage recovery thanks to rosmarinic acid. Allantoin in comfrey leaves helps fight irritation and is a skin protector by increasing the extracellular matrix's water content that provides cellular structural and connective tissue support. Allantoin also escalates skin softness, promotes cell regeneration, and promotes wound and scars healing.
Also, extracts of herbs help nourish and protect the skin from before age and the environment.
Briefly, the eye cream has an extremely light texture, with the ability to moisturize the skin around the eyes for up to 26 hours, increasing elasticity and increasing skin's resilience.
Pros
Hydrating for above 26 hours
Fine lines, wrinkles are flushed out promptly (I find this is the best eye wrinkle cream so far)
Cons
It's a bit dear to own a jar
Not so useful for dark circle treatment
Best for:
Anyone with a hefty budget must try this item.
4. Mizon Snail Repair Eye Cream - The best anti-aging eye cream for 40s
I bought this product for my sister-in-law earlier this year. She is in her early 40s, and she currently has fine lines around her eyes. She's been using this for about seven months, and I can see the positive results on her face. The more delicate lines under her eyes have become almost unnoticeable, and the deeper crow's feet (smile/squint lines) are much less pronounced now.
"This product is very effective in hydrating and diminishing fine lines. It transforms the area around my eyes within seconds, plumping out fine lines and hydrating. Best Korean eye cream for wrinkles ever." - she said.
I think the secret behind such outstanding effects is the snail extract in this eye cream's formula. Snail extract contains many proteins, collagen, hyaluronic acids, allantoin, elastin, glycolic acids, and antioxidants. Moreover, according to dermatologist Anna Guanche at the Bella Skin Institute, the snail's mucin provides a high moisture level, making it easier for other skincare ingredients to penetrate the skin deeply (more information here).
I also noticed a lightening of some hyperpigmented spots near my sister's eye area, which made me confident that the Niacinamide has done its job well. The combination of snail extract and Niacinamide undoubtedly brought a gorgeous outcome to my sister. If you're seeking the best anti-aging eye cream for 40s, you don't want to miss this one.
Pros
Unique formula with snail secretion filtrate and Niacinamide fill in wrinkles
Providing elasticity, treating fine eye wrinkles
Dermatologically tested
Nicely light and blendable
Pretty economical
Cons
Snail extract can irritate some people
The alcohol may make your eyes burst into tears
Best for:
I've not tried this eye cream by myself yet despite its incredible reaction to my sister's eye skin. However, I don't recommend it for sensitive skin since the alcohol is included in its formula. All remaining skin types may try and enjoy its beautiful anti-aging outcome.
5. I DEW CARE Glow-Key Eye Cream with Applicator
Seriously, I was hesitant to try this jar at first. Then I saw these wordings "vegan, cruelty-free, and gluten-free," I decided to jump at the chance. I have to say that "I Dew Care" has done an excellent job. They certainly balance their quality with the packaging designs.
It's packed with critical antioxidant ingredients I have advised you to look for above like vitamin C, vitamin B3, and Hydrolyzed Hyaluronic Acid. Vitamin C and B3 help minimize fine lines' appearance over time. Hydrolyzed Hyaluronic Acid favors the collagen booster, instantly loads a ton of moisture into your skin, and prevents water from evaporating during the time.
Besides, this guava-inspired eye cream has guava extract, which is rich in antioxidants to illuminate and hydrate tired eyes. Without parabens, sulfates, phthalates, and many other harmful ingredients, the product is non-irritative and suitable for all skin types.
The package is also worth mentioning, which is simple, bright, exciting, and environment-friendly. You can use the applicator attached along this product to massage around your eyes to increase the cream's penetration level. Despite the excellent ingredients, I'm somehow unsatisfied with it. Perhaps with such a price, I expect something more dynamic like the AHC products. This one just stops at an above-average level.
Pros
Dermatologist-tested
Detrimental ingredients-free
Vegan, cruelty-free, and gluten-free
Provide a glowy finish, which makes your eyes more radiant
Cons
The price is a bit high compared to its average quality
Cons2
Best for:
All skin types can use this eye cream in both morning and evening routines.
6. SKINFOOD Royal Honey Essential Eye Cream - A piece of cake that blows you away
Instead of buying this item, some might say that they prefer to apply raw honey and royal jelly directly on their eye area. Oh, honey! I suggest you'd better not do that.
Firstly, real honey and royal jelly can't be absorbed into your skin fully (the molecules are too big for the skin to absorb the honey nutrients). Secondly, raw materials may contain some toxins harming your skin. Trust me. Dermatologists know the ingredients better than the buyers.
SKINFOOD is not a no-name brand on the Internet. Its heritage was built up since 1957 with a reliable food philosophy that "only the highest quality food ingredients are used to create a more beautiful, healthier lifestyle." I'm not exaggerating when saying SKINFOOD has set a benchmark for using food in skincare products. That's why I prioritize this brand in searching for the best eye cream 20202019.
Back to the point, Royal Honey Essential Eye Cream's scent is terrific, and I love how hydrated it makes me feel. This eye cream is my number 1 dryness-attacker! It currently is dispensable in my morning routine since it works well with my makeup. It adds a nice layer of moisture on my skin, preparing for a beautiful cover from primer and concealer. I'm just so into how the skin around my eye is so plump after putting it on.
One more huge advantage is no adverse reaction to my sensitive skin at all despite containing alcohol. How marvelous it is! Nonetheless, it sadly seems to do nothing with my dark-tone under-eye skin.
Pros
Very moisturizing with lightweight texture
It does not sting your eye area
Great smell
A quality list of ingredients comes with a comfortable price
Cons
Not really works on reducing dark circles
Best for:
All skin types would relish this basic under-eye skin moisturizer. However, it almost does nothing but hydrate. So, don't hope it will correct your skin tone or help reduce wrinkles.
7. ETUDE HOUSE Moistfull Collagen Eye Cream - A nanny fondling your under-eye skin
The highlight in the formulation of Etude House Moistfull Collagen Eye Cream is collagen hydrolyzed with Super Collagen™ Water technology and Meadowfoam seed oil. Such ingredients help prevent water loss, improve sagging, dull skin, and make the skin around the eye area firmer.
The product comes in a beautifully designed packaging - a small jar with a tiny spoon. The nude pink texture is quite thick, but it is easily blendable. However, since the cream is not absorbent quickly, I only apply it in the evening. It does make my under-eye skin brighter than before and effectively fade dark circles. Plus, I notice that it also performs wrinkle filling, including static lines (wrinkles that appear even when you're not working your facial muscles).
The most lovely thing about this item is the 7 Frees as Mineral oil-free, Polyacrylamide free, Imidazolidinyl urea free, Triethanolamine free, Tar color free, Silicone oil-free, and PEG surfactant-free. Etude House is committed to that The Moistfull Collagen Eye Cream ingredients are completely benign for all skin types, free from those harmful and controversial ingredients.
Pros
The manufacturer is using high technology in the formula to strengthen the effect
Efficiently enhance elasticity and improve eye bags
Free from adverse materials
Pleasant smell
Cons
The visible effects of decreasing dark tone come slowly
Cons2
Best for:
I would recommend this one to anyone under 30. Visible signs of aging are less severe for people under 30, so to use a soft cream that gradually improves the sensitive skin beneath the eyes over the long term is much better. It is necessary for people over 30 to use a cream with a more dynamic effect because now the skin produces less collagen, which means the wrinkles have begun deepening, eye bags have begun more serious.
*** For your further information: Etude House has a new version of their Moistfull Collagen Eye Cream. With a slight difference in formula, they use protein hydrolyzed from White Lupin seed (a leguminous plant) instead of Meadowfoam seed oil. Accordingly, the texture becomes more tight and lightweight that quickly penetrates the skin.See now and give it a try.
8. COSRX Advanced Snail Peptide Eye Cream
Another eye cream with snail extract comes from Cosrx. The combination of snail secretion filtrate (72%), five types of peptides, sunflower seed oil, and niacinamide indeed vitalizes your under-eye skin. However, I notice that its effect takes time to show itself. In return, the result is entirely worth waiting.
Continuously consuming this eye cream makes the skin beneath your eyes healthier, more plumped up, and more hydrated. A plus to the product is that it doesn't contain any artificial fragrance. COSRX intends to avoid the use of synthetic extracts and colors in all COSRX products as much as possible. Therefore, those who usually tear up with product contained fragrance, this eye cream is a great find.
Pros
Ingredients are well-packed in a compact airless pump
Fragrance-free - this is one of three rules for eye creams I have mentioned above)
Don't make your eyes tear up
Cons
The effect at a snail's pace requires you to be patient
Cons2
Best for:
This product is suitable for everyone, including a sensitive skin type.
9. the SAEM Iceland Hydrating Eye Stick for puffy eyes

Iceland Hydrating Eye Stick for puffy eyes is an exciting eye skincare product with a cuteness-overloaded package. I usually use it in the morning or after too much screen time because I love the freshness and relief it brings.
The texture is like wax that is easy to wind up and down. Due to the main ingredient of Iceland Mineral Water, when you apply it on, the eye area feels very calm and relaxing. The cream on the skin will dissolve and absorb immediately.
One of the reasons why I bought it is the eco-friendly ingredients. I will list the three elements that I like the most:
Iceland Moss: Soothing eyes, suitable for even sensitive and dull skin.

Iceland mineral water: works to lighten the skin under the eyes, but sadly, I have not seen this effect so clear.

Xylitol: This gives a cool sensation to the eye area like it was just taken from the refrigerator. However, I do not encourage people to put in the fridge because the manufacturer also states it is not allowed to put in the fridge.
Though this one was advertised as having a dark circle and puffiness removing function, the two tasks it did well are: (1) relieve stress on the eye area and (2) just keep the skin under the eyes moist. Dark shadows and eye bags are hardly observed to disappear.
If you don't have early aging signs, this thing should be your choice. It is one of the best inexpensive eye creams that won't break your bank. The minty scent will uplift your mood in the morning. Nonetheless, if you're kind of allergic to fragrance or alcohol, do make second thoughts on this.
Pros
Convenient for traveling
It brings a refreshing and hydrating sensation to your weary eyes
Budget savior
Cons
It doesn't work for eye bags or undertone eye skin
May sting your eyes
Best for:
Don't use it if alcohol and fragrance cause your sensitive skin irritation. The remaining skin types (dry, oily, combination) could try to boost some energy in your morning after staying up late on the night before.
10. TONYMOLY Panda's Dream So Cool Eye Stick
Panda's Dream anti-dark circles eye balm is a product of the notable cosmetic company Tony Moly. The company always knows how to delight customers when launching a variety of effective makeup and skincare products. Besides their popular lipstick, lip balm, eyebrow pencil, eyeliner, Panda's Dream So Cool Eye Stick is also a big hit in Asia.
A too adorable outer shell stylized in the shape of a panda is precise as the product name. A compact, lightweight, pocket-sized design is easy for carrying out or traveling. The stick form like this is more convenient than the traditional cream.
This stick will bring a pleasant refreshing feeling to your eyes after working a lot with the computer in an air-conditioned environment at your workplace or home. Also, it helps provide essential moisture to the eyes with mineral-rich bamboo extracts and completely relaxes the eyes in just a second. Without harmful substances to your eyes (Free of Parabens, Phenoxyethanol, GMO, and Triethanolamine), the formulation contains Haloxyl peptide giving you a hand to lessen under-eye dark circles.
I love to use this one under makeup since it not only gives my tired eyes a fresh, hydrated look but also slightly covers my dark circles. Therefore, sometimes I use it in place of my primer. Applying on the skin gives me a relaxed feeling, not greasy, and does not cause eye pain. The scent is mild, light, and does not last for too long. Although it did cover up my dark shadows and hydrate the skin, it did not decrease the puffiness under the eyes at all.
Pros
The price is reasonable—the best affordable eye cream, in my opinion
Convenient for traveling
Slightly cover up your dark tone under-eye skin
Fine hydrating functions
Cons
It seems to not work for wrinkles or dark circles
Best for:
All skin types could try to improve the tired eyes.
We have answers for your concerns.
Which step do I put eye cream on?
After using toner and before facial serum.
How much eye cream is enough?
Since eye creams are so intense, a pea-size amount is enough for both eyes.
How do I apply my eye cream?
Get a pea-size amount of eye cream on your ring finger and start to dot from underneath the eye up to the brow bone. Then use your fingers to gently pat around the eyes from the inside out, within 2–3 minutes, try not to move the eye skin around. The skin is too delicate, so you don't want to stretch it while applying eye cream.
One more thing, do not apply eye cream too close to your eyes. It can cause irritation, and your eyes can tear badly.
Can I use many eye creams at the same time?
Your skin cannot absorb too many skincare products at once, especially the skin around the eyes. In lieu, experts advise you to select one product to take care of the skin problem that interests you most, then use another. Don't layer them.
Conclusion
Do you successfully select your most suitable eye cream?
If you're still confused, just grab my no. 1 choice, AHC Real Eye Cream For Face. It cannot go wrong with such a high-tech brand from Korea.
Otherwise, enjoy the explosion of moisture coming from Belif Moisturizing Eye Bomb if you're a fancy girl.
You have to travel a lot for work? Well, Panda's Dream will be your great partner.
Last but not least, besides using eye cream to help your eye area vibrant, you need to build up several essential habits to maintain your beauty. Ultraviolet rays from the sun are one of the culprits causing skin aging in general and crow's feet in the eye area in particular, so remember to wear sunglasses and sunscreen every time you go out (check out our 25 best sunscreens in 2020 now!). Getting enough sleep and developing a healthy diet are vital as well.
Now, let's put some of our best Korean eye creams into your basket and get your firsthand experience. I bet that your mirror will be amazed just after a few days!
Did you like this post about the best Korean eye creams? Why not pin it!