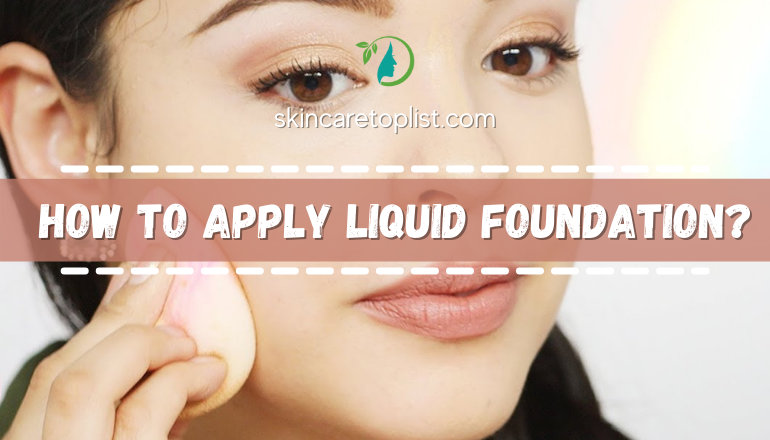 Liquid foundation is every girl's cup of tea in makeup. Besides choosing the right products for yourself, you also need to know how to apply liquid foundation properly.
If you're curious about the best way to use it, keep scrolling down to see more.
How To Apply Liquid Foundation?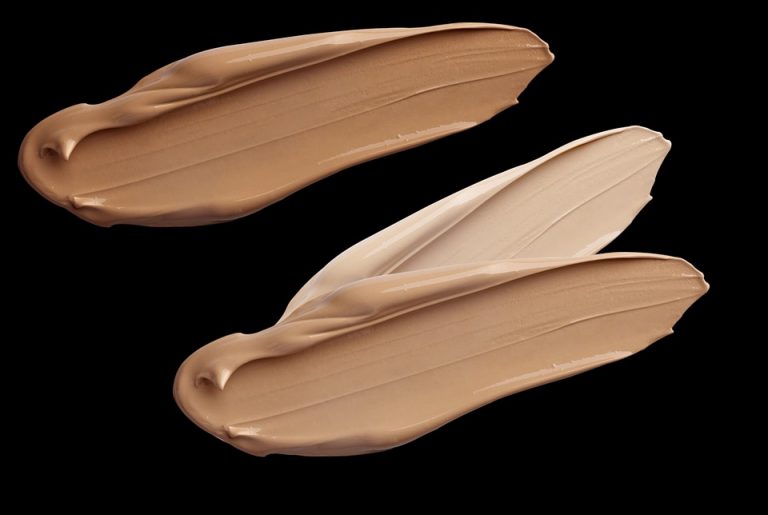 There are many methods to apply liquid foundation, from using your fingertips to a brush or a sponge. Check them out below.
Using hand or finger
How to put on foundation when you don't want to use professional makeup tools? Don't worry; you can do it easily with your fingers!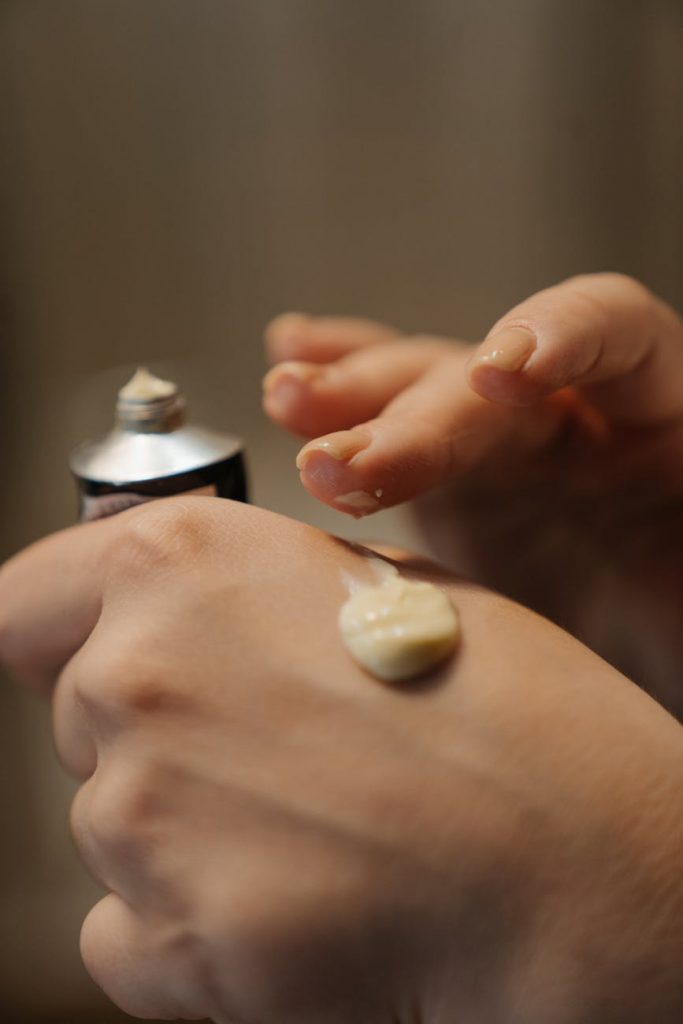 Step #1
Before applying products to your face, always cleanse and moisturize it thoroughly.
First, use a face wash to remove all dirt accumulated on the skin. Then, apply a little moisturizer on the face, gently massage, and wait a few minutes for the nutrients to fully absorb into the skin. (If you have oily or combination skin, you can skip this step. But vice versa, if your skin is dry, careful moisturizing is something you must not forget).
Also, if you accidentally apply too much moisturizer, use a tissue to remove the excess before taking the next step to prevent your foundation from spoiling.
Step #2
After washing your face, be sure to clean your hands. Then, put a sufficient amount of foundation on the back of your hand to easily apply.
Don't overfill the foundation. You can always add more later.
Step #3
In this step, we will show you how to use foundation with your fingertips.
All you need to do is dabbing a pea-sized foundation using the tips of the fingers onto your forehead, cheeks, bridge of the nose, wings of the nose, and chin. Depending on the area, you can adjust the amount of foundation more or less for a harmonious overall skin base.
Step #4
Continue using your fingertips to blend the foundation where you have applied to your face. Use cushioning strokes or create circular motions to spread the foundation as lightly as possible.
First, start with the T-zone (nose, forehead, chin) and extend to the cheeks. During the procedure, always keep your fingers in a circular and upward motion; this greatly helps prevent the skin from sagging over time.
When using fingertips to spread foundation, the heat emitted helps the foundation penetrate your face gently, leaving a thin and natural cover. Do everything slowly and gently to avoid causing damage to your skin.
In addition, in areas where defects need to be covered more, you can always use foundation twice for the desired results. Lastly, if you want a thicker finish, use powder or concealer for better coverage.
Step #5
Before completing the base makeup, recheck areas such as the hairline, the neck, around the ears, or the jawline. We know these are very small parts that you may forget, but for the perfect foundation base, make sure every hidden corner of your face is covered evenly!
Step #6
In the last step, you should wait for about 2 to 3 minutes for the foundation to dry completely. After that, if your skin feels damp, use some blotting papers to solve it. Finally, set your makeup with a mist or powder to make the liquid foundation last longer.
Using brush
How to use liquid foundation with a brush? This is quite easy if you follow the steps below.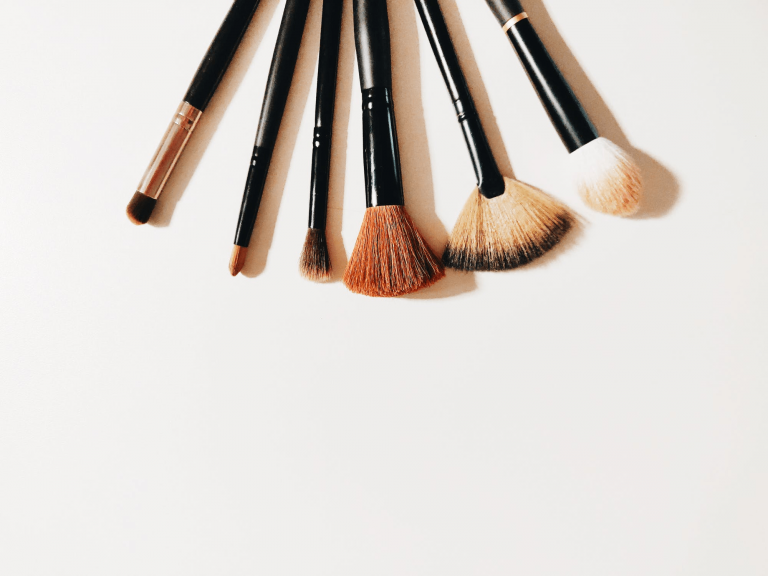 Step #1
First, choose the right brush to blend. You should use a large brush with soft bristles.
Step #2
After cleaning and moisturizing your face, put a small amount of foundation on your hand or a small plate and then dip the brush head into it. Insert the bristles gently into the liquid foundation to take out an appropriate amount for each position on the face.
Step #3
Start applying foundation on your face with upward circular motions.
Let's start at the nose area, moving to the cheeks, forehead, chin, and other small areas (like around ears, neck, jawlines). Remember to do it gently so that the foundation layer moves smoothly.
Step #4
The final step is to wait for the foundation to dry and use a tissue or blotting paper to adjust if needed. To set a perfect finish, use a powder brush to lock the foundation on your face. And after that, remember to clean your brush carefully for the next use.
Using sponge
Last but not least, we will show you how to blend foundation using a sponge.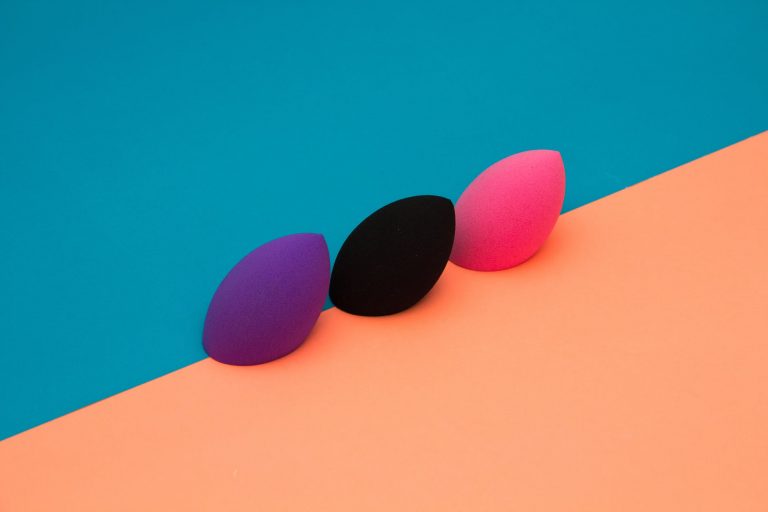 Step #1
Of course, the first thing you need to do is choose a clean and suitable sponge to apply foundation.
The ideal sponge for applying a liquid foundation is an egg-shaped sponge made of antibacterial material.
Step #2
While washing, moisturizing, and applying a primer on your face, soak the sponge in water to saturate it, then wring it out but still retain its moisture.
Step #3
Pour out a small amount of foundation in your hand or dish, then sweep a few times until a layer of powder has been evenly covered on the surface of the sponge.
Step #4
Next, use quick strokes of foundation on the positions of the face. It would help if you start from the tip of the nose and cheeks, then move to other parts until it covers the whole face. For smaller areas, use the pointed part of the sponge to reach it easily.
Step #5
After completing the foundation in all points on the face and around, just like the above steps, wait for the foundation to dry and adjust with a tissue or blotting paper. Finally, set your makeup foundation with powder for a complete look.
Conclusion
How To Apply Liquid Foundation? To summarize, there are three ways you can do this easily: using hands or fingers, a brush or a sponge. With the instructions above, applying a liquid foundation is just a piece of cake. All you need to do is to follow our steps and become gorgeous. Enjoy!