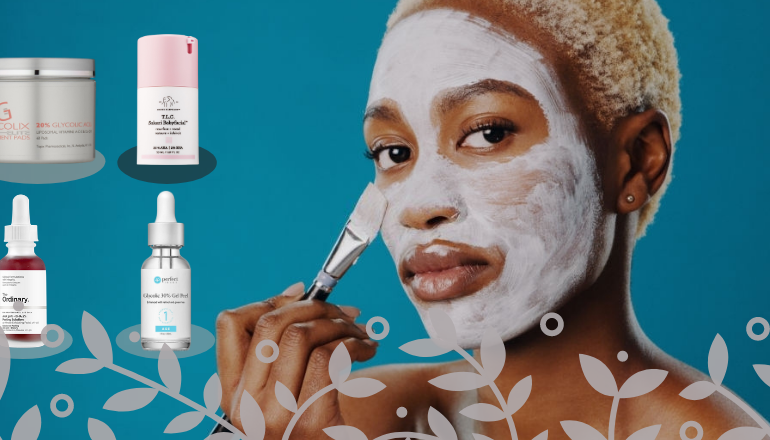 Age, genetics, and environmental factors may cause undesirable discoloration of the skin such as dark spots, hyperpigmentation, and melasma. This article provides a guide about how to use chemical peels at home safely and effectively to improve skin complexion. We also include a review list of the best at-home chemical peels for hyperpigmentation that will help you achieve a smooth, youthful, spot-free skin.
What are chemical peels?
Skin hyperpigmentation is caused by the increased melanin production of melanocyte cells which lay on the top layer of our skin (the epidermis). Chemical peels are recommended for the safe removal of the topmost surface of the skin affected by these darkened spots. Chemical peels remove dark spots caused by hyperpigmentation and melasma, revealing the soft, smoother, brighter-toned skin underneath.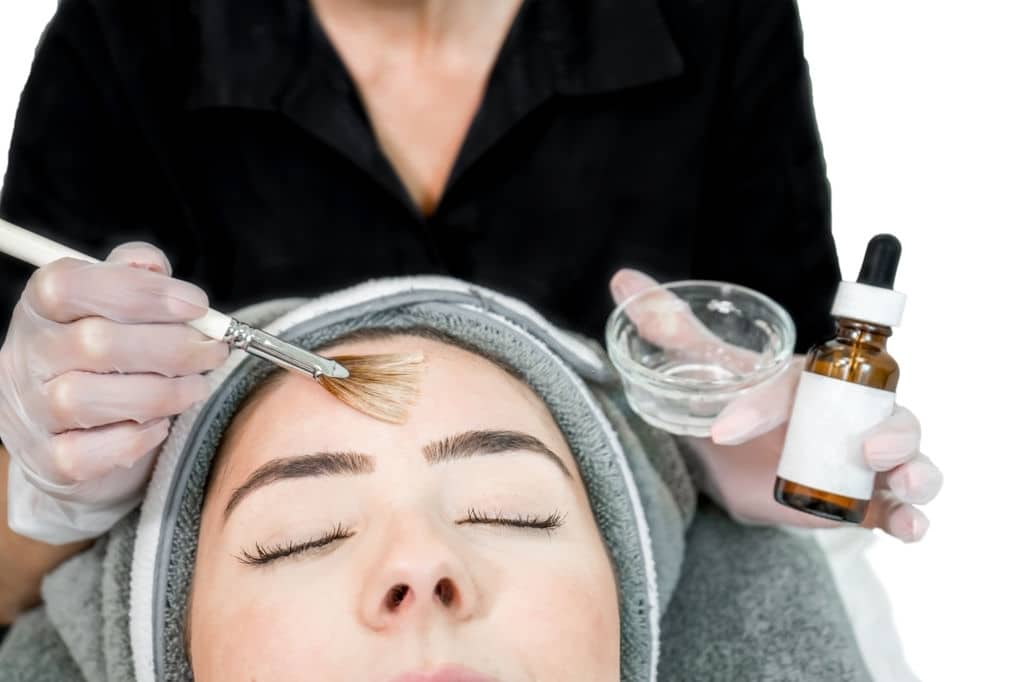 How does a chemical peel work? Why does your skin peel after a chemical peel?
A chemical peel works as an acidic (low pH) skin exfoliant which induces a controlled wound in the superficial layers of the skin. Chemical peeling acts by momentarily reducing skin pH, thereby accelerating the shedding of the dull outermost layer of skin and promoting the regeneration of new skin. As a result, the damaged, discolored topical skin cells are purged, leaving a new layer of skin that is smooth, vibrant, and rejuvenated.
How to Choose the Best At-Home Chemical Peels for Hyperpigmentation?
Healthy, radiant, flawless skin is the desire of every woman. However, the cost of chemical peels performed by a dermatologist starts at $150 and reaches upwards of $3000; the average cost of this popular dermatology procedure is $644. Fortunately, the best at-home facial products with similar chemical compositions can come very close to achieving comparable results, but at a fraction of the costs!
It is very important to have an understanding of the active ingredients in chemical peels in order to choose the best over-the-counter facial peels for your personal needs:
Alpha-hydroxy-acid (AHAs) are chemical exfoliants. Glycolic acid, the main active ingredient of Makeup Artist's Choice (MUAC) fade peel, is an AHA. AHAs such as glycolic acid, lactic acid, tartaric acid, citric acid, malic acid, and mandelic acid are water-based and are recommended for skin that is normal, dry, or wrinkled.

Beta-hydroxy-acids (BHAs) such as salicylic acid also work as chemical exfoliants. BHAs are oil-based and thus can travel deep inside the pores. For this reason, BHAs are often preferred for oily skin.

Trichloroacetic acids (TCA) are sometimes used for stronger peelings. Because TCA is a very potent acid, TCA peel instructions need to be followed strictly. Therefore, TCA peels are best handled by dermatology professionals and are not recommended for at-home use.
The best peels for hyperpigmentation contain a blend of both AHA (glycolic acid) and BHA (salicylic acid). The synergistic effects between AHA and BHA mean that your skin receives a more thorough exfoliation. A chemical peel containing both AHA and BHA can improve skin appearance by correcting pigmentation, scarring, and wrinkles, producing a more youthful appearance.
Always patch-test the product on the skin along the jawline below the ear. If no irritation develops within 24h, then you are good to proceed with your at-home chemical peel! Instructions, as specified by the manufacturer, should always be observed.
Recommended Resource: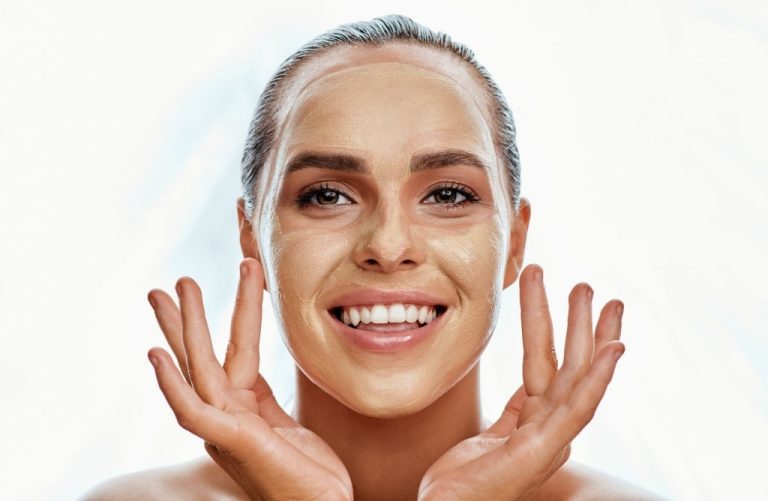 What to do after a chemical peel?
It is very important to know what to expect and how to care for your skin post-peel in order to obtain the desired results without damaging your skin.
Your old, damaged skin will shed starting at day 3-4 and continues through days 7-10 following the application of the chemical peels. The timeline and duration of shedding depend on various factors, both internal (biological) and external (environmental). Slight redness, sensitivity, tightness, dryness, and itching are expected. These are normal inflammatory and wound healing responses will resolve on their own after a few days. To soothe these conditions, you may apply over-the-counter hydrocortisone cream or gently apply a cold compress to the irritated areas.
The best way to remove peeling skin is not to remove it! Allow the dead peeling skin to fall out as naturally as possible. It takes some time for the new skin cells to naturally and completely replace the old skin. In the meantime, treat your skin with extra care as it is very sensitive. While your fragile skin is healing, avoid using any exfoliative products (physical or chemical) or skin lightening products. Refrain from strenuous exercise, excessive heat, tanning, and laser treatments. If you decide to chemically peel the skin on your face or neck, you should stay away from hair dye products for at least 3 weeks post-feel.
After doing a chemical peel, you should also be careful to keep from direct sunlight, as your skin will be more photo-sensitive than normal. After using skin peel products, it is recommended that you frequently apply a sunscreen of at least SPF 30 or higher.
For the first week after a chemical peel, cleanse your skin gently using only cool water and with only your fingertips. Opt for mild cleansers such as Dove Unscented Bar Soap for Sensitive Skin or Cetaphil.
To reduce discomfort and aid the healing process, the use of non-comedogenic moisturizer containing hyaluronic acid is recommended. The best moisturizer after chemical peel that meets these requirements and comes recommended by dermatologists is EltaMD AM Therapy Face Moisturizer. This chemical peel moisturizer hydrates the skin by increasing moisture absorption and retention. A well-hydrated skin promotes skin repair as well as supports skin regeneration.
Now that you are equipped with a complete guide to at-home chemical peels, let's take a look at the best at-home chemical peels for hyperpigmentation.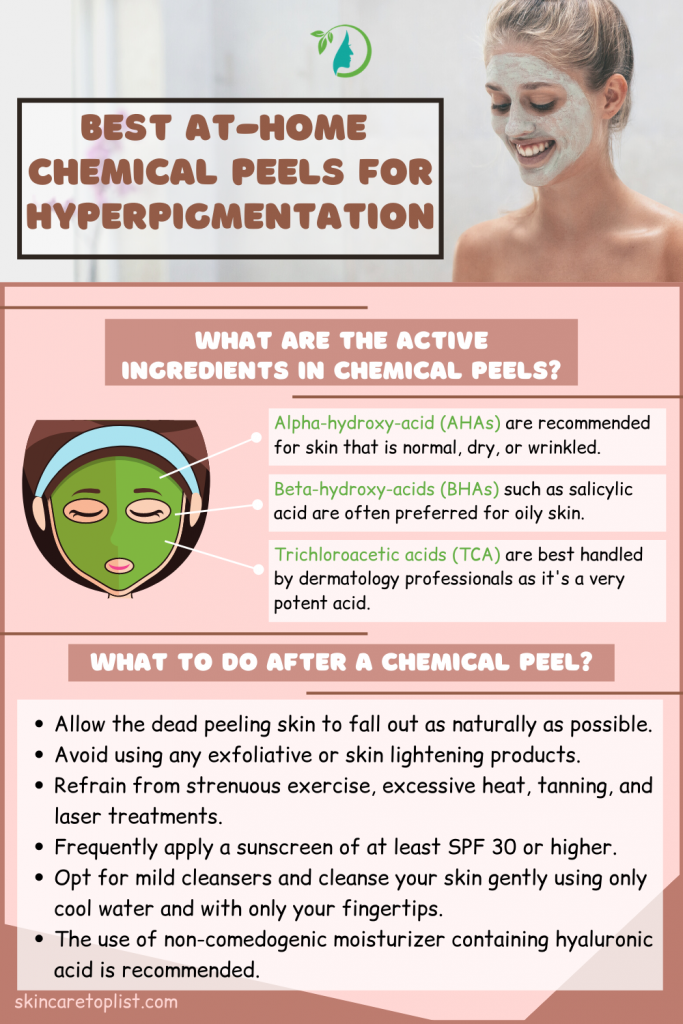 1. Glycolix Elite Glycolic Acid Treatment Pads – Beginner's choice & Great for sensitive skin
If you are a newbie, this is the perfect product for you. The key to a brighter complexion is regular, gentle exfoliation. Glycolix Elite contains 20% glycolic acid, which gently exfoliates and removes oils and debris from skin with minimal irritation. Glycolix's 20% glycolic acid pads are ideals for all skin types. In addition to targeting dark spots and hyperpigmentation, the vitamin and antioxidant supplements incorporated into the formulation leave your skin nourished and wrinkle-free. Vitamins C and E improve the overall appearance of your skin tone while providing all-day protection from sun damage. Vitamin A (retinol) promotes cell growth while also acting as an anti-aging and anti-wrinkle agent. Co-enzyme Q10 acts as an antioxidant to help you maintain a more youthful complexion. Glycolix Elite comes in a container of 60 convenient single-use pads and is ideal for at-home chemical peels.
Pros
A safe and effective over-the-counter facial peel to reduce the signs of aging. Perfect for beginners. Good for all skin types. Effective at treating fine wrinkles and dark spots. Shorter skin recovery time post-peel.
Cons
It is a light chemical peel with a lower concentration of glycolic acid. Only the superficial layer of skin is gently removed. Pigmentation occurring in the deeper dermis layer might not be affected. Light peels are recommended when first starting the glycolic peel regimen.
The verdict:
Glycolix Elite Glycolic Acid Treatment Pads are the best chemical peel for dark spots and wrinkles.
2. Perfect Image Glycolic Acid 30% Gel Peel - Enhanced with Retinol and Green Tea Extract – A professional-grade exfoliation treatment from the comfort of your home
If you are ready for a deeper peel, select this professional-grade chemical peel by Perfect Image. A higher concentration of glycolic acid (30%) ensures that it penetrates deeper in your skin in order to thoroughly exfoliate it. Therefore, it is among the best peels for dark spots and hyperpigmentation. Deep exfoliation effects are combined with Vitamin A (retinol) and green tea extract, guaranteed to diminish fine lines and wrinkles while promoting collagen production. It comes highly recommended by dermatologists and is arguably the best peeling gel on the market for the alleviation of dark spots and hyperpigmentation.
Pros
Fantastic that efficiently lifting away lacklustre, dull skin and allowing your youthful, glowing, and healthy skin shine through. Potent enough to deeply penetrate the epidermal layers and pores of your skin to lift hyperpigmentation and wrinkles. Retinol and green tea extract gently nourish the soothe skin post-peel.
Cons
Higher concentration of glycolic acid means deeper penetration which might cause a tingle upon application. Users should acclimate their skin with a lower percentage of glycolic acid chemical peels before trying this product.
The verdict:
This potent Glycolic Acid 30% Gel Peel is among the
best at-home chemical peels for hyperpigmentation
.
3. Drunk Elephant T.L.C. Sukari Babyfacial. AHA/BHA Face Mask – A Must-Have if hyperpigmentation haunts your dreams!
Boasting a blend of 25% AHAs, 2% BHAs and natural extracts, this product dramatically smooth, cleanse, and vitalize skin suffering from discoloration and wrinkles. It effectively addresses the adverse signs of aging. Up your skincare routine with this best peel for hyperpigmentation. When used weekly, this product will give your skin a boost and put the glow back in your skin. Its unique formulation will improve your skin's elastic feel and give it a radiant boost. Add this product into your skincare routine - your skin will thank you for it!
Pros
A combination of AHAs and BHAs does wonder to effectively revive dull, tired skin. Strong exfoliating action brightens dark spots, targets hyperpigmentation, and fades melasma. Special formulation ensures high efficacy without sensitization and redness. Vegan and cruelty-free.
Cons
A stronger, more powerful chemical peel means that your skin will need more time to recover. Might not be suitable for sensitive skin.
The verdict:
Drunk Elephant T.L.C. Sukari Babyfacial. AHA/BHA Face Mask is the best peel for hyperpigmentation. Skin that is not hypersensitive will benefit from the deep exfoliation this mask delivers. This product is appropriate for users with more experience with chemical peels.
4. The Ordinary Peeling Solution 30ml AHA 30% + BHA 2% – A seasoned pro's to-go
Ordinary Peeling solution is the skincare world's newest obsession. This iconic blood red mask product has gone viral on TikTok and Reddit forums. This product is one of the few professional-grade over-the-counter facial peels. With 30% AHAs and 2% BHAs in its active ingredients, this comprehensive peel is the best chemical peel for melasma and hyperpigmentation, offering deep exfoliation. This product is guaranteed to lift and even skin tones, revealing a glowing, healthy, rejuvenated complexion. However, because this chemical peel product contains very high concentrations of acids, it is recommended only for nonsensitive skin and only for experienced users of chemical peels.
Pros
This viral product has been proven to deliver dramatic results by tens of thousands social media users. This potent at-home chemical peel offers an economical alternative for an otherwise costly professional chemical peel treatment. Repeat applications might not be necessary to get the full effect. Vegan and cruelty-free.
Cons
Stinging and burning sensations are normal and expected when using this extremely potent chemical peel. Caution should be taken before, during, and after using this acidic peeling solution. It should be used only sparingly by advanced users.
The verdict:
The Ordinary Peeling Solution 30ml AHA 30% + BHA 2% is the best peel for melasma that is available over-the-counter.
Conclusion:
My personal favorite among these products is the Perfect Image Glycolic Acid 30% Gel Peel - Enhanced with Retinol and Green Tea Extract. My skin is not hypersensitive so I feel comfortable using a slightly stronger chemical peel (I actually enjoy the tingle that I get when applying this product because that's how I know that it's working!). At 28 years old, I don't yet have severe problems with wrinkles, dark spots, or hyperpigmentation (fortunately), so the more powerful products seem overkill for my personal needs. In my opinion, the Perfect Image Glycolic Acid 30% Gel Peel has the perfect balance of exfoliation efficacy and nourishing hydration. This product has a permanent spot on my vanity table now.
Frequently Asked Question
Can I use chemical peels for any type of skin hyperpigmentation?
Typically, you can treat hyperpigmentation using chemical peels. However, each skin hyperpigmentation is different, characterized by a different cause, type, and distribution of the pigmentation within the dermis. Different chemical peels have different depth of penetration and strengths according to their acidic composition and concentration. Always patch-test the product. Never apply a chemical peel to injured or irritated skin.
What acids should you look for when buying an at-home chemical peel?
It depends on your skin type and your skincare goal: if you have normal/dry skin or are looking for an anti-aging treatment, go with a chemical peel containing AHAs; if you have oily, acne-prone skin, select a product containing BHAs. If you have combination skin or are seeking a thorough treatment, a product formulated with both AHA and BHA could be the best fit.
Did you like this post about the best at-home chemical peels for hyperpigmentation? Why not pin it!