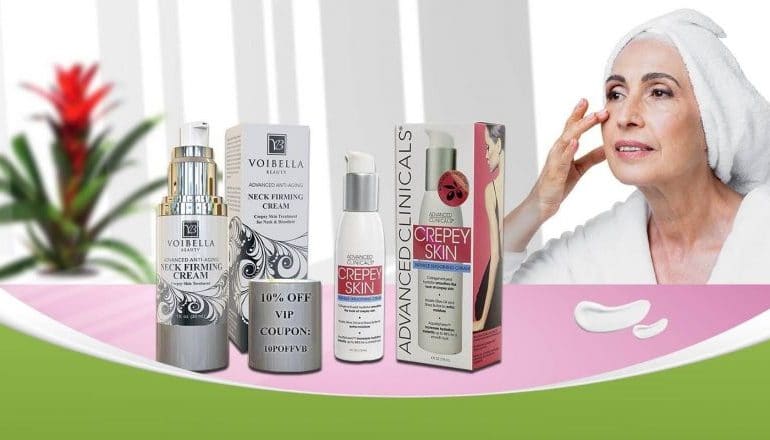 Crepey skin is a result of your skin losing its elasticity and collagen. When that happens, your skin begins to sag and starts to look crinkled. So to treat and prevent your skin from becoming this way, it's important to use the best body lotions for crepey skin.
Now I'm not saying that crepey skin is synonymous with wrinkles. The process of wrinkling is, more often than not, associated with sun damage, genetics, and facial movements. As for crepey skin, it has a lot to do with just sun damage. The sun, after all, tends to break down the natural elasticity of your skin.
But, fortunately, there are products to reduce the visibility of unwanted crepey skin.
What is Crepey Skin?
Much like crepe paper, crepey skin looks thin and finely wrinkled. It feels loose and saggy. Crepey skin and wrinkles are almost one and the same thing. But the former impacts larger areas. On top of that, crepey skin feels visibly thinner and more fragile.
The most common areas being the upper part of your inner arms. Along with your neck because here the skin tends to be very sensitive and thin. Therefore, more susceptible to becoming crepey.
Crepey skin on the legs is also very common. Especially above the knees and near the skin creases. These areas have skin that stretches quite a lot. So, with that, the likelihood of the surface becoming thin and prone to wrinkles increases.
Causes of Crepey Skin
Genetics and skin type play a major role when it comes to determining whether or not your skin is going to turn crepey. But the harmful UV rays of the sun are also one of the most common causes.
UV radiation exposure from the sun or tanning beds has proven to cause serious damage. Natural and artificial UV rays break down your skin's elastin fibers. And when that happens, skin starts to stretch and then go back to the normal state.
Elastin fibers have the ability to heal, no doubt. However, long-term UV radiation exposure hinders the natural repairing capacity of the fibers.
Another common cause of crepey skin is light complexion. If you're fair-skinned, then it's likely that your skin might turn crepey. Fair skin is also more susceptible to wrinkling and developing skin damage.
Some other not-so-common but possible causes include:
Smoking.

Pollution.

The lack of proper nutrition.

The lack of natural moisture and hydration present in your skin.

Medication like prednisone.

The cycle of weight gain and loss.

Sleep deprivation.
What is the Best Treatment for Crepey skin?
No doubt, treatments that involve the use of ingredients such as glycolic acid, salicylic acid, hyaluronic acid, and lactic acid work the most effectively. These alpha and beta hydroxy acids offer moisturizing and healing properties. So body lotions with any of these ingredients is a good solution for crepey skin appearance.
For a stronger treatment method, your safest option would be over-the-counter products. More often than not, these have retinol (Vitamin A derivative), which works like magic.
Then there are laser treatment methods such as ultrasound, pulsed light, and radiofrequency. What such a method does is re-structure collagen within your skin. It also improves skin elasticity. Most commonly used on areas like the face and neck.
Some dermatologists also recommend injecting fillers for making crepey skin look smooth and plump.
Best Lotions for Crepey Skin: Top 18 Picks
How to Deal with Crepey Skin on Arms, Legs, and Neck?
Since these are the most sensitive areas, let me discuss how to get rid of crepey skin...
Crepey Skin on Arms
Crepey Skin on Arm
Your upper arms are likely to develop crepey skin. So, at such times, what works best is moisturizing the skin to improve its appearance. This means choosing a body lotion equipped with hyaluronic acid, glycolic acid, salicylic acid, and lactic acid.
Crepey Skin on Neck
Crepey Skin on Neck
You can control the appearance of the skin on your neck by applying Vitamin C. It's an excellent ingredient when it comes to moisturizing the skin thoroughly. Plus, it helps with counterbalancing the effects of aging as well.
Crepey Skin on Legs
Crepey Skin on Leg
For preventing and treating crepey skin on legs, you need a body lotion that boosts your skin's collagen production. Even hyaluronic acid, glycolic acid, salicylic acid, and lactic acid work very effectively at such times.
How to Choose the Best Body Lotion for Crepey Skin
Listed below are the few things to look out for when looking you're buying products for crepey skin:
Moisturizers
Now that we've established that lack of moisture can worsen the condition, it's important to choose a product with moisturizing and hydrating ingredients. Look for ingredients such as glycerin, aloe, hyaluronic acid, retinol, etc. as they add hydration and keep the skin moist throughout the day.
Collagen Boosters
Collagen breakdown is linked with loss of elasticity. Therefore, always go for products that boost collagen production. If the lotion or cream contains collagen as one of its ingredients, then that's really good.
It's a great way to boost collagen and improve elasticity. Additionally, make sure that the product doesn't contain toxic ingredients.
Exfoliants
What exfoliants do is, at least the gentle, skin-friendly ones like glycolic acid and lactic acid, eliminate dead skin cells. That means they encourage the production of new, fresh skin cells.
When combined with moisturizing elements, these exfoliants have the ability to reduce and prevent crepey skin.
Antioxidants
It's a very simple explanation here. There are free radicals in the body that cause premature aging and skin damage. And the best way to combat these free radicals is with the help of antioxidants. So make sure the body lotion contains antioxidant-rich Vitamins like C and E.
Even green tea extract is loaded with healthy, skin-repairing antioxidants that also minimize skin irritation.
Price
The price of a product can greatly influence purchasing decisions. Don't get too excited and buy something you can't afford. A low-priced product can offer great value if it has the right ingredient and effective formula.
Always do your research, look for reviews, study the notable qualities of a product, and make an informed decision. That being said, we've reviewed some low-priced items above that can do the trick if you're on a budget.
What is the Best Home Remedy for Crepey Skin?
The most common treatment methods for crepey skin are as follows
Exfoliation - Exfoliating your skin at least twice a week using a scrub made of olive oil and sugar. When you exfoliate, you're getting rid of dead skin cells. And that goes a long way when it comes to treating crepey skin, aging spots, excessive dryness, etc.
Dry Brushing - Dry brushing the skin is a natural technique for minimizing the appearance of crepey skin and even cellulite.

Castor Oil - Did you know that castor oil offers plenty of skin and hair benefits? Such as treating wrinkles, preventing stretch marks, nourishing dry skin, promoting hair growth, and more.
Coffee Facial - For a coffee facial at home, all you need is some organic coffee and honey. Think of it as your very own homemade skin-firming mask.
Sunscreen - Another form of treatment, often neglected, is applying sunscreen. With sunscreen, you can minimize the damage caused by natural UV rays. So your skin becomes less prone to wrinkles, fine lines, spots, discoloration, and the crepey effect. Go for SPF 30 or higher for the best results.
Frequently Asked Questions About Crepey Skin
Q. Is Hyaluronic Acid A Good Solution for Crepey Skin?
Many skincare products are infused with this hydrating ingredient for a reason. It makes your skin look smooth and plump, no doubt. And that is why it's a very effective ingredient for treating crepey skin as well.
With aging, the skin's ability to produce moisture reduces naturally. So, at such times, hyaluronic acid's hydration properties go a long way.
Q. Does Vaseline Work for Treating Crepey Skin?
Vaseline is petroleum jelly, right? And that means an excellent moisturizer. So a thin coating of Vaseline keeps your crepey skin moisturized. Therefore, making it look healthier, smoother, and youthful.
Q. What Do Dermatologists Recommend for Crepey Skin?
Laser treatment methods such as ultrasound, pulsed light, or radiofrequency. These deal with the condition from within. The device used for treatment heats small areas of your skin. And this heat creates energy that improves collagen and skin elasticity.
Then there's another form of treatment dermatologists adopt. Injecting fillers into the skin. It's a non-invasive treatment method that creates a volumizing impact on your crepey skin.
Q. Can You Reverse the Effects of Crepey Skin?
You need to understand that, as you age, your skin's natural ability to produce oil and moisture deteriorates. And with these natural protective barriers becoming weaker, it's only logical for your skin to become more prone to damage.
But the good news here is that you can incorporate habits and products that boost your skin's moisture or hydration levels. Once you start using such products and prioritizing skincare, then it's highly unlikely for crepey skin to develop.
However, once crepey skin develops, you can only do so much to reduce its appearance.
The End
It's not that crepey skin looks unattractive. After all, aging is a very natural process, and so it should be beautiful too. But the point I'm trying to make here is why not treat the condition when you have that option at your disposal!
There are many products that help with crepey skin. Much like the 18 body lotions I've reviewed in this article for you. Almost every one of them has got natural and effective ingredients for healing, nourishing, hydrating, and moisturizing your skin. No matter how old you are!
Did you like this post about the best body lotions for crepey skin? Why not pin it!