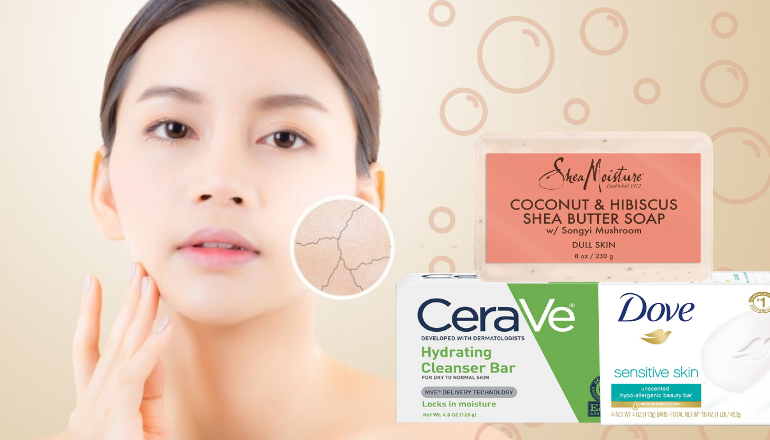 Dry skin is usually not harmful but uncomfortable. Sadly, everybody's skin can be dried out by many factors: weather, irritants, genes, or allergy. To treat dry skin, you should start by choosing the right cleaning product, which is mild and provides moisture. Our 11 best bar soaps for dry skin today not only change your tune about bar soap but also be helpful for your dry skin.
Believe me when I say that I understand your uncomfy feeling since I did observe my husband's trouble whenever the winter came. He did use a moisturizer, but his skin was still ashy and cracked. Sometimes, his cracks bled. That was when he realized he couldn't use my soaps anymore - designed for my oily skin. He had to find the right soap for his dryness. The rest of "How he won his game" story will be continued when you see products of Shea Butter in the next part.
By seeing my husband's experience, I know that the a good soap for dry skin must not contain deep cleansing ingredients or irritants like BHA, witch hazel, menthol, or alcohol. Dry skin should look for these ingredients in your body care products:
Butters like shea butter, sweet almond butter, or cocoa butter

Plant oils like avocado oil, olive oil, or coconut oil
These butters and oils contain high levels of fatty acids and vitamins. They will provide you with necessary nutrients and seal moisture in.
Glycerin: Glycerin is a water-absorbing substance. Water is preserved in the compound's self and then penetrates into the skin. From there, the skin will always be provided with the necessary moisture naturally and fully. That is the reason why Glycerin presents in most moisturizing products.
Plus, Hyaluronic Acid or Ceramides are the real deals too (I explained about these 02 ingredients in my article Best Korean Eye Cream).
To save time for you from searching below is my best recommendations. All are my top choices and some of them really work for my husband, so pick one, and you will reap the rewards.
Catch a glimpse of our 11 best bar soaps for dry skin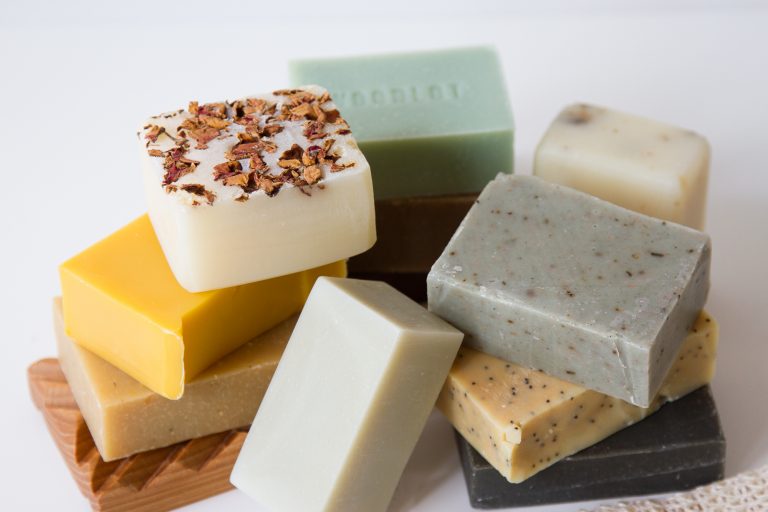 Have dry skin? Look for SheaMoisture bar soaps!
You will change the way you look at bar soap when reaching to the SheaMoisture products, especially when you have dry skin. The same went for my husband. Even if he changes to another brand, he surely returns to his favorite SheaMoisture soap. He loves how it cleans and keeps his skin moisturized that no brand else can.
The special thing about the brand is: all SheaMoisture products are guaranteed not to contain harmful ingredients: No Parabens - No Phthalates - No Mineral Oil - No Petroleum - No Formaldehyde. And the gold component in most of SheaMoisture's products is the Shea Butter - which is famous for soothing, moisturizing and it also works as a natural sunscreen.
In Africa, people highly value this ingredient and use it to nourish and protect their skin, hair, and lips from the heat of the desert's winds. Women therein are still handcrafting Shea Butter nowadays - all-natural and organic. And it's the source for SheaMoisture.
Let's see the 4 best bar soaps for dry skin with Shea Butter from SheaMoisture:
1. SheaMoisture Raw Shea Butter Soap

What is the best soap to use? It is it: Raw Shea Butter Soap - the best moisturizing bar soap for dry skin!
I do not have dry skin, but my husband does, as I mentioned above, and he cannot discontinue using this bar soap for five years.
His elbows, hands, and knees tended to be chapped in the winter ( or whenever he stays in a room with an air-conditioner). He didn't notice at first until his cracked skin areas started to bleed.
At that time, I had tried and fell in love with the SheaMoisture African Black Soap (this bar soap is for my oily skin, and I will go for its details in another article). Therefore, I searched for another SheaMoisture's products for my husband's dry skin and found out this Raw Shea Butter Soap - the best one reviewed by thousands of users. This time, it was my husband's turn to fall in love with the brand!
After one month's trial, he stopped bleeding, and his complexion looked more hydrated.
The bar soap provides his skin with the necessary moisture with a lovely smell. Although the scent does not linger too long, it gives him an excellent relaxing bath time. "It leaves a clean, silky feel. The cracked areas heal fast, and my skin is well-moisturized. Oh, I can use it for my face too. I love it. You should buy me this soap sooner, honey." - my husband said.
Besides the golden star - Shea Butter, this soap is also packed with frankincense and myrrh - the well-known ingredients for Biblical relating. The antiseptic, anti-inflammatory properties of these substances were recorded (for your reference), and I think this is why my husband's bleeding cracks were healed so quickly. Now, his skin is healthier, more elastic, and hydrated despite the cold weather.
This Raw Shea Butter Soap is indeed the best natural soap for dry skin, all vegan and organic. If you tell me that you have dry skin, I would recommend this soap immediately.
Those who have severely dry skin should use Raw Shea Butter Hydrating Body Lotion after showering for the best experience.
Pros
Certified organic ingredients
All vegan and no animal testing
High quality of raw Shea Butter, frankincense, and myrrh
Great scent
Rich in moisture and heal the bleeding fast.
Cons
I've found no cons of this product up to now.
Best for:
It's suitable for everyone, especially those who have dry skin or sensitive skin.
2. SheaMoisture Coconut Oil Shea Butter Soap - Bring a tropical island to your bathroom
This soap is similar to the one above, but instead of frankincense and myrrh, Coconut Oil, Coconut Milk, and Acacia Senegal are added. Those substances soften the skin and seal in the moisture. Therefore, it has a beautiful smell of coconut, and after using it, you will see your skin so soft and smooth.
I love this bar more than the Raw Shea Butter Soap because of the simple reason that I'm a coconut lover. And this soap has a nice whiff of that tropical fruit.
The moisturizing ability of this one is also the same as the Raw Shea Butter Soap. However, it has Titanium Dioxide in its ingredients - which provides a sun protection property. Despite such an effect, it is pretty weak. I suggest that you should always wear a sunblock when you go outside (here is our list of 25 best sunscreens for your information).
Pros
Certified organic ingredients
Vegan and no animal testing
Great scent and soften the skin.
The best choice for dry skin from the coconut fruit
Cons
Since it contains a high dose of bronzer, it may irritate beginners' skin. My advice is to start with the The pungent smell of coconut may displease a few people. first to make your skin familiar with the tanning process.
Best for:
It's suitable for those who have dry skin.
3. SheaMoisture Coconut & Hibiscus Shea Butter Soap - The soap for dry skin with a brightening effect

It is another product in the Coconut & Hibiscus line with great use of Tricholoma Matsutake extract (also known as Songyi Mushroom extract).
Tricholoma Matsutake Extract ensures benignness to the consumers and is a natural brightening enhancer with high antioxidant and ideal moisturizing properties. When used, it can improve the overall skin surface by gently soothing and brightening the skin from deep within the cells.
I've seen one user say her knee and elbow areas were brighter, and her body skin tone overall had been more even after two months. This soap left her skin feeling soft and hydrated. She even needed not to use a body lotion after that (I do not encourage those who have dehydrated skin to do the same).
My husband felt like that girl too. However, he doesn't like the kind-of-girly scent of it. He's so loyal to theRaw Shea Butter Soap.
Pros
It is the best bath soap for daily use to improve skin tone.
Soften and highly moisturize the skin
A massive bar with a reasonable price
Cons
From my husband's experience, I think some men do not like its womanly smell.
Best for:
Dry skin who wants to brighten the complexion.
4. SheaMoisture Olive and Green Tea Shea Butter Soap - The best bar soap that prevents aging signs
Rich-vitamin Olive and Avocado oils are the advantages of this bar soap.
In addition to the excellent performance of Shea Butter, the Olive and Avocado oils are so fit for those who start to have aging signs. Green Tea extract and vitamin E are also great antioxidants, which could cool down your itchy rough sensation. After just five weeks of using, you can see your flaky, dry skin become smoother and more moisturized.
This bar soap not only helps moisturize and rejuvenate the aging, dry skin; its scent is so fresh and lasts for hours.
Since the Olive and Avocado oils provide a lot of healthy fat and vitamins, if you face a crepey aging dry condition and are looking for the best soap for dry skin, there is nothing more suitable than this Olive and Green Tea Shea Butter Soap.
Remember to use along with a body lotion to improve your condition faster. If you are puzzled to choose the right body lotion for crepey dry skin, please look at our list of choices here.
Pros
The best bath soap for dry and aging skin
It works well for crepey skin.
Soften, moisturize and replenish skin
The fresh scent lasts long.
Calm itchy skin.
Cons
The scent may be too intense for some people.
Best for:
Dry skin starts to have aging signs and an itchy sensation.
Cetaphil and CeraVe cannot be absent from this list!
These are the two most famous brands for problematic and sensitive skin (let's look at our comparisons about these two brands to find your favorite at your ease).
5. CeraVe Hydrating Cleanser Bar - A humble bar from the #1 dermatologist recommended skincare brand
This one is the #1 dermatologist recommended for skin with problems like eczema-prone, acne-prone, rosacea-prone skin, and atopic skin.
It is the cleanser bar version of the CeraVe Body Wash for Dry Skin. It has the same functions as its liquid-formed brother, but it's both for facial and body uses. The formula is kind of similar too, which is equipped with Ceramides and Hyaluronic Acid. However, it's more empowered by containing the Niacinamide - the ingredient that is multitasking: soothe, brighten and repair damaged skin.
For super dry skin, this bar can shoo your winter-worry away. Hyaluronic Acid, Ceramides, and 5% moisturizing cream get your thirsty skin's back. You totally can expect a plump and hydrated complexion after using it.
I've used this bar when I had to travel for work but still wanted to treat my acne sensitive skin and mild cleanse my body at my best convenience. And it's done its job to calm my itchy and uncomfortable feeling caused by acne. The cleansing bar contains no soap, so it didn't dry my body out. What an all-in-one cleansing bar!
Pros
Product of #1 dermatologist recommended skincare brand
Superb ingredients are added to maximize the moisturizing effect.
Non-irritation to sensitive skin
Cons
I don't see this bar has an apparent smell, but many claim its scent is not entirely pleasant.
Best for:
Dry and sensitive skin will find it's the best shot for them.
6. Cetaphil Gentle Cleansing Bar for Dry, Sensitive Skin - The best soap for dry, itchy skin
This one is certainly a direct competitor for the CeraVe Hydrating Cleanser Bar above. The formula is also hypoallergenic and non-comedogenic, so it's one of the best selections for sensitive skin.
About Cetaphil, I did make a whole article to give the brand all my best compliments. This brand is developed by dermatologists, so all its products are proven safe for sensitive skin.
This bar soap has nothing to complain about except it's not all vegan - this makes vegetarians feel uncomfortable. The Sodium Tallow comes from the animal's fat, which can reduce the sore skin effectively.
Pros
One of the dermatologist recommendations for problematic skin
Mild cleansing for daily use but still protect the natural skin oil and moisture
Gentle with sensitive skin
Cons
It's quite costly for bar soap, but the price of something usually equals its quality.
Best for:
It's considered a bar for dry and sensitive skin, but I think others could reap its benefits.
Just a good deal from Olay
7. Olay Ultra Moisture with Shea Butter Bar Soap

Olay is a brand owned by P & G company, and it "ranked No. 8 among American female teens' favorite skincare brands in spring 2019" - according to Forbes.
This Olay's bar soap contains the highlighted Shea Butter, which guarantees its moisturizing effect. The brand promises that using this soap seven days in a row will change the dry skin more significantly than regular soap. It will wash away the dry cells, nourish the new ones, and return to the complexion a youthful and radiant look.
AndUltra Moisture with Shea Butter Bar Soapactually can do that job pretty well. Packed with more moisturizing creams than regular soaps and Shea Butter, it leaves your skin so soft and smooth without any oily residue. Plus, the scent is not overwhelming and is kind of enjoyable.
Pros
The best soap for dry skin with a small budget
Shea Butter and the moisturizing cream ten times higher than regular soap make your skin all smooth and satiny.
Gentle with sensitive skin with a pleasant smell
Cons
The bar's size is smaller than other soaps, which makes it a bit not economical.
Best for:
It's suitable for every skin type, not only the dry skin.
Last but not least are soaps from Dove
"It's not soap, it's a Beauty Bar."
You must be so familiar with this famous worldwide body care brand.
Dove belongs to Unilever company - a global giant in beauty and personal care with innovative technology and the vision to "improve people's health, confidence, and well-being." The brand has various product lines like shampoo, hair conditioner, and body wash - all foreground moisturizing skin. But the thing that first brought it fame worldwide is its soap for dry skin - the Dove Beauty Bar.
Each product in the line has a slight alteration in ingredients (mainly the odor-creating substances), but the highlight is ¼ moisturizing cream added, which buffers the hydration and softness effects. This emphasis makes Dove Beauty Bar one of the top selections when you come to the term "the best bar soap for dry skin." Moreover, Dove Beauty Bar is the #1 dermatologist recommendation in the US for years.
Dove Beauty Bar line has a total of 15 products, but here are our top choices of 04 best soaps for dry skin that look after your whole family's skin. You should get one in your bathroom.
8. Dove Beauty Bar Fragrance Free - The best choice for the whole family
The first bar you should put under your consideration is this unscented soap. It is the best soap for dry skin suffering sensitivity.
With zero perfume, it's all safe for the most sensitive skin. If you tend to be allergic to the world, it's tailored for your needs with no doubt. I've been using this bar since I was a teenager, and it exactly did what I expected from a bar of soap for my hypoallergenic adolescent skin.
Its lather is so smooth, and it leaves your skin soft and moisturized after rinsing off. Your tight and uncomfortable feeling will be washed away. However, although it's labeled "unscented," you still smell the original soap odor. I don't see this as a big matter, but something that works for one doesn't mean it works for others.
Pros
The family's best bath soap for daily use
No artificial fragrance which is suitable for the most sensitive skin.
Good in moisturizing
Cons
The original soap scent is not comfy for everyone.
Best for:
It is one of the best choices for sensitive, dry skin.
9. Dove Beauty Bar with Deep Moisture (White) - The nostalgic classic white bar

This one is the typical Dove Beauty Bar that is highly recommended by many dermatologists. If you have eczema, it is the best budget choice instead of Cetaphil Gentle Cleansing Bar for Dry, Sensitive Skin or CeraVe Hydrating Cleanser Bar, but it still gently takes care of your skin.
The classic allergy-free formula makes your skin hydrated and more bouncy through time. This bar lathers up so well, so you can enjoy the suds all around your body. Good in cleaning but still gentle! It is a good soap for dry skin in our grandparents' time.
I feel so nostalgic every time I smell its scent. My grandmother used to use this bar soap all the time. It was like a permanent item in her bathroom. My mom's also used it for years, and her skin is incredibly soft. This bar soap is always my family's favorite from my grandmother's generation.
Pros
Classic moisturizing bar soap makes your skin unbelievably soft.
A mild cleanser bar that helps improve eczema condition.
Best budget for the whole family's use
Cons
Some people find way too much fragrance.
Best for:
It is one of the best selections for dry skin. Sensitive skin can be beneficial, too but be aware of irritation the fragrance might cause.
10. Dove Beauty Bar with Coconut Milk and Jasmine Petals Scent - Enjoy a warm floral odor in the bathroom

Yay, a coconut-contained soap again. Different from Fragrance Free soap, coconut milk, and jasmine petals are included in this bar. I feel like it does not have a clear coconut scent but a fresh floral odor instead. I prefer to have a coconut aroma covering all over my body when I scrub it on my skin. But its scent is quite comfortable, so no big deal!
The primary purpose of coconut fruit extract is to soften the skin. That's why you will feel your whole body so silky after every shower. ¼ moisturizing cream added works too. It maintains the natural skin moisture barrier and tends to seal in the moisture. Gentle cleansing without leaving any soapy residue or parched feeling is all this soap brings to you.
Pros
Coconut extract softens the skin and helps heal the skin cracks quickly.
Cleansing well without drying out the skin with fresh jasmine scent.
Good in moisturizing
Cons
It's a bit disappointing for a coconut lover like me.
Parfum may cause some irritations to hypersensitive skin
Best for:
It's suitable for all skin, but those who have hypersensitivity should reconsider.
11. Dove Beauty Bar with Cucumber and Green Tea Scent - The best choice to enjoy the summer
Let's uplift your mood with a fresh Cucumber and Green Tea scent!
I like the relaxed sensation it delivers every bath. It's superior for the heat when summer comes. This soap's formula is mostly similar to the Fragrance Free one, except it contains perfume. The refreshing scent of Cucumber and Green Tea added will wake your senses all up.
Since its moisturizing property is similar to its unscented brother, your skin will be all hydrated as well. Therefore, this soap is the best soap for dry skin in the summer.
Pros
The refreshing smell of Cucumber and Green Tea
It is gently cleansing and moisturizing at the same time..
The relaxed feeling after a shower
Cons
Fragrance may irritate the skin.
Best for:
It's suitable for all skin, but those who have hypersensitivity should reconsider.
It's the end of my list. You know, if you have dry skin, you will need to take care of it properly. Otherwise, many skin problems might arise, like eczema, rash, or peeling skin. So here are some dos and don'ts for you to manage your dry conditions.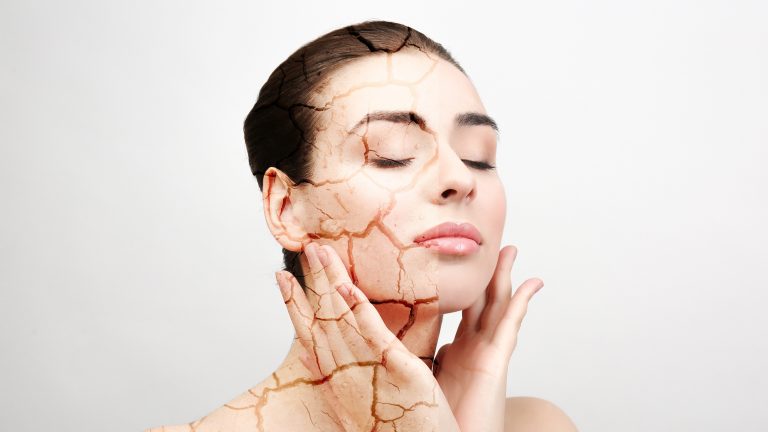 Skincare Toplist's advice for dry skin
Do not shower with hot water
Hot showers will dry out your skin because it takes out the necessary natural oils and dehydrates the skin. Hence, your skin barrier could be broken.
According to an Allure's interview of a board-certified New York City dermatologist - Shari Marchbein:
"In general, dry skin is caused by an impaired skin barrier and dysfunction or deficiency in the necessary, healthy fats in the top layer of the skin — cholesterol, fatty acids, and ceramides — which are essential to normal skin function."
Therefore, a lukewarm shower is better for your skin's health.
Use soap for dry skin
Many soaps not designed for dry skin contain harsh ingredients that will over-wash the skin. With the same mechanism as hot water, those substances will damage the skin's natural barrier - especially the lipid, which can lock in the moisture and keep the bacteria away.
Thus, your skin will become more vulnerable to bacteria or some irritants. That is still not to mention the tight and itchy feeling after using such deep-cleansing soaps.
Our advice is to look for soaps with mild cleansing effects and a high content of moisturizer included.
Use body lotion/ointment/cream after showering
Do not only rely on your moisturizing bar soap. You should always use a moisturizer after your shower. It will help keep the moisture from evaporating and deliver nourishing ingredients to nurse your skin.
According to the AAD - American Academy of Dermatologists, the best way to treat dry skin is using an ointment or cream after a shower (you can see their suggestions on the Independent). However, if you don't like the greasy feeling of ointments or creams, you could use a body lotion instead. This way may be less effective, but it's better than that you do not use anything to trap moisture.
A body lotion with Hyaluronic Acid included will be better than a regular one. I have made a list of the best Hyaluronic Acid body lotions for you. Just pick one, and you will see your skin has noticeable improvement.
Use a humidifier
Your skin may be dried out more by the low humidity. Try to use a humidifier to supplement moisture in the air to get rid of dry skin.
Drink enough water
Dehydration also leads to dry skin. Drink plenty of water (warm water will be better) to keep your body hydrated. The dry condition will soon be improved.
I guess you still have some concerns about treating your dry skin. Don't worry. The next section might help you out. If I can't give you enough answers, please comment below, and I'm so glad to provide you with a hand.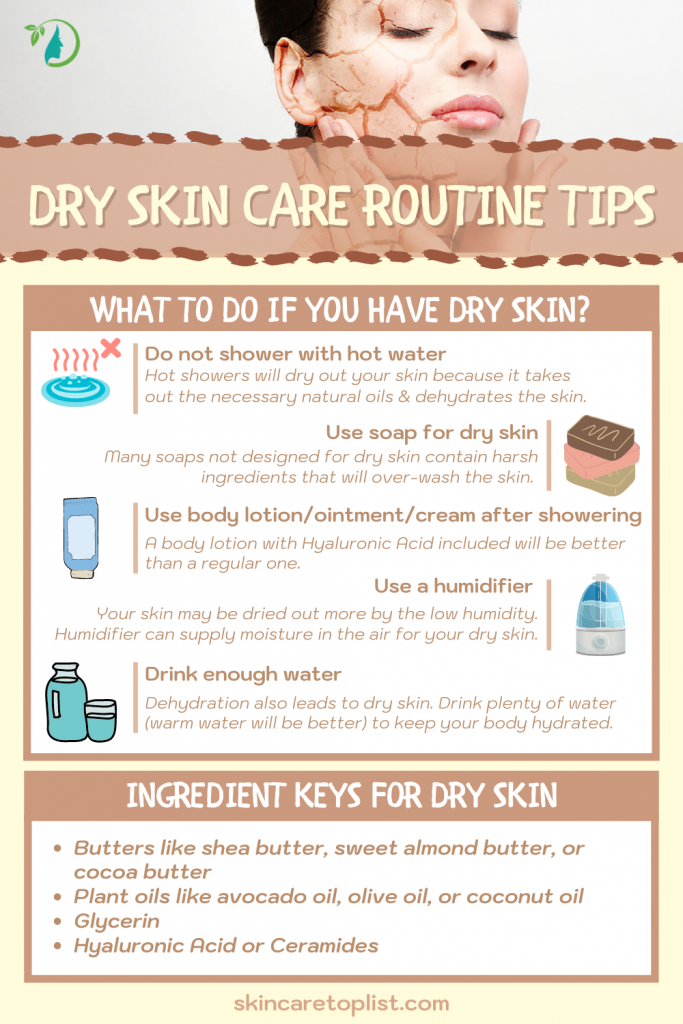 FAQs
I have dry skin. Is there any way for me to enjoy my hot tub?
I do not recommend using hot water to bathe when you have dry skin. Your skin might be tight and red after that chilled time. However, you could enjoy relaxing in a hot tub sometimes if you follow some cautions: (1) do not soak in hot water for over fifteen minutes, (2) use thick moisturizing cream/oil or ointment after the bath, (3) turn on the humidifier, and (4) drink a glass of warm water to hydrate your body.
Is it necessary to use a moisturizer after using soap for dry skin?
The answer is a big YES. Although you use the best suitable soap for dry skin and do not feel tight or rough after a shower, you should always use a lotion or a cream to lock the moisture in. Furthermore, after cleansing, your skin is easy to absorb nutrients from the moisturizer. Thus, your skin will be more healthy, more hydrated, and look more radiant.
Can I use bar soap for my face?
Yes, but it depends. Your facial skin is more thin and sensitive than the body. Thus, you should only use bar soaps for dry and sensitive skin designed for both face and body — otherwise, DON'T.
Can I use bar soap for my hair?
It's the same answer to the question above. You can, but I do not recommend so. It's much like the question, "Can I use shampoo to shower?" I think we should use the product for its primary purpose rather than try to multi-use it.
How can I store my soap after use?
You should keep it away from direct sun, heat, or a lot of humidity. After you use the soap, drain it properly and store it in a place that the airflow can reach all its sides. By that, your soap won't become mushy. You can put it on the Command Bath Soap Dish as I do. It's the easiest way.
Final words
Dry skin is so annoying, but appropriate treating will relieve the pain. Proper cleansing is the first thing to get you started.
Let's the Shea Butter's power in Raw Shea Butter Soap to ease your redness, rash, or heals your cracked skin. It's the best soap for dry skin ever!
Olive and Green Tea Shea Butter Soap will be your good company to treat your dry, crepey skin.
You have a whole family to take care of? Don't worry! Dove Classic Beauty Bar in White gets your back!
If you still can't put anything in your basket and want to inquire more, I'd love to hear about your concerns, so give me your comments below. Or you don't have a problem with dry skin and just want to read about exciting beauty things, please follow our Skincare Toplist page.
Did you like this post about the best bar soaps for dry skin? Why not pin it!