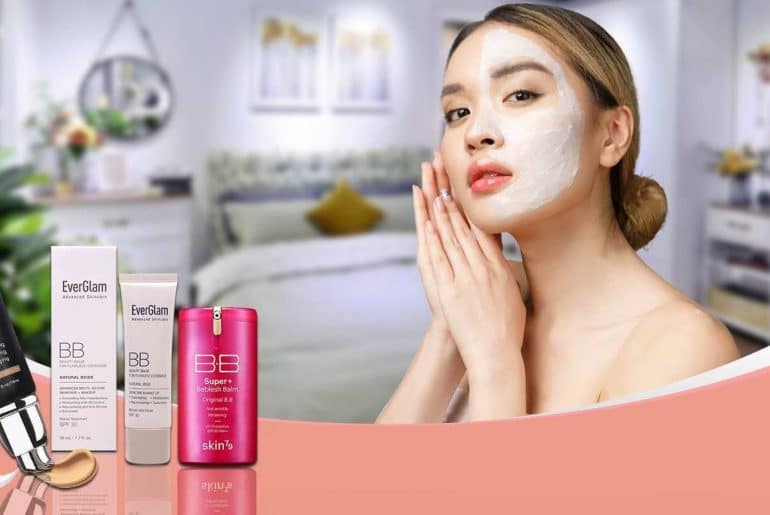 There's just no denying or even downplaying the fact that the best Korean BB creams are slowly becoming a standard beauty choice. And why wouldn't they when these special K-beauty formulas deliver natural coverage along with many great skin benefits!
The top Korean BB formulas are all equipped with hydrating ingredients and antioxidants along with high SPF. On top of that, they don't add a white cast on your face after application. And these BB creams leave a gorgeous natural finish on your skin. All these benefits are unparalleled so far. And that's the very reason you should look into the top Korean BB creams 2020.
Best Korean BB Creams: Top 13 Picks
1. Missha M Perfect Cover BB Cream
The first top recommendation is a lightweight, high-coverage, multi-function formula. One that is highly recommended for balancing out and brightening skin tone, concealing dark circles, discoloration, and blemishes, and hydrating your skin for a dewy coverage.
The M Perfect Cover BB Cream by Missha also minimizes the appearance of redness, fine lines, and wrinkles. Along with providing UV protection and a natural, flawless finish. It's the perfect beauty solution for women dealing with the most common skin concerns.
The special K-beauty formulation moisturizes your skin from deep within to improve elasticity. It's got chamomile and rosemary extracts for tuning in calming and soothing benefits too. No doubt, this BB cream covers blemishes to make your skin look radiant and gorgeous.
The color of the cream blends into the skin easily and evenly. But it's the skin-toning and hydrating results you might fall head over heels in love with here. That's the beauty of every Missha creation if you ask me.
2. Skin79 Super Plus Beblesh Balm Triple Function Pink BB
There it is, I've found the best BB cream for oily skin. It works best even for acne-prone skin by the way. Ultimately, the texture is so light that the BB cream doesn't clog your pores to invite acne or disrupt your natural sebum production.
You can apply the Skin79 Super Plus Beblesh Balm below your makeup to make it last longer. The light consistency of the formula makes application so much easier and not oily or greasy at all. In fact, the cream leaves a gorgeous and refreshing finish.
It has the ability to smoothen wrinkles and fine lines. Even skin dryness doesn't stand a chance here. Sometimes covering up redness is also a priority. In that case, Skin79 has you covered, quite literally.
Even those with sensitive and fair skin have nothing but great things to say about this Super Plus Beblesh Balm. Also, the SPF comes from a physical and not chemical active ingredient called titanium oxide. So skin protection is the highest-rated factor in this case.
3. Purliss BB Tinted Moisturizer Cream
Can I say that this is the best Korean BB cream for combination skin? What about for dry skin? How about oily and acne-prone skin? Yes, the Purliss BB Tinted Moisturizer Cream is perfect for all skin types, even the most sensitive. Now this is hard to come by, isn't it?
It's a very gentle face moisturizer with hypoallergenic properties. The formula even has the power to heal rosacea-associated signs and spots on the face. Speaking of hypoallergenic, the BB cream is vegan and natural. It's packed with antioxidants coming from artemisia and chamomile. Both prevent premature skin aging.
Sugar maple is also included for providing the gorgeous glow often synonymous with Korean BB formulations. The SPF rating is 30 and also broad-spectrum. This means your face is protected against both UVB and UVA rays. You can apply the BB cream on a daily basis too and that's the most practical piece of good news.
To be honest, you don't just get coverage but your skin receives age-defying coverage. After all, Asian herb extracts are added to the mix. Plus, the product is cruelty-free and paraben-free. Everything about it is safe and perfect for sensitive skin and a radiant, youthful complexion.
4. Missha M Signature Real Complete BB Cream
Here's everything you need to know about the best Korean BB cream for pale skin. First off, the formula ends the struggle of searching for an appropriate BB cream that matches pale skin complexion. And secondly, Missha has included as many as 50 plant-based ingredients in here.
The plant-based formulation provides all the hydration and nutrition your skin demands. On top of that, there's this phenomenal technology that consists of particles adhering to your skin for delivering the perfect coverage.
And with so many plant-based ingredients, the BB cream also offers skin calming and soothing benefits. These are great for tackling issues like redness and rosacea. You don't even have to worry about skin brightening because every Missha product provides a radiant, luminous glow.
No mineral oils, no parabens, and no animal testing. You have every reason in the book to keep coming back for more.
5. Bella Terra Cosmetics Matte Finish 3-in-1 BB Cream
Now here's a Korean brand you're very likely to find in every list of the best Korean BB cream 2019 and 2020. That's just how popular and effective Bella Terra Cosmetics products really are. Even this 3-in-1 BB Cream!
The 3-in-1 part includes a mineral makeup foundation, concealer, and tinted moisturizer. It's a hypoallergenic formula suitable for every skin type. The balm offers the perfect light to medium coverage. It minimizes the visibility of acne, dark circles, fine lines, and scars. Along with providing a dewy glow.
The nearly-matte, lightweight texture of the BB cream is what ensures no oily, cakey, or heavy feeling post-application. You're free to apply it on your face on a daily basis without worrying about inconsequential factors.
It contains 100-percent pure, natural magnesium, zinc, and mica. With anti-inflammatory and antioxidant properties as well as natural UVB/UVA sun protection.
What's even more impressive is that the product is formulated with zero parabens, preservatives, additives, alcohol, and toxic chemicals. And it's only logical to assume that no animal testing is performed either.
The coverage may be light to medium but as long as the 3-in-1 BB cream effectively conceals spots and discoloration you don't to show, everything fits into its rightful place.
6. The Face Shop Face It Power Perfection BB Cream
Perfect coverage, more often than not, is as important as sun protection, skin brightening, and anti-aging. If you agree with me, then you might go for this Face It Power Perfection BB Cream by The Face Shop.
The formula has special ingredients that rejuvenate your skin. They actively address common skin issues like loss of elasticity, dull complexion, uneven skin tone, and dry patches.
It even offers flawless coverage for your makeup. In that case, good adherence goes a long way if you wear makeup on a daily basis. The BB cream ensures your fresh makeup stays the same for long.
The application part is also easy since the cream spreads evenly into your skin without giving rise to any form of dryness. The stuff is so light that you don't even realize you've put it on.
7. EverGlam K Beauty Skin Perfector Nourishing BB Cream
Instantly concealing spots and scars while also minimizing the visibility of fines lines and pores; this is what makes the current Korean nourishing BB cream such a popular choice among women. It works wonders when it comes to enhancing the complexion of your skin.
The non-oily, soft, and lightweight texture of the formula gets absorbed and distributed easily. But just because it's light doesn't mean the BB cream cannot cover your redness and blemishes. At the same time, the advanced K-beauty formulation manages oil production to prevent breakouts and improves skin elasticity for anti-aging action.
Furthermore, SPF 30 is included, the broad-spectrum kind for keeping both UVB and UVA rays at bay. Botanical extracts are included to make sure no harmful or harsh chemicals come in contact with your skin. Some of the botanical ingredients added are sugar beetroot and algae. They offer the most effective anti-aging, antioxidant, and soothing properties.
So breathe a sigh of relief knowing that your skin is in safe, nourishing, revitalizing, and beauty-enhancing hands.
8. Missha Misa Cho Bo Yang BB Cream
Do you know what's so special about the third Missha product on the list? That this one is armed with oriental herbal ingredients. These ingredients revitalize the dullest skin tone and complexion. They add nothing but healthy, natural radiance and definition to your skin. And one more thing, the ingredients are high-quality, pharmaceutical-grade, and natural.
You'll find bound gum in here. This is hydroxyethyl cellulose and what the thing does is define contours with the help of its adherent formulation. And that also covers your fine lines and allows your makeup to last for long.
The finish it leaves on your face is semi-matte. As for coverage, that is medium to heavy.
The BB cream is quite lightweight. Despite that, it evens out skin discoloration. The thing about all the three Missha BB creams I've reviewed so far, including this one, is that they're ideal for daily use.
9. Holika Shimmering Petit BB Cream
Multi-functional BB creams are hard to come by, particularly good Korean ones. So when one does, you have to seize the day. I'm talking about the Holika Shimmering Petit BB Cream. Let me tell you that it ranks as the best Korean BB cream for acne prone skin. And allow me to elaborate below.
The formulation is such that it not only covers spots, scars, and discoloration. But the cream also fights the fundamental problems of skin concerns. At the same time, protection against UV rays is also included (SPF 45).
What's added to the mix is tea tree oil extracts. These have very high antioxidant properties that activate all the anti-aging action. Needless to say, an improvement in your skin tone and complexion is inevitable.
The product title states "shimmering" and that implies skin brightening benefits. The finish this BB cream produces is semi-matte and the coverage it provides is light to medium. Be it for acne-prone skin or sensitive skin, just a drop or two of this Korean stuff in the morning gets you through the day looking fresh, covered, and oil-free.
10. Dr. Jart+ Premium Beauty Balm
The thing about BB creams is that they were originally created for treating, hydrating, priming, protecting, and camouflaging the skin. So can you expect such original results from the Dr. Jart+ Premium Beauty Balm? I don't see why not!
It's got active ingredients that moisturize, prime, and color-correct your skin complexion. And with SPF 45, you can even look forward to sun protection. The primary ingredients are zinc oxide and titanium oxide. This means the sunscreen action is mineral-based for providing broad-spectrum sun protection.
What's more is the inclusion of bio-peptide complex, arbutin, and adenosine. The first one offers anti-aging skin benefits. The second brightens and balances uneven skin tone. As for adenosine, it's the most effective skincare ingredient for improving elasticity and firming skin.
All these benefits without the presence of any amount of phthalates and sulfates! Isn't that amazing? After all, the product is Korean and Korean brands understand the importance of healthy, safe skincare.
11. Dr.G Gowoonsesang Perfect Pore BB Cream
There's no chance this BB cream is even remotely the same as the others on the list. Well, for one thing, it contains lemon balm extracts and rosehip oil. The first Korean BB formula on the list that's equipped with these two unique ingredients.
Now let me tell you what lemon balm extracts and rosehip oil do. They deeply moisturize and nourish your skin. Along the same lines, there's cabbage extracts and lime tree water for sebum control. Needless to say, you're looking at the best Korean BB cream for oily skin and acne-prone skin.
Skin irritation of any kind is not a part of the experience. Thanks to the absence of tar colorants, benzophenone, GMO, mineral oil, and alcohol. Let me also bring to your attention that the formula is feather-light. Once again, this proves it's the most suitable for oily and acne-prone skin. No pore-clogging action is performed!
As for covering acne scars and all, the BB cream takes care of that very well. It matches even the fairer skin tones without looking too dark. And you only require a small amount of the cream for transforming the appearance and health of your skin.
12. IPKN Moist and Firm BB Cream
Here's another out-of-the-box Korean formulation. This one is packed with collagen and ceramide. Meaning the IPKN BB Cream is the best for those who want a formula specifically for anti-aging. The thing about collagen and ceramide is that they improve skin elasticity like no other.
Along the way, you also get access to skin brightening and natural coverage. There's Vitamin E in here for healing damaged skin cells and correcting scars. Vitamin E also has the power to soothe your skin.
What's also exceptional is the addition of moisture silicone barriers. They boost a matte, non-sticky feeling, which means you don't have to use face powders unnecessarily. But you can apply the BB cream below heavy makeup. It doesn't pose a problem either way. In fact, the cream moisturizes the skin so well that even heavy coverage looks flawless all day long.
13. Dr. Jart+ BB Dis-A-Pore Beauty Balm
There's a lot of stuff in here that evens out, brightens, soothes, and moisturizes your skin. Vita bright capsules perform the task of eliminating unevenness in complexion. Vitamin tree fruit brightens. Snow lotus soothes. And nordenau water does the moisturizing part.
You should also know that zinc oxide and titanium oxide offer sun protection. The BB formula is the perfect solution for light skin tones. Its moist medium coverage is ideal for all-day wear.
The cream doesn't disappoint when it comes to covering minor blemishes and blackheads. The ethereal, dewy complexion the formula creates is the best. Once you put it on, just wait for a few minutes for the BB cream shade to match your own skin color.
Why Using Korean BB Creams Is the Best for Your Skin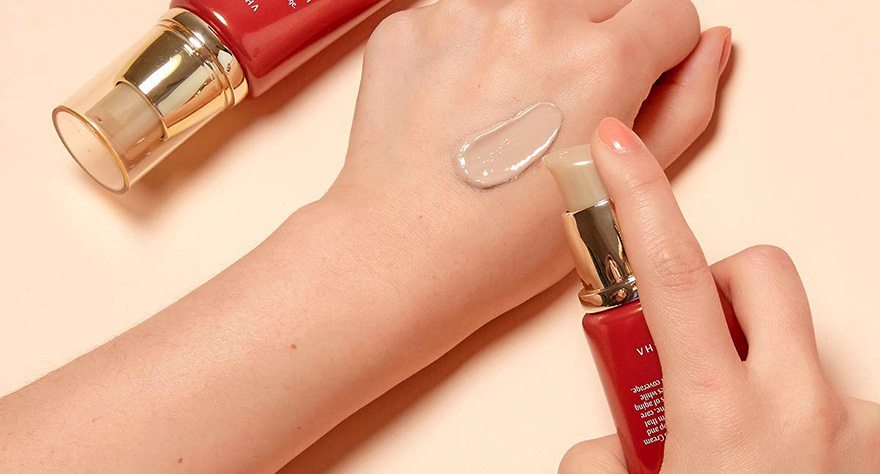 Korean BB Creams
What is so unique or special about Korean blemish balms that other regular BB creams cannot replace? I mean why are these K-beauty formulations so beneficial? Time to find out!
Korean Skincare Products are Skin-Loving Formulas
It goes without saying that Koreans manufacture some of the most effective and skin-safest beauty/skincare products. The majority of K-beauty formulas are gentle and skin-friendly. What they do is pamper your skin by deeply nourishing and moisturizing it.
The best part about Korean BB formulations is that most of them offer anti-aging skin benefits. So you end up with a product that's not only good for coverage but also well-equipped to prevent and treat signs of premature aging.
They Feature Advanced Technology
This stands true not only for Korean BB formulas but also for Korean body moisturizers, Korean face washes, Korean face masks, etc. The greater part of Korean creations contains some or the other version of advanced technology that manages to keep your skin looking healthy, radiant, and youthful.
They are Made Using Natural Ingredients
If you go through the reviews section of this post, you'll see that all K-beauty BB creams contain only natural ingredients. This means no harsh chemicals come in contact with your skin and cause any sort of allergy or damage.
At the same time, natural ingredients get absorbed quicker and deliver more immediate and drastic skin condition improvements.
They are Multi-Function Formulas
The 3-in-1 Korean BB creams consist of mineral makeup foundation, concealer, and tinted moisturizer. The foundation creates that perfect dewy, radiant look. The concealer hides away skin discoloration or spots. And the moisturizer nourishes your skin from within.
Also a part of the formula, more often than not, is sun protection. So the need for using multiple products gets eliminated.
Korean Skincare Products are Highly Moisturizing
Needless to say, every Korean BB formula I've reviewed has the ability to deeply moisturize the skin. And that's because they contain very rich water content, which is perfect for skin hydration.
The ingredients present in most Korean skincare and beauty products lock in moisture throughout the day. And this paves the way for optimal sebum production, thus less frequent breakouts.
They Provide Sun Protection
SPF is a huge part of K-beauty BB formulas. And some of them even offer broad-spectrum sun protection. Broad-spectrum means your skin is protected against both the UVB and UVA rays of the sun.
They are Non-Comedogenic
Non-comedogenic implies no pore-clogging action. Korean BB solutions have a very lightweight texture. Meaning they don't clog pores; thus acne is less likely to occur. Instead, these special anti-breakout formulations moisturize your skin and conceal your open pores to minimize their visibility.
They Contain Anti-Aging Ingredients
I have shortlisted Korean BB creations equipped with ingredients like algae, sugar beetroot, tea tree oil, ceramide, collagen, bio-peptide complex, etc. What they all have in common are antioxidants. And what antioxidants do is fight free radicals to bring about anti-aging benefits.
These formulas work toward getting rid of or reducing wrinkles, fine lines, and age spots. So coverage, as well as treatment, is a part of the deal.
They Produce a Natural-Looking Finish
The tint of Korean BB formulas creates a natural gorgeous appearance. Your face doesn't look heavy, flaky, or whitish after you apply the cream. Irrespective of your skin type!
Korean Creams are Easy, Hassle-Free to Use
All you have to do is apply the stuff on your face. The blending and penetrating capacities of these special K-beauty formulas are quite remarkable. Meaning you don't have to do much. The consistency of the cream is such that it blends and gets absorbed into your skin easily.
Korean BB makeup are even perfect for your last-minute face touch-ups.
Choosing the Best Korean BB Creams
You just need to take into consideration 7 factors at the time of choosing a Korean-made BB cream for yourself. And they are as follows.
Coverage
Obviously, you're picking a BB cream so you can conceal your spots, marks, and/or discoloration. Now how much coverage you desire is your personal choice.
In my reviews, most Korean BB formulas offer light to medium coverage. And more often than not, this is quite generous for the purpose of concealing. There are heavy coverage BB creams as well if that's how you like it.
SPF
Yes, it's important that you buy a BB cream packed with sun protection. As for the level of SPF, make sure it's 30 or higher.
The good news here is that most Korean BB beauty balms offer UV protection. With SPF, you should expect your skin to glow and stay moisturized throughout the day.
Color
Now you already know that most Korean women have fair skin. This means most Korean BB formulations are on the lighter range of the spectrum. So if your skin complexion is tanner, then you should select a brand that offers various color options. But this is not required if you too are on the fairer side.
Skin Type
Let me bring to your attention that many K-beauty products, including BB creams, are formulated based on skin type. Those with dry skin should go for moisturizing, hydrating formulas. And those with acne-prone or oily skin ought to use only lightweight, non-greasy BB creams.
Scent
Why not choose a Korean blemish balm that also smells refreshing! I mean there's absolutely nothing wrong with adding a subtle fragrance to your morning skincare routine. So long as this scent is all-natural, and not artificial or chemical!
But if your skin type is sensitive, you might want to stay away from fragrances.
How to Properly Apply BB Cream?
If you think the task is time-consuming or complicated, you're wrong. There's nothing so difficult about using Korean BB creams. But you have to apply it correctly if you want to reap all the benefits. So here are the simple instructions.
When applying it using your fingers, take a generous amount. But first, wash your hands to get rid of potential impurities. Now dot the cream all over the face. You can include your neck too. Then pat the BB cream onto the skin to create the natural finish.

When using a beauty blender, dampen the thing before application. Once again, dot the BB cream onto the face and neck. Then buff it in a gentle manner by patting. Perform gentle outward strokes and make sure to avoid the area around the eyes.

In the case of a makeup brush, select one that's got medium thickness and bristles. Now take a considerable amount of the cream and apply it on the face and neck. Then spread it evenly and smoothly using the brush. Be gentle and avoid harsh lines.
Frequently Asked Questions
Q. Can a Korean BB cream be used in place of a foundation?
BB creams deliver light to medium coverage. And this is more than enough for concealing common skin concerns like redness, acne scars, discoloration, etc. Much like any foundation does!
On top of that, Korean BB creams are lightweight, multi-functional formulas. They perform the job of primers, moisturizers, and sunscreens. Now this you cannot expect from a foundation, right? All the more reason to ditch your foundation for a BB cream. You should also know that the latter is often more expensive than the former.
As for liquid foundation specifically, you can add a drop of that to your BB cream for creating the perfect dewy finish and for heavy, full coverage. This practice is also very useful for getting the right shade that matches your particular skin tone. So it's no problem that the Korean brand doesn't offer a BB cream color of your choice.
Q. What is the difference between BB cream and CC cream?
Think of BB creams as a foundation's lighter version. They deliver light-medium coverage and make your skin tone look even. Korean BB creams are also equipped with SPF for protection against natural UV light. As for CC creams, they're created specifically for color correction.
A good CC cream focuses more on treating skin issues like redness and dullness. The formulas are packed with particles that diffuse light, which is what makes your skin look radiant and well-balanced.
For daily application, BB creams are more beneficial since they combine foundation, sunscreen, and moisturizer in one. And you can apply CC creams for special events or occasions when color correction and better coverage are your topmost priorities.
Wrapping It Up
The options provided by Korean skincare and beauty brands are simply commendable. I mean there are so many great choices out there that you know are going to benefit your skin. So it might seem like a huge relief that I've narrowed down the search for you with my top 13 recommendations.
Just keep in mind that Korean BB creams provide not only the perfect coverage but they also make your skin look more youthful and radiant. These formulas contain sun protection, moisturizers, and natural anti-aging ingredients.
So all you have to do now is choose a BB cream based on your skin type and just start applying it daily. It's never too late when it comes to skin and health care. Begin right away then!