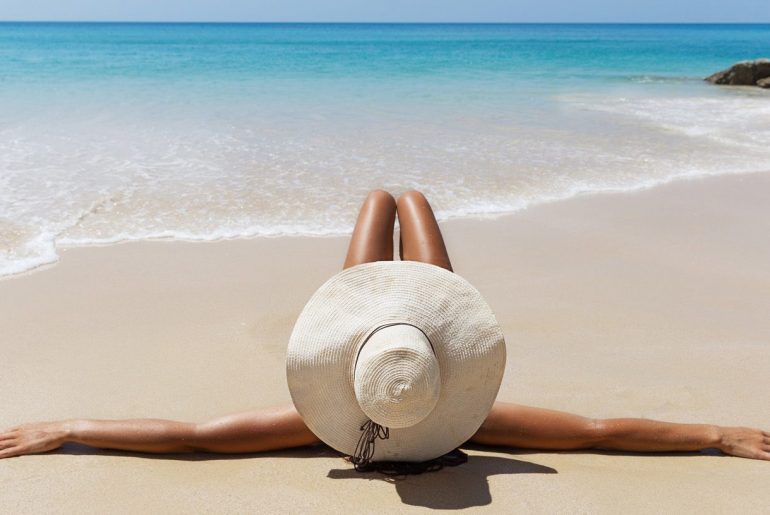 The perfect sun-kissed complexion sounds tempting if you're pale or fair-skinned. This explains why there are so many best tanning lotions for fair skin. The glow develops over a span of 2-3 days, which isn't a long time to wait for favorable results. Plus, you get the opportunity to customize how intensely colored you want your tan to look.
Now here's the most important part. Tanning lotions should be treated as regular moisturizing lotions. Meaning you have to make sure these formulas are equipped with enough nourishing ingredients to protect, hydrate, and nurture your skin. Stuff like shea butter, Vitamin E, glycerin, etc. should be included.
Also, if you plan on using the tanning lotion on the face, then you ought to go for face-specific formulations. That are labeled "non-comedogenic" i.e. non-pore clogging.
In that case, I've reviewed just what you and your skin need…
9 Top-Rated Tanning Lotions for Fair Skin
Tanning for Fair Skin: Are There Any Special Concerns?
It goes without saying that fair-skinned women and men have to keep in mind health factors when choosing to tan their skin. But why is that? It's because fair skin is more susceptible to developing skin cancer. And if not that, then the chances of fair skin reacting negatively to sun exposure are higher.
You should also know that fair-skinned complexion doesn't contain a lot of melanin. This explains why it looks paler. What melanin does is protect your skin from the damage caused by the sunrays. So if your skin has less melanin, that means it's more prone to getting affected by tanning-related skin concerns.
Important Features To Consider
When tanning is a priority, you shouldn't neglect to care for your fair skin along the way. And if you wish to do that, then please keep the following factors in mind…
SPF
The majority of tanning lotions don't have SPF. That means most formulas are not equipped with any sun-blocking capacity. And sun protection is crucial when you're fair-skinned. Particularly a higher SPF!
Moisturizing Ingredients
Needless to say, every tanning lotion contains a unique set of ingredients that keeps your skin moisturized and hydrated. Since I have reviewed the 10 best tanning lotions for fair skin, I know what these are. There's coconut oil, macadamia nut oil, shea butter, Vitamin E, and more.
Some tanning lotions are also equipped with natural cooling agents like green tea extracts and aloe vera. They are also very useful when it comes to caring for your skin during and after the tanning process.
Enhancers
Speaking of enhancers, the tanning lotion's I've shortlisted contain stuff like caffeine and tyrosine for tightening and firming your skin. Meaning enhancers can reduce the stubborn appearance of cellulite. And the good news is that they're good for fair skin.
Is Fair Skin Necessarily Sensitive Too for the Process of Tanning?
Fair skin complexion burns easily and is also sensitive; true or false? I mean most fair-skinned women and men have heard at least once in their lifetime that they shouldn't spend too much time in the sun.
Now, let me break it to you that fair skin and sensitive skin are not the same. Any or all skin types can be sensitive, of course. So it's not just fair skin!
Skin sensitivities are often determined by your genetics and not your skin tone. However, I'm not going to deny that most people with fair skin do have skin sensitivity issues. But that doesn't mean fair skin equals to sensitive skin.
And knowing that the two are separate is important why? It's because not all tanning lotions created for fair skin are suitable for sensitive skin too. Likewise, not every tanning lotion for sensitive skin is a great choice for fair skin. Makes sense to you?
Tanning Fair Skin Without Burning It
If you're worried about burning your fair skin during tanning, then please read what's in store for you here…
The 15/3 Tanning Rule for Fair Skin
Allow me to elaborate.
Spending over 15 minutes under the sun is not recommended for those with fair skin. As for indoor tanning, you shouldn't stay in your tanning bed for more than 3 minutes.
Let's say your first tanning session was on Monday. Then your second session should be on Wednesday. You have to skip one day to allow your skin to recover. In the meantime, your tan also gets the opportunity to deepen naturally.
Then when you head out to tan on Wednesday, you can increase the exposure by 5-10 minutes outdoors. And by 1-2 minutes indoors.
You have to be very cautious when it comes to tanning your fair skin. Just keep in mind that sunburns are not the same as suntans. The former doesn't give rise to a tan. Instead, it causes skin damage and a lot of discomfort and irritation.
Applying Sunscreen for Protection
As I already told you, most of the tanning lotions don't come with SPF. That means they're not equipped to block UV radiation. So it's necessary for you to apply your sunscreen below the tanning lotion.
What the sunscreen does is minimizes the potential harm caused by the UV rays of the sun. It also keeps your skin moisturized.
Another thing you can do as an add-on for your fair skin is to choose a tanning lotion packed with antioxidants. They do a wonderful job of protecting your skin against photoaging.
Tanning Fair Skin Faster
So you have fair skin, that doesn't mean you cannot tan. Even with freckles, fair skin can achieve a good, natural-looking tan. All you need is to know the right way to do so.
But before I get to that, let me make one thing very clear. If your fair skin develops an allergic or any negative reaction to sun exposure, then keep from tanning. At the same time, are you on any medication? If yes, then make sure it doesn't conflict with UVA/UVB rays. Tanning is just not worth dealing with unnecessary skin troubles.
Now that the safety factor is set in place, it's time to get to know how to tan fair skin not only properly but also faster…
Exfoliate
When you exfoliate your skin before tanning, what you're actually doing is getting rid of dead skin cells. And when dead skin cells are out of the picture, tanning becomes easier and quicker.
Skip the Midday Sun
I'm sure you already know that sun rays are the strongest between 12 p.m. and 4 p.m. So my advice to fair-skinned individuals who want to tan is to indulge early morning or late afternoon.
Don't Tan Two Days in a row
Now I know that you want immediate, dark results. But that doesn't mean tanning daily. Leave a gap of at least 1 day between any two sessions. During these breaks, you'll notice your tan becoming darker naturally.
Apply High-SPF Sunscreen Under the Tanning Lotion
Freckles or no freckles, a high-SPF sunscreen is a must for fair skin. Particularly if you don't want to develop sunburns and damage your skin cells. The latter is very likely to cause skin cancer.
And by high sun protection, I mean anything above SPF 50.
You should also not forget to reapply this sunscreen every 2 hours. Even if you don't sweat a lot! Sunscreen ingredients lose their effectiveness within 2 hours of application. So you have to keep re-applying the lotion if you plan on spending long hours under the sun.
Flip-over Halfway Through
It's a very basic thing to do, yet most of us forget to do it. If you know you're going to spend a few hours lying in the sun for the purpose of tanning, then you have to divide that time into two halves. The first half you lay on your back and second half on your stomach.
Only then can you expect to achieve an even tan all over the body.
The End
A gorgeous, natural-looking tan can be possible on fair skin. But if you're fair-skinned, then you have to be more careful during the process. And that's because light skin tone is more prone to UV damage. But as long as you're applying one of the 10 tanning lotions I've reviewed, along with sunscreen below it, your skin is safe.