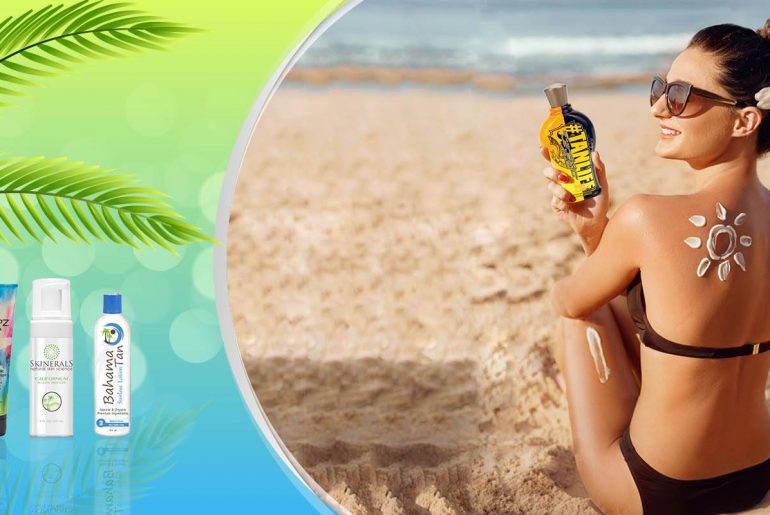 What tanning products do is accelerate and boost the whole tanning process. The thing about tanning lotions is that they're responsible for developing a natural-looking bronzed look quicker. And they also make sure the tan lasts for a longer time. Thanks to the special ingredients present in these formulas.
The special ingredients, more often than not, are vitamins, natural extracts, antioxidants, etc. Then there are chemical or artificial ingredients too. Like drying alcohol, fragrances, preservatives, and the like. And sometimes what happens is that those with sensitive skin are compelled to deal with acne breakouts or skin irritation because of the latter.
But the good news is that there are the best tanning lotions for sensitive skin that are hypoallergenic, meaning infused with skin-friendly, natural and/or organic ingredients. So if your skin type is sensitive or even extremely sensitive and you want to tan, then you can with these top 9 tanning lotions I've reviewed below.
9 Top-Rated Tanning Lotions for Sensitive Skin
What Ingredients to Look for and What to Avoid in Tanning Lotions for Sensitive Skin
The most crucial aspect here is to avoid DHA or dihydroxyacetone. Many tanning lotions are equipped with DHA as this chemical is a coloring or bronzing agent. It's what gives your skin the glowing, sun-kissed complexion.
Generally speaking, DHA is not harmful or dangerous. But this applies only to those who don't have to deal with skin sensitivities. So if your skin type is even slightly sensitive, then it's best to stay away from tanning formulations armed with DHA. You should know that there are plenty of tanning lotions with natural coloring or bronzing alternatives as well.
So no matter how enthusiastic you are about tanning, know that DHA gives rise to acne breakouts, skin redness, irritation, and the like. Along the same lines, stay away from artificial fragrances, parabens, phenoxyethanol, and other such preservatives. These too cause skin rashes.
As for what ingredients to look for, the list is quite long. And it's all-natural by the way. I have reviewed many tanning lotions for sensitive skin that are infused with shea butter, jojoba oil, avocado, oatmeal, green tea extracts, macadamia oil, aloe vera, chamomile, calendula, and more. These ingredients are 100% natural and 100% sensitive skin-friendly.
In fact, elements like oatmeal, chamomile, calendula, etc. provide skin soothing and calming benefits. And that's something your sensitive skin demands during and even after the tanning process.
Most Useful Tips for Tanning Sensitive Skin
To be honest, the instructions below apply to every skin type. As long as you follow them, you're highly likely to be satisfied with your tanning experience. You just have to make sure you pick the right tanning lotion suitable for sensitive skin.
Exfoliation
Exfoliating your skin prior to your tanning session is a must. Don't neglect this step as exfoliation helps in getting rid of dead skin cells. When you get rid of dead skin cells, you can achieve a deeper, longer-lasting, smoother, and more even tan.
Also, focus more on thick skin areas like your ankles, knees, and elbows.
Proper Application
You don't just apply the tanning lotion at random. Instead, you're supposed to massage the formula into the skin using circular motions. And apply it in sections, not all at once. Start with one part of your body and then move on to the next. Such as your torso, arms, and then legs.
Take Extra Care Around the Jointed Areas
These jointed areas consist of your ankles, elbows, and knees. They have the ability to absorb more, so you have to dilute the effect by gently wiping off the lotion using a damp towel. Or you can just reduce the amount of tanning lotion you apply to these areas.
Wait for the Tanning Lotion to Dry
After you apply the tanning lotion, wait for 10 to 15 minutes before you get dressed.
Also, go for loose clothing. Another relevant useful tip is to stay away from the rain or activities that might cause sweating.
Don't Over-Indulge in Tanning
It's important for you to understand that over-tanning causes skin damage. So when your skin type is already sensitive, the damage can be quite severe. Whatever tanning method you choose, make sure you follow the instructions provided by the brand of the tanning product.
Please note that different manufacturers offer different instructions. So read through them first and follow them diligently to prevent adverse effects.
The End
So you don't wish to expose your sensitive skin to the harmful chemicals or artificial fragrances commonly added to tanning lotions? If yes, then you have a choice. And that is to pick tanning formulas full of natural, skin-friendly ingredients.
I have reviewed the top 10 choices in this post. They're more than just well-equipped to soothe, hydrate, nourish, and tan sensitive skin. And without giving rise to any flare-ups, redness, or irritation.