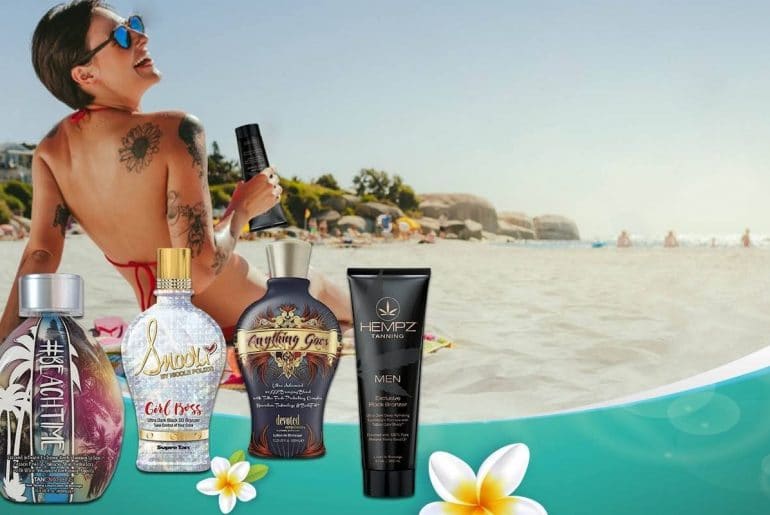 If you have a tattoo, then you probably know that it requires not just regular touch-ups but also proper protection. Because, no matter whatever you do, your tattoo is going to naturally fade with time. But what speeds up this process of fading is unprotected UV exposure. And that is why tattoos and tanning are not such great friends. However, to change that, there is the best tanning lotions for tattoos.
You've spent money on your tattoo, right? More importantly, it's a part of your body now. So keeping it from looking flawed or run-down should be a priority. Nevertheless, sometimes getting that perfect sun-kissed glow is also of the greatest importance. In that case, what you can do is cover up your beautiful tattoo with a decent sunscreen lotion right before tanning.
Another very effective method of protection is applying a tanning lotion specifically designed for tattoos.
18 Top-Rated Tanning Lotion for Tattoos
What Effect Does Tanning Have on Tattoos?
I'm sure your tattoo artist has told you to avoid stepping out in the sun until your tattoo wound heals. It takes a while for a new tattoo to fully heal and for the skin to feel normal again. In the meantime, what about tanning? I mean does that mean you can't tan until your ink heals completely? Unfortunately, the answer is YES.
How about if you decide to use a tanning lotion? Even then, you have to wait for your tattooed area to heal. When you apply tanning lotion on an unhealed wound, it's obviously going to cause a lot of irritation during tanning. Irrespective of whether this formula is fragrance-free or not!
It's important that you wait for your tattoo to stop peeling before you even decide to use sunscreen on that ink. Now let me tell you why.
The thing about tanning is that it causes skin dehydration. The process involves darkening your skin complexion by using ultraviolet radiation, natural (sun exposure) or artificial (tanning bed).
Another very important piece of factual information is that tanning tends to slow down tattoo healing. When you tan, free radicals cause your skin cells to break down and also damage collagen. And you don't want this to happen to your tattoo. Your ink might just start to fade or look dull.
In that case, even UV rays give rise to tattoo fading. So you have every reason in the book to stay away from the sun for at least a few weeks after getting a new tattoo.
Do Tanning Lotions Actually Work?
Are they real or are the manufacturers just trying to scam you? Now it's undeniable that tanning lotions are not 100% effective since every skin type is different. However, the science involved behind tanning lotions is genuine.
The thing about tanning lotions is that they enhance UV radiation during controlled sessions of tanning. They prepare your skin to absorb the tanning pigments better.
Amino acids like L-tyrosine in tanning lotions boost melanin production, which makes the process of tanning even more effective.
Then there are other ingredients like minerals, vitamin, natural oils, etc. to moisturize and hydrate the skin. Dehydration causes your skin to peel. And when the skin peels, it creates an uneven complexion and also reduces the lifespan of your tan.
I have come across many tanning lotions with dihydroxyacetone. And I've made sure to stay away from them since DHA is a chemical that alters your skin cells. Even though FDA-approved, the safety factor of tanning lotions with dihydroxyacetone is debatable.
What Makes a Tanning Lotion Good for Tattoo Protection?
Tattoo care involves pampering your skin with minerals, vitamins, and moisturizing elements. So after reviewing so many tannings lotions for tattoos, here are some ingredients that nourish and brighten your ink during and after tanning…
Vitamin A and Vitamin C
Both vitamins come in the form of antioxidants in tanning lotions. What antioxidants do is destroy free radicals to protect your skin from cell damage. Keeping that in mind, even Vitamin E contains a lot of antioxidants required for indoor tanning sessions.
When it comes to tattoo protection, antioxidants repair damage often caused by both UVB and UVA rays.
So look for raspberries to make the most of Vitamin C and Vitamin A. And pomegranate for Vitamin E.
Beeswax
This particular ingredient offers antibacterial and anti-inflammatory properties. It is very popular used for tanning lotions, so they can heal, soften, and protect your skin.
In the case of tattoos, beeswax creates a protective barrier between UVA/UVB rays and your skin to activate healing after the tanning session.
Shea Butter
No other ingredient in tanning lotions hydrates your skin as well as shea butter. It also helps with the healing part, which makes it suitable for tattoo care.
But you should know that not every tanning lotion with shea butter does the trick. Most formulas are scented, right? And what these fragrances do is chemically change the nature of shea butter, thus compromising its integrity.
So what you can do is get a separate bottle or container of the all-natural version of shea butter.
Aloe Vera
Plant extracts have exceptional hydrating, soothing, and antioxidant properties. No wonder so many products designed for skincare post-sun exposure are equipped with aloe vera as the main ingredient. It's what heals and restores your skin. So there's no reason why aloe vera won't do the same for your tattoos.
The Best Tanning Lotion for Getting Dark Fast
It goes without saying that every skin tans differently. Your body chemistry is not the same as someone else's, right? So how do you decide what to pick to get a darker tan in a shorter span of time? Do you go for a bronzer, tingler, or accelerator?
Let's find out the differences between the three types of tanning lotions…
Bronzers
The majority of tanning bronzers contain DHA as the colorant. And as you already know, dihydroxyacetone is not considered to be 100% safe for your skin. The safer alternative is natural pigments.
Most men and women go for intended "pro" bronzers for a deeper tan. This is very useful for a lighter skin tone. As for the "con" version, it turns your skin orange and/or streaks.
Tinglers
These types of tanning lotions stimulate your skin by activating micro-circulation. They maximize pigment absorption while also firming and smoothing your skin along the way.
But tinglers are not such a great choice for those with sensitive skin. They cause an extremely unpleasant and sometimes even a painful sensation.
Accelerators
If accelerators are known for anything, it's hydration. No other type of tanning lotion is as well-equipped as an accelerator to provide your skin and tattoo with so much hydration.
Plus, they don't run the risk of making your skin look orange. Those with sensitive and fair skin usually go for accelerators.
What To Keep In Mind When Tanning With Tattoos
Being in two minds about tanning with a tattoo is only common. Both outdoor and indoor tanning seems risky when single or multiple tattoos are involved. Tanning, after all, does fade the appearance of ink, particularly if you're a frequent or weekly tanner. That's quite unfortunate news, isn't it?
But the good part is that you can get tanning lotions that do a great job of protecting your tattoo from UV radiation. The first form of protection is to stay away from artificial UV rays (tanning beds) as much as you can. Especially if your tattoo is brand new!
Natural tanning is a better choice here. And that's because tanning beds emit the concentrated version of UV rays, which don't react well with tattoos. But if you still wish to tan, then do so once the inked area heals.
As for sun-tanning, it's safe to step out in the sun after applying a good amount of sunscreen. This means choosing a tanning lotion with SPF or one that's specifically designed to provide tattoo fade protection.
What about spray tanning with tattoos? No worries in that department either. It's normal for any tattoo to become darker after the session. This darker look, more often than not, goes back to normal as soon as the spray tan effect starts to fade.
How Long to Wait for Tanning After Getting A Tattoo?
The answer to this question depends on person to person and tattoo to tattoo. Think of your brand new tattoo as an open, fresh wound.
Apply nothing but aftercare products such as water and the right kind of sunscreen. Speaking of sunscreen, do not expose the tattoo to direct or too much sunlight. Along the same lines, keep the inked area from coming in contact with water.
Generally speaking, indoor or outdoor tanning and using tanning lotions are not recommended when you have a new, unhealed tattoo. Wait for the final peel to take form, which happens in not less than 2-3 months, and then think about tanning.
But this doesn't mean you can't apply the tanning lotion on the rest of the body. Just make sure the inked areas are out of the tanning picture. This benefits not just your skin but also the lifespan of your expensive tattoo.
How to Protect Tattoos When Tanning Indoors and Outdoors?
Be it tanning beds or sun-tanning, UV rays fade the color and vibrancy of your tattoo. So here are a few steps you can take to ensure maximum anti-fade protection…
Like I told you before, don't tan if your tattoo hasn't healed completely. One of the most common mistakes people make is tanning when the tattoo wound is still fresh. Wait for 2-3 months for the area to fully heal before you expose it to UV light. Otherwise, expect your ink to start fading or looking dull. Even skin damage is a possibility.

You already know that UV rays speed up the process of tattoo fade. This means you have to protect your skin against these rays with the help of sunscreen. A protective barrier makes the world of a difference. Trust me. So don't forget or neglect to apply lots of sunblock on your tattooed areas before you decide to tan, be it outdoors or indoors.

After tanning, keep your body moisturizer ready. A good moisturizer does the job of hydrating your skin. Tanning tends to dry out the skin, no doubt. So if you want your tattoo and skin to look and feel healthy, then don't ditch the moisturizer post-tanning.
Q: Is Coconut Oil Safe for Tanning?
As far as safety is concerned, coconut oil provides only 20% protection against the UV rays of the sun. And this percentage is not enough to prevent sun damage or tattoo fading.
For complete protection, your skin and ink demand sunscreen with SPF 30 or higher. And re-applying this sunscreen every two hours is also a must.
So don't rely on just coconut oil. It's not enough.
The Bottom Line
Needless to say, you have to protect your tattoo when tanning. In the case of both tanning beds and sun-tanning! At the same time, you should protect your skin from the harsh ingredients most tanning lotions are packed with.
In my post, I have reviewed the top 18 choices. The majority is specifically designed for tattoo care during tanning. The formulas keep your ink from fading or looking dull and dehydrated. Along with that, they nourish, hydrate, and moisturize your skin too.
Body moisturizers, ink protectors, and sunscreens are great products to prevent fading when all you can think of is relaxing on the beach.
More Tanning Product Reviews: